CEO BEEPMAGNET INT'L GROUPS GETS AWARDED IN ZAMBIA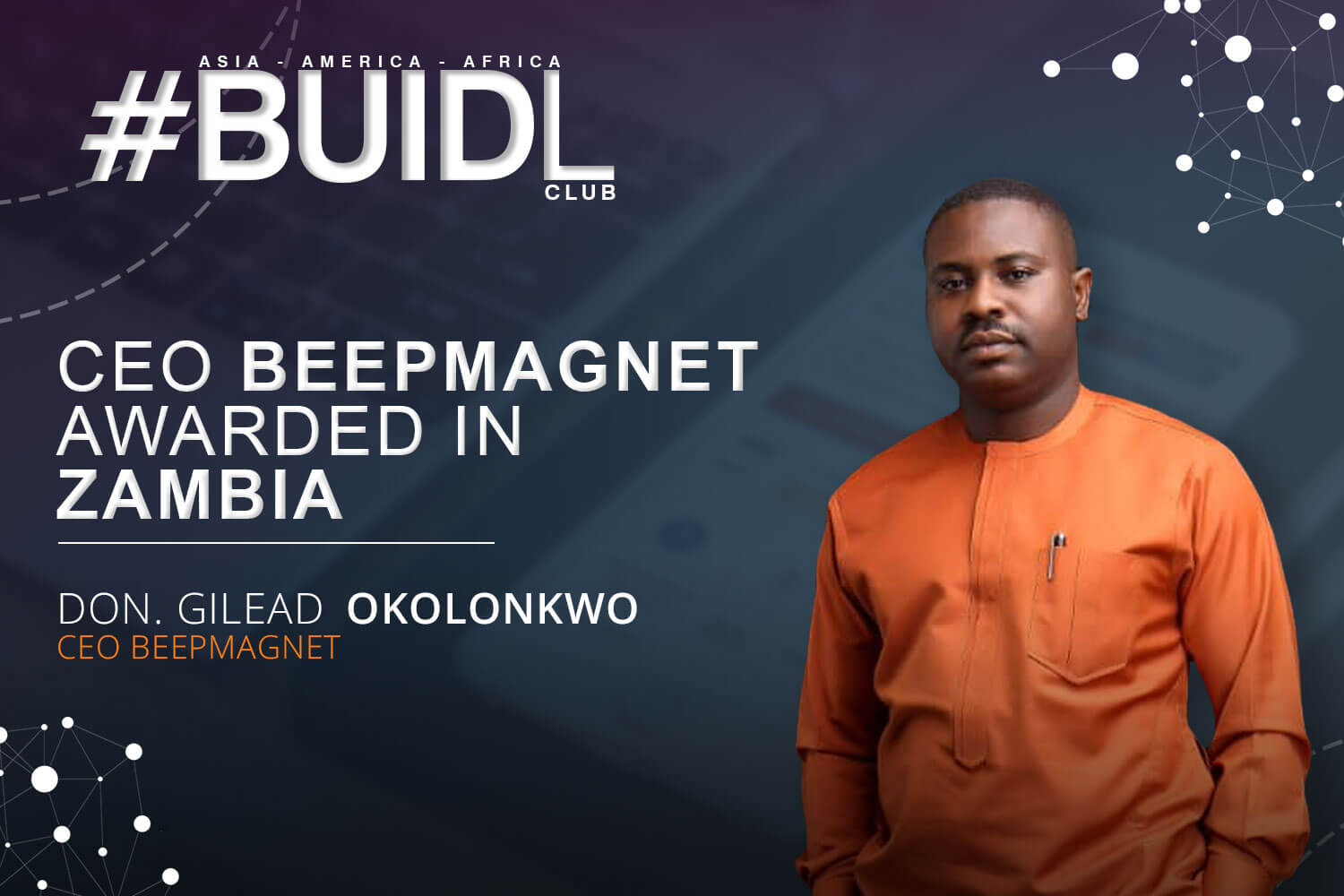 Just recently our very own Blockchain enthusiats and Buidl Club Member the CEO of Beepmagnet Intl Groups was awarded a Doctorate in Management by YESBUD University Zambia. Amb. Dr. Don Gilead Okolonkwo got recognized for his academic excellence after being tested in various areas which he passsed with flying colors.
Join us in this exclusive interview as we go through his experiences during his stay in Zambia;
My Zambia experiences
As a blockchain enthusiast, the reality of Africa adoption, solution and contribution to blockchain space became clearer on my visit to Zambia . As a speaker at the just concluded ' Executive leadership Summit with the theme: The Heroes we deserve, hosted by Peace mind Foundation and YESBUD university Zambia, I was able to open the minds of delegate who came from different parts of Africa and beyond for the event on the need for African countries to join the education and adoption of blockchain technology not from a passive vantage point but from an active point of contribution as a Player, not a spectator or FAN.
My speech was focused on tactical and strategic Action to drive mass adoption of blockchain technology with case study of BMCToken, referencing 11 use case that BeepMagnet International group have developed and integrated during the design of BMCT blockchain, to solve Africa problems and support Exchange platform to boost Africa blockchain projects and currency pairs in the crypto exchange market. My presentation was focused on 4 use-cases adopted by BMCT and powered by Beepmagnet international group.
a. Sisibox to drive woman adoption of blockchain in Africa.
b. Mobdoctor to drive medical consulting exchange for Africa.
c. BeepXchange to drive digital and borderless banking service on blockchain in Africa through SUREBANQA blockchain platform that powers SurePay and SureSWAP.
d. QDiscount application to create a global merchant inclusion, to drive the distribution of BMCT master node and accommodate Fiat and crypto inclusion to gradually bring merchants to adopt blockchain in Africa.
Present and represented at the event were:
a. Hon. Samuel Losuron Poghisio (Senator Kenyan Parliament Kenya)
b. Kiwanda Godfrey Ssuubi (minister of state Tourism Uganda)
c. Hon. Elvis Martin (National Youth Ambassador Australia)
d. Hon. Anastacia Ndhlovu (former Minister of tourism Zimbabwe)
e. Amb. Eno Praise (co-founder/West Africa director PAN Africa leadership and Entrepreneurship development centre Nigeria)
f. Amb. Dr Hillary Emoh (country Director World Habitat Ambassador's foundation ( WHAF INTL) Nigeria)
G. Amb. Dr. Babalola Omoniyi (Founder Pan African Leadership and Entrepreneurship development Centre)
H. Alhaji Dr. Aliyu Abubakar (CEO Real Option Limited)
I. Dr. Bright Echefu (CEO TStv Africa)
J. Dr. Onyinye Orjiarkor (CEO Valencia Poise)
and other Top African CEO and Change Agents were present.
The event was climaxed with the conferment of Honorary Doctorate degree to distinguished Africa leaders in various field of endeavour on their achievement and contribution in their immediate community by YESBUD University Zambia.
You where conferred what Doctorate?
I was Conferred Honorary Doctorate in Management
This means your designation will now become?
Amb. Dr Gilead Okolonkwo, yes!
What opportunities Did you see in Zambia?
This Question is very timely, I took a tour in Lusaka with other African leaders, this was our observation and findings:
1. The currency value of Zambia known as kwasha was high but not reflected in the economy or daily lives of its citizens.
2. Their local currency was scarce, not available as we visited 5 local bureau the change and their local currency was not available, but they had dollars. This got me thinking. What came to my mind was blockchain technology to drive digital and borderless banking. I saw an opportunity to tokenize their local currency to empower the people, I also saw a huge opportunity for QDiscount application to create additional value to the consumer and attract more people to Zambia.
I am using this medium to talk to African blockchain drivers to research Zambia, we have a golden opportunity there.

'The goal is to strengthen the purchasing power of Zambian local currency with the support of blockchain technology aimed at driving her tourism' – Amb Dr. Don Gilead
Beepmagnet intl group will move into action to set the pace for other blockchain companies or enthusiast, our focus is education and setting the standard of USE CASE of blockchain technology from a consumer loyalty perspective of BMCT blockchain.
I want to thank the YESBUD university president and Chancellor for the opportunity to experience and share ideas in Zambia.
Disclaimer:
The Information provided on the website is designed to provide helpful information regarding cryptocurrency subjects. The content is not meant to be used, nor should it be used as a basis, foundational knowledge or prerequisite for decision making regards trading. Always do your own research and due diligence before placing a trade. We are not liable for any outcome based on any content found on the site.
AFRICA'S PREMIER CRYPTOCURRENCY EXCHANGE UNVEILS ASTOUNDING FEATURES.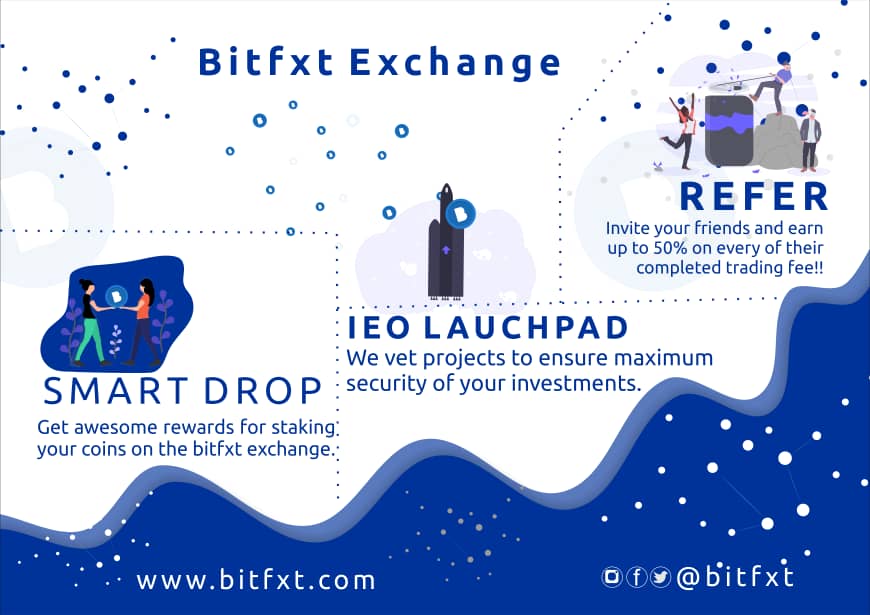 Bitfxt, Africa's leading cryptocurrency exchange has released new features.
The exchange which is now live, incorporates features which enable users make transactions at top speed, spend their cryptocurrency effortlessly, enjoy maximum security on their investments and get mouth watering rewards. Some of these features include:
The boundlesspay prepaid card which is directly linked to users' accounts,

A smart drop feature which allows users earn monthly rewards in the form of various cryptocurrencies, for staking their coins.

A voting function which helps users vote for their favorite coins to be listed on the exchange.

An IEO feature through which new projects are vetted to en able users have access to new cryptocurrencies

which will be listed and at lower prices.

A chat feature which fosters communication amongst users.

A referral program which helps users earn amazing rewards when they bring new people on board.
And lots more.
"Bitfxt is a masterpiece that was created out of the desire to make the blockchain system easily accessible by the African populace. We have put in a lot of work to ensure that we deploy state of the art features that will make it easy for people to have an enjoyable trading experience" said Franklin Peters, Ceo Bitfxt.
In order to give back to the community, Bitfxt has launched an Initial Exchange Offering for the Boundlesspay Coin (BXTC), on two platforms: shortex.net and bitfxt.com. The Initial Exchange Offering (IEO) will be run for 30 days and about three million coins will be available to the general public at a premium for that duration of time. At the end of the IEO, trading will begin for Bxtc on Shortex exchange, Bitfxt exchange and other exchanges to be announced soon.
"The significance of this coin is that it is a utility token that can be used globally. It can be used to pay for services such as utility bills, mobile top -up, data subscription, as well as flight and hotel bookings.These payments can be made at a discount at our platform, www.boundlesspay.co -which is one of the innovations created by Bitfxt. " Franklin Peters added.
As evidenced by an impressive track record of providing solutions which truly work and are used by thousands of people round the globe, Bitfxt is constantly striving for excellence. The boundlesspay pay prepaid card enables users to spend their cryptocurrency in a seamless manner and the entire ecosystem is centered around facilitating cryptocurrency adoption all over the world. Also, a dedicated team of experts is working relentlessly to ensure that users have a pleasant experience while using the platform and do not experience any hitches.
Bitfxt is currently running bounties on twitter and Instagram respectively. Interested participants can join in by getting their friends to follow @bitfxt, like posts and mention their names in the comments sections. The person with the highest number of invited followers wins.
About Bitfxt:
Bitxt is one of the best digital currency companies in the world. with a team of over 60 technology and finance experts, operating across several countries and continents. Our products and services make it safe and easy for people and businesses to store, buy, use and learn about digital currencies like Bitcoin and Ethereum. Our vision is to empower billions of people by bringing digital currencies like Bitcoin and Ethereum to everyone, everywhere.
Register today at www.bitfxt.com