CEO BEEPMAGNET INT'L GROUPS GETS AWARDED IN ZAMBIA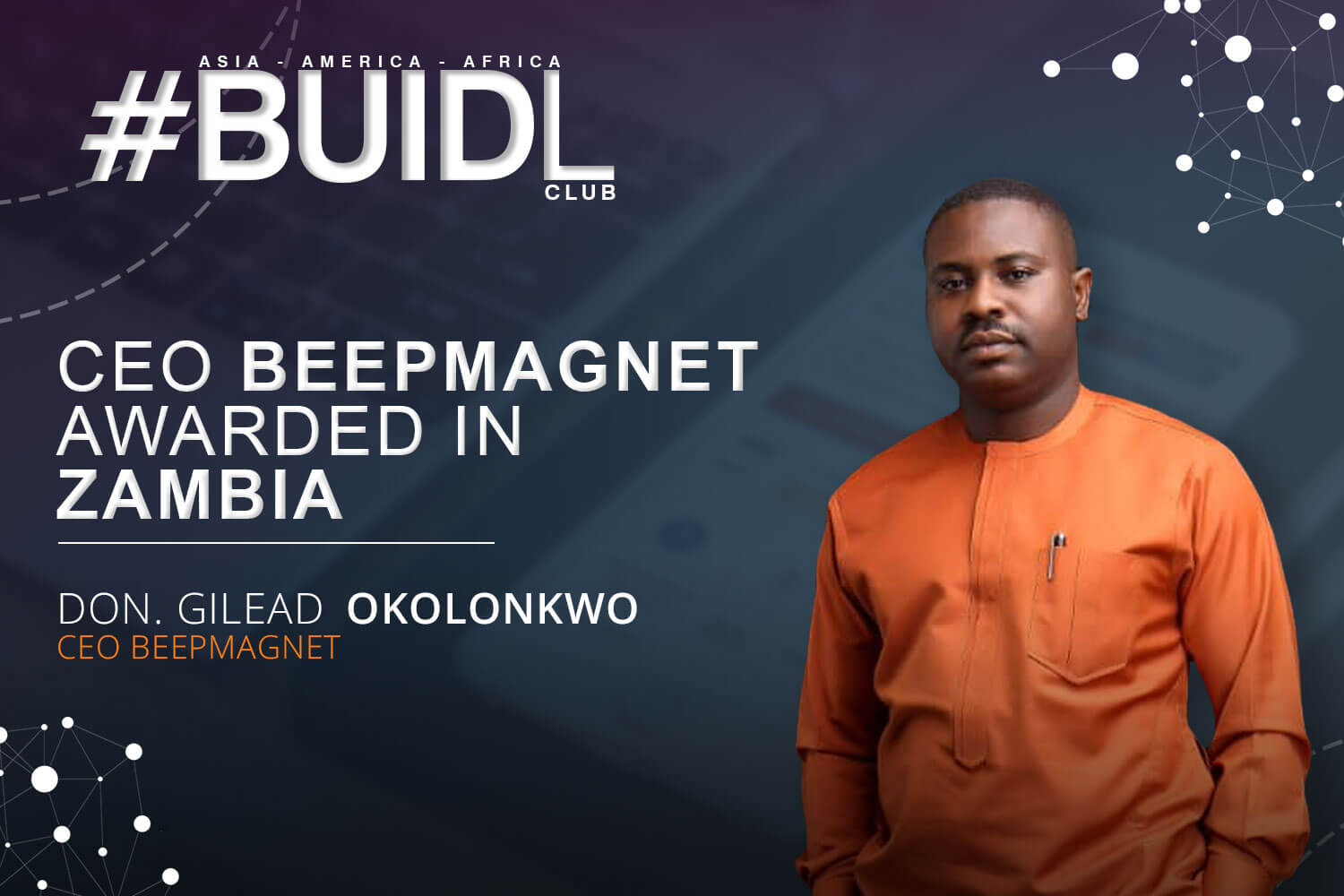 Just recently our very own Blockchain enthusiats and Buidl Club Member the CEO of Beepmagnet Intl Groups was awarded a Doctorate in Management by YESBUD University Zambia. Amb. Dr. Don Gilead Okolonkwo got recognized for his academic excellence after being tested in various areas which he passsed with flying colors.
Join us in this exclusive interview as we go through his experiences during his stay in Zambia;
My Zambia experiences
As a blockchain enthusiast, the reality of Africa adoption, solution and contribution to blockchain space became clearer on my visit to Zambia . As a speaker at the just concluded ' Executive leadership Summit with the theme: The Heroes we deserve, hosted by Peace mind Foundation and YESBUD university Zambia, I was able to open the minds of delegate who came from different parts of Africa and beyond for the event on the need for African countries to join the education and adoption of blockchain technology not from a passive vantage point but from an active point of contribution as a Player, not a spectator or FAN.
My speech was focused on tactical and strategic Action to drive mass adoption of blockchain technology with case study of BMCToken, referencing 11 use case that BeepMagnet International group have developed and integrated during the design of BMCT blockchain, to solve Africa problems and support Exchange platform to boost Africa blockchain projects and currency pairs in the crypto exchange market. My presentation was focused on 4 use-cases adopted by BMCT and powered by Beepmagnet international group.
a. Sisibox to drive woman adoption of blockchain in Africa.
b. Mobdoctor to drive medical consulting exchange for Africa.
c. BeepXchange to drive digital and borderless banking service on blockchain in Africa through SUREBANQA blockchain platform that powers SurePay and SureSWAP.
d. QDiscount application to create a global merchant inclusion, to drive the distribution of BMCT master node and accommodate Fiat and crypto inclusion to gradually bring merchants to adopt blockchain in Africa.
Present and represented at the event were:
a. Hon. Samuel Losuron Poghisio (Senator Kenyan Parliament Kenya)
b. Kiwanda Godfrey Ssuubi (minister of state Tourism Uganda)
c. Hon. Elvis Martin (National Youth Ambassador Australia)
d. Hon. Anastacia Ndhlovu (former Minister of tourism Zimbabwe)
e. Amb. Eno Praise (co-founder/West Africa director PAN Africa leadership and Entrepreneurship development centre Nigeria)
f. Amb. Dr Hillary Emoh (country Director World Habitat Ambassador's foundation ( WHAF INTL) Nigeria)
G. Amb. Dr. Babalola Omoniyi (Founder Pan African Leadership and Entrepreneurship development Centre)
H. Alhaji Dr. Aliyu Abubakar (CEO Real Option Limited)
I. Dr. Bright Echefu (CEO TStv Africa)
J. Dr. Onyinye Orjiarkor (CEO Valencia Poise)
and other Top African CEO and Change Agents were present.
The event was climaxed with the conferment of Honorary Doctorate degree to distinguished Africa leaders in various field of endeavour on their achievement and contribution in their immediate community by YESBUD University Zambia.
You where conferred what Doctorate?
I was Conferred Honorary Doctorate in Management
This means your designation will now become?
Amb. Dr Gilead Okolonkwo, yes!
What opportunities Did you see in Zambia?
This Question is very timely, I took a tour in Lusaka with other African leaders, this was our observation and findings:
1. The currency value of Zambia known as kwasha was high but not reflected in the economy or daily lives of its citizens.
2. Their local currency was scarce, not available as we visited 5 local bureau the change and their local currency was not available, but they had dollars. This got me thinking. What came to my mind was blockchain technology to drive digital and borderless banking. I saw an opportunity to tokenize their local currency to empower the people, I also saw a huge opportunity for QDiscount application to create additional value to the consumer and attract more people to Zambia.
I am using this medium to talk to African blockchain drivers to research Zambia, we have a golden opportunity there.

'The goal is to strengthen the purchasing power of Zambian local currency with the support of blockchain technology aimed at driving her tourism' – Amb Dr. Don Gilead
Beepmagnet intl group will move into action to set the pace for other blockchain companies or enthusiast, our focus is education and setting the standard of USE CASE of blockchain technology from a consumer loyalty perspective of BMCT blockchain.
I want to thank the YESBUD university president and Chancellor for the opportunity to experience and share ideas in Zambia.
Disclaimer:
The Information provided on the website is designed to provide helpful information regarding cryptocurrency subjects. The content is not meant to be used, nor should it be used as a basis, foundational knowledge or prerequisite for decision making regards trading. Always do your own research and due diligence before placing a trade. We are not liable for any outcome based on any content found on the site.
What is Microfinance Doing in Blockchain To Promote Adoption?
Currently, AssestStream is a microfinance project built on the blockchain and it caters for the creation of trust between the lenders and the borrowers alike.

With a record of 139 million clients and a credit weight of over $110 billion only as at 2017, It remains clear that microfinance has solidified its place among the leading teams driving financial inclusion of the marginalized populations. It is interesting to note that blockchain integration for the financial institution does not exclude the microfinance sector.
On a global scale, the microfinance market has witnessed steady growth and this growth is such to last for about two decades from 2017-2025. more of the reason for this promised growth is due to the rise in the number of SMEs. It is certain that developing markets will drive massive expansion, and this trend will continue for as long as possible until the annual growth for this group is 5% and above.
Interestingly, blockchain is painstakingly making its way to different communities and is seeking to engage approximately 1.7 billion people who are currently unbanked and are in the production sector of the economy. Microfinance is currently doing this by making funds available to the SMEs.
Currently, AssestStream is a microfinance project built on the blockchain and it caters for the creation of trust between the lenders and the borrowers alike.
AssetStream Token is bound to be Mainstream
Microfinance, as a major player in the financial industry, takes pride in playing an active role in the global movement against poverty. AssetStream taps into an attractive and really underserved market opportunity and intersects with their specialized expertise by simply maximizing social and financial performance and helping to keep alive the focus on low-income clients which it was created to serve.
Plans are in place to extent AssetStream's hand of fellowship to others outside lenders and borrowers- to include agencies which are open to partnering up with it.
Its proposed source of generating funds will be from its AST Token.
Moreso, AssestStream hopes to stabilize its AST tokens within the AssetStream ecosystem as a U.S stable coin valued at 0.01 USD. This is aimed at promoting stability. Likewise, on external platforms, AST prices will be subject to fair market value reflected on third-party exchanges.
Loan Contracts
The platform hopes to create its own rating criteria and this will be categorized into personal and business loans.
It provides for learners to skim through the platform and manually select loan contracts they would be comfortable with, or opt for automatic through AssetStream autonomous matching system.
AssetStream Competition
The competition here is such that investors can expect small businesses to operate in a way and structure that maximizes the achievement of both financial and social returns. These help in the alleviation of poverty and increase the economic opportunities for the poor.
Quite obviously microfinance places a supportive role in the fight against poverty and on the journey to an improved Standard of living, there is a healthy competition that needs to be welcomed in areas like health, education, infrastructure, market access, and a functioning and responsive government.
Blockchain in microfinance can facilitate this- leading to the betterment of lives from all around the world.
What's On the Horizon
Small scale producers who are poorly equipped with the best tools for their businesses will record a minimum of 10% increase in their output but interestingly, this is guaranteed with access to our provisions and helping them secure these tools, would suffice as our little contribution.
Highlights
Max Property Group (MPG) an international property investment company, very recently signed an MOU with AssetStream. Max Crowdfund is a subsidiary of the mother company and a crowdfunding platform that synergizes with AssetStream to provide numerous communities with them to support the integration of their blockchain platforms.
Having onboard English Forward- an English platform with 250+ million members via an MOU with AssetStream now makes available microfinance resources for its teachers and learners community.
In conclusion, AssetStream updated her community that her beta platform is live and ready. the platform is built on the blockchain and all transactions are carried out on the blockchain.
Check the website for more information.
Would you like to feature your project on our platform? Then click here to know more
Disclaimer: The statements, views, and opinions expressed in this column are solely those of the author and do not necessarily represent those of CryptoTv Plus.