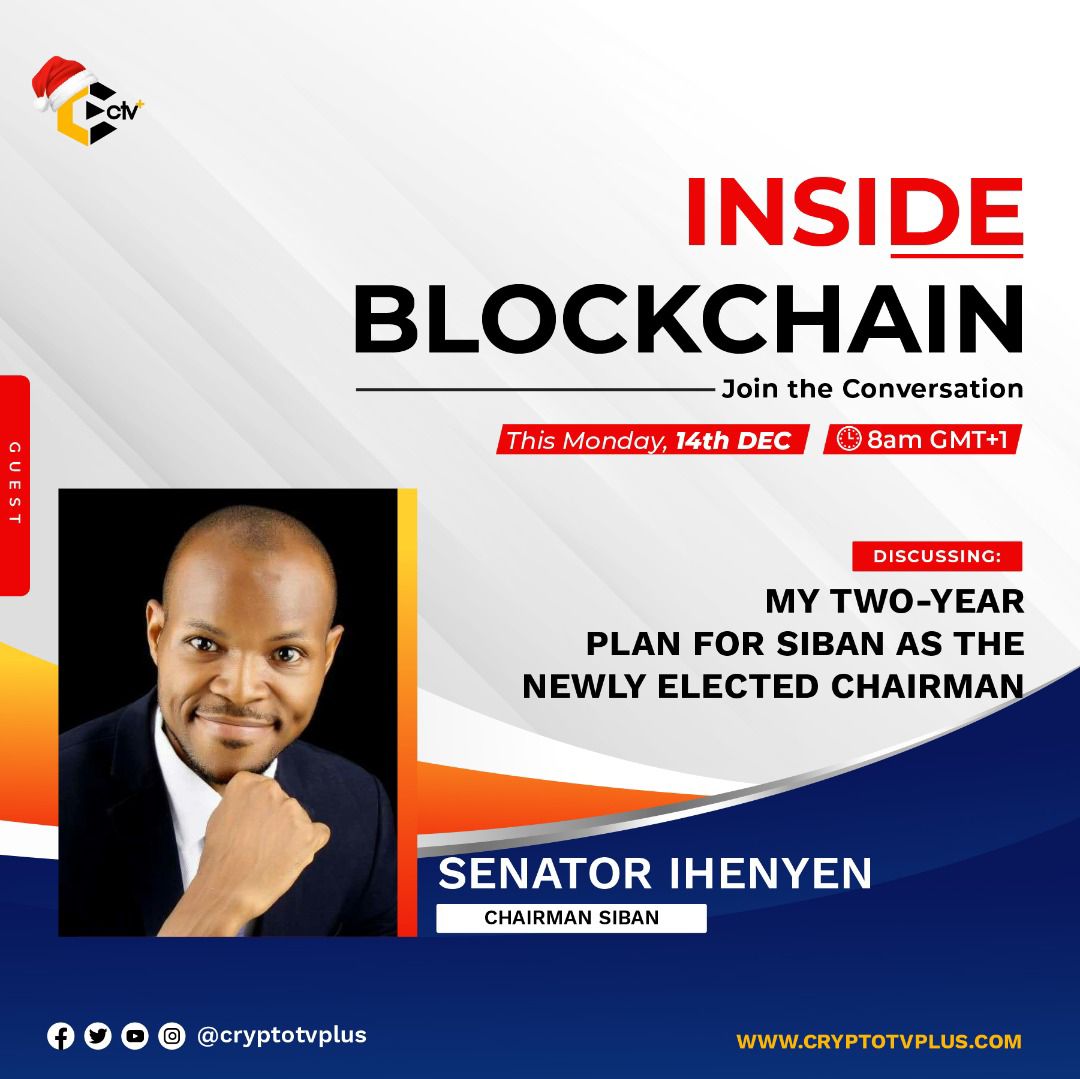 Senator Ihenyen, Chairman-elect, SiBAN Shares his Plans & Commitment to Take SiBAN to the next level
Senator Ihenyen:

This is not the time to talk on WhatsApp and Telegram, this is the time to work.

We need to engage our experts.

SiBAN is the most decentralized association you can find anywhere in the country.
Senator Ihenyen, the SiBAN Chairman-elect has revealed his plans and commitment to take the self-regulatory body to the next levels through his administration. Senator explained his four point agenda which are Policy Development, Regulatory Intervention, Blockchain Education & Adoption and Collaborative Innovation.
He expressed his excitement and gratitude for emerging as the winner of the election and said he feel a sense of responsibility. He was present as a guest on the Inside Blockchain program hosted by Tony Obiajuru on CryptoTvplus monday, the 14th of December, 2020.
Senator Ihenyen's Two-Year Plan and How to Achieve it
When asked of his two year plans and how he will be able to achieve them, Senator said he intend to pursue his four point agenda and as an individual that has worked in various capacities in the association, he understands the structure of SiBAN to take it to where it needs to get to.
On Policy development, Senator Ihenyen said in the past, regulators have been coming up with policies while we rubber stamp. However, this time, he (SiBAN) will be coming up with something more proactive.

Senator Ihenyen argued that as a body in the space, before regulators get interested in any aspect of the technology, as blockchain stakeholders, we should be able to come forward with policy drafts that we'll engage regulators and other stakeholders with so that when they are coming up with regulations, they can also look at these policies.
The Chairman-elect said SiBAN is officially recognized by NITDA as a key stakeholder in blockchain adoption in Nigeria and that's an in road to engaging stakeholders such as SEC, CBN, NIMs and other key stakeholders since the body has also made recognizable contributions to the development of this space that has been noted by the management at NITDA.
We need to come onboard and draft policies and engage based on the already existing relationships. He clarified the confusion on the difference between regulations and policies. While the former focuses on laws, the latter is concerned with plans.
Senator talked about regulations saying the existing laws are not really built (sufficient) for the digital economy especially the blockchain and cryptocurrency industry and therefore the plan is to create regulatory interventions proactively and reactively.
He also said SiBAN will collaborate with other bodies in the space such as the CIDN and reiterated that SiBAN is not in competition with anyone rather, SiBAN is for collaboration.
SiBAN's Caretaker Committee
Commenting on the sentiments of some members of the community who feel the Caretaker Committee is becoming a godfather committee which has power to appoint anyone. Senator said it's not right. The election for the position of the Secretary General will hold soon and then the official inauguration in will come shortly after.
When asked whether the Caretaker committee position was opened to the public, Senator also responded on the issue of the Caretaker Committee saying the committee is an elected committee though there are non-elected members also.
Further on in the session, Senator Ihenyen also revealed his position on certain issues in the community. He said he is aware of the conflicting interest in the community. It is understandable. However, SiBAN is the most decentralized association you can find anywhere in the country.
"And when you talk about decentralization, it's many voices and not one voice and we do not quiet these voices and we don't intend to change. What we want to drive is a reformed SiBAN. SiBAN needs a couple of reforms." – Senator Ihenyen
Senator talks about the SiBAN Constitution
"If I was inaugurated yesterday, I would have announced it. We're coming up with constitutions; we're reviewing our constitution; we need to be better ruled (…………………..) we cannot pretend about that. We need electoral reforms." He added.
It's wonderful we have an open system where anyone can vote anybody in but it's not healthy and sustainable, anyone can just hijack the system just by playing the game of numbers. I'm already approaching and consulting stakeholders in the industry to come up with better consensus mechanism and this is one of the assignments I am going to be pursuing in the next few months.
I want to build a united SiBAN, not a SiBAN that is basically talking one voice, we want people to talk and express themselves but we have to understand that we are united by common values. I want to encourage everyone who voted for any of the contestant that I'm the chairman for everyone.
We are getting to work from day one. And we will ensure SiBAN is more secure and safe, Senator concluded.
You can watch the entire session here on CryptoTvplus.