Introducing Era7: Game of Truth, an NFT Trading Card Game (TCG) where players take turns to play the Game of Truth in the metaverse. It is a metaverse with monetary assets. Its systems of operation submerge users in a virtual world complementary to the physical.

Game of Truth is built on the Binance Smart Chain with a unique feature, it implores new techniques to give users an addictive and immersive gaming experience. Cards are the in-game characters, players arrange them in a deck, combining different cards in their library to ensure the deck is strong.

Collecting cards into a deck and protecting them is one of the player's tasks. Different in-game cards have different effects and should be collected carefully and staked into a deck. The cards could be legendary or common depending on the card's value. Cards with higher values are collected in training, fights, summons, or when players synthesize cards. Players not only watch their deck but are on the look for strategic moves and positions put out by their opponents. This is a brain training and in-game skill sharpening process for players. New cards, battle passes, and playing methods are to be updated as the need arises.
Storyline and Gameplay
The quest on who becomes the 'King of Truth' has eaten up the minds of seven races on the Continent. An academy is set up to train specially gifted people on how to make summoning pacts. This group of persons is to take classes from the academy and upon graduation become summoners. Summoners travel round the world employing their learned skills in summoning to create pacts of the powerful confederacy.

Battles are held at the confluence of the Continent for those who have been awarded summoners. It is a battle that engages summoners from different nations for an exhibition of power, fighting skills, and a contest for who becomes the 'King of Truth'. The King of Truth has the ultimate power that can't be matched, they control the Continent and bring honor upon their race and household. Those from the same nation as the King of Truth are considered elite, where the King commands the ultimate power the nation listens to.

The gameplay is inspired by The Gathering. It is a game of summoning, with Battle cards or Master cards. Each of the seven races has access to various cards up to 1,000 cards. With card varieties and effects, boredom is eliminated, giving no room for player burnout. The storyline is a logical and non-brain fatigue display that contributes to a seamless play-to-earn game.

There is no room for slow thinkers in the Era7 metaverse, the gameplay is a 3 minutes game. Players work under pressure to produce strategic moves and lineups against opponents and for their defense.

Cards: The initial card launch will be of four different qualities of the Era7 card. There are Master cards and Battle cards which are NFTs with high value and appreciative power, they also have different stats and features. Players use Master cards to summon new cards and go on battles to earn Era7 tokens. The Era7 community has an autonomous right to in-game cards; the team auctions only the original versions of the card. Out of the total expected number of cards in the metaverse, each player needs a minimum of 30 Battle cards to start a battle.

Fighting: the battlefield for the game of truth is a 9:9 square ring, before fights commence, players draw cards from the initial deck of 30 cards which they will use for the battle. Battlefields are on three fronts, and when a player's HP drops to 0, the player loses the game and that's a wrap. The opponent becomes the victor. The Player versus Environment Era7 fight mode has at least 50 levels, 3,000 challenges, and 8 campaigns; this is just the initial game build, and would be updated as players continuously engage. PVE has varieties of challenges that earn players daily rewards.

For Player versus Player, a player is matched with other players, and earns GOT or Era7 tokens when they win. There is a ranking for Monthly competition, daily expert alliance, variety of battles, and world cups that holds every fortnight

Summoning: to make up the deck, players get Battle cards to be eligible to participate in fights. Battle cards are summoned by unsealing NFT Master cards obtained from purchasing mystery boxes. Master cards do not participate in fights and can only be unsealed once. Each unsealing opens an opportunity to summon 10 NFT Battle cards and determines the attributes of the Battle card summoned. Master cards have four levels of rarity, and two racial attributes; primary and secondary. The primary Master card summons primary Battle cards, and vice versa. Each Master card rarity level has its specific amount of summoning.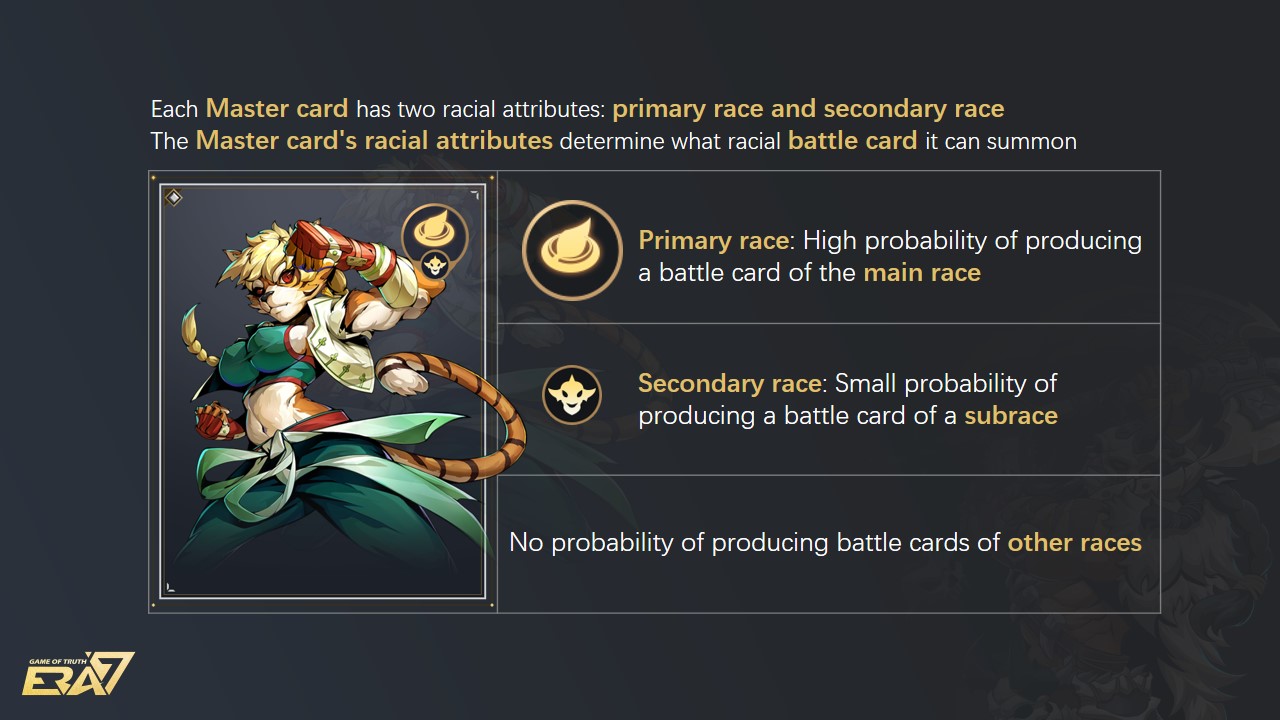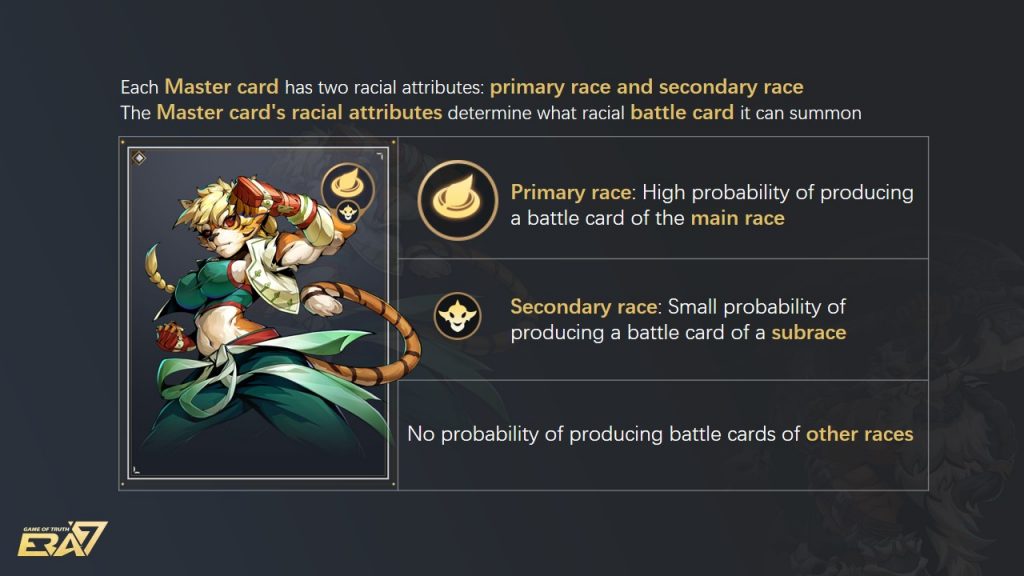 Synthesizing: this is the combination of two NFT Battle cards to create a Battle card of higher rarity using $GOT and $ERA. Synthesized NFT battle cards will have higher defense and attack power, more mining power, and higher market value.

Continent: in later versions of the game, Era7 metaverse will have lands for players to construct or set up buildings for themselves. They will have rights to these lands and a map presence.

Read Also

Dogemongo: Find & Capture Dogemons, Battle, Earn on the Dogemon metaverse

Endless Battlefield: The Metaverse Games Providing Planetary Experience for Users

Aurory: Play, Catch and Earn in this GameFi project

Sinverse: The Sincity Metaverse; Conquer, Control, Earn, Become the Ultimate Kingpin

Engines of Fury; the action-packed P2E arena battler

Doge Dash: Earn NFTs & Tokens From High Rewarding Casual Game

Tokenomics and Play-to-earn Model
Earning in the Era7 metaverse is majorly through battling, incentives, and liquidity mining.

Era7: Game of Truth play-to-earn has a well-reviewed reward system and earning methods for players. A referral program is one of the earning perks. Players earn when they invite their friends or share the game with them. Players can place bets on games, especially the ecosystem eSports game. They earn when the betting goes in their favor. The metaverse experience is a combination of NFTs, cryptocurrency, and DeFi. Players can earn in-game assets as NFTs, stake or farm their rewards to earn more, or trade the ecosystem currency to earn. The game of Truth cards is NFTs, which appreciates as their in-game demand rises.

When players win PVP or PVE games, they earn Era7 tokens or $GOT. High-ranked players also get more $GOT than others. NFT Master cards can be traded with other players, mined daily, or obtained as a battle reward. Players earn from exploring the metaverse map. As Landowners, they can earn Era7 tokens through their lands.

Tokens and other forms of earnings are sold for real-life cash. The metaverse marketplace is a place where tokens and in-game NFT assets are sold or bought by players.

Era tokens; GOT and ERA, are built on the Binance Smart Chain and have a total supply of 1,000,000,000 Era tokens. They are used in the metaverse for purchasing in-game assets, player-to-player transactions, as registration fees for PVP games, and to obtain community rights. PVP games are rewarded in $ERA, while PVE games are rewarded in $GOT.

Wagering rewards and revenue generated in the metaverse will go to the treasury, the treasury will be launched in the ecosystem at a later time. Those who place wagers on the Game of Truth will be the governors of the treasury.
Conclusion
Native currencies used in play-to-earn games function as utility tokens to enhance player engagement in the metaverse and as the player reward unit. Cryptocurrencies are high-risk assets; they are volatile. Before users engage in play-to-earn games or other crypto-backed projects, they should have good knowledge about the cryptocurrency market.

Era7: Game of Truth is for card lovers and those who want to learn and explore card games. The in-game characters are NFT cards with exchangeable monetary value. Players get rewards in Era7 tokens. ERA and GOT are cryptocurrencies exchanged on DEXes or CEXes for USDT.

The storyline is fascinating. The gameplay combines the fun in playing cards and going on battles with them. The seven races from different continents are all in the quest for the King of Truth title; it is an honor that glorifies both the player and their race.

The team is still early in their roadmap, a time to join if satisfied with the ecosystem's mode of operation.

What do you think of this article? Share your comments below.