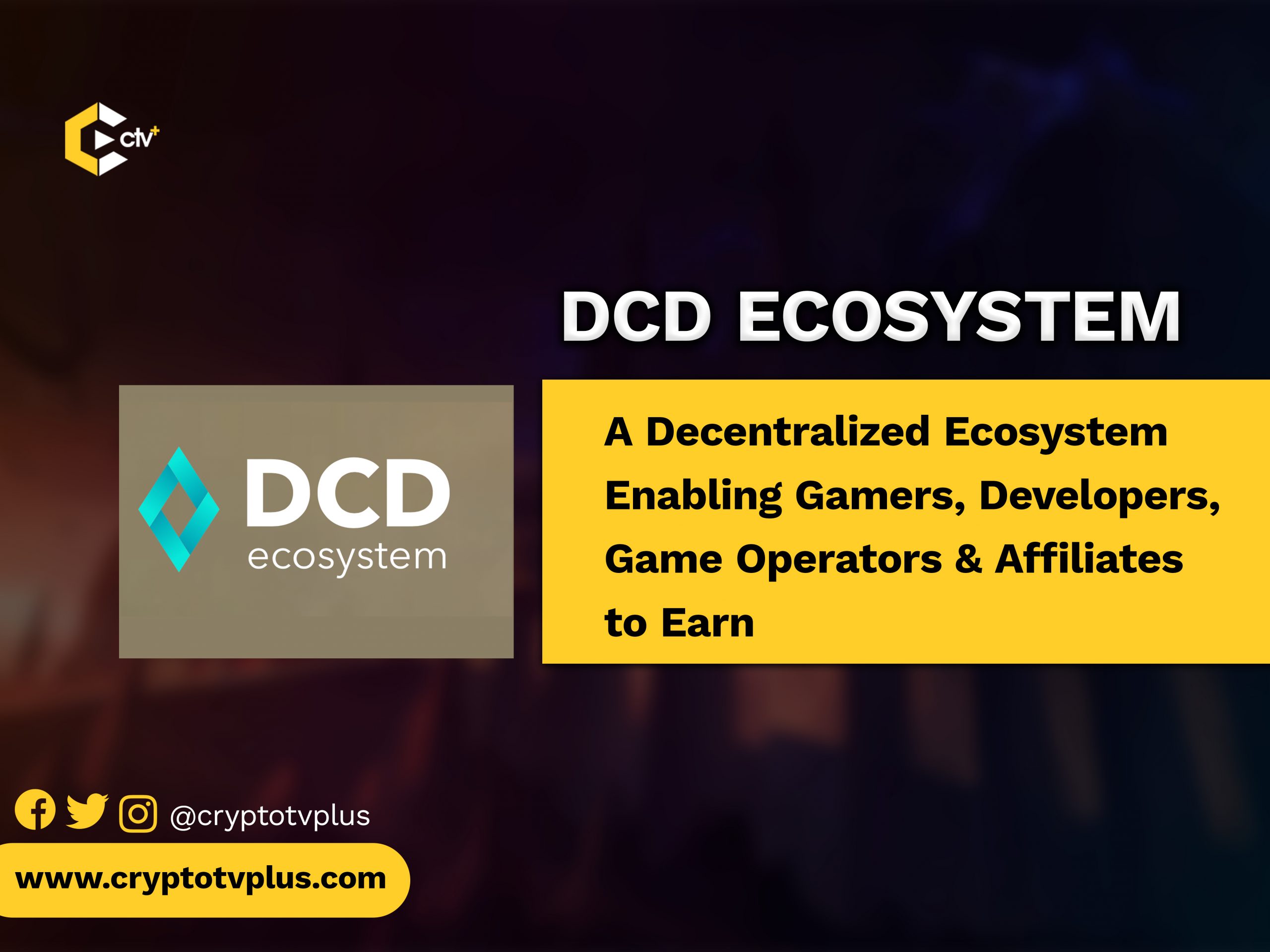 DCD Ecosystem: A Decentralized Ecosystem for Gamers, Developers, Game Operators & Affiliates to Earn
Gaming in the blockchain industry has risen and created both positive effects in the ecosystem with some drawbacks. One of the drawbacks experienced is disjointed communities and functionalities that hold all stakeholders in the gaming environment. Other examples are inadequate security, fraud risk, deposit and withdrawals of funds.
For DCD Ecosystem, the drive is to solve these problems mentioned above by creating a unifying environment that will house the major actors and activities of the gaming industry together. When this happens, it's easier to collaborate, share ideas, make corrections faster, increase ROI and all within one safe, interconnected platform.
What is the DCD Ecosystem?
DCD Ecosystem is a blockchain platform that is created to enhance the experience of all stakeholders in the GameFi space by bringing them together. With this design, any blockchain project can launch on the DCD environment without any need for external help.
Here you'll have gamers, developers, affiliates as well game operators. DCD Ecosystem has created tools needed to give a full experience in the platform.
Team Behind DCD Ecosystem
Denis Bredikhin serves as the CEO of DCD Ecosystem under Graphene Lab. He has good experience with strategic marketing, project management, and business analysis. At Sollers Auto Denis was the Corporate Strategy Analyst for two years before joining the Russian Post.
The other members, whose profiles couldn't be found readily are Anton Tishchenko, Front End Developer; Alex Bublikov, Lead Software Engineer; Dmitriy Kasatkin, QA Engineer; Daniel Smidt, Marketing and Community; Angelina Durneva, Designer; and Ruslan Salikhov, Senior Systems Engineer.
In the advisory roles, they have Alexey Andryunin, CEO and Founder of Gotbit, a Market Making & TLS solutions for blockchain projects; Jonatan Hindsgaul, VP Of Operational Technology at Omnio; Jared Polites, a Content Marketer in the tech and blockchain industry; and the Founder of Dcentralab, Erez Ben-Kiki.
Features of DCD Ecosystem
When DCD Ecosystem launches in a few days, it'll bring these unique DeFi features that match what users want in the market:
DCD is Built on Blockchain
The underlying network is the blockchain technology which has the advantage of trust, seamless processing of activities and transactions. All activities and communications in the ecosystem will be fully operated by blockchain mechanisms.
Smart contracts bring a unique feature that guarantees agreement in a trustless system like blockchain. So without a third party, users of the network are guaranteed that agreements will be adhered to, storing of player's deposits and processing of instant payouts will be with as much minimal stress as possible.
Mental Poker Implementation
DCD Ecosystem uses "Mersenne Twister" which is a pseudo-random number generator, for the shuffling of card decks. This integration will also bring about more transparency in the structure of the platform relative to each smart contract initiation for users.
Cross-platform Integration
Here is a strong combining factor of a mix between Web2 and Web3. The cross-platform function of the DCD Ecosystem makes it possible for dApps to be created on Windows, Linux, MacOS, Web, iOS, Android… systems. That will bring the advantage of blockchain into these operating systems.
Challenges of DCD Ecosystem
The major challenge for the DCD Ecosystem is competition. No one can fully apprehend the number of projects similar to this coming up daily – both those that make the news and those that don't.
Kommunitas seem to have an answer to that in addition to the level of expertise of the DCD team: the power of community. The project that is scheduled to open up on 15 March 2022, can thrive on the strength of the Kommunitas community to challenge most competitors.
Another advantage is the series of partnerships gained with other top brands including Shima Capital, Gotbit, Kyber Network, Automatic Venture Group, DuckDAO amongst others. These can boost the numbers for the project when launched.
Read this also:
Roadmap of DCD Ecosystem
Q1 and Q2 of 2021 were used for market analysis, selection of blockchain platform, the building of unique RNG technology, SDK development, and MVP release of desktop and mobile clients. DApps development, private test launch, activities around tokenomics, and platform development were done towards the end of 2021.
IDO which is coming up in the Kommunitas Launchpad, testing of protocol, testing of BSC and ETH bridge, staking, and launch of public testnet is scheduled for Q1 of 2021. By Q2 2022, mainnet launch, testing of native launchpad (IGO), Bridge testing with Solana, mini-game development amongst other steps will be executed.
Q3 and Q4 of 2022 will have more developments with these being the highlights: DEX launch, DEV courses launch, VR integration, and metaverse development. This shows that the DCD Ecosystem is not just another blockchain network. The steps outlined show that there is an understanding of the GameFi world. And the team wants to be part of the revolution creating a simple and flexible ecosystem for users.
Tokenomics of DCD Ecosystem
DCD token (DCD) is the native token of the blockchain and it'll be used for "voting for proposals and validators, staking, commission payments, gameplay," according to the Whitepaper. Users who participate in the ecosystem and IGO Launchpad will be rewarded with the token.
DApps using the DCD Ecosystem will not be required to adopt the DCD token as the native token for their platforms. The only time it'll be used is during registration and for support. Users are given access to free transactions provided they have DCD staked in the ecosystem.
Here's a breakdown of the token distribution of DCD:
Community contest – 2%
Exchange Liquidity – 6%
Ecosystem growth – 15%
Community incentives – 18%
Advisors – 5%
Public – 4%
Presale – 6%
Strategic – 7%
Seed – 9%
Marketing – 15%
Team – 13%
The token is of BEP 20 meaning that it can integrate with Binance Smart Chain in extension to Ethereum as well.
Projects Launched on DCD Ecosystem
Some games have been launched on the DCD platforms. These include С-Bellum, a cyberpunk-designed game, that showcases different creatures of diverse nationalities as collectible cards; G-ID, a platform that is targeted at verification processes in the GameFi space; DEXchange, a DEX where tokens and in-game utilities are traded… and Metal War.
Graphene Lab, owners of DCD Ecosystem, is also developing projects like Karma, C-bank, and Romula. The team has vast experience in the gaming world and with the combination of blockchain technology, the opportunities are endless.
In conclusion, DCD hopes to give players a transparent system to enjoy games and be rewarded for their time; and developers can easily develop, integrate and receive good ROIs for their creativity. For game operators, there is a platform that can support the quick and affordable launch of products with a good user base. Affiliates will not be left out as well with the open affiliate system being created.
You can participate in the launch on any of these options: Kommunitas, DuckSTARTER, CyberFI, and Truepn1.
What do you think of this article? Share your comments below.