As The World's Greatest Investor, Warren Buffett, Stashes Money in Gold, the Yellow Metal He Once Swore Against, Will He Consider Bitcoin Soon?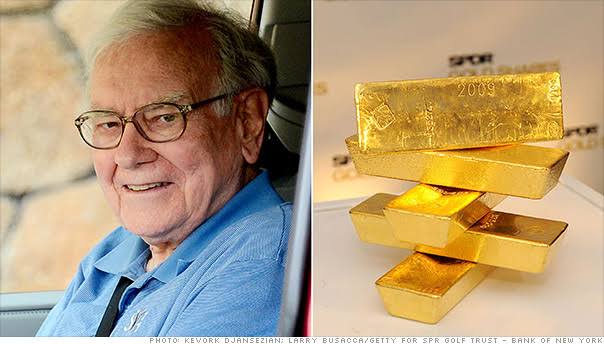 Although Warren Buffet once snubbed gold as a plausible investment, his Birkshire Hathaway Company recently stashed money into a gold miner. This has made the proponents of Bitcoin hope that the Billionaire investor will soon embrace Bitcoin as an alternative investment in the nearest future.
When it came to investing in gold, Buffet had recurrently stated that he would rather invest in the equities of viable companies than stack his money into gold assets. He has however since changed his stance, and for a fact, his company recently disclosed last week Friday that they had ditched their stocks in banks, like Goldman Sachs, for investment in a gold miner.
Presently, the value of gold has surged as there has been a favourable spike in its price which is currently at a whopping $2,000 per ounce.
As at Press time, Berkshire Hathaway does not have a position in Goldman while they retain a condensed position in JP Morgan Chase of about 61%. Their assets in PNC and Wells Fargo have also been liquidated. Contrary to the Birkshire Hathaway CEO's former declarations against the yellow metal, the company now has shares in Barrick Gold, a top-tier gold mining firm, which has since positively influenced the value of the firm's equities.
This new development has prompted Crypto and Blockchain exponents to opine that the Billionaire will soon consider investing in Bitcoin and other Altcoins although Buffet has not shied away from expressing his aversion for the nascent technology that is Blockchain and the accompanying currency.
Warren Buffet once called bitcoin "rat poison squared"
 He once described Bitcoin as a "rat poison squared" in 2018. He even gave out his first bitcoin, which was given to him by Justin Sun, Tron founder, to charitable organizations and emphasized that bitcoins are not his thing.
Despite the fact that many Crypto proponents believe that with more understanding of the nascent technology, Warren Buffet will soon eye Bitcoin, others are of the opinion that he may never invest in Crypto.
The Morgan Creek, Digital Co-Founder, Jason Williams, posted on twitter that:
"Buffett sold banks and bought gold. He will buy bitcoin soon."
Another tweeted that
"He doesn't understand technology but he's old like gold so that makes sense." 
Warren Buffet will buy bitcoin at $50,000 – Max Keiser
Max Keiser, a famous TV celebrity and Bitcoin exponent predicted that the Birkshire Hathaway Oracle will soon panic-buy Bitcoin at $50,000. He believes that this will in turn entice Jim Rogers and Schiff who are both all-time investors to buy at this rate. The Celebrity quoted a tweet by Cryptopotato:
"Warren Buffett will start panic-buying bitcoin at $50,000, just like Peter Schiff."