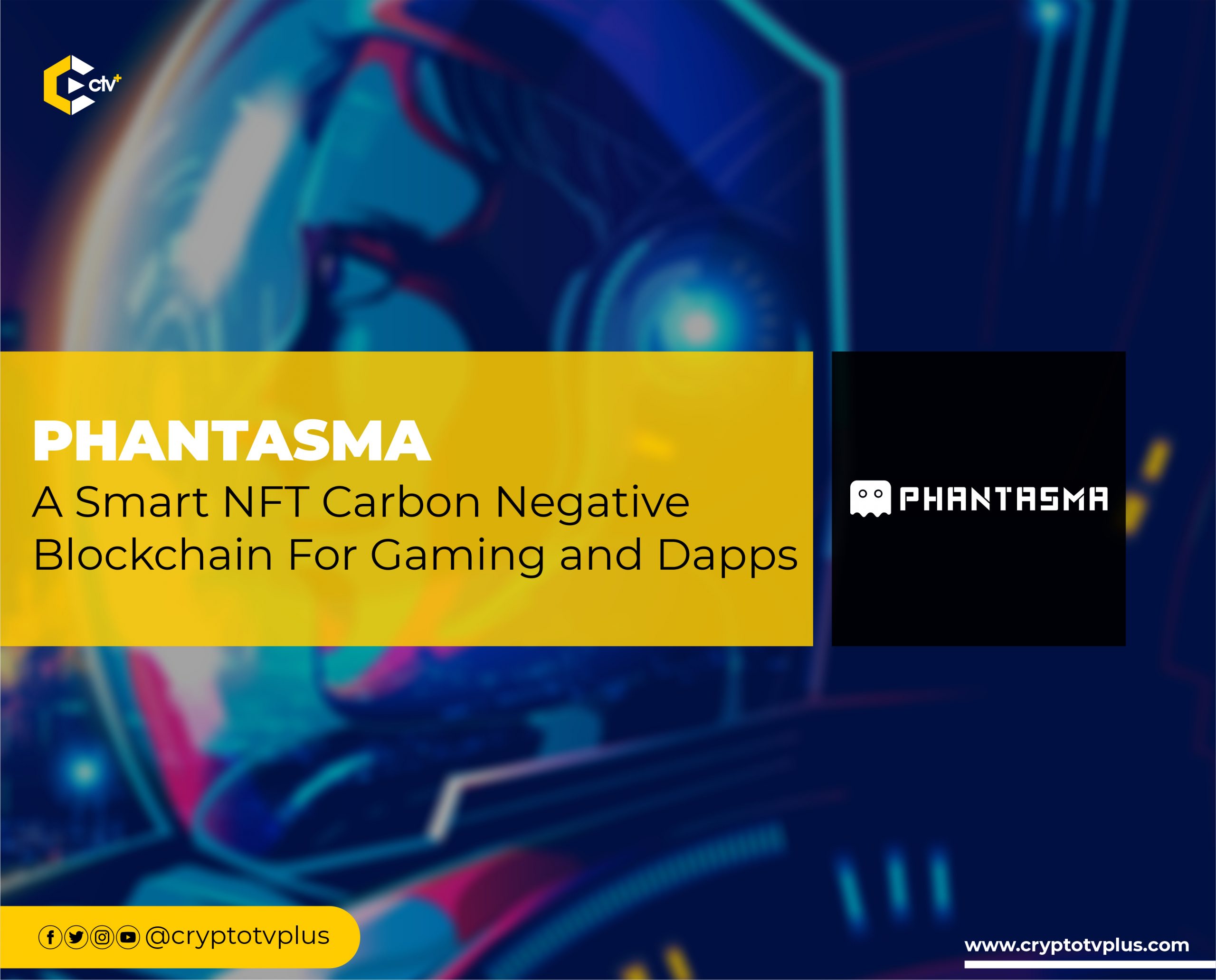 Phantasma Chain: Overview of the Fast, Interoperable Carbon Negative Blockchain for NFT Games
The explosion of diverse blockchain platforms has been an experience in the tech world recently. So many projects have been designed to improve on what previous ones have done. However, there is still a need to create faster platforms, with cross-chain abilities, and other functionalities that make blockchain use cases easier for massive adoption.
Phantasma Chain was created with diverse features and focused on core decentralization. "The main message of the phantasma team is that reliance on centralized services for sharing information poses several dangers to individuals and organizations alike," states CryptoBriefing. "Moreover, the growing dapp ecosystem requires a way to securely exchange data as well. Phantasma sees their product as a solution to these issues".
What is Phantasma?
Phantasma Chain is a fast, scalable, and secure blockchain ecosystem that allows for interoperability with other blockchains while maintaining a decentralized governance system.
Embedded in it are an innovative staking model and dual token system that gives users access to easy and different digital goods & services in the areas of communication, entertainment, marketplace, and storage. The goal is to develop an ecosystem that permits the creation of dApps that people want to use, directly and indirectly on the same chain.
Team Behind the Project
Alexandre Paixão is one of the Co-Founders of Phantasma. He's got an insight into Product Management and Marketing. Lee Kai Lee is also a Co-Founder at Phantasma. He has experience in Business Development and he's responsible for PR, markzeting and product design. No LinkedIn profile.
Sérgio Flores is an Engineer with 19 experience in programming. He specialized in Computer Graphics and game engines. Apart from Phantasma, Flores has worked on Nacho-men, a blockchain game; TERRA, a cross-platform game engine; and Minimon, a 3D video game. He is one of the Co-Founders at Phantasma blockchain.
Bill Petridis is the Chief Operating Officer of Phantasma. He has worked with Oracle, Telstra, and Coles Group. Bill is a Solution Architect, who understands how to launch products and develop content management solutions. Miguel F used to be part of the team but left.
Consensus
Bitcoin introduced the POW Consensus Mechanism which many have faulted with several descriptions. After that, more options have been introduced including Proof of Stake, Proof of Coverage, and Proof of History in Terra Blockchain, Helium Blockchain, and Solana respectively. Phantasma is deploying a variant of PoS. First, it still requires assets to be staked by validators. And for each staked asset, rewards are given in exchange.
The Masternodes (as Phantasma calls their validators) operate a rotational system focused on each side chain. So per time, there is a need to know who is the major validator per chain. This allows parallel scaling for the ecosystem. As users interact with the network, these validators verify transactions thereby adding new blocks to the system.
Phantasma rewards each validator uniquely based on this formula:
Active Block Producers will receive 75% of the inflation of the Governance token (SOUL), plus a minimum of 25% of the transaction fees for blocks that they validate.
Standby Block Producers receive 25% of the daily inflation of the Governance token (SOUL).
At the start of the project, ten Active Block Producers are needed with fifteen Standby Block Producers. For every three years, that number will be increased as more transactions will occur in the blockchain. This pattern of controlling the number of Active Block Producers will also depend on a coded structure in the system.
Again, each Block Producer is meant to earn that position for each quarter. Users with the governance token, SOUL will vote for the position of active Block Producer for the next quarter. After the vote, new Active Block Producers emerge and some previous producers might remain. Validators who ascend the Active Block Producer position but get to be inactive for an hour will lose their position to a Standby Block Producer with the highest vote in the previous quarter.
Read this also:
Features of Phantasma Chain
The options and functionalities of the blockchain make it so diverse with unique features. These features are driving the value the platform offers. Some of them include:
The POS system that Phantasma chain uses makes it possible for the chain to have multiple side chains with each achieving a TPS of 5k. At this rate, more transactions are achieved and scalability is easier compared with other blockchain platforms with scaling challenges. So the TPA of Phantasma can be seen as the collation of all side chains with the main system.
During the internal testing, the team was able to achieve 5k transactions per second with blocks being produced on average every 2 seconds. Bear in mind that this is for the main chain only, which means that the network will be able to achieve 5k TPS for each of the side chains running in parallel with the Main Chain.
On the Phantasma Chain, the main-net integrates with Solidity, Python, and other six languages. Thanks to the Phantasma SDK launch that syncs with Javascript languages, a chain node, a wallet, a smart contract compiler, and a block explorer that enables the easy start of smart contract deployment.
Advancement in arts has brought NFTs into the blockchain and Phantasma is built to allow NFT projects with the presence of a native marketplace for minting, buying, and selling these digital tokens. This access is also given to other chains that are built on the chain allowing for interoperability.
There is a provision for a liquidity pool for any user who needs to access such resources. The Cosmic Swap Framework is the DEX that makes this happen in the Phantasma ecosystem. Users are given easier options to swap assets of their choice provided they are listed in the platform. Organizations are also not left out. They can build CEXes and DEXes on the Phantasma chain.
Untraced transactions done in Ghost Mode can be carried out on Phantasma. It's controlled as a side chain with options attached to it. In this system, users can transfer and receive assets in Ghost mode. The larger the size of the group involved in this model, the more gas fees will be paid for that service. This agrees with the anonymity of blockchain.
While it's proven to be a good step for privacy sake to have an address in the blockchain space, the system used in related addresses is random and not truly pleasant. The Phantasma Chain is crafted with a simpler naming system where the user address is the username of a person in public. This will aid usage and reduce confusion for users.
Tokenomics
Phantasma has a dual token system where one token is used for utilities like buying and selling (Phantasma Energy – KCAL) while the other is strictly for governance (SOUL). Staking SOUL brings the immediate reward of Energy. Anyone with Energy can also access the blockchain with or without SOUL.
Potential users who are not conversant with the systems of Phantasma and all the jargon of blockchain can easily be part of the network if they get Energy from anyone. The SOUL token that is staked is locked for only 24 hours after Energy tokens are withdrawn. Then, it can be used again.
There are rewards given to specific people depending on the amount of SOUL they stake. Soul Master title is given to those who stake more than 50,000 SOUL and they partake in a monthly reward from a 125,000 SOUL pool. A CROWN NFT is also given every 90 days to Soul Masters who always stake at least 50,000. This takes effect from the time of the Genesis Block in the network.
The price of SOUL as of 2 March 2022 is $1.37 with a market capitalization of $142,349,656.90… circulating supply, ATH, and ATL of 104,185,056, $3.97, and $0.009559 respectively. Coinmarketcap.com puts the ROI at 494.05%.
Phantasma Inflation System
The team at Phantasma introduced inflation to increase the maximum supply of SOUL to 100,000,00 because of the migration from Neo blockchain to its native platform. This will help incentivize the entire ecosystem providing more potential liquidity.
"The inflation model is an excellent way to attract developers (and keep them) and to maintain the necessary high quality of the block producers, which will be beneficial for the growth of Phantasma in the long run," according to the website. You can easily check here to see a description of what they've done from 2017 to date.
Phantasma is built to support video gaming, data collection and analysis, communication, e-commerce, and social community building use cases. Several projects like Blood Rune, the mobile game Ghost Festival and the NFT marketplace GhostMarkets have launched on the chain this year. There's yet more to be expected from the platform recently partnered with TacoCat to Integrate Smart NFT Technology in the ecosystem.
What do you think of this article? Share your comments below.