2021 was an eventful year in the cryptocurrency world. The total market capitalization of crypto assets touched an all-time high of $3 trillion in November. A year full of pumps, dumps, crashes, rug pulling, market manipulation, losses and wins. 
From the massive bull run of bitcoin in the first three months of the year, to the iconic market crash of May 19, to the indecisive and ranging market towards the end of the year, it was indeed a rollercoaster ride. 
Amidst the storms 2021 brought in the crypto world, there were a sizable number of projects(coins) that made a fortune for investors and traders, some of these coins are $AXS, $SOL, $ETH, $SHIBA INU, $MATIC, and even King $BTC! 
Looking at the dynamics of the market, 2022 promises to be a year with more moves that would make traders and investors rich, even more than 2021. In this connection,in no particular order, we are going to look at exciting projects to invest and look into in the new year.
Ethereum (ETH)
There are very few networks like Ethereum, the world's second-largest crypto network by market capitalization. Ethereum's network forms the backbone of almost all initial coin offerings or ICOs, decentralized apps (dApps), (decentralized finance) DeFi protocols and most non-fungible tokens or NFTs. 
Popular tokens built on the Ethereum network are Chainlink (LINK), Tether (USDT), Binance Coin (BNB) and the USD Coin (USDC).The most prominent upgrade in the history of the network, however, is due in 2022. Ethereum 2.0, as they call it, aims to remove bottlenecks and scalability issues while bringing the long-awaited proof-of-stake (PoS) consensus mechanism to the blockchain. 
This would entail doing away with the energy-guzzling proof-of-work (PoW) mechanism currently in vogue. The changes will potentially result in lower gas fees, faster transactions and a dramatic increase in the network's efficiency.
Theta Network ($Theta)
Theta was founded in 2018 which has a potential to be the next streaming and video  after Twitch and YouTube. But the only thing is that it will be decentralized and provide better quality than any centralized content delivery network. Big tech companies have also partnered with Theta and this can only be a good thing for its future.
 It is one of the top cryptocurrency projects to explore. Theta intends to be for streaming what YouTube was for video in terms of innovation of technology and worldwide scalability for transmitting video data.One of the best things about the project is that many big companies and institutions are already backing it up. 
NASA has chosen the streaming platform theta.tv to transmit their channels live. Advisers of YouTube and Twitch are helping the Theta team in developing their platform and here are some of the companies that joined in a way or the other: Samsung, Google, Microsoft, Verizon, Twitch, and many others. With all these strides, the sky is just the starting point for $Theta!
Read also: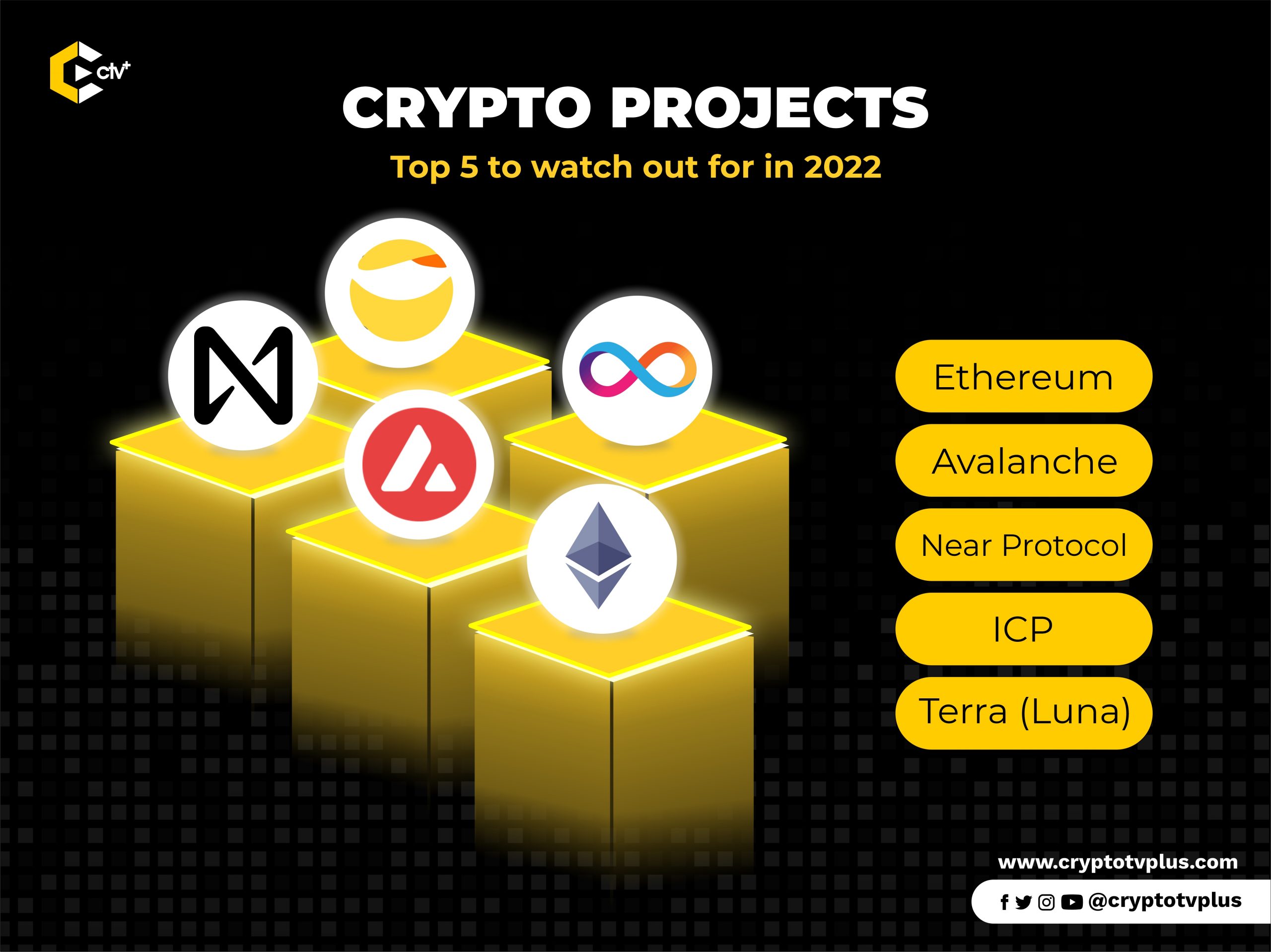 Avalanche ($AVAX)
Avalanche, the eleventh biggest cryptocurrency in market capitalization, had a strong 2021 with an excellent bullish performance of +3,100% outperforming almost all of the top 10 cryptocurrencies like Bitcoin (BTC) +65%, Ethereum (ETH) +413%, Binance Coin (BNB) +1,295%, Cardano (ADA) +646%, and Polkadot (DOT) +199%, according to CoinMarketCap. 
Started the 2021 with a market cap of $281 million and with a $3.66 coin value and ended the last day of the year with a market cap of $26.1 billion with a $107.42 coin value, after reaching an all-time high of $134.53 and a market cap of $30.11 billion in late November 2021. 
AVAX's huge momentum was during the last quarter of the year, on November 16th, Deloitte announced a partnership with Ava Labs, the team behind Avalanche, by launching a platform called "Close As You Go (CAYG)" built on Avalanche blockchain. 
This platform will aid state and local governments to demonstrate federal funding during natural disasters and public health emergencies. One week after this huge partnership, Avax reached its all time high.Going forward, Gov Capital's and CoinPriceForecast expect that AVAX will reach $309 and $305 respectively by December 2022.
It appears AVAX will continue to grow this year, and the bullish sentiment will continue. As DeFi and NFTs gain more adoption, new users entering the crypto industry can see Avalanche´s blockchain as an Ethereum alternative. Let's hope other big names like Deloitte adopt Avalanche's blockchain in 2022 while crypto global adoption continues.
Near Protocol ($NEAR)
Near Protocol is a blockchain-based decentralized application platform that is arranged to be permissionless, highly functional, and safe enough to produce a powerful and decentralized data layer for the future web, and it operates on hundreds of servers globally.
 NEAR is fundamentally a platform for hosting apps that have access to a shared and secure pool of money, identity, and data that their users control. In terms of technology, it integrates partition-resistant networking, serverless computation, and distributed storage into a novel system.
Any platform that has its own blockchain has seen immense growth in the world of cryptocurrencies. If we look at the top 20 ranked cryptocurrencies in the world, almost every coin has its own blockchain, including ETH, LUNA, AVAX, SOL, and many others. This is because having a secure blockchain network gains the trust of major investors, also known as institutional investors.
The NEAR token was launched in late 2020 and since then the token has seen a rise of over 2500% with its all-time high standing at $16.33, a feat which was achieved on Dec 27, 2021. 
Looking at the NEAR chart, it can be seen that in the post-May 2021 bear market, the NEAR token has seen a linear growth and a major spike in this month as the token's value, which was hovering around $8, doubled in value to $16.This might be a good opportunity to invest as many crypto experts are seeing a price rise to $50 in the near future. 
Internet Computer ($ICP)
Internet Computer is a blockchain-powered public network that provides a limitless environment for smart contracts to run at web speed and scale while helping to reduce computing costs. 
The project claims to be the third-greatest innovation after Bitcoin, which plays the role of digital gold, and Ethereum, which is powering the decentralised finance (DeFi) revolution. Internet Computer expands the internet's functionality so that it can host back-end software, transforming it into a global computing platform. 
The platform allows the building of websites and enterprise IT systems by installing code directly on the public internet without using commercial cloud services and server computers. 
The major goals of the Internet Computer project are two-fold: To increase the speed of most blockchain technologies;To limit the presence of Big Tech protocols such as Amazon Web Services (AWS), which are widely used by websites and blockchains. ICP is the native token of the Internet Computer network, which is mainly used for processing the network's power.
 The total supply of ICP tokens is 475.72 million, 190.8 million of which are now (24 December) in circulation. The ICP tokens are also used as a reward for users, who play a significant role in enhancing network functions.  
As one of the newest cryptocurrencies on the market, Internet Computer has gained a great deal of attention from investors and analysts since its launch on Coinbase Pro on 10 May. Trading currently at around $26.85, the ICP token has a market capitalization of $5.2m, which makes it the 36th biggest cryptocurrency, according to CoinMarketCap. 
Although the ICP coin price has drastically plunged from its peak, the project's fundamental value, use cases and potential to transform how the internet works bid well for the longer-term ICP/USD forecast. The recent ICP crypto news regarding Bitcoin integration contributes to the bullish ICP crypto price prediction.
What do you think of this article? Share your comments below.