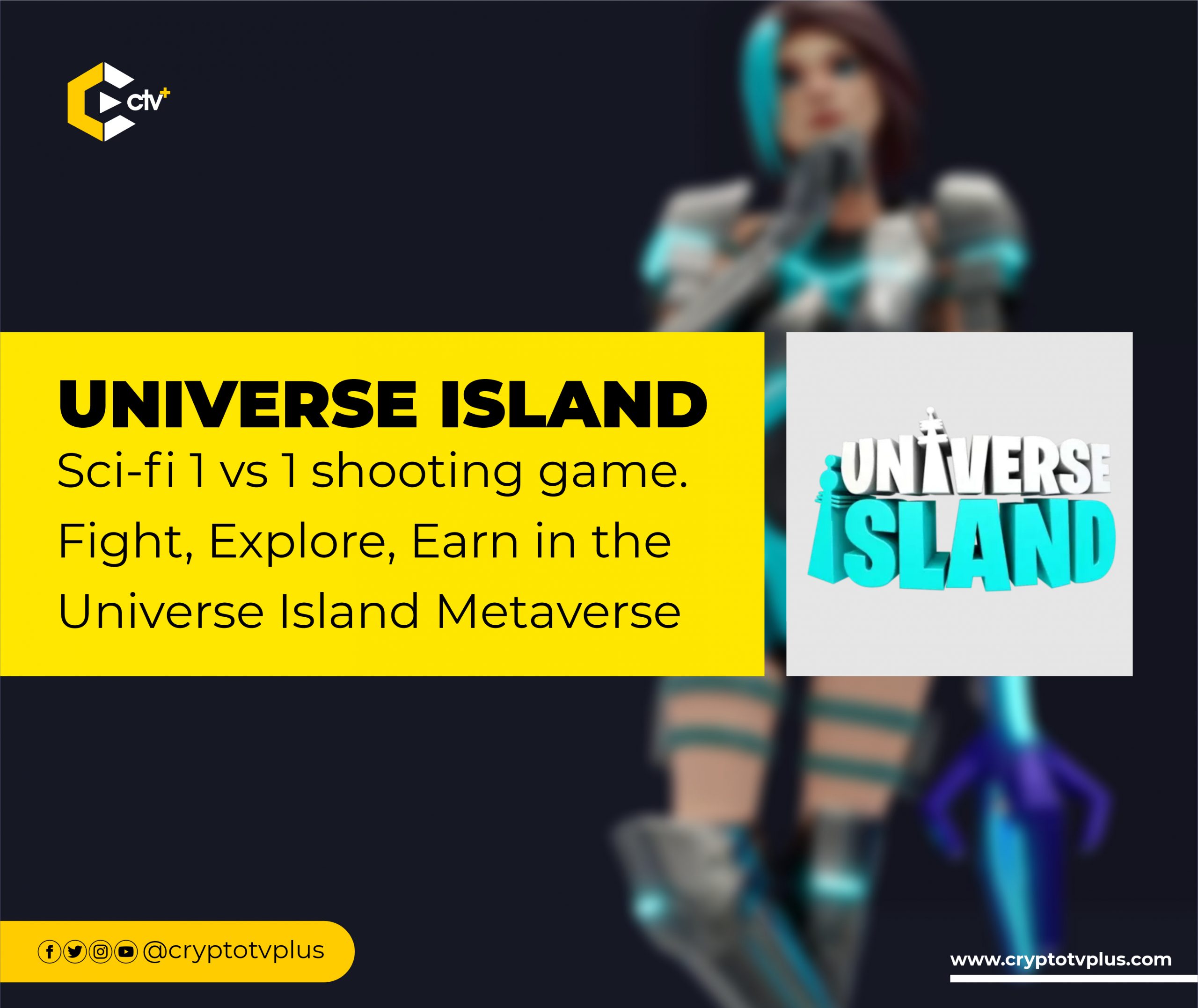 Universe Island: Sci-fi 1 vs 1 Shooting Game. Fight, Explore, Earn in the Universe Island Metaverse
Traditional games have taken a new twist. While there is a long list of past and current third-person games driving the evolution of this gaming category, early 1990s games like "Fade to Black" gave players a good time and a cinematic experience. While this was all good, the play-to-earn model has provided gamers with tradable rewards for their time and commitment, and interestingly, contributed to the game industry's rapid growth.

Third-person shooter games allow players to not only experience but also see their characters and personalities in action, such as how they walk, run, react to situations, and interact. Universe Island is one such immersive Third-person shooter game.
What is Universe Island?
Universe Island is a cryptocurrency-powered sci-fi 1 vs 1 shooting game published by Universe Island LLC that allows players to immerse themselves in a gripping story, explore an open metaverse full of mysteries, and compete against other players for rewards and ranks. The metaverse gallery allows players to view and explore the in-game NFT collectibles. Users can hone their skills through training and see their favorite real-life heroes with the free-to-play Virtual reality technology.

The game blends gaming with cryptocurrency, NFTs, and rewards. The game incentives are in the form of $UIM tokens, which can be used to make all in-game transactions. The tokens are awarded to players for winning matches and claiming airdrops, players can use them to exchange collectibles in-game for special boosts or stake them for other bonuses.

With an impressive roadmap, the Universe Island team, led by Ladislav Liska, works to ensure that Universe Island is more than just a gaming platform, but also an indulgent experience, where the animated series of the game would complement its story-driven nature and mystery tales. With each new map released, there would be a new mystery for gamers to solve. Players will play not only for the sake of gaining rewards, but also to watch and feel what they see in the story firsthand.
Universe Island Gameplay
The game starts with two players on opposite sides of the map. Both players must navigate around AI-controlled foes and allies to be the last person standing at the end of the match. On Universe Island, all players start with a full 100 HP. Players can win by killing their opponent(s) while avoiding or destroying AI-controlled foes (neutrals). The average game lasts about five minutes. The winners receive $UIM, the game's native cryptocurrency, which is spendable in-game or available for withdrawal on-chain after a one-week verification period.

Players can obtain airdrops from the UFO and earn additional tokens by exploring the maps and discovering treasures. Bonuses, increased attack power, and defense are among the benefits of airdrops. To obtain these treasures, players must first win the game. Winning would bring $UIM tokens as well as the ability to claim the treasures.

The Universe Island metaverse is made up of various islands. Players take control of characters as they travel through the metaverse. Various islands have their secrets, with each island having its animated TV show.
Universe Island Features
Metaverse Gallery: This allows players to walk through the game and interact with the various NFTs on display. Players would also be able to display their earned card collection in the big tour Metaverse Gallery, which would help them obtain better sell-out and buy prices. Players can display NFT collections in this gallery, as well as tour the gallery, just as they would in their own home or a hall of fame in any art gallery.

Open-world: To train and upgrade their skills, players would have access to a training playground in the open world, which would essentially consist of a shooting ring with NPCs. Players on Universe Island can interact with other players and go on adventures without using any in-game energy.

Action-packed 1vs1 Matches: This is where each player would face not only their opponent but also AI foes. The mysteries of each map, as well as the benefits that come with winning matches keep the players' adrenaline pumping through their veins while they play or have an in-game experience.

Staking: Voting rights or governance rights and the ability to mint rare Infinity series NFT cards are two of the benefits of being a token holder and staking. The more tokens players stake and the longer the period for which they stake them, the better the probability of receiving a better NFT card. Also, these cards aren't regular cards; they deliver extraordinary stats to characters and have the ability to make the difference in ensuring a higher chance of victory.

NFT Marketplace: The Universe Island features an NFT Marketplace for users to trade NFT collectibles seamlessly and securely. When users trade using $UIM as the transactional token, the platform will add no additional fees. Players can trade their in-game collectibles in the metaverse marketplace designed exclusively for trading in-game collectibles. Players' NFT collectibles up for sale would be listed in the marketplace. Payment will be made with $UIM tokens or BUSD, and the Players have the freedom to choose their best payment method.

The market value of NFTs varies depending on their rarity, with the legendary (most uncommon) having the highest market value. The user can utilize $UIM Tokens earned from wins in-game to acquire or purchase NFTs that improve the character's talents, allowing them to create more powerful characters. Obtaining performance-enhancing NFTs is directly related to how often a player plays and develops in the game.

Read Also

Enjin; the Platform Powering GameFi and NFT Revolution

Metaverse; Breed, Fight, Play, Earn in Metakings

Synergy Land; the Action Role-Playing Game set in a fantasy world

Starl Metaverse; Create, Socialize, Explore Space in the P2E Metaverse Platform

NFTs: Collect, Create and Play in the Legends of Elumia P2E Metaverse
Universe Island Token Overview
This third-person shooting game features NFT and crypto rewards for players' abilities, efforts, and time using the $UIM Tokens to power an unrivaled play-to-earn model.

The UIM Token would be the standard form of all in-game rewards, fueling the game's P2E model. These tokens can be used to make purchases or to trade in-game NFT collectibles on the Universe Island NFT marketplace, which is meant to make exchanging game-related collectibles secure and easy. Staking features are also available in the marketplace, where users can get rare infinity NFT cards via staking.

All in-game rewards and collectibles would be in the form of digital assets over which the user/player would have complete control. $UIM tokens could be used to make purchases in-game or for trading in the real world. Players can also submit a claim request to withdraw funds on-chain, however, the system will require a one-week verification period to ensure proper rule compliance.

The Universe Island Beta launch is scheduled for May 2nd, 2022. Click here for more information on the Universe Island Beta Release Date.


What do you think of this article? Share your comments below.