Blockchain for Lawyers 101 Set to Hold in Abuja with a Nationwide and Continental Focus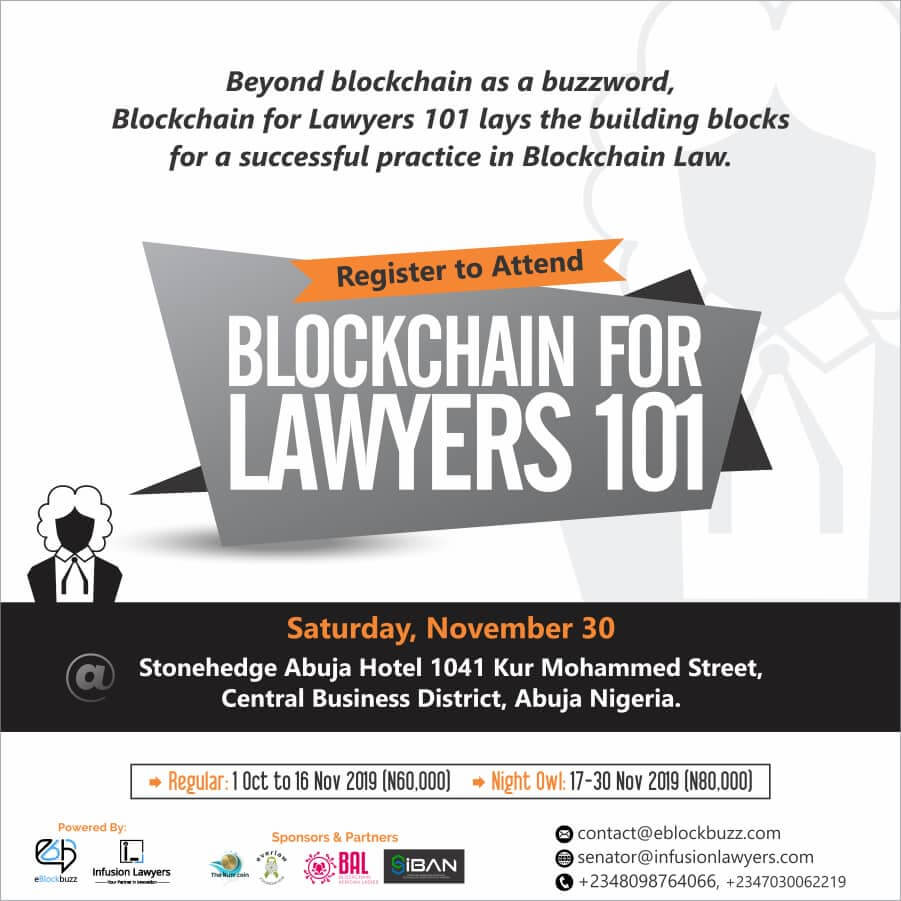 After a successful outing of the maiden edition of Blockchain for Lawyers 101 in July 2019, it is set to hold in Abuja with a focus on being held across several cities in Nigeria and Africa at large empowering lawyers in the new age of tech and digital disruption.
With huge traction already gained on the upcoming event set to hold on the 30th of November, 2019, CryptoTVPlus caught up with the organizers, speaking exclusively with Senator Iyere Ihenyen, the Lead Partner at Infusion Lawyers & Partners and facilitator of African Blockchain Education Tour in partnership with eblockbuzz, a blockchain focussed media establishment from Nigeria, discussing with him on their upcoming event.
"AI will not take your job if you don't insist on taking AI's job" – Senator Ihenyen
In this exclusive interview with CryptoTVPlus, Senator Ihenyen expounds on the purpose, plans and future outlook for Blockchain for Lawyers 101
What exactly is Blockchain for Lawyers 101?
"Blockchain for Lawyers 101 is a one-day course that introduces lawyers to the blockchain technology from what blockchain is, its applications and legal implications, how it affects lawyers, to how lawyers can reposition themselves to provide legal advisory services to blockchain-powered agencies, businesses, and organizations. Blockchain for Lawyers 101 is the first of its kind in Africa. It is introduced under the African Blockchain Education Tour initiated by eBlockbuzz in collaboration with Infusion Lawyers. An introductory course, Blockchain for Lawyers 101 is a building block to a successful career in blockchain law."
What informed the decision to organize a Blockchain focused program for the legal sector?
"Blockchain is a disruptive technology that brings both new opportunities and new Legal and regulatory risks across various industries, including the legal industry. As agencies, businesses, governments, and organizations grapple with these new legal and regulatory risks, it is critical to have lawyers who understand how the blockchain technology works and its
various applications so they can be in a proper position to help clients avoid or at least minimize such Legal and regulatory risks. This is where Blockchain for Lawyers comes in. It equips lawyers with the knowledge and skills they need to actively participate in the new and emerging decentralized economy, creating new opportunities for their clients and also for themselves."
Considering the growing awareness of Blockchain and Cryptocurrency in Nigeria, how do you see the legal sector and Blockchain interfacing in the next few years?
"The intersection of Blockchain and the legal sector will increasingly widen and deepen in the next few years. This is because legal services is essentially a business of trust and blockchain as a trustless technology will disrupt the legal industry, bringing more accountability and transparency to what law has tried to achieve for centuries. Smart contracts will change the way that parties enter into contracts, effectively changing the role of lawyers in this respect. Also, blockchain can change the way intellectual property is protected, enabling a more efficient and effective way of managing IP rights compared to the chaos we have presently in the digital age. Apart from IP, disputes are bound to reduce significantly when blockchain is applied to our land registry system and public record system generally. And since blockchain is a decentralized ledger, it will have a significant impact on the shape and size of cybersecurity issues in the future."
The emergence of new technologies comes with its own risk. Jobs could be lost as sectors or sub-sectors become less relevant. Same fears may be entertained by legal practitioners, what's the appropriate response when presented with such?
"It's true that emerging technologies such as artificial intelligence, big data, the Internet of Things, cloud computing, including blockchain come with considerable risks. But the appropriate response is not for lawyers to panic but lawyers need to reposition themselves to leverage the opportunities that these technologies also bring. By understanding what these technologies are, their policy and legal implications, and how they affect lawyers, lawyers can significantly minimize the risks and maximize opportunities. AI will not take your job if you don't insist on taking AI's job. Smart contracts will not take your job if you don't insist that your contracts are smarter. The way to is to identify your strengths, acknowledge your weaknesses, reequip yourself, and then leverage these emerging technologies to amplify your strengths."
The program title "Blockchain for Lawyers 101" presents itself as a beginner course for legal practitioners, would there be a Blockchain for Lawyers 201 soon?
"Yes, Blockchain for Lawyers 201 will be introduced in 2020, after taking Blockchain for Lawyers 101 to lawyers in various cities. Blockchain for Lawyers 101 is a comprehensive course that introduces lawyers to the fundamentals of the blockchain, its types, its applications, legal implications, regulation across various jurisdictions, and how lawyers can build successful careers in blockchain law. Blockchain for Lawyers 201 will focus more on select case studies, legal and regulatory compliance in relation to blockchain and virtual assets, including cryptocurrencies. It will be more intensive and it comes with exercises."
Blockchain has helped create a global financial system without needs for a central authority, will Blockchain for Lawyers 101 reach out to other nations?
"The answer is YES, and this led by demand. After a successful maiden edition in Lagos in July 2019, Blockchain for Lawyers has received a great reception from lawyers in and outside Nigeria. So far, we have received interest from Rwanda and Kenya. We are also exploring Ghana. Moving to Abuja FCT on 30th of November 2019, the second edition of Blockchain for Lawyers 101 enjoys support from our sponsors such as Kurecoin Club, Blockchain African Ladies, Everlaw Foundation, and our partner, Stakeholders in Blockchain Technology Association of Nigeria (SiBAN)."
Conclusion
With more of this happening across Africa just like was seen in Kenya where graduates emerged in its first ever Blockchain class , Africa is truly on the path of realising her potentials in the grand scheme of things vis-a-viz other continents especially in areas of technology such as the Blockchain.
Registration is currently ongoing. Click HERE to register.
First of its Kind in Africa: SisiPower to Empower the 'African Sisi' with $1m Entrepreneurial Grants and 150m Anion Sanitary Pads to women and the less privileged girl-child in Africa
Sisipower is committed to positioning the African sisi and equipping HER with one of the most trending innovative skills and technology, which is blockchain.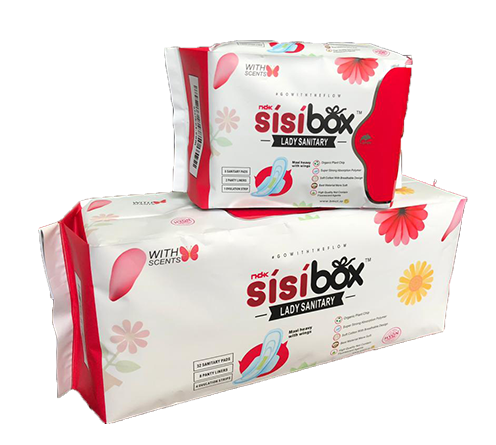 Sanitary pads which is supposed to be readily available and affordable to every girl or young woman in Africa is not. Though we have some sanitary pad brands in the market, it's just that many of these girls and women can't afford to buy and use them for their monthly menstrual circle. In order to get these pads, these young women find themselves in despicable situations where they are forced to have sex with the chemist or shop keepers who sells these items. They are also exposed to having sex with any available male in exchange for sanitary pad. So sad that girls have to sell their dignity just to get a paltry sum of money to care for their monthly period.
It is also not new as research shows that many girls especially in public secondary schools miss class during their menstrual period. They do this as a result of the fear of being shamed by boys and girls alike for the blood stains that reflects at the back of their skirts. Not only that, some of these girls, if at all they try to come, end up using unhygienic materials like dirty clothes or tissue papers. And while they are away from school they miss out on academic lessons which affect their overall academic performance and deny them of better future prospects.
A look at our female prisons wards, tales of woes, agony and pains as another worrisome situation is brewing there. In the prisons, we have a situation where about five female inmates have to share one sanitary pad. Thus exposing them to all manners of highly contagious disease and infection.
Some of these girls and women when interviewed say, "we can't afford to eat three square meals how much more buy a sanitary pad."
In putting an end to this problem which have skipped the eyes of many, BEEP Foundation, a concerned non-governmental organization launches SISI POWER, a campaign to empower indigent women and girls with 1 million Dollars and 150 million sanitary pads across Africa, though starting from Nigeria.
This cash will be given as business grants to indigent women, after proper training. Also, they shall be mentored by successful business women and the foundation to ensure they make better use of the grants given to them.
For girls, they shall have access to free monthly sanitary pad and access to Blockchain Technology, ICT and life skills training which makes it possible for them not to sell themselves short just for sanitary pads. They will be trained in the following areas; Coding, Mobile App Development, Animation, Digital Marketing, Graphic Designs and other relevant courses that ensure for their self-sustenance, productivity.
With this innovative gesture, BEEP Foundation through the launch of Sisi Power has placed itself at the forefront of poverty eradication, entrepreneurial empowerment of Girls and Women in Africa.
The narrative has to change , Sisipower is committed to positioning the African sisi and equipping HER with one of the most trending innovative skills and technology, which is blockchain. SisiPower leads the way in its application of blockchain technology by enabling acceptance of donations in BMCTokens and made provision for acceptance of a smart contract shared Master-Node Equity reward on the blockchain to support and sustain the vision and mission of sisipower.
Sisi Power is an initiative of Beep Foundation, a foundation geared at providing empowerment and innovative development in Africa.
Operations Head Office : 15 Yinusa Adeniji street off Muslim Avenue ikeja lagos Nigeria. www.sisipower.org. Info@sisipower.org.
A few members of the executive team were unveiled at the event.
This launch happened on Saturday, 28th September, 2019, at 10:00am at the ZAAZ Hotels, Ikeja, Lagos.
Find Photos of the event here
Some speakers at the launch of Sisipower.

Founder with Speakers and Ambassadors of SisiPower


Brain Behind the Idea stops for a Pose

Founder with BitFXT Delegation

A pictorial submission of the Sisi power Inauguration powered by Beep foundation

Inauguration Ceremony of the Sisi Power Project. An initiative which seeks to Empower the African Girl Child with innovative Skills that promotes Entrepreneurship.