Top 5 Crypto Gainers in the month of November, 2020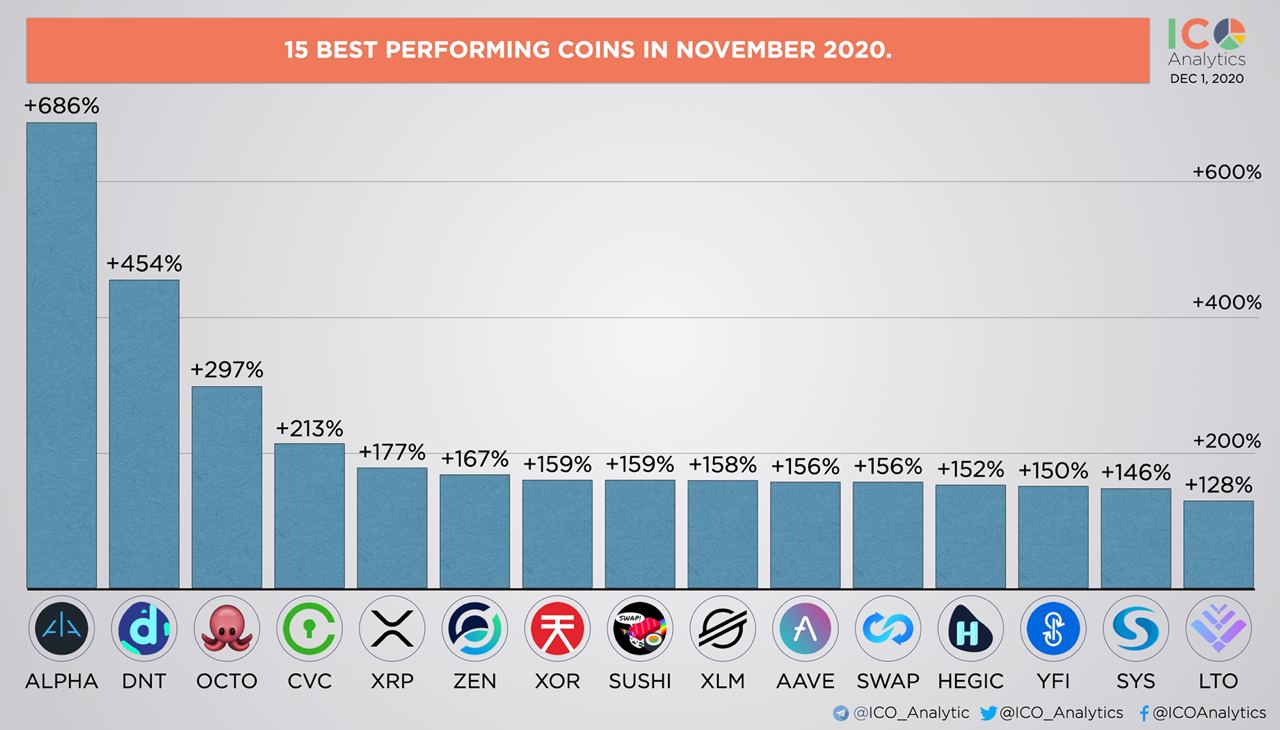 The cryptocurrency market is filled with ups and downs but there's always a particular project that achieves spectacular results. In the article, we shall be looking at the top gainers in the month of November, 2020 according to report from ICO_Analytics
Alpha Finance (ALPHA)
Alpha Finance a decentralized finance project. It describes itself as an ecosystem of cross-chain DeFi products that will interoperate to bring optimal alpha returns to users. Alpha products focus on capturing unaddressed demand in DeFi in an innovative and user friendly way.  In the month of November, Alpha Finance grew as high as 680%. This positioned it as one of the best performing cryptocurrency for November. It's currently trading at $0.25.
DistrictOX (DNT)
DistrictOX is a network of decentralized markets and communities. Create, operate, and govern. Powered by Ethereum, Aragon, and IPFS. All through November, DNT was able to achieve a gain over 451%.
OctoFi (OCTO)
OctoFi was able to secure a gain in November of almost 300% thus making it the top three gainers. Though it's currently trading at $28 after losing 17% in the last 24hours.
Civic (CVC)
Currently trading at $0.10 after gaining 23% over the last 24hours, Civic was the fourth top gainers in November. It secured an amazing 200% over the month. However, it's still far from its all time high of $1.35 as at January 3rd, 2018.
Ripple (XRP)
The XRP movement in November created excitement in the market. There has been lots of controversies around this cryptocurrency. However it reached a whopping 177% gains. This positioned it as the fifth top gainers.
Other gainers are:
Zen (167%), XOR (159%) SUSHI (159%), XLM (158) etc.