Galaxy Arena integrates more real-life activities into the virtual world.

Galaxy Arena token is called Essence (ESNC). 
"Metaverse" is no longer a strange term. The possibilities of a virtual world that imitates real-life characters and activities continue to make the headlines. Galaxy Arena is riding this wave, introducing a play-to-earn Metaverse that allows people, particularly gamers, to immerse themselves in a virtual world designed with fun features for a maximal experience. 
What is Galaxy Arena?
Galaxy Arena is a virtual reality play-to-earn metaverse that implements motion-capture metacast technology for an immersive user experience. It is a metaverse for both sports and game enthusiasts. Galaxy Arena adopts an intergalactic setting, giving users a virtual world that they can continue to explore for entertainment, sports, and gaming. 
A Deeper Dive into Galaxy Arena
The Arena will host 'mind-blowing' and exclusive events in real-life and digital settings. Events and competitions held in the two worlds will not be different in realness and immersiveness. Users can watch real, live UFC fighters slug it out, with every action enhanced by cutting-edge technology. 
However, the Arena is more than just sports or UFC matches. Galaxy Arena presents itself as a metaverse where brands can gain exposure, advertising themselves to users using in-world billboards and the ad space on holographic hub watches.
Galaxy Arena: Bridging Virtual Worlds & the Earth
The Galaxy Arena VR metaverse integrates more real-life activities into the virtual world. Activities such as betting on fights, establishing virtual businesses, acquiring real estate are possible in the Arena, which is rooted in the play-to-earn model that it adopts. Also, users can get in on more action themselves, becoming arena combatants and climbing through the ranks of their gladiator story. 
Every combat character and item in the Galaxy Arena metaverse is a 3D NFT with intrinsic value and unique ownership, supported by blockchain. Users can improve their characters, grooming them in real-world fighting styles. In addition, users can set up a Dojo within the arena where they teach others for free or for-profit on a grander scale.
Galaxy Arena offers users an otherworldly exposure marked by the presence of alien creatures in the Cosmic Zoo. But integrates some earthly features such as virtual reality neon botanical garden and coral reef, ensuring that users have the best of both worlds. Galaxy Arena aims to be the metaverse that offers users new experiences each time they explore.
The Galaxy Arena Ecosystem
The Galaxy Arena ecosystem is large and requires an efficient economic system to bootstrap the play-to-earn business model. However, Galaxy Arena does not rely on fiat to do this. Instead, like most blockchain ecosystems, Galaxy Arena adopts a token for incentivization and other important activities. 
The Essence token (ESNC) drives several activities within the Arena, such as purchases, wagers, and exchanges. Given this, each user kickstarts their journey in the Galaxy, purchasing a ticket with a single Essence token. Other use-cases for the token include gambling, purchasing additional passport tickets, acquiring avatar upgrades, skins, in-game items, real estate.
Read also;
Somnium Space; Dive into the World of  VR, Blockchain and P2E Metaverse
Top 5 Most Undervalued Gamefi Metaverse Blockchains
Geopoly; The World's Largest Capitalist Metaverse to Build, Rent, Gow Businesses
DragonSB; The First VR MMORPG Built on Both Terra and BSC
Earning Essence Token (ESNC)
Galaxy Arena allows the metaverse participants to earn Essence (ESNC) through several ways, some of which challenge their survival instincts, curiosity, and risk appetite.
Daily, Weekly, and Monthly Rotating Challenges
Users will face challenges of varying difficulty levels as they explore different areas of the metaverse. For example, players earn Essence tokens for visiting and interacting with the new animal when one appears at the Cosmic Zoo. Interestingly, those who undertake optional sub-objectives accumulate bonus coins. 
Sub-objectives in the Arena include finding a lost item like a security lanyard for an NPC (non-player character) who may be managing a Cosmic Zoo. Rewards accrue to any player who completes the sub-objective.
Players with a high-risk appetite enter the Celestial Casino. They play popular casino games like slot machines, roulette, blackjack, and poker, betting on favorable odds and earning Essence as they win. Also, they can partake in mini-games where they get rewards in Essence. 
Galaxy Arena brings real-time action in Mixed Martial Arts (MMA) and boxing matches closer to users. Adopting the latest green screen and 3D recording technology, users enjoy a highly immersive experience native to the Arena. 
Real-world matches are streamed via the Arena, allowing users to cheer and place stakes on their favorite fighters. Users earn winning stakes in Essence if their chosen fighter wins. Galaxy Arena adopts a pay-per-view model for live events to generate revenue. 
The experience for users goes further with the in-house VR fighting game, which allows users to wager on player-controlled characters. The in-house fighting game operates a ranking and rewards system that incentivizes players who win virtual matches or top weekly or monthly leaderboards. Earning rewards is also specific to the type of character a player chooses. 

Other Notable Features of the Galaxy Arena 
The Galaxy Arena opens doors to a cross-section of users, including guests, who can explore the metaverse. They are not eligible for most activities; they can only interact with the environment and place wagers to earn Essence rewards. Guests can only become eligible for exclusive activities when they have made enough Essence to purchase a Top Secret Passport. Nonetheless, they can socialize with citizens of the Arena.
Exploring Facilities in Galaxy Arena 
The Galaxy Arena is a large expanse of digital space, measuring about 30,000 square meters. Such a sizeable digital space hosts several facilities that keep users engaged. The facilities include;
The Galaxy Tower contains the Celestial Casino and Galactic Planetarium. In the Celestial Casino, users have access to a wide variety of traditional casinos and mini-games. In the Galactic Planetarium, users can enjoy sightseeing, soaking in the beauty and radiance of stars and celestial bodies as if in space. 
Only the Galaxy Arena elite have access to the facility as it is a private section. Here, they can view matches exclusively.
Level 2 features the stadium seating for Arena matches, allowing players of all character types, tiers, and classes to interact, chat and cheer on their fighters who they might have wagered on. 
The boxing and main Arena floor are at this level. All of the fights in Galaxy Arena happen at Level 1, reminding users of the broken bones and spilled blood. Users can explore another facility section when they are not competing— The Milky Way Promenade. Purchase of in-game items, real-life merchandise, exclusive wearable items, snacks, and window shopping is performed at this level. Outside the arena is the Cosmic Zoo and Botanical Garden, where users can feed their eyes and appreciate nature.
The Level -1 facility contains a commercial area marked by lounges and shops for all users to enjoy. It is also an extension of the Milky Way Promenade, allowing purchase upgrades, weapons, etc. Users can also buy a plot of land to build storefronts.
There are 4,500 square meters of the exhibition floor and gallery space here. Thus, players can also purchase real estate, items, collectibles, and artifacts. 
Level -3 features an aquarium, allowing players to swim with dolphins and enjoy the warmness of the water while marveling at the beauty of the underground garden.
Galaxy Arena provides a relaxation facility for users to unwind. They can take advantage of the many lounges, gardens, office spaces, shops, pools, private booths, etc. Other leisure activities they can engage in include golf playing, archery, museum exhibition, art gallery showcase, or exploring other areas in the Resort area.
Every player in Galaxy Arena has a Hub watch, an all-in-one holographic tool worn on the wrist. The hub watch helps players keep up with the latest news, place bets, and easily gain access to their profiles.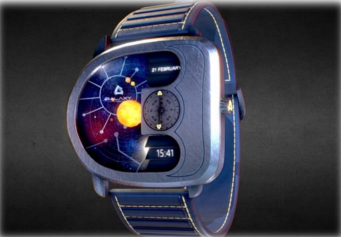 They can also edit avatars, purchase event tickets, tweak their crypto wallet UI, and trade tokens with other players, including connecting their watches to other smart devices through an app, thereby accessing holdings outside the metaverse.  Additionally, a personal meta-assistant SERENA, who reports highlights of events they missed in the Arena, assists the players.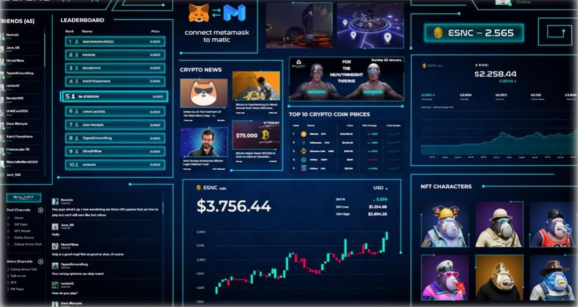 Galaxy Arena introduces other products to users. It plans to be the envy of other metaverses as it enables the customization of user-owned properties. Users can create boutiques, dojos, training gyms, office spaces, specialized shops, interactive spaces, and portals to different metaverses.  In other cases, they also earn money from leasing spaces for advertisement.
Final Thoughts 
Galaxy Arena is revolutionizing the metaverse innovation, which has fast become an anthem. It kickstarts the revolution, leveraging 3D modeling, greenscreen, and broadcast technology to appeal to the cross-section of MMA and boxing lovers, including VR enthusiasts. 
The play-to-earn business model is one of the value propositions Galaxy Arena is leaning on to attract thousands of users. Thus, Galaxy Arena will allow users to play a more participatory role through decentralized voting, supported by the Essence token. 
While it is easy to become obsessed with a captivating virtual world, as has been described, Galaxy Arena implements a monitoring and alert system which is triggered when players have stayed long in the metaverse playing games and exploring, reminding them to take breaks.
What do you think of this article? Share your comments below.