Muna introduces its governance token $MUNA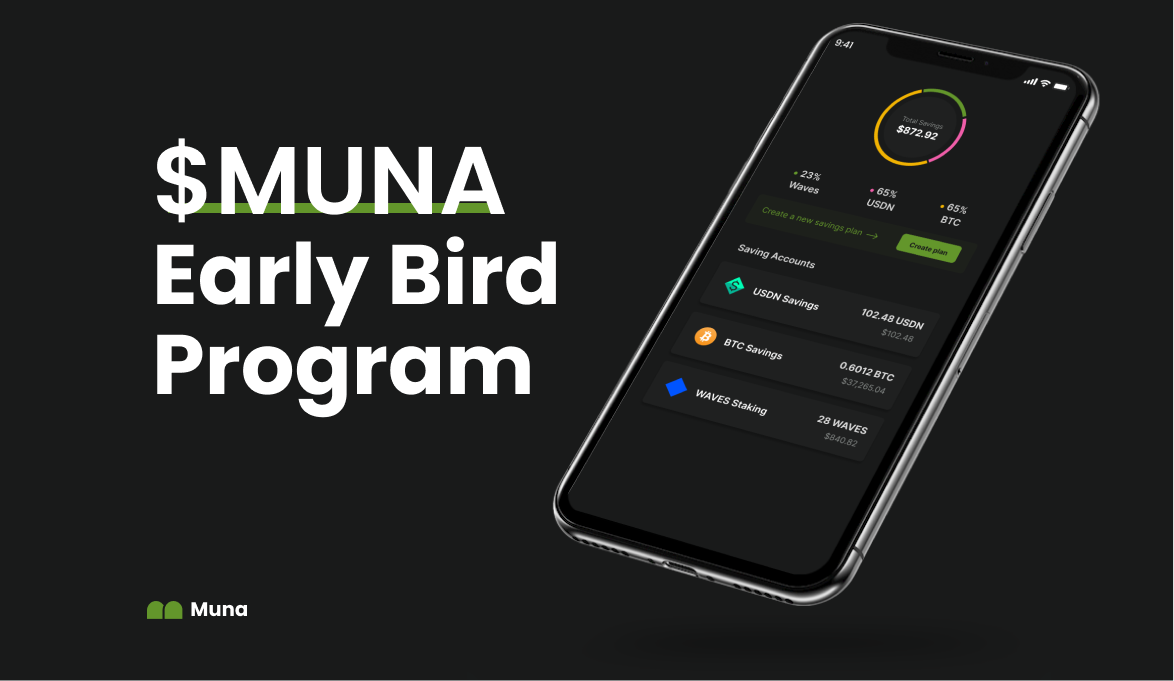 Cryptocurrency saving and payment app Muna has unveiled its governance token, the $MUNA.
The company made the announcement on Tuesday, 19th October, 2021 via a medium publication.
According to the company, $MUNA is a utility token and also the governance token of the Muna cryptocurrency wallet.
(Every) Muna users will receive $MUNA tokens based on the size of their contributions, activity and participation in the Muna ecosystem, the company revealed.
The $MUNA governance token will enable holders to vote for new assets to be listed on the Muna App. Holders will also earn $MUNA tokens as they stake, create savings plans, vote for assets and refer people to use the Muna wallet.
Aside from the above, $MUNA holders will allow holders to enjoy transaction fee discounts for both external and internal transfers.
$MUNA Token Distribution and Revenue Generation
A total of maximum supply of 10 million tokens will be minted over a period of 5 years according to the company, and 10% (1M) of this will be allocated to Early bird reward and onboarding for a two-year period. Each year, 500K $MUNA tokens will be distributed.
Read also:
10% is allocated for private investors and teams to be vested for 5 years; 5% to be allocated to referrals, bounties, and contests with a vesting period.
10% of the $MUNA governance token has been earmarked for development and marketing initiatives and will not be locked up. Also, Muna has allocated 15% (1.5M) for the Token Sale which will be held in Q1, 2022 via the Swop.fi Launchpad.
The remaining 50% of the $MUNA token will be distributed yearly over a five year period at 1M $MUNA per year.
The value of the $MUNA token will be dependent on the market forces of supply and demand, the company said. And it will generate revenue from Custom token listing fees, custom staking services fee, assets trading fees and third party API project support fees.
Revenue generated will be utilized in buying back $MUNA tokens from the open market to drive up the value of the token.
The $MUNA Early Bird Program
Muna unveiled introduced its early bird program to spur activities on its platform. Users who actively save USDN using the Muna app before the token sale will be eligible for the MUNA early bird reward program.
The program will last until 26th of February, 2022 and a total of 1M $MUNA has been reserved for this program.
The company will announce the early bird program guides and calculations.
Speaking to the CryptoTvplus team, the CEO of Muna, Mr. Henry Lucky how he felt being one of the first local blockchain firms to release a governance token, he said;
"honestly, I really don't feel anything about $MUNA launch and not sure we are the first local blockchain company to release governance token actually. More so, Quru Lab X Muna is actually a software company building blockchain products and solutions."
A look at the Quru Lab website shows some of the products the company has been working on and they include the Muna Savings App, Amadi, a decentralized wallet for Waves assets and a Voting dApp for SiBAN.
Muna is a simple and safe multi-chain cryptocurrency app enabling people to save cryptocurrencies and make payments. Download Muna from Google Play or App Store.
What do you think of this story? Share your comments below.