CEO of CryptoMasterClass sees no value in NFTs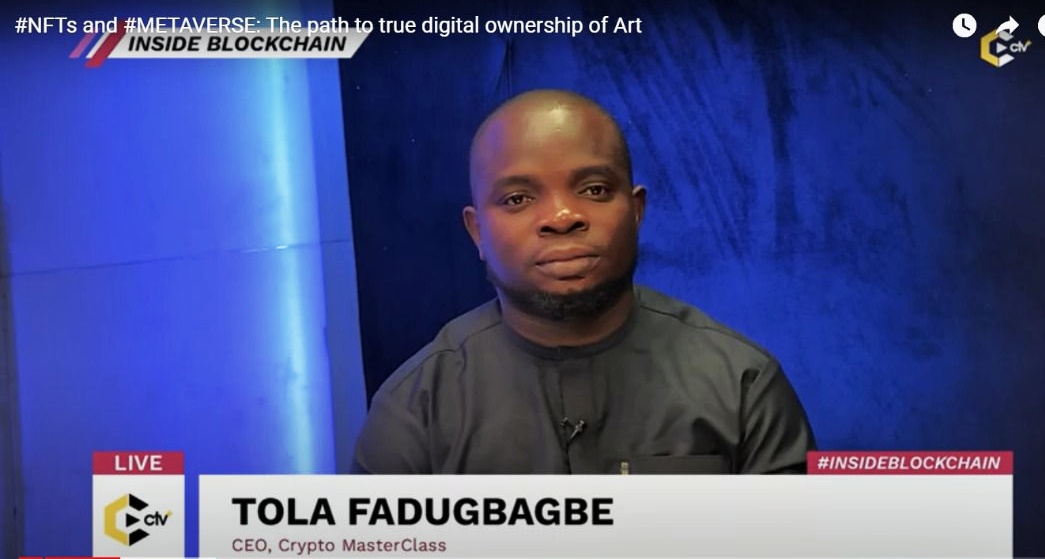 Tola Joseph, the CEO of CryptoMasterClass has expressed his skepticism regarding non fungible tokens (NFTs).
The popular cryptocurrency teacher said he'll rather put $500k into metaverse before putting $1 in NFTs. He argued that if he can take an NFT screenshot, what then is the point of spending a huge amount of money to acquire it.
Mr. Tola called on his followers to pay attention to IGO, the latest fundraising innovation in the industry specifically targeted at blockchain based games classified as GameFi.
Read also
IGOs is the latest version of ICO, the first crypto crowdfunding innovation which is similar to Initial Public Offerings IPO used by traditional businesses to raise funds from the public.
Mr. Tola Joseph referencing the high rush, huge valuation and unprecedented price spikes associated with crowdfunding in crypto called IGO the latest "money making madness"
In CryptoTvplus program Inside Blockchain aired on Monday, 18th October, Mr. Tola Joseph further drove his enthusiasm and prospects for GameFi and the metaverse. He said "I look for a day when Play Station will announce they are getting into the metaverse"
The crypto educator has been very outspoken about crypto scams and ponzi schemes. Oftentimes, he calls out crypto scams and spills the beans on their operations. 
It's quite interesting that he sees prospects in the metaverse but doesn't see same in NFTs when the concept of metaverse draws creativity from the world of NFTs.
Aside Mr. Tola's obvious skepticism towards NFTs, he did point out an interesting issue with NFTs and that is ownership. But this mostly applies to NFTs which are basically media and not tied to any real world object.
The question is, if anyone can copy an NFT image, who actually owns it? This presents the basis of double-spend, a problem which Satoshi Nakamoto, the creator of bitcoin solved. If NFTs are prone to double spend, even not entirely in its implementation, could this hamper the prospects and value for NFTs?
Do you think NFTs have real value truly? Share your comments below