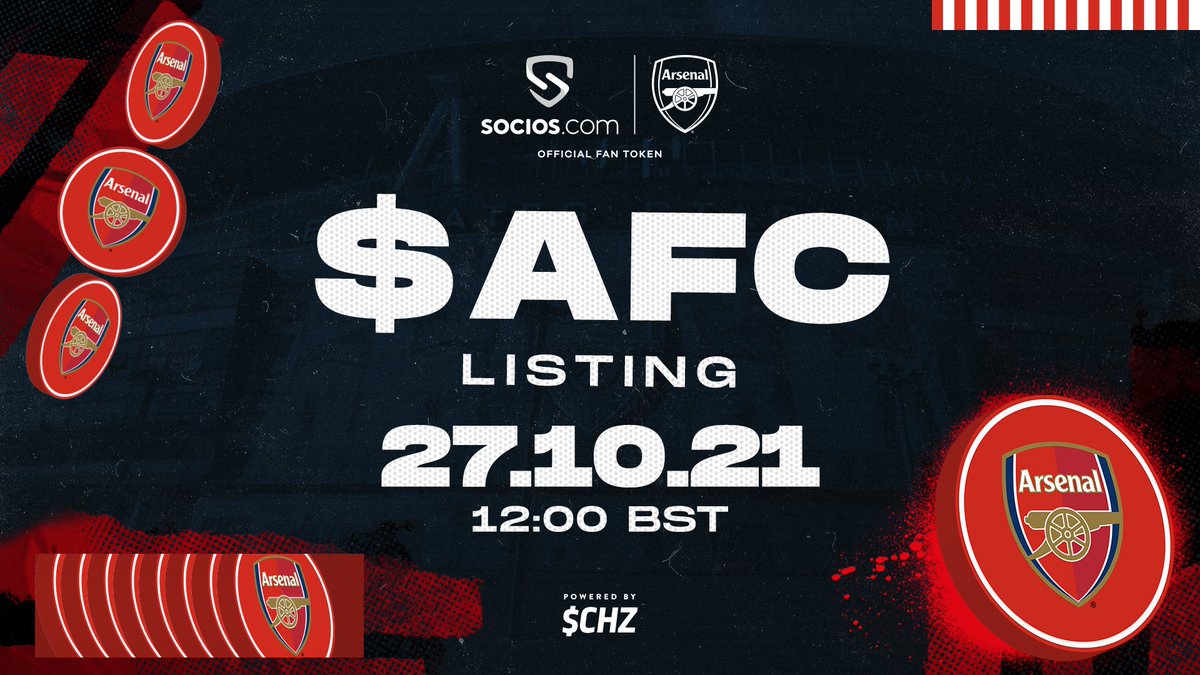 Fans to Influence Arsenal's Future as Fan Token $AFC Goes Live on Socios 
Arsenal fans will now be able to determine the direction and future of Arsenal as its Fan Token $AFC goes live on the Socios App
Fan Token of English Football Club, Arsenal has now gone live on the Socios App.
Socios announced via a social media publication on the 27th of October, 2021
🔴 $AFC LISTING DAY 🔴

The official Fan Token of @Arsenal will be listed & available again on the Socios App from 12:00 BST today.

⚡️ $CHZ pic.twitter.com/EzwXbTSHAX

— Socios.com (@socios) October 27, 2021
In mid August, Arsenal published an article explaining all there's to know about the $AFC token. 
The Football Club said  it had created a platform that will empower its fans with the $AFC token to influence club decisions like never before. 
The $AFC will give fans the right to vote on club decisions, gain VIP access to activities in the club and as well as access earning opportunities and other benefits and experiences.  The token can be accessed on the Socios App. 
Created by Chiliz, the leading blockchain provider for the global sports and entertainment industry, Socios is a direct-to-consumer platform that uses blockchain technology to provide the world's leading sporting organisations with the tools to engage with their global fanbases.
Socios partnered with Arsenal in mid July, 2021 to power to Arsenal fan token $AFC. 
Read also 
Everton ($EFC) & Aston Villa ($AVL) to launch on 15th & 16th September
Speaking on the partnership, Arsenal's Commercial Director, Peter Silverstone, said: "The $AFC Fan Tokens together will give our hundreds of millions of fans worldwide more opportunities to interact with the club and be a part of our global family." And "We are committed to finding new and innovative ways for all our supporters – whether local or international – to get closer to the club", he said.
Alexandre Dreyfus, CEO of Chiliz and Socios.com, also said:
"Every football fan is part of a community.  In fact, one of the best things about being a football fan is feeling like you're part of something bigger. There's a global community of Arsenal fans united by their shared passion for their club"
He continued saying; "Socios.com will become the meeting place for these fans and $AFC Fan Tokens the tools through which they are able to add a new layer to their relationship with the club. $AFC Fan Tokens will enable fans to access once-in-a-lifetime experiences and rewards, enjoy exclusive content, games, competitions, chat and to connect with a global community of supporters."
Fan tokens has come to change the dynamics of club-fan interaction and usher the sport industry into a world where both fans and clubs or brands can interact easily and efficiently. 
The Arsenal Fan token is live already on Socios.com.
What do you think of this story? Share your comments below.