Dash is Not a Privacy Coin, Dash Core Group CEO, Ryan Taylor Says.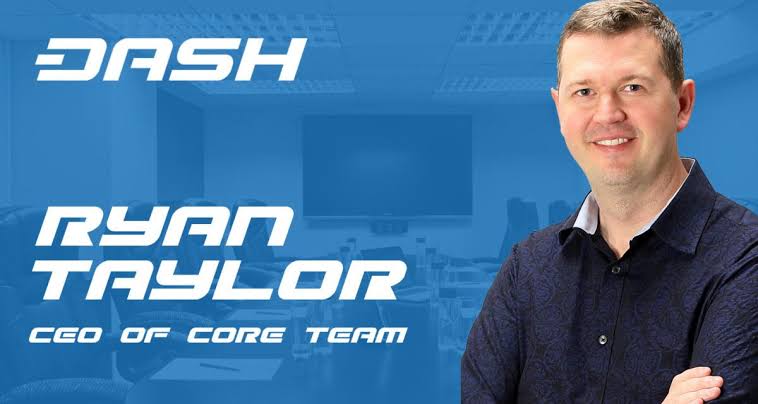 Following the statement from Bittrex to delist some private coins from the exchange (XMR, ZEC and DASH), the CEO of Dash Core Group, Ryan Taylor has responded, he said Dash is not a privacy coin.
He took to twitter to address the issue about the privacy sentiment around Dash. He argued that the recent statement from the US department of justice (DOJ) and FinCEN do not present an intent that required the delisting of Anonymity Enhanced Cryptocurrency (AECs) also known as Privacy coins.
9/ Secondly, Dash is not an AEC! As a literal fork of Bitcoin, all Dash transactions are completely transparent. All inputs, outputs, addresses, and amounts are recorded on each and every transaction and viewable – by anyone – on its public blockchain.

— Ryan Taylor (@RTaylor05) January 2, 2021
He said that "Dash is not an AEC, it is a literal fork of Bitcoin. All Dash transactions were completely transparent, all inputs, outputs addresses, and amounts are recorded and each and every transaction are viewable by anyone on its public blockchain."

Explaining the Dash features, he said the PrivateSend feature is "simply a branded implementation of non-custodial CoinJoin." He argued that this position is shared by Chainalysis and Perkins Coie.
11/ Chainalysis stated in their announced coverage for Dash, "It's possible to perform mixing transactions that are functionally identical to PrivateSend on other technologically similar cryptocurrencies. This means from a technical standpoint, Dash's privacy functionality…

— Ryan Taylor (@RTaylor05) January 2, 2021
14/ Perkins Coie stated "since CoinJoin can be used in connection with Bitcoin transactions just as readily as Dash allows, Dash is technically no more of a "privacy coin" than Bitcoin… the widespread perception that Dash is "privacy-centric"… does not accurately reflect…

— Ryan Taylor (@RTaylor05) January 2, 2021
He said Dash will work with Bittrex to enable the relisting of the coin assuming they (Bitttrex) are willing to work with Dash.
And will also continue to educate the DOJ and FinCEN to ensure that they are properly educated on the topic and understand that exchanges are capable of meeting their regulatory obligations while continuing to list Dash.
The position of Ryan Taylor is similar to that of Alex Romanov, the CTO of Beam who in an AMA Series session on CryptoTvplus said in the future, regulators will adapt to the new reality and understand that privacy is not something bad but something good that people need.
Ryan Taylor described the delisting as a "bump in the road."
What do you think, share your comments below