Naijapay Launches Enabling Bitcoin and Dash Payments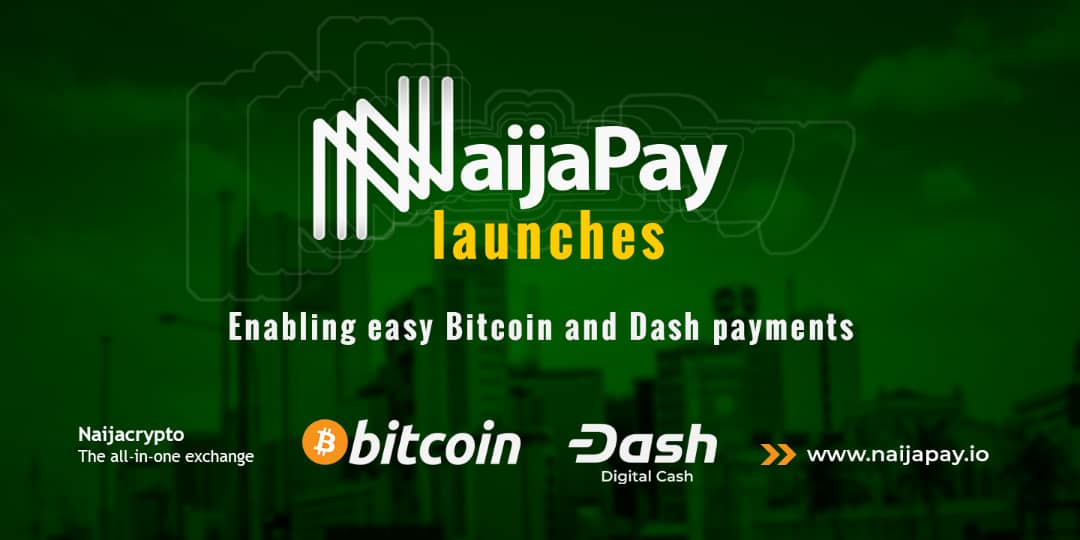 Naijacrypto a top indigenous Nigerian exchange has announced the launch of their crypto payment gateway, "Naijapay" to enable businesses to accept crypto payments with easy
conversion to naira.

Nigeria has been a popular crypto hotspot over the years always among the top in ranking of traded bitcoin volumes. This is fueled in part by the huge remittance inflow into the country which was more than the oil revenue of the country in 2018, and the use of crypto for payments.
As more people switch over to using crypto for day to day payments, Naijapay aims to be their top destination.
Naijapay will support Bitcoin and Dash payments at zero transaction fees. It would contain two modes; The "naira mode" would enable businesses to accept crypto but always receive naira.
They do not need to worry about the volatility of the cryptocurrency markets. The "crypto mode" is for those who wish to receive crypto and keep funds in crypto.
The platform has utilities for
users who just wish to accept crypto payments without any complexities as well as utilities for users who wish to integrate payment APIs on their website.
Naijapay is also InstantSend enabled, meaning Dash transactions will be instantly confirmed, and the naira value credited to the receiver.
The Naijapay Platform would also advertise businesses who accept cryptocurrencies, this is in Naijacrypto's vision to make the Local markets visible to the international community.
Even freelancers can advertise their business to an international community and receive payments easily.

According to Chiagozie Iwu, founder of Naijapay; "Naijapay is set to revolutionize the way Nigerian Businesses and freelance workers receive payments. Gone are the days when payment methods hindered market reach".
This is a much-needed utility in the Nigerian business space
and also good news to the Nigerian crypto community in their push for more crypto adoption
mechanisms.