InksNation Founder Omotade-Sparks (UDI), Officially Declared Wanted by EFCC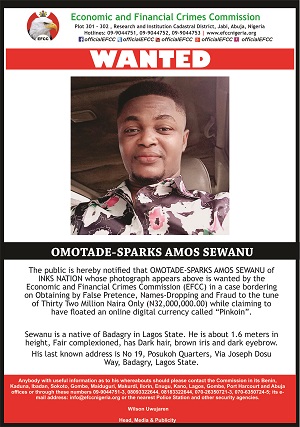 The Founder of InksNation, the project behind the controversial Pinkoin has been declared wanted by the Economic and Financial Crimes Commission (EFCC).
This was published on the website of the agency some hours ago. The founder is wanted for obtaining by false pretense, names-dropping and fraud to the tune of N30,000,000 while claiming to have floated an online digital currency known as Pinkoin according to the details on the EFCC website.
The InksNation project promised a minimum monthly payment of N120,000 for investors who contributed a minimum of N1,000. Payment were expected to have commenced since August 12th, 2020 yet testimonies are as scarce as a sunshine in the night time.
The Founder's real name is Omotade-Sparks Amos Sewanu but he's popularly known and addressed as Universal Daddy Ink (UDI) in his community.
Late last year, it published an open letter to the EFCC informing the agency of its plan to solve poverty challenges in Nigeria through the use of blockchain technology.
In an AMA session organized by Samuel Joseph, he mentioned he was given a divine mandate by God to exploit the blockchain technology to poverty problems so that people can serve Him.
Few days ago, we talked about this on our comic show, Crypto Roast. Watch the video below.
Few months ago, the SEC published a statement on InksNation calling it illegal yet, lots of people kept joining the community after the Founder, UDI kept reassuring the community members that it's the work of people, the kind that also called bitcoin a scam but are not pro-bitcoin.