Blockchain Predictions in Finance and Industrial Growth in 2020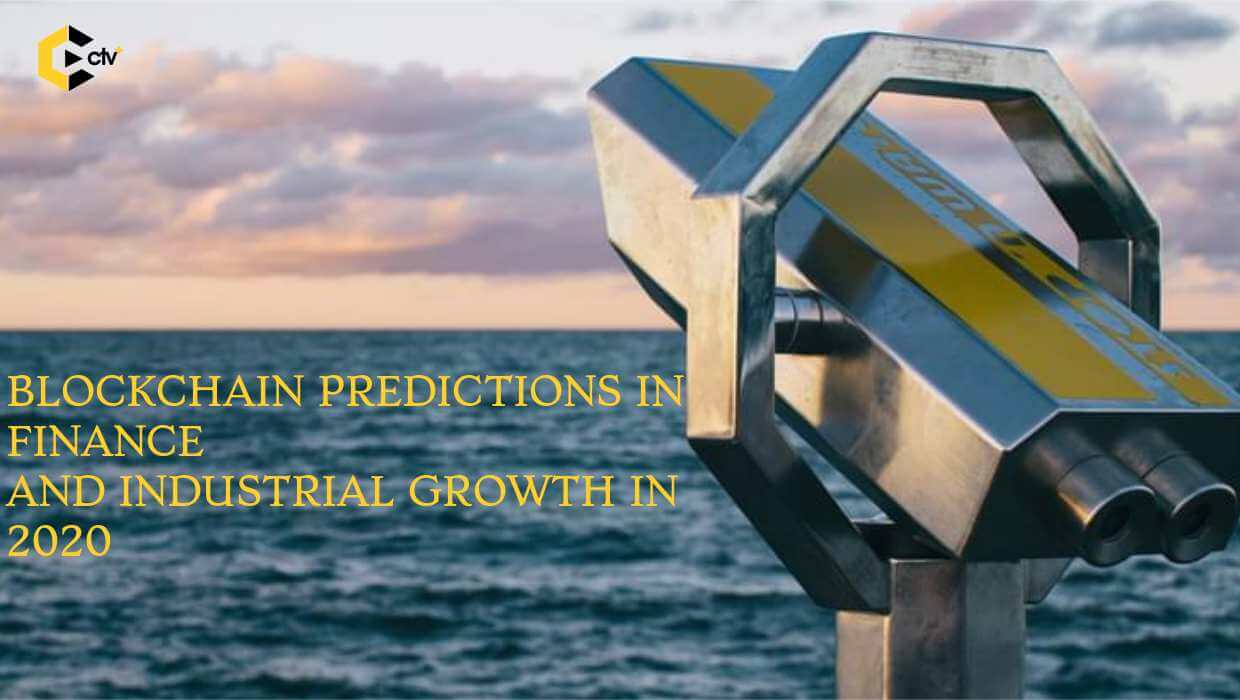 Blockchain has proven to be a major player in the economic future of the world. While it is still less than halfway into 2019, it wouldn't hurt to make relevant and convincing predictions about the Blockchain Technology which has opened the way to a revolutionized Digital Economy in 2020.
As expected, the majority of business, industries, and countries have already or are currently in the process of planning out the coming year -defining their milestones with hopes to achieve something literally big financially and technologically.
Interestingly, the incoming year has inspired an uprising in the technology industry. One of the results for this industrial spark is the blockchain technology. As you might already know, the blockchain is a Distributed Ledger Technology on which data can be stored and kept immutable and which cuts across all sectors of the economy has begun to kick out so many functions such as centralized data storing, accessing and retrieving methodologies among various industries like banking and much more. Needless to say, how well the news about the blockchain has spread and more exciting is the adoption-wind blowing across all continents of the world.
If you are not familiar with the concept of Blockchain Technology, then read more in our previous article.
Awesome, so would you like to know some future predictions of the most recent technology?
We have tried to link up some of the industries that would benefit from the use of the blockchain in the next 9 months.
Blockchain Predictions 2020
1 National Cryptocurrencies
Even though countries like Ghana, China, and even in some occasions in Nigeria have labeled bitcoin to be a scam and illegal, it is still certain that majority of governments would finally adopt the blockchain and go ahead to accept blockchain-based digital assets as legal in the coming year.
Venezuela, just last year, launched its national crypto called Petromoneda and this is backed by the mineral reserves in Venezuela. A prediction made by Gartner, a leading research advisory company came up with the prediction that by 2020 at least almost half a dozen countries will issue a national cryptocurrency. Check Investopedia to discover where bitcoin is currently considered illegal.
2. Integration of Blockchain into Government Structures
I Make bold to say the adoption of the Blockchain Technology by the various existing governments is apparently unavoidable more so in the year 2020. If we are to take these government apart piece by piece, we can observe that they carry out very tedious functions in administrating large data. this issue can make things a little compounded when we talk about prompt delivery and the blockchain technology can make it a lot less stressful for them and bring about effective data management in every government sector.
Estonia had integrated Blockchain at its government level. The current use is for security and control of personal data.
3. Blockchain to Drive Finance and Economy
Agree, the most important aspects of an economy are driven by its Financial Sector. Within this sector lie issues of data storage and transaction delay which can be solved by implementing Blockchain Technology.
Use cases already exist in places like Germany in areas of remittances. PWC global fintech report states that:
"by 2020, 77 % of financial institutes are expected to adopt blockchain technology as part of an in-production process."
4. Blockchain Combines with the Internet of Things (IoT)
For obvious reasons, a lot of companies are in the nearest future going to adopt the use of the blockchain in relation to IoT to profer solutions to their businesses. As recorded, the International Data Corporation (IDC) expects about 20 percent of IoT deployments to power blockchain services by 2020.
This is due to the singular reason that Blockchain technology provides a secure and scalable framework for communication between IoT devices. Among other reasons are its high resistance to cyber attacks.
5. Blockchain and Artificial Intelligence (AI)
Improvement will be recorded with the integration of AI and Ar (Augmented Reality) in our global economy.
Its presents adequate improvement with a handful of applications within the blockchain industry.
IDC suggests that;
global spending on AI will reach $57.6 billion by 2020 and 51% of businesses will be making the transition to AI with blockchain integration.
Find out more about Blockchain and AI conference 2019 put together by Blockchain Nigeria User Group.
6. Employment of Blockchain Experts
The number of people who have relevant knowledge of this very new technology is quite small when compared to the number required to attend to demand that will hit the industry in the coming year.
With all the above-listed predictions coming into reality, blockchain experts will become highly sought after to deliver on the integration of this technology into various sectors of the economy -be it in Banking, Healthcare, SCM, Cyber Security, Media, Telecom, Transportation the list is endless.
Regardless of the number of experts, we believe to be on the ground in the industry, its a fact that it will count for a very minute number when adoption and integration begin to come in full scale. Thus the employment opportunities in blockchain technology application are too numerous when compared to the impact of the so-highly craved adoption in the year 2020.
In a soon to be published article, I will also be listing some of the interesting Industries where Blockchain application will spark a massive call for adoption. To be among the first to get this next article, join out telegram handle today!