Dash Crypto Adoption and Use Converge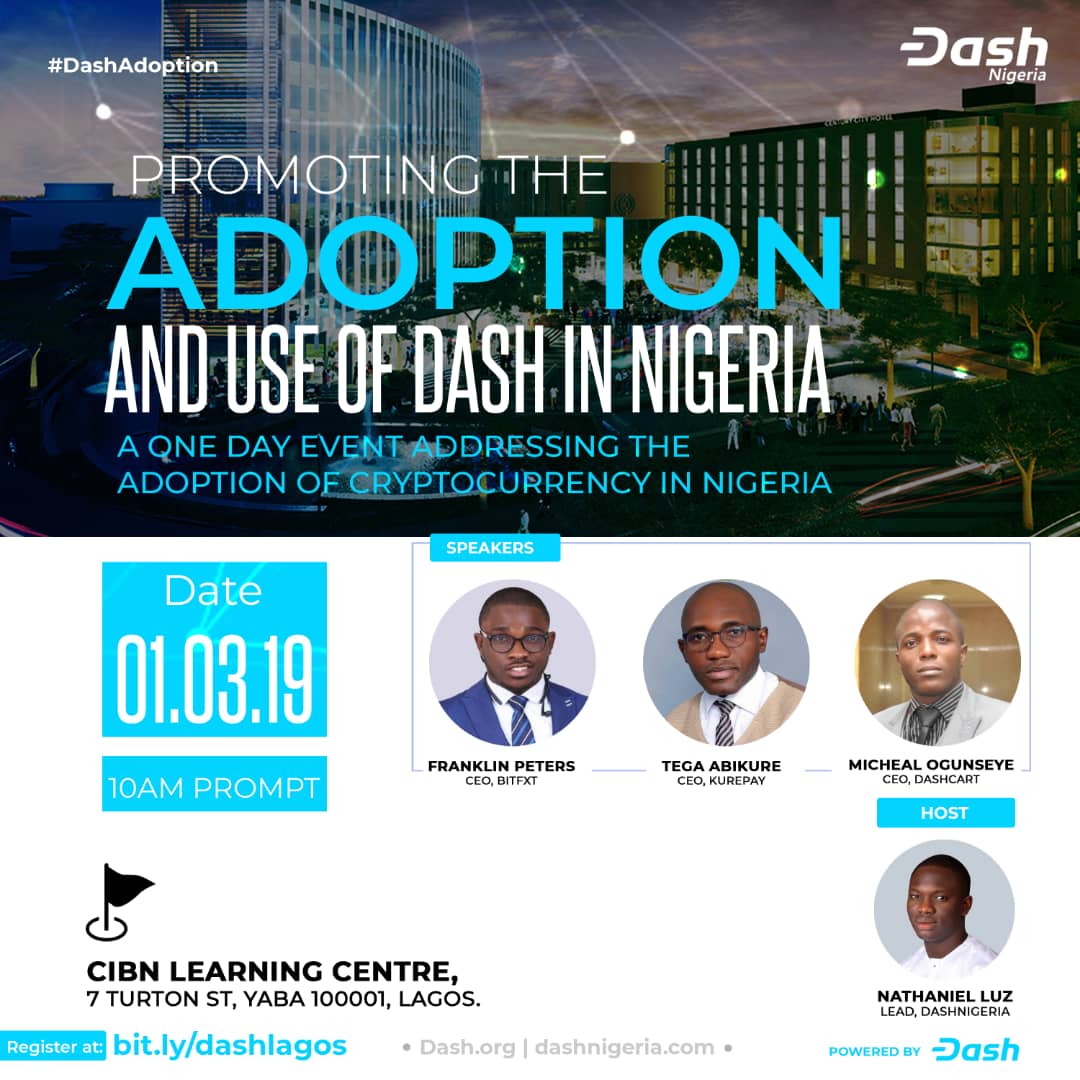 Although cryptocurrency is a viable solution to the issues in the banking and financial sectors, many are still unaware of its potentials. The most prevalent challenge the blockchain faces, all over the world, today, is the lack of adoption by many. This is even more evident in the way it is conceived by many – a way of making more money by buying cryptocurrencies when the price is still low, and selling them when it has really appreciated.
The Bitcoin blockchain, for example, was mostly utilized for the purpose of making extra money, as the price was seen to have risen terribly high over a short period of time – sometimes by a factor of 10, 20 or even more. This, however, is not what the blockchain is meant to achieve, and the misconception of it is one of the reasons why cryptocurrencies are not finding practical and convenient use.
The goal of the cryptocurrencies is to create a more convenient way of making financial transactions. It aims to end the incongruences that are prevalent in the banking and financial system, the lack of access to personal financial details, and the insecurity of finances in the current banking system, putting back power and direct access to one's finance. Moreover, it also aims to simplify financial relationships between different individuals regardless of their locations.
A Look At Dash Features
Being the first, the Bitcoin blockchain has gained more popularity than other cryptocurrencies. However, it possesses some features that make the adoption of cryptocurrencies to be difficult for many. One of them is the problem of scalability which is the ability of technology to adapt to bigger changes – Bitcoin grew slower when the number of users increased drastically. Now, it takes between 10 minutes and, sometimes, 2-3 days for a transaction to be successful.
Dash cryptocurrencies, however, is built to remedy this problem. It is a two-tier blockchain network that features a masternode. With this masternode feature, transactions are as fast as 5 seconds, and can even be as fast as 0.5 seconds using the Dash InstantSend feature. So, it is more feasible to make financial transactions easily and faster with Dash cryptocurrency compare too many other cryptocurrencies.
Another feature on the Dash blockchain that makes it a more adoptable cryptocurrency is the limit of transaction. To transact on the Bitcoin blockchain, for example, a minimum amount of 3 USD is required. This implies that, if someone wants to buy an item that costs about 1 USD, they can't use Bitcoin as a means of payment. Dash, on the other hand, allows a minimum of 0.3 USD, making it possible to purchase an item, no matter how low the price is.
The adoption of Dash in Nigeria has been impressive so far, which has made it one of the leading cryptocurrencies to be widely adopted by merchants. The benchmark for Dash utility in Nigeria can be attributed to how it is being used, its trading rate and holders. This has been made possible by lots of innovative features that have been integrated into Dash like Dash Masternode, Instant Send, Private send and soon-coming ChainLock feature.
However, Dash is yet to realize its ultimate adoption goal which is to dominate the whole of Africa. It aims to become the primary means of exchange for Africans in such a way that Africans can purchase their everyday items like airtime recharge, food items, and so on. It would also become a means of paying bills, taxes, and more. Dash is set to become a massively adopted cryptocurrency in Africa, with low transaction fees on every transaction.
Dash is a viable cryptocurrency which will revolutionize financial transactions in Nigeria, but this can only be achieved if people are educated enough to understand how it works. This is the reason for the Dash Nigeria Conference.
About Dash Nigeria Conference
Dash Nigeria will be holding a conference on March 01, 2019, in Lagos themed: Promoting the Adoption and Use of Dash in Nigeria. This event will be one of the major events that will be taking place in Nigeria. It is slated to address the adoption of cryptocurrency in Nigeria.
There will be numerous speakers to address the ways to drive adoption, challenges being faced and getting into the economic system in Africa and Nigeria. Dash ambassadors will also be present to speak on the various ways merchant can get their businesses up and running with Dash and how Dash can be used for utility bills in our day-to-day lives.
So if you are in the neighborhood and would love to be there click here to register.
Disclaimer:
The Information provided on the website is designed to provide helpful information regarding cryptocurrency subjects. The content is not meant to be used, nor should it be used as a basis, foundational knowledge or prerequisite for decision making regards trading. Always do your own research and due diligence before placing a trade. We are not liable for any outcome based on any content found on the site.
AFRICA'S PREMIER CRYPTOCURRENCY EXCHANGE UNVEILS ASTOUNDING FEATURES.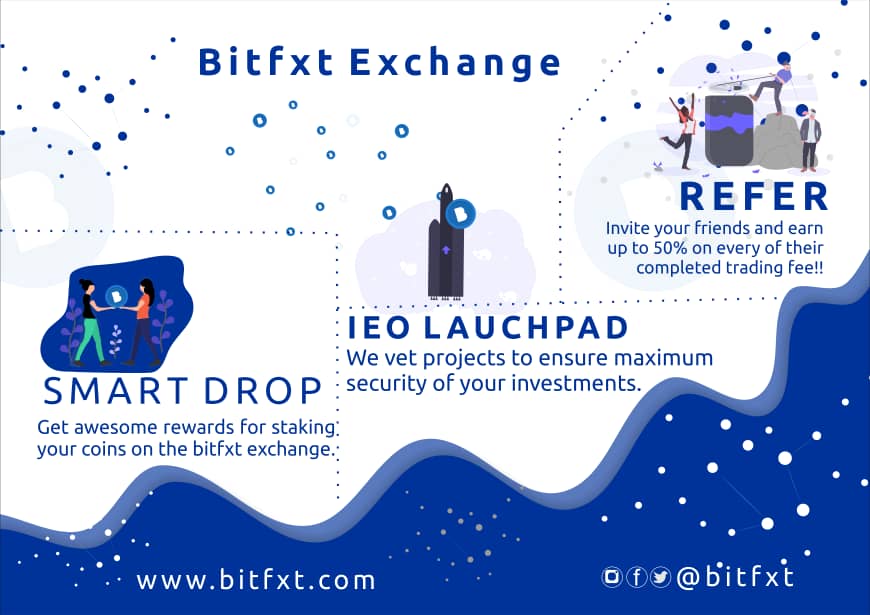 Bitfxt, Africa's leading cryptocurrency exchange has released new features.
The exchange which is now live, incorporates features which enable users make transactions at top speed, spend their cryptocurrency effortlessly, enjoy maximum security on their investments and get mouth watering rewards. Some of these features include:
The boundlesspay prepaid card which is directly linked to users' accounts,

A smart drop feature which allows users earn monthly rewards in the form of various cryptocurrencies, for staking their coins.

A voting function which helps users vote for their favorite coins to be listed on the exchange.

An IEO feature through which new projects are vetted to en able users have access to new cryptocurrencies

which will be listed and at lower prices.

A chat feature which fosters communication amongst users.

A referral program which helps users earn amazing rewards when they bring new people on board.
And lots more.
"Bitfxt is a masterpiece that was created out of the desire to make the blockchain system easily accessible by the African populace. We have put in a lot of work to ensure that we deploy state of the art features that will make it easy for people to have an enjoyable trading experience" said Franklin Peters, Ceo Bitfxt.
In order to give back to the community, Bitfxt has launched an Initial Exchange Offering for the Boundlesspay Coin (BXTC), on two platforms: shortex.net and bitfxt.com. The Initial Exchange Offering (IEO) will be run for 30 days and about three million coins will be available to the general public at a premium for that duration of time. At the end of the IEO, trading will begin for Bxtc on Shortex exchange, Bitfxt exchange and other exchanges to be announced soon.
"The significance of this coin is that it is a utility token that can be used globally. It can be used to pay for services such as utility bills, mobile top -up, data subscription, as well as flight and hotel bookings.These payments can be made at a discount at our platform, www.boundlesspay.co -which is one of the innovations created by Bitfxt. " Franklin Peters added.
As evidenced by an impressive track record of providing solutions which truly work and are used by thousands of people round the globe, Bitfxt is constantly striving for excellence. The boundlesspay pay prepaid card enables users to spend their cryptocurrency in a seamless manner and the entire ecosystem is centered around facilitating cryptocurrency adoption all over the world. Also, a dedicated team of experts is working relentlessly to ensure that users have a pleasant experience while using the platform and do not experience any hitches.
Bitfxt is currently running bounties on twitter and Instagram respectively. Interested participants can join in by getting their friends to follow @bitfxt, like posts and mention their names in the comments sections. The person with the highest number of invited followers wins.
About Bitfxt:
Bitxt is one of the best digital currency companies in the world. with a team of over 60 technology and finance experts, operating across several countries and continents. Our products and services make it safe and easy for people and businesses to store, buy, use and learn about digital currencies like Bitcoin and Ethereum. Our vision is to empower billions of people by bringing digital currencies like Bitcoin and Ethereum to everyone, everywhere.
Register today at www.bitfxt.com