Dash Crypto Adoption and Use Converge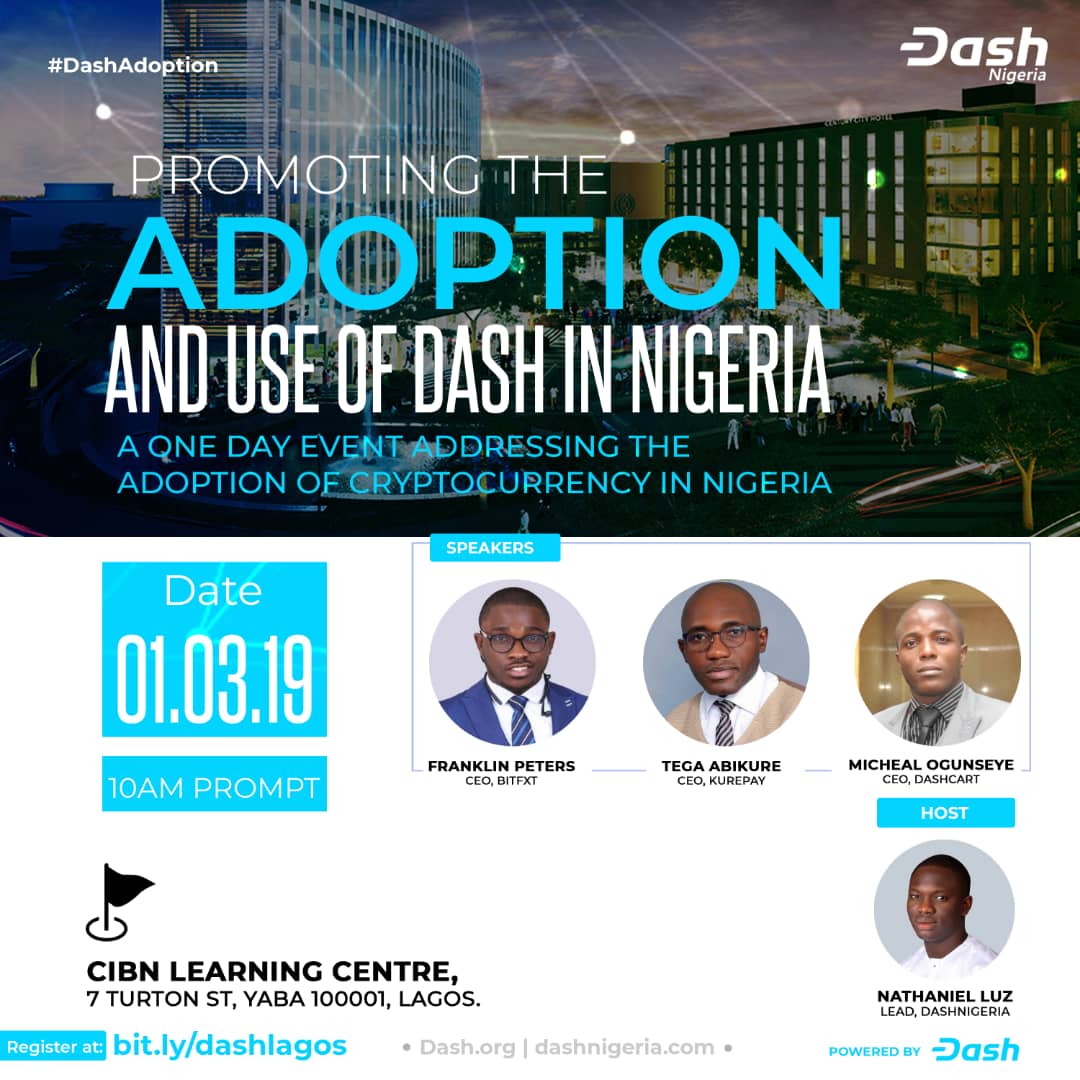 Although cryptocurrency is a viable solution to the issues in the banking and financial sectors, many are still unaware of its potentials. The most prevalent challenge the blockchain faces, all over the world, today, is the lack of adoption by many. This is even more evident in the way it is conceived by many – a way of making more money by buying cryptocurrencies when the price is still low, and selling them when it has really appreciated.
The Bitcoin blockchain, for example, was mostly utilized for the purpose of making extra money, as the price was seen to have risen terribly high over a short period of time – sometimes by a factor of 10, 20 or even more. This, however, is not what the blockchain is meant to achieve, and the misconception of it is one of the reasons why cryptocurrencies are not finding practical and convenient use.
The goal of the cryptocurrencies is to create a more convenient way of making financial transactions. It aims to end the incongruences that are prevalent in the banking and financial system, the lack of access to personal financial details, and the insecurity of finances in the current banking system, putting back power and direct access to one's finance. Moreover, it also aims to simplify financial relationships between different individuals regardless of their locations.
A Look At Dash Features
Being the first, the Bitcoin blockchain has gained more popularity than other cryptocurrencies. However, it possesses some features that make the adoption of cryptocurrencies to be difficult for many. One of them is the problem of scalability which is the ability of technology to adapt to bigger changes – Bitcoin grew slower when the number of users increased drastically. Now, it takes between 10 minutes and, sometimes, 2-3 days for a transaction to be successful.
Dash cryptocurrencies, however, is built to remedy this problem. It is a two-tier blockchain network that features a masternode. With this masternode feature, transactions are as fast as 5 seconds, and can even be as fast as 0.5 seconds using the Dash InstantSend feature. So, it is more feasible to make financial transactions easily and faster with Dash cryptocurrency compare too many other cryptocurrencies.
Another feature on the Dash blockchain that makes it a more adoptable cryptocurrency is the limit of transaction. To transact on the Bitcoin blockchain, for example, a minimum amount of 3 USD is required. This implies that, if someone wants to buy an item that costs about 1 USD, they can't use Bitcoin as a means of payment. Dash, on the other hand, allows a minimum of 0.3 USD, making it possible to purchase an item, no matter how low the price is.
The adoption of Dash in Nigeria has been impressive so far, which has made it one of the leading cryptocurrencies to be widely adopted by merchants. The benchmark for Dash utility in Nigeria can be attributed to how it is being used, its trading rate and holders. This has been made possible by lots of innovative features that have been integrated into Dash like Dash Masternode, Instant Send, Private send and soon-coming ChainLock feature.
However, Dash is yet to realize its ultimate adoption goal which is to dominate the whole of Africa. It aims to become the primary means of exchange for Africans in such a way that Africans can purchase their everyday items like airtime recharge, food items, and so on. It would also become a means of paying bills, taxes, and more. Dash is set to become a massively adopted cryptocurrency in Africa, with low transaction fees on every transaction.
Dash is a viable cryptocurrency which will revolutionize financial transactions in Nigeria, but this can only be achieved if people are educated enough to understand how it works. This is the reason for the Dash Nigeria Conference.
About Dash Nigeria Conference
Dash Nigeria will be holding a conference on March 01, 2019, in Lagos themed: Promoting the Adoption and Use of Dash in Nigeria. This event will be one of the major events that will be taking place in Nigeria. It is slated to address the adoption of cryptocurrency in Nigeria.
There will be numerous speakers to address the ways to drive adoption, challenges being faced and getting into the economic system in Africa and Nigeria. Dash ambassadors will also be present to speak on the various ways merchant can get their businesses up and running with Dash and how Dash can be used for utility bills in our day-to-day lives.
So if you are in the neighborhood and would love to be there click here to register.
Disclaimer:
The Information provided on the website is designed to provide helpful information regarding cryptocurrency subjects. The content is not meant to be used, nor should it be used as a basis, foundational knowledge or prerequisite for decision making regards trading. Always do your own research and due diligence before placing a trade. We are not liable for any outcome based on any content found on the site.
What is Microfinance Doing in Blockchain To Promote Adoption?
Currently, AssestStream is a microfinance project built on the blockchain and it caters for the creation of trust between the lenders and the borrowers alike.

With a record of 139 million clients and a credit weight of over $110 billion only as at 2017, It remains clear that microfinance has solidified its place among the leading teams driving financial inclusion of the marginalized populations. It is interesting to note that blockchain integration for the financial institution does not exclude the microfinance sector.
On a global scale, the microfinance market has witnessed steady growth and this growth is such to last for about two decades from 2017-2025. more of the reason for this promised growth is due to the rise in the number of SMEs. It is certain that developing markets will drive massive expansion, and this trend will continue for as long as possible until the annual growth for this group is 5% and above.
Interestingly, blockchain is painstakingly making its way to different communities and is seeking to engage approximately 1.7 billion people who are currently unbanked and are in the production sector of the economy. Microfinance is currently doing this by making funds available to the SMEs.
Currently, AssestStream is a microfinance project built on the blockchain and it caters for the creation of trust between the lenders and the borrowers alike.
AssetStream Token is bound to be Mainstream
Microfinance, as a major player in the financial industry, takes pride in playing an active role in the global movement against poverty. AssetStream taps into an attractive and really underserved market opportunity and intersects with their specialized expertise by simply maximizing social and financial performance and helping to keep alive the focus on low-income clients which it was created to serve.
Plans are in place to extent AssetStream's hand of fellowship to others outside lenders and borrowers- to include agencies which are open to partnering up with it.
Its proposed source of generating funds will be from its AST Token.
Moreso, AssestStream hopes to stabilize its AST tokens within the AssetStream ecosystem as a U.S stable coin valued at 0.01 USD. This is aimed at promoting stability. Likewise, on external platforms, AST prices will be subject to fair market value reflected on third-party exchanges.
Loan Contracts
The platform hopes to create its own rating criteria and this will be categorized into personal and business loans.
It provides for learners to skim through the platform and manually select loan contracts they would be comfortable with, or opt for automatic through AssetStream autonomous matching system.
AssetStream Competition
The competition here is such that investors can expect small businesses to operate in a way and structure that maximizes the achievement of both financial and social returns. These help in the alleviation of poverty and increase the economic opportunities for the poor.
Quite obviously microfinance places a supportive role in the fight against poverty and on the journey to an improved Standard of living, there is a healthy competition that needs to be welcomed in areas like health, education, infrastructure, market access, and a functioning and responsive government.
Blockchain in microfinance can facilitate this- leading to the betterment of lives from all around the world.
What's On the Horizon
Small scale producers who are poorly equipped with the best tools for their businesses will record a minimum of 10% increase in their output but interestingly, this is guaranteed with access to our provisions and helping them secure these tools, would suffice as our little contribution.
Highlights
Max Property Group (MPG) an international property investment company, very recently signed an MOU with AssetStream. Max Crowdfund is a subsidiary of the mother company and a crowdfunding platform that synergizes with AssetStream to provide numerous communities with them to support the integration of their blockchain platforms.
Having onboard English Forward- an English platform with 250+ million members via an MOU with AssetStream now makes available microfinance resources for its teachers and learners community.
In conclusion, AssetStream updated her community that her beta platform is live and ready. the platform is built on the blockchain and all transactions are carried out on the blockchain.
Check the website for more information.
Would you like to feature your project on our platform? Then click here to know more
Disclaimer: The statements, views, and opinions expressed in this column are solely those of the author and do not necessarily represent those of CryptoTv Plus.