Announcing the 3rd Lagos Blockchain AI, and Digital Assets Conference 2019
Discover how Blockchain, Artificial Intelligence (AI), IoT, Big Data and Virtual Financial Assets are altering and disrupting incumbents and creating new opportunities for forward-thinking individuals.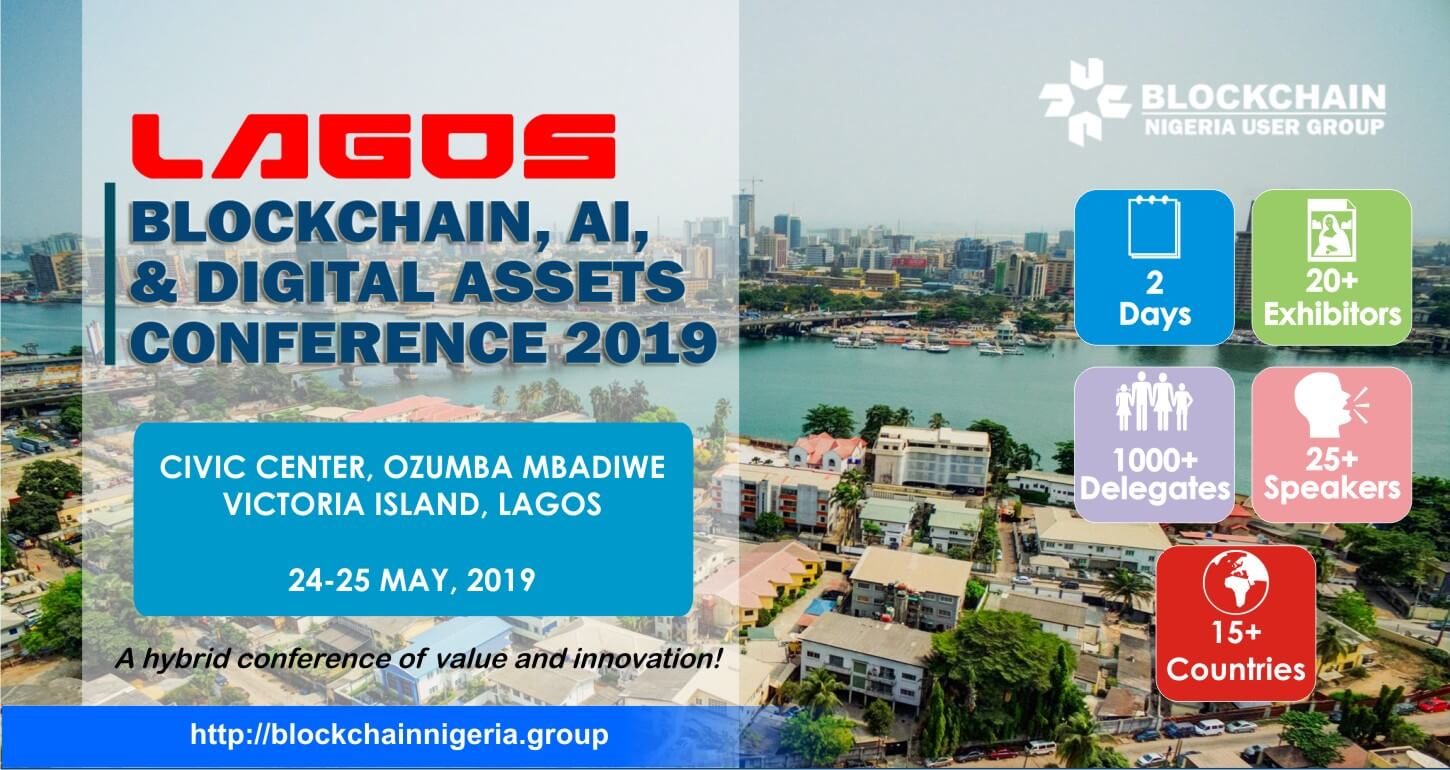 Nigeria's premium Blockchain Conference (Blockchain AI and digital Assets Conference) of Value and Innovation, annually organized and curated by Blockchain Nigeria User Group, is on its 7th leg, returning to Lagos for the 3rd consecutive season, bigger, stronger and better.
Africa is home to 16.3% of humanity but home to less than 1% of the world's billion-dollar companies and only about 4% of global GDP. Africa cannot afford, nor does it have to miss the possibilities of the fourth Industrial Revolution (4IR) to better her lot.
At the upcoming #LagosBlockchain2019, attendees will discover how Blockchain, Artificial Intelligence (AI), IoT, Big Data and Virtual Financial Assets are altering and disrupting incumbents and creating new opportunities for forward-thinking individuals.
We have planned supper interactive panel discussion segments around the technologies of the fourth industrial revolution (4IR) to provide every attendee with actionable insights that can be applied immediately to accelerate progress in any chosen career path.
Dr. Isa Ali Ibrahim Pantami Ph.D., Director-General/ CEO National Information Technology Development Agency (NITDA) is expected as a guest of honor.
Mr. Andrew Nevin, Chief Economist at PWC will deliver a Keynote on "How Blockchain, AI Digital Virtual Financial Assets and other technologies of the 4IR could drive economic advancement across Africa".
There will be panel session on "Blockchain, AI, Virtual Financial Assets and the Future of Work in Africa", "Possibilities of Virtual Financial Assets Taxation in Nigeria" – Akeem Ogunseni, Senior Manager Tax Services at EY.
Other subject matter experts and professionals expected at the conference include Boye Ademola, Partner Technology Advisory & Digital Transformation Lead at KPMG Advisory Services, Wole Oyeniran, Enterprise Platforms/  Systems Integration Leader, West Africa at Deloitte Consulting, Dr. Segun Aina, Chairman Fintech Associates/ President Fintech Association of Nigeria, Shamim Khan, Esq. Director, Lex Futurus (UK) Blockchain Regtech & Law Limited and Ian Friend, Cofounder/ COO Ferrum Network, NYC, among many others.
The conference will feature a melding of the AI and Blockchain/ Virtual Financial Assets communities in Nigeria and across the world, exploring the possibilities at the intersection of these technologies. The Conference will bring together business leaders, government and regulatory agencies, data practitioners, AI and Blockchain tech pioneers who are applying artificial intelligence to solve today's problems and creating tomorrow's opportunities, while leveraging available tools, to create entirely new values.
About 1000 participants are expected to be at the two-day event.
We aim to bridge the knowledge gap by providing government functionaries, decision-makers, professionals and practitioners with the resources they need to make key business-shaping decisions in a rapidly changing world.
For Sponsorships, Partnerships and Exhibition opportunities, please download the conference brochure here.
The past event photo gallery can be viewed or downloaded here
Blockchain Nigeria User Group is a pioneer group of enthusiast, developers and industry practitioners championing the adoption of Blockchain technology through education across Nigeria and Sub-Saharan Africa. Since 2016, the group has held about six conferences in Lagos, Abuja and Port Harcourt, connected over 5000 attendees/ enthusiasts and spurred waves of startups in the ecosystem.
Registration page:  https://www.eventbrite.com/e/blockchain-ai-digital-assets-conference-2019-tickets-56327784921
Group website: http://blockchainnigeria.group
Contact Email: info@blockchainnigeria.group
Contact Telephone: +2348165430776
Sincerely, for the group organizers,
Chuta Chimezie, (Coordinator Blockchain Nigeria User Group)
EOS Versus TRON, The Dapp War Continues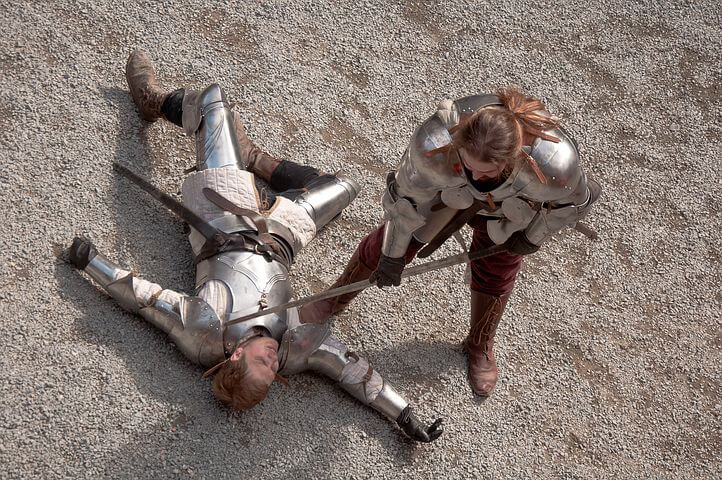 The world of Decentralised applications (DApps) began with Ethereum. However, it has grown to include more blockchains Networks utilizing smart contracts to build DApps on the blockchain. With over 1,800 listed DApps according to Dappradar.com TRON network and EOS seems to be on a warpath for dominance.
Before we crown the King of DApps, it is important to note that a DApp must have an open source code available to all. A DApp must also be decentralized, incentivized and have an algorithm that generates token or an inbuilt consensus mechanism.
While the battle of supremacy on DApps revolves around TRON and EOS, it is important to note that these blockchains are not so different from each other. Both Tron and EOS started on the Ethereum blockchain as ERC-20 tokens. However after creating their own Mainnet they moved all of their tokens to their own blockchain network.
It is also important to note that both TRON and EOS are built on the delegate Proof of stake mechanism (DPos). The DPos is a mechanism where the selection of block producers will be done by voting. EOS has 21 block producers of which 20 will be selected by top 20 received votes and 1 will be randomly chosen. On the other hand, TRON has a total of 27 block producers (super representatives) who have to go through voting systems. It is impressive that both blockchains allow its token holders to Vote for their Block producers or Super representatives.
TRON Foundation was created in September 2017 by its CEO Justin Sun and it's mainnet was launched in June 2018. TRON based network claims to have the capacity of clearing 2000 Transaction per second. However, the TRON network block explorer TronScan reveals that it is currently close to 750 TPS.
On the other hand, EOS is own by Block.One, an open source software publisher. Its white paper was published in 2017 and the open source software was launched on June 1, 2018 by Dan Larimer, who is also the founder and creator of Bitshares and Steem. While EOS has been called the Ethereum Killer, however, it currently processes around 4000 Transactions per second.
According to TPS, EOS is winning the race. Also, in Q2, 2019, EOS has almost 62% DApps active in Q2. Although AnChain, blockchain intelligence firm claims that in Q1, 75% of the traffic from the top 10 gambling dApps on EOS were driven by bad bots. That means about $6 million worth of transaction volume was carried out by bots. TRON's DApps, on the other hand, had 82% active uses in Q2, 338 out of 412 of all TRON's DApps were active in Q2.
As at press time, EOS is the top blockchain network with 2,231,299Op activity while TRON is coming 5th with 842,442Op. However, TRON DApp TronBet is taking the lead on DappRadar with more than 3000 users and $6.1 million in its 24hour volume. EOS DApp, Dice, comes after TronBet more than 97,000 users and a 24hour volume of $266,000.
Although there have been whispers on the state of DApps and their relevance, but it is important to note that DApps are pulling their weight in the blockchain sphere. While it will be difficult to name who is King of DApps, there are other Blockchain networks building DApps that are worth keeping an eye on such as Steem, IOST, and TomoChain.