Announcing the 3rd Lagos Blockchain AI, and Digital Assets Conference 2019
Discover how Blockchain, Artificial Intelligence (AI), IoT, Big Data and Virtual Financial Assets are altering and disrupting incumbents and creating new opportunities for forward-thinking individuals.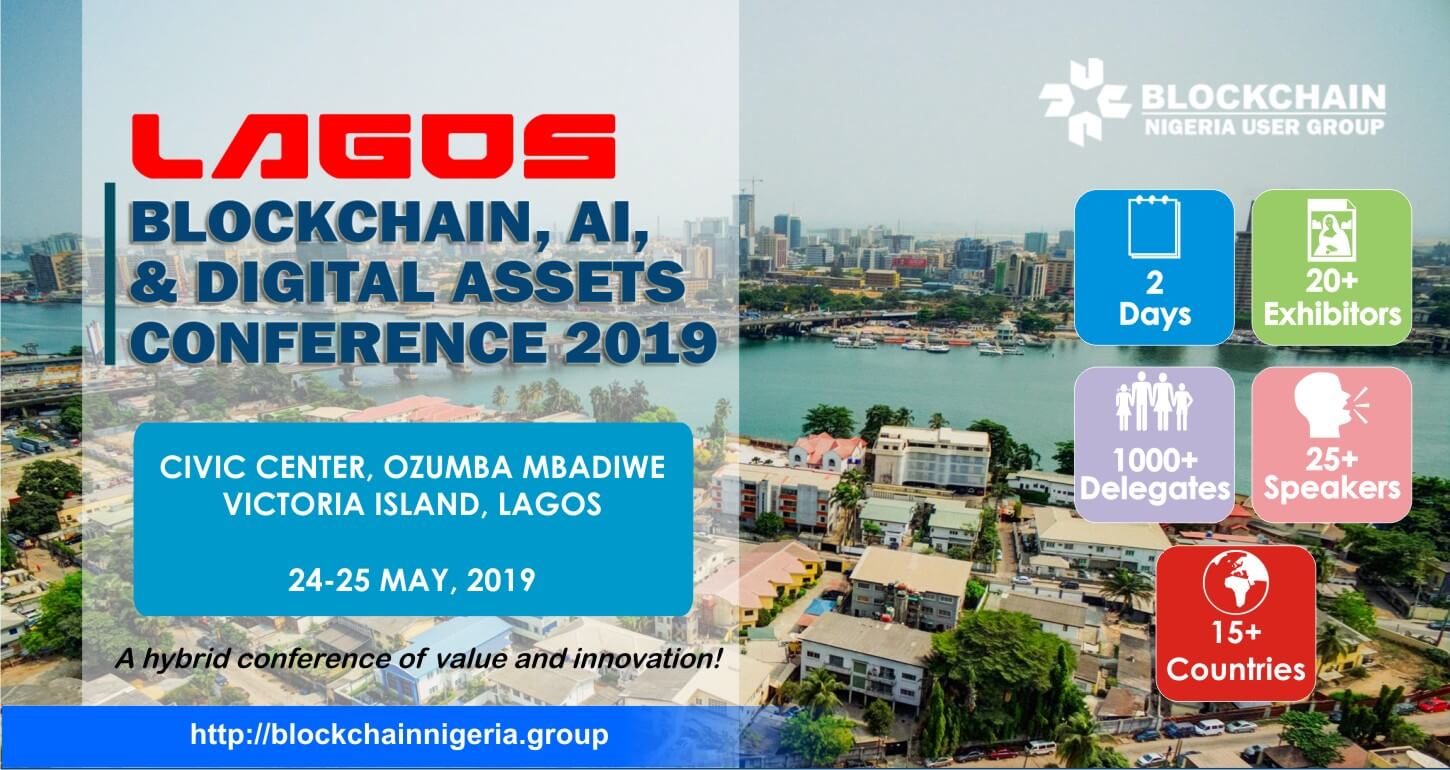 Nigeria's premium Blockchain Conference (Blockchain AI and digital Assets Conference) of Value and Innovation, annually organized and curated by Blockchain Nigeria User Group, is on its 7th leg, returning to Lagos for the 3rd consecutive season, bigger, stronger and better.
Africa is home to 16.3% of humanity but home to less than 1% of the world's billion-dollar companies and only about 4% of global GDP. Africa cannot afford, nor does it have to miss the possibilities of the fourth Industrial Revolution (4IR) to better her lot.
At the upcoming #LagosBlockchain2019, attendees will discover how Blockchain, Artificial Intelligence (AI), IoT, Big Data and Virtual Financial Assets are altering and disrupting incumbents and creating new opportunities for forward-thinking individuals.
We have planned supper interactive panel discussion segments around the technologies of the fourth industrial revolution (4IR) to provide every attendee with actionable insights that can be applied immediately to accelerate progress in any chosen career path.
Dr. Isa Ali Ibrahim Pantami Ph.D., Director-General/ CEO National Information Technology Development Agency (NITDA) is expected as a guest of honor.
Mr. Andrew Nevin, Chief Economist at PWC will deliver a Keynote on "How Blockchain, AI Digital Virtual Financial Assets and other technologies of the 4IR could drive economic advancement across Africa".
There will be panel session on "Blockchain, AI, Virtual Financial Assets and the Future of Work in Africa", "Possibilities of Virtual Financial Assets Taxation in Nigeria" – Akeem Ogunseni, Senior Manager Tax Services at EY.
Other subject matter experts and professionals expected at the conference include Boye Ademola, Partner Technology Advisory & Digital Transformation Lead at KPMG Advisory Services, Wole Oyeniran, Enterprise Platforms/  Systems Integration Leader, West Africa at Deloitte Consulting, Dr. Segun Aina, Chairman Fintech Associates/ President Fintech Association of Nigeria, Shamim Khan, Esq. Director, Lex Futurus (UK) Blockchain Regtech & Law Limited and Ian Friend, Cofounder/ COO Ferrum Network, NYC, among many others.
The conference will feature a melding of the AI and Blockchain/ Virtual Financial Assets communities in Nigeria and across the world, exploring the possibilities at the intersection of these technologies. The Conference will bring together business leaders, government and regulatory agencies, data practitioners, AI and Blockchain tech pioneers who are applying artificial intelligence to solve today's problems and creating tomorrow's opportunities, while leveraging available tools, to create entirely new values.
About 1000 participants are expected to be at the two-day event.
We aim to bridge the knowledge gap by providing government functionaries, decision-makers, professionals and practitioners with the resources they need to make key business-shaping decisions in a rapidly changing world.
For Sponsorships, Partnerships and Exhibition opportunities, please download the conference brochure here.
The past event photo gallery can be viewed or downloaded here
Blockchain Nigeria User Group is a pioneer group of enthusiast, developers and industry practitioners championing the adoption of Blockchain technology through education across Nigeria and Sub-Saharan Africa. Since 2016, the group has held about six conferences in Lagos, Abuja and Port Harcourt, connected over 5000 attendees/ enthusiasts and spurred waves of startups in the ecosystem.
Registration page:  https://www.eventbrite.com/e/blockchain-ai-digital-assets-conference-2019-tickets-56327784921
Group website: http://blockchainnigeria.group
Contact Email: info@blockchainnigeria.group
Contact Telephone: +2348165430776
Sincerely, for the group organizers,
Chuta Chimezie, (Coordinator Blockchain Nigeria User Group)
Block.one Offers Early Backers a 6567% ROI Buyout Option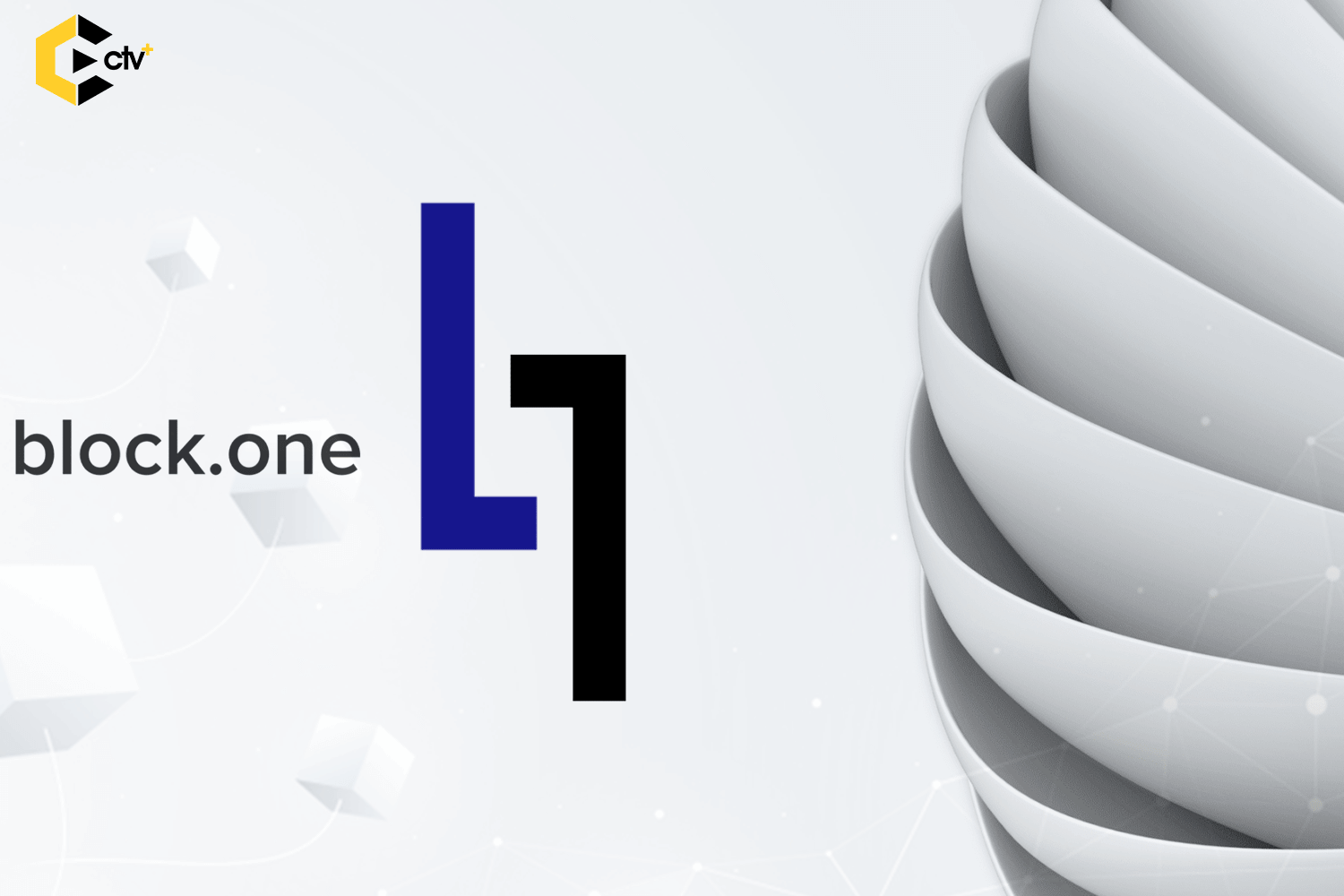 Block.one, the Cayman Islands-registered firm which is behind the world's largest ICO till date, $4 billion EOS software has recently sent out an email to early backers stating its intention to buy back some portion of its shares giving them a whopping 6567% ROI in less than 3 years according to a Bloomberg report.
In July of 2018, billionaire investor Peter Thiel invested into Block.one joining the like of Alan Howard and Louis Baycon who were early backers of the startup since 2017. These investors are faced with the mouthwatering option of either liquidating their shares of the company and cashing out huge gains or remaining with them.
Block.one in a March 19 e-mail to shareholders seeks to rein in external ownership of its equity by offering a $1,500 per share as compared to the $22 per share seed round. When asked about this move, a spokeswoman of the company merely said the company intends to use proceeds it generated from token sales to expand its resources while building its business strong clearly dodging the main question asked.
According to an email circulated to its investors, by February 2019, Block.one was valued at $3 billion as compared to $40 million during its seed round in 2017. And unaware to most of the public, it holds as much as $2.2 billion in U.S. government bonds as compared to the jurisdiction it is registered in the Cayman Islands.
Block.one had faced serious criticisms from industry stakeholders with many labeling it a shady enterprise that certainly didn't need as much as $4 billion to launch a decentralized software. One of such critics is Richard Burton, San Francisco-based founder of Balance.io, a blockchain company that designs applications for open source financial products, he has once said
They designed a very clever mechanism to hoover up as much capital as possible,
He continued by saying,
Bitcoin was started on a shoestring and Ethereum raised just a few million dollars, which goes to show you don't need anything like the money Block.one raised to launch and scale a successful network. It should be beholden on them to explain why they needed that much and what they are doing with it.
Brendan Blumer, the young CEO of Block.one however disagrees with such critics as he made his stance known in a Bloomberg interview in November of 2018, saying
too much transparency into everything that we are doing on an ongoing basis can actually take away a lot of the competitive advantage when we're trying to put out new types of technology
clearly knocking off the argument of critics who demand squeaky clean transparency after raising so many funds.
When asked if they were willing to take up the buyback offer, Bacon and Howard declined to comment while Thiel ignored numerous messages sent to him privately, sources reported. On the other hand, early backer, Christian Angermayer made his stance known. He had this to say,
Block.one is one of the most promising and best-positioned companies in the blockchain industry, and its success story is just beginning,
Recall that Mike Novogratz had earlier liquidated his stakes in the firm and realizing as much as 123% in returns valued at up to $71.2 million in the transaction.
Although Block.one which holds up to 140,000 units of bitcoin as assets, cited extreme volatility as a major factor that impacted its valuation clearly halving its holdings valued at around $1 billion, which has since been recovered in the recent bitcoin really, it is looking promising and sure has the likes of Peter Thiel happy at any of the option it decides to pursue.