Announcing the 3rd Lagos Blockchain AI, and Digital Assets Conference 2019
Discover how Blockchain, Artificial Intelligence (AI), IoT, Big Data and Virtual Financial Assets are altering and disrupting incumbents and creating new opportunities for forward-thinking individuals.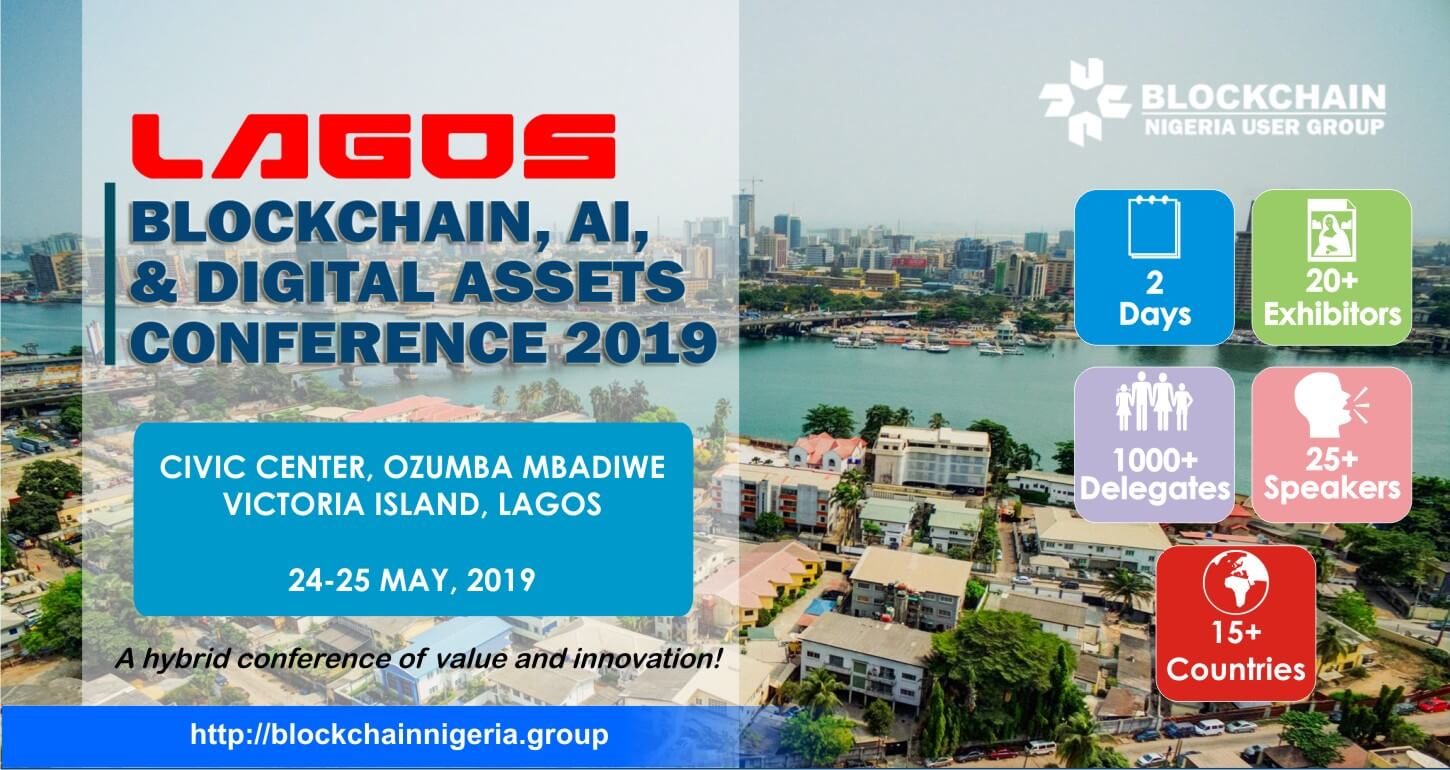 Nigeria's premium Blockchain Conference (Blockchain AI and digital Assets Conference) of Value and Innovation, annually organized and curated by Blockchain Nigeria User Group, is on its 7th leg, returning to Lagos for the 3rd consecutive season, bigger, stronger and better.
Africa is home to 16.3% of humanity but home to less than 1% of the world's billion-dollar companies and only about 4% of global GDP. Africa cannot afford, nor does it have to miss the possibilities of the fourth Industrial Revolution (4IR) to better her lot.
At the upcoming #LagosBlockchain2019, attendees will discover how Blockchain, Artificial Intelligence (AI), IoT, Big Data and Virtual Financial Assets are altering and disrupting incumbents and creating new opportunities for forward-thinking individuals.
We have planned supper interactive panel discussion segments around the technologies of the fourth industrial revolution (4IR) to provide every attendee with actionable insights that can be applied immediately to accelerate progress in any chosen career path.
Dr. Isa Ali Ibrahim Pantami Ph.D., Director-General/ CEO National Information Technology Development Agency (NITDA) is expected as a guest of honor.
Mr. Andrew Nevin, Chief Economist at PWC will deliver a Keynote on "How Blockchain, AI Digital Virtual Financial Assets and other technologies of the 4IR could drive economic advancement across Africa".
There will be panel session on "Blockchain, AI, Virtual Financial Assets and the Future of Work in Africa", "Possibilities of Virtual Financial Assets Taxation in Nigeria" – Akeem Ogunseni, Senior Manager Tax Services at EY.
Other subject matter experts and professionals expected at the conference include Boye Ademola, Partner Technology Advisory & Digital Transformation Lead at KPMG Advisory Services, Wole Oyeniran, Enterprise Platforms/  Systems Integration Leader, West Africa at Deloitte Consulting, Dr. Segun Aina, Chairman Fintech Associates/ President Fintech Association of Nigeria, Shamim Khan, Esq. Director, Lex Futurus (UK) Blockchain Regtech & Law Limited and Ian Friend, Cofounder/ COO Ferrum Network, NYC, among many others.
The conference will feature a melding of the AI and Blockchain/ Virtual Financial Assets communities in Nigeria and across the world, exploring the possibilities at the intersection of these technologies. The Conference will bring together business leaders, government and regulatory agencies, data practitioners, AI and Blockchain tech pioneers who are applying artificial intelligence to solve today's problems and creating tomorrow's opportunities, while leveraging available tools, to create entirely new values.
About 1000 participants are expected to be at the two-day event.
We aim to bridge the knowledge gap by providing government functionaries, decision-makers, professionals and practitioners with the resources they need to make key business-shaping decisions in a rapidly changing world.
For Sponsorships, Partnerships and Exhibition opportunities, please download the conference brochure here.
The past event photo gallery can be viewed or downloaded here
Blockchain Nigeria User Group is a pioneer group of enthusiast, developers and industry practitioners championing the adoption of Blockchain technology through education across Nigeria and Sub-Saharan Africa. Since 2016, the group has held about six conferences in Lagos, Abuja and Port Harcourt, connected over 5000 attendees/ enthusiasts and spurred waves of startups in the ecosystem.
Registration page:  https://www.eventbrite.com/e/blockchain-ai-digital-assets-conference-2019-tickets-56327784921
Group website: http://blockchainnigeria.group
Contact Email: info@blockchainnigeria.group
Contact Telephone: +2348165430776
Sincerely, for the group organizers,
Chuta Chimezie, (Coordinator Blockchain Nigeria User Group)
MoneyGram's New Time Remittance Technology backed by Visa not Ripple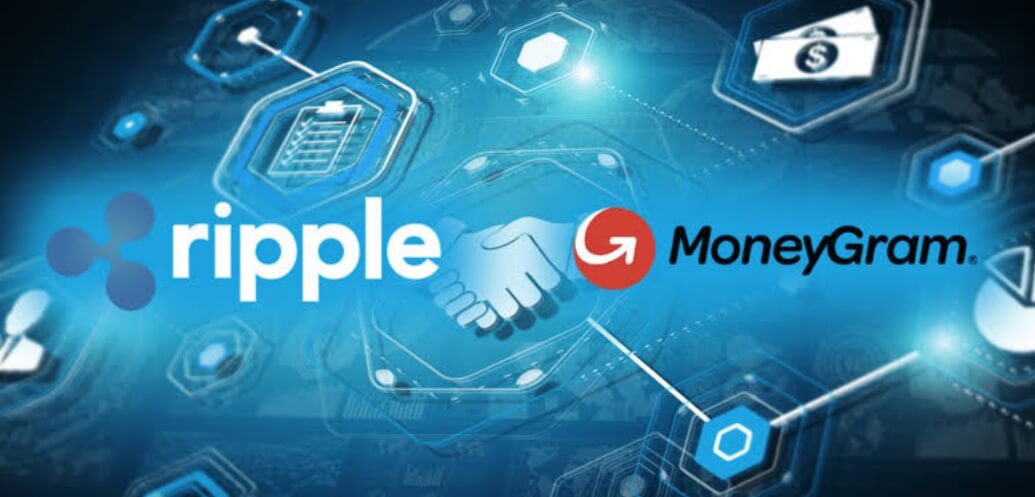 A new service introduced by remittance giant (MoneyGram) which allows users to send and receive money in real-time has been credited to visa and not the work of its blockchain-based partner (Ripple) in an announcement by representatives of the company.
The recently launched Fastsend, a new service which allows clients to send money in real-time to a phone number through a mobile application or dedicated website. While responding to enquiries from news sources about the latest concept, it was revealed to much surprise that MoneyGram did not make use of the technology of Ripple to achieve the latest product.
Do we need blockchain for real-time settlements?
MoneyGram Chief Operating Officer, Kamila Chytil informed news sources that FastSend makes use of Visa's Direct Original Credit Transaction to send funds to bank accounts making use of Debit card deposit which is clearly not blockchain-backed or related.
Without the need for DLT, the dedicated website and app make use of an open-source cloud-based microservices. Chytil further stated that although Ripple is not involved in the new product, the firm still makes use of Ripple's blockchain in other fields of the company.
Also, Chytil made mention of MoneyGram's continuous effort on how to utilize blockchain in areas where it could assist to solve data privacy and regulatory obligations via distributed ledger technology. In her remarks, she spoke highly of DLT technology and cryptocurrencies, stating that the firm believes blockchain to be the future of global cross border payments and transfer of money.
As MoneyGram continues to research on the multiple use cases in order to tap into Ripple's tools while integrating with the recent version of Ripple's service suit to introduce cash-out service to all network members.
It is worth noting that Ripple is gaining increased support and approval among financial institutions to provide them with its DLT services in Africa with the National Bank of Egypt joining its network, this has been seen as a welcome development as it would do well for the inward remittance within the region the Ripple Network.