Man is a social creature; a modified statement by the famous philosopher Aristotle has remained ever relevant even till day. Though man can be alone and be very productive, this doesn't deny the fact that man belongs to one group or the other.
Man is not a creation that isolates itself from the community; he breathes the air of communal freedom with which he expresses himself and lives to fulfill life.
As much as man has always projected himself and proven true the statement of Aristotle, man's right to be a social creature is now threatened. Though many glimpse the light far away, others are swimming in the deep recesses of gloom.

There are many questions. Though not literal, but such questions project the ideas behind the following questions: Can man return to the way he was? Is humanity utterly altered? The freedom of physical communal association, can it still be revived?
These are many questions which all over the world rest on the lips of humanity. Is humanity on a brink of global catastrophic collapse, this question probably must have come to the mind of some elements of the global human community.
Today, humanity is faced with a global threat. A threat that does not discriminate by race, academic and political might, military strength etc. a threat which seeks to undermine the way of life. The threat is the novel Coronavirus also known as COVID-19.
Since the virus was declared a pandemic by the W.H.O, nations of the world have gone on high alert with the aim of assessing, containing and preventing the spread of the virus.
In Nigeria, being the most populous black nation on the planet, the virus has as of today taken the lives of over 20 persons amongst whom is the Nigerian Chief of Staff, with over 600 confirmed cases though above 100 persons have recovered.
In order to contain the spread of the virus, the Federal Government of Nigerian announced the shutdown of the Federal Capital Territory and Lagos and Ogun states.
This shutdown was also responded to by other states of the federation who deem it fit to prevent the spread of the virus. Citizens were asked to stay at home and not go out for their daily activities.
However the good measures taken by the government to contain the virus, good policies also do have an unwanted effect in the negative. The directive to stay at home however noble has greatly impacted the Nigerian community.
With no source of financial resources to finance their daily living, and inability to go out to work for their daily bread, there is a concern among the populace which revolves around the idea that the hunger in the country will likely kill people even before the virus.
The nation is in dire need of help. A famous singer once said, a hungry man is an angry man. Will the hunger push Nigerians out to go about their commercial activities thereby flouting presidential directives and probably endanger their lives and that of others especially their families? This is indeed a delima.
Seeing the inconceivable lack and want which abounds in the nation, the government has already ordered a financial package to be delivered to Nigerians. Individuals are also helping out, feeding those who have not.
The government ordered relief to be given to the populace; this though may not be enough to cater for the population for the term of the lockdown if equally shared to everyone has also brought concerns as citizens have complained of not receiving these relief packages.
For those who received, social media is filled with complaints of aggrieved citizens who vent their anger and frustration over the entire endeavour. It's no doubt, there is a deep problem which if not taken care of, the Nigerian state and spirit will be greatly affected.
With these challenges abounding nationwide, some leaders in the Cryptocurrency and Blockchain industry in Africa have taken it upon themselves to come together to extend a helping hand to the some members of the Nigerian community via the Blockchain4COVID-19 project.

The project seeks to ease the difficulties of members of the Nigerian community through donation which shall be received through cryptocurrencies.

The goal of the project is "to provide aid to at least 500 poor families around the city of Lagos during the lockdown and isolation period where people are required to stay at home with almost no alternative source of income."
It's no doubt, the current economic situation of the nation is one that calls for urgent and radical measures to preserve and promote post COVID-19, yet, for the Today, steps have to be taken to protect, preserve and promote our way of life as man, as humanity. This is the idea behind Blockchain4COVID-19

As Mahatma Gandhi famously said, "be the change you wish to see in the world". Let's be that change we push to help others.
5 Simple Ways to Buying Your First Bitcoin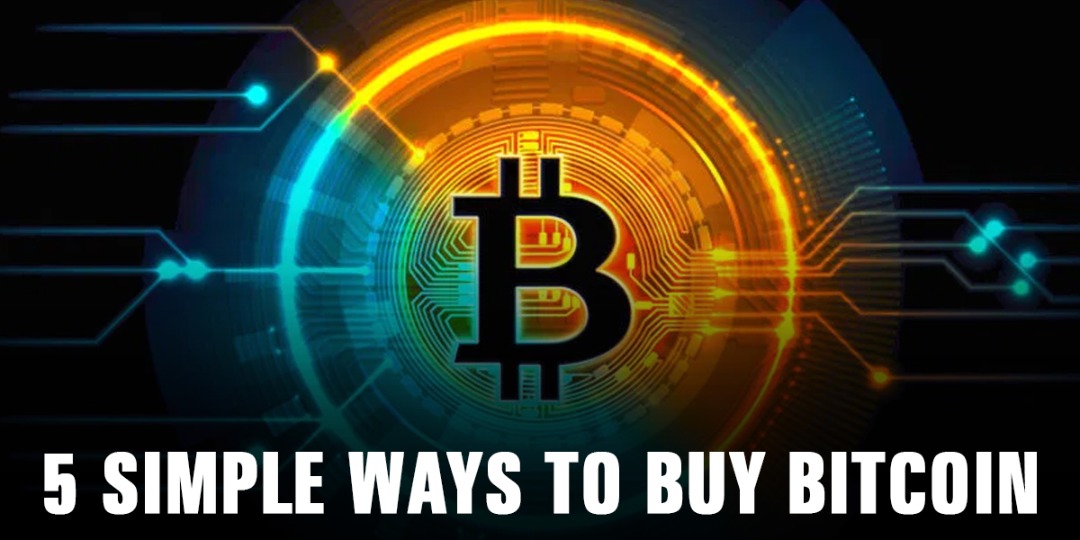 Cryptocurrencies and the blockchain space have been gradually gaining spotlight in different industries and countries for the past years, and many people are so fascinated by them—especially bitcoin.
With bitcoin (BTC) being in the finance and technology world for more than a decade now, you probably know someone who owns fractions of it. If you're among those folks who want to buy bitcoin and explore its fascinating uses, it's about time for you to get your crypto adventure started!
But first, let's take a quick look at what bitcoin is and how it works.
Bitcoin in a nutshell
In 2009, this leading cryptocurrency was created and introduced by a pseudonymous person or a group of people—no one knows for sure—under the name Satoshi Nakamoto. Bitcoin works like traditional currencies, which can be used as payment for various purposes, but in a digital form. At its most basic level, bitcoin is like digital cash.
How to buy bitcoin?
After learning a little bit about bitcoin, let's now go over the quick and easy steps to buying your first bitcoin. It might seem complicated and overwhelming at the beginning, but set aside your worries—in reality, buying bitcoin is easy!
Have your funds ready
At the time of writing, BTC's price is at over 10500 USD. You probably think that there's no way you'll give out such a massive amount as this in an instant—don't worry we feel you. In reality, buying bitcoin isn't always that expensive. In fact, you can buy only fractions of it. You can buy amounts from as low as 10 USD, 50 USD, to 75 USD and above—it completely depends on you and the marketplace from which you'll buy.
Get a secure and reliable bitcoin wallet
Earlier, we mentioned that bitcoin works just like cash—but digital. This means it doesn't have a physical representation, unlike government-issued bills and coins stored in wallets or purses. This currency exists and runs through the power of technology, which means you'll need a digital wallet instead.
A bitcoin wallet is a digital wallet you can use to store, receive, and send BTC funds. It comes in different forms, and one of them is a BTC wallet that you can access through the Internet or on your smartphone. Mobile wallets are ideal for those who want to access their bitcoin funds on the go and use them for nearly instantaneous payment transactions and money transfers.
You'll be surprised to see thousands of cryptocurrency wallets online, and it's crucial to go for secure and reputable ones. We're talking about your bitcoin funds here, and you'll surely want to keep them safe!
There are some peer-to-peer (P2P) bitcoin marketplaces that offer a bitcoin wallet for free. Among these exchanges is Paxful, which entitles you to a free bitcoin wallet upon creating an account on the platform.
Scout for a reputable bitcoin marketplace
There are thousands of cryptocurrency exchanges and bitcoin marketplaces where you can buy bitcoin, but there are a few essential things to consider when choosing one. These include:
Transaction fees. This varies per marketplace, the purpose and type of the transaction—withdrawal or deposit, and the payment method.
Payment options. You wouldn't want to convert or transfer your fiat money many times to buy BTC, so it's best to choose a marketplace that has most—if not all—payment methods you will need.
Excellent safety and security features. This is among the most important things to consider when choosing an exchange. Look for marketplaces with high levels of security and have features that will keep you and your funds protected and secured. This might include KYC protocols, escrow services, and two-factor authentication, among others.
Reliable customer support. It's also important to know whether an exchange has a 24/7 customer support service that you can reach out to and promptly respond to your queries or concerns.
These are just some things to look for when selecting an exchange to buy bitcoin, but don't be limited to this list. Check and compare which marketplaces will best suit your needs!
Start buying your first bitcoin
After getting your bitcoin wallet and choosing a suitable bitcoin marketplace, it's now time to buy your first bitcoin! To kickstart your crypto adventure, here's a simple step-by-step guide on how to buy bitcoin on Paxful, one of today's leading P2P marketplaces for trading bitcoin. But first, head on to your Paxful account and click the Buy Bitcoin button.
Step 1. Select a payment method.
Paxful has over 300 ways to buy bitcoin, including bank transfers, online wallets, gift cards, debit or credit cards, digital currencies, and even goods and services.
Step 2. Choose the currency you'll use to buy BTC.
You can choose from the most popular currencies like GBP, CAD, EUR, USD, KES, NGN, and many more.
Step 3. Enter the amount you want to buy.
You don't need to buy huge amounts, especially on your first time. On Paxful, you can buy fractions of BTC for as low as 10 USD!
Step 4. Search for offers.
When you click the Search for Offers button, you'll see a list of active offers from different users. Go through every information you see regarding the trade. These will help you know the seller's requirements for their offer. You can also visit the seller's profile to check their credibility and trade history.
Step 5. Click on the Buy button.
After carefully checking all the offers and choosing the one that best suits your needs, you can now proceed with the trade. You'll be redirected to the offer page and asked of the amount you're willing to buy in the currency you prefer.
Step 6. Carefully read the seller's offer terms.
Before proceeding to buy BTC, you must first read the seller's offer terms and requirements, and make sure that you agree to it. If not, you can always go back to the offers page and scout for other offers.
Step 7. Click on the Buy Now button.
If you agree to the seller's offer terms, you can click on the Buy Now button and proceed to the transaction.
Step 8. Complete the payment and the seller will release your BTC.
Paxful has an in-trade chat where you can directly talk to the seller for any transaction concerns or queries. Once you've completed the payment and notified the seller, the BTC will be released to you. Note that payment confirmation might take a few minutes!
Step 9. Leave your transaction feedback.
Don't forget to give feedback to your trade partner about how the transaction went!
Explore the opportunities you have with BTC
From instant payments to cheaper money transfers and a whole lot more—you'll enjoy exploring the potentials of bitcoin. There are undoubtedly hundreds of money-making ways you can try your hand at with bitcoin, so be sure to explore to make the most of your bitcoin journey!
And that's it! You're done with the first step to your thrilling bitcoin adventure. Many opportunities are still waiting for you, so familiarize yourself with how it works and prepare to receive exciting outcomes!
Buy Bitcoin UTM Link: https://bit.ly/PaxCryptoTVA1