OKEx launches voting for SAMO, LEASH, KUMA, DOG and POLYDOGE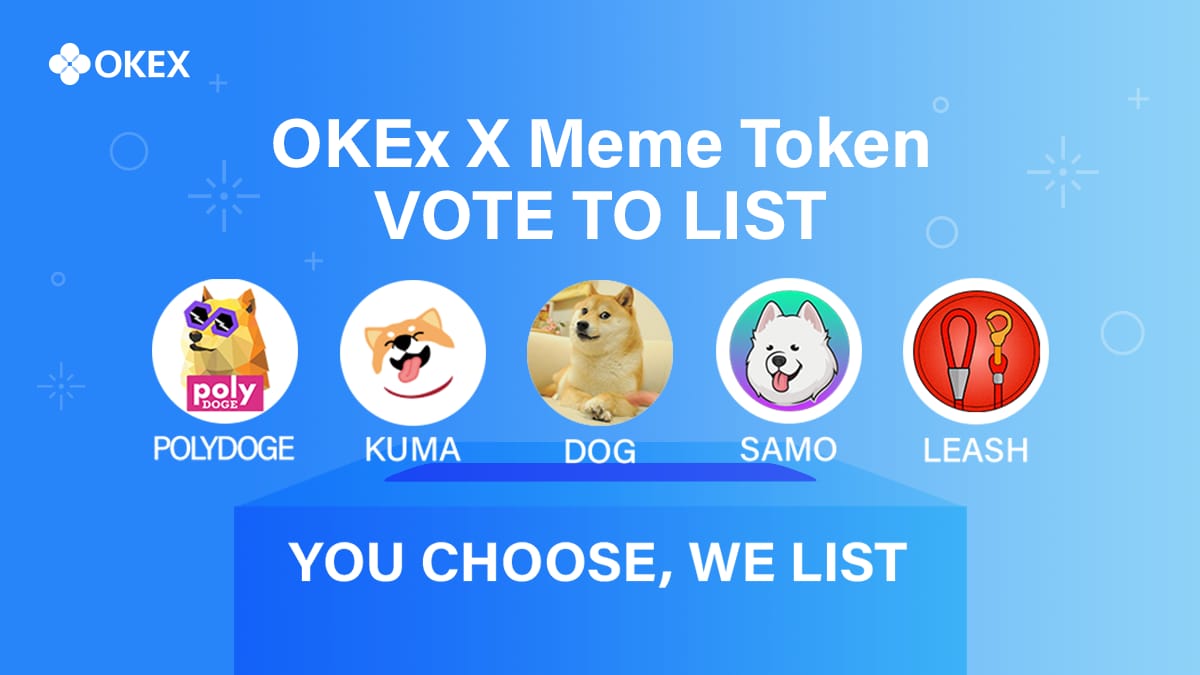 OKEx, a Seychelles-based cryptocurrency exchange that relies on the blockchain technology to provide a platform for spot and derivative trading of various cryptocurrencies; has recently launched a special voting event for 5 meme token projects: Samoyedcoin (SAMO), Doge Killer (LEASH), Kuma Inu (KUMA), The Doge NFT (DOG), and PolyDoge (POLYDOGE) The aim of this voting event is for users to participate and decide the meme token projects that will eventually be listed on the OKEx Exchange.
Here's a brief explainer of these meme token projects;
Samoyedcoin ($SAMO) is Solana's memecoin, that aims to be a community-owned coin. It was inspired by Dogecoin, Sam Bankman-Fried (CEO of Alameda Research and FTX) and Anatoly Yakovenko (co-founder of Solana). Hence the choice of the dog breed samoyed, bringing these two tech giants together. It aims to boost Solana's ecosystem by appealing beyond its core, mostly comprised of highly technological coins. For info on $SAMO, click here
Doge Killer ($LEASH) is a cryptocurrency that operates on the Ethereum platform. As the name implies, it was created to compete with Dogecoin ($DOGE). For more details, click here
Kuma Inu ($KUMA) is the native token that is used in the Kuma Breeder. Kuma Breeder is a yield farming protocol which offers a fresh approach to farming $dKuma tokens. Want to know more about $KUMA, click here
DOG is the original Doge NFT minted by Atsuko Sato, the owner of our favorite dog breed. Dogecoin is the most iconic meme in internet history, as it is now fractionalized and available for anyone to own as an NFT. Ensure to DYOR by clicking here
PolyDoge aims to build the biggest community on the Polygon blockchain. It is a meme token with a lot of utilities for its holders. Click here to learn more about $POLYDOGE.
Rules for Voting:
Voting period: 09:00 am UTC Nov. 2, 2021 – 04:00 pm UTC Nov.4, 2021
During the voting period, users can vote by depositing more than 10 USDT equivalent of one of the competing tokens to their OKEx accounts. Based on the ranking of total voters for each project, OKEx will list the top two.
Projects that meet our requirements will be listed on OKEx as soon as possible.
If the total voters of a project reach 5,000, OKEx will give it priority for listing unconditionally.
Any cheating or malicious behavior in voting will result in disqualification.
Withdrawals will start after the end of the voting period.
Note: The transfer costs of this voting will be borne by users.
For the sake of clarity, Ensure to do your due diligence and research on these projects mentioned above before participating in the voting event.
Read more:
Gods Unchained on OKEx Jumpstart Mining – Stake OKB to Earn GODS
What do you think of this post? Share your comments below…