Human Rights group, HEDA gives the CBN 7 days to Disclose Dealings its E-Naira Partner Bitt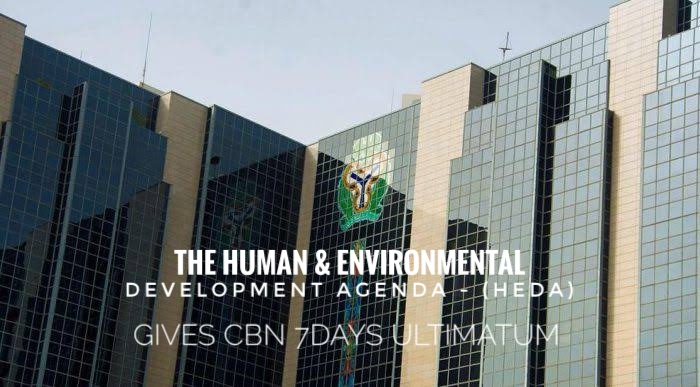 Requesting under the Freedom of Information Act, 2011, the Human and Environmental Development Agenda HEDA has given the Central Bank of Nigeria a seven days ultimatum to reveal its business arrangement with its technical partner for the e-Naira, Bitt Inc.
The group on Monday revealed that as part of its mandate as a human rights group to protect and promote accountability in the public sector and transparency, it has requested the Central Bank of Nigeria to disclose the bidding process which saw Bitts Inc emerge as the winner.
HEDA in a statement said there is no doubt the bidding process for the e-Naira project was done in accordance with the 2007 Public Procurement Act, however, "to satisfy public curiosity and pursuant to Sections 2, 3 and 4 of the Freedom of Information (FoI) Act, 2011, however, HEDA request for critical information like list of bidders and evidence of public opening of the bid."
The group has asked the Central Bank of Nigeria to provide all important details of its engagement with Bitt Inc concerning the e-Naira project it.
Chairman of the HEDA Olanrewaju Suraju in an address to the CBN Governor said "The CBN has the responsibility to inform the public on the bidding process in the context of transparency and due diligence. While the winner of the bid has been announced, it is necessary for the public to know how the winner of the bid emerged."
The CBN e-Naira project which the CBN hopes to bank the unbanked is expected to go live on the 1st of October.
While the decision to use Bitt Inc has the technical partner for the e-Naira project seemed questionable considering the company has Nigeria as a restricted country to do business with, one can't wonder why HEDA will demand for a public revelation of the bidding process for the e-Naira.
What do you think of this story? Share your comments below.