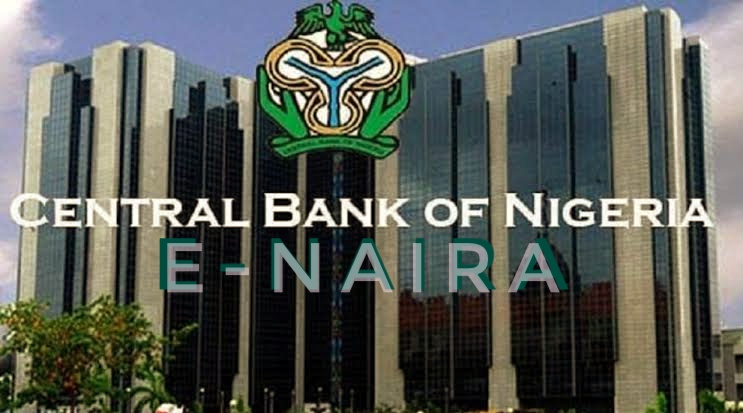 eNaira May Not Launch
Is the e-Naira dead on arrival? the CBN has hit a wall on its Oct. 1st e-Naira launch date. Will the CBN join in the Independence Day Celebration?
e-Naira, the Nigerian Central Bank Digital Currency which was scheduled to launch on the 1st of October, 2021 may not go as planned.
This is due to an infringement by the Central Bank of Nigeria on the trademark of a Nigerian company ENAIRA PAYMENT SOLUTIONS LIMITED (RC 508500).
The Central Bank announced few months ago that it will be releasing its digital currency, the e-naira. The e-Naira was developed in a project tagged Project Giant.
According to the CBN, the e-Naira will usher the Nigerian financial system into a new world filled with possibilities as one of its advantages is helping to make financial services available to a wide range of people and also help to reduce the cost of printing paper money.
The CBN boasts of this adventure as a principal player in Africa in the area of Central Bank Digital Currency and hopes to achieve a lot with the introduction of the e-Naira to the Nigerian economy. This was expected to begin as from the 1st of October, 2021 as the Central Bank unveils the e-Naira and the e-Naira digital wallet, Speed.
Why the e-Naira May Not Launch on Oct. 1st
The eNaira may not come to be on the appointed day by the CBN as the Central bank of Nigeria has been seen to infringe on the Trademark of a Nigerian company.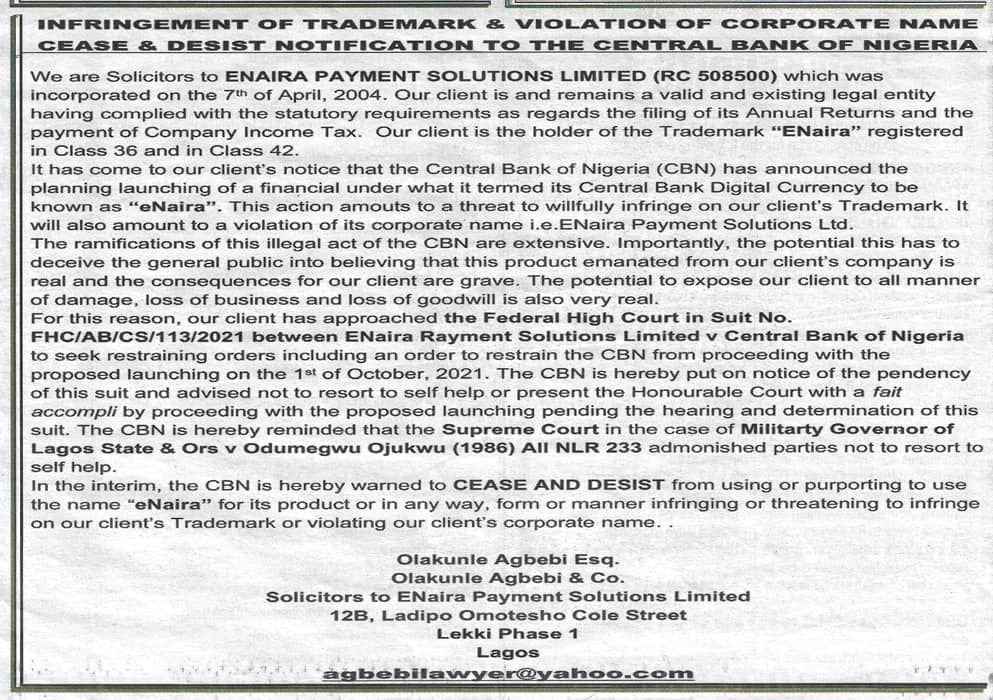 The company's attorney, Olakunle Agbebi & Co. has approached the Federal High Court in Suit No. FHC/AB/CS/113/2021 between ENaira Payment Solutions Limted v. Central Bank of Nigeria according to a document circulating the internet space.
The document showed that ENaira Payment Solutions Ltd is a legally registered company has complied with the statutory requirements such as Company Income Tax. It also read that the company is the holder of the Trademark "ENaira" registered in Class 36 and in Class 42.
The company called the action of the CBN illegal and thus has sort the court to restrain the CBN from proceeding with the proposed launching of the eNaira on October 1st and to cease and desist from using the name "eNaira" for its product or in any other manner that infringes or threaten infringe on the trademark of the company.
In an interview with the CEO of Bitt Inc., Brian Popelka, he said the CBN has been working on the e-naira for several years. ENAIRA PAYMENT SOLUTIONS LIMITED was registered as a limited liability company according to data from Nigeria's company registrar, Corporate Affairs Commission CAC.
It is unclear what to expect on October 1st as the nation celebrates the Independence Day. Will the CBN will join the jubilation? The nation awaits.
What do you think of this story? Share your comments below