Bidesk shuts down
Bidesk has announced its permanent shutdown of its operation following China's aggressive and drastic policy changes & restrictions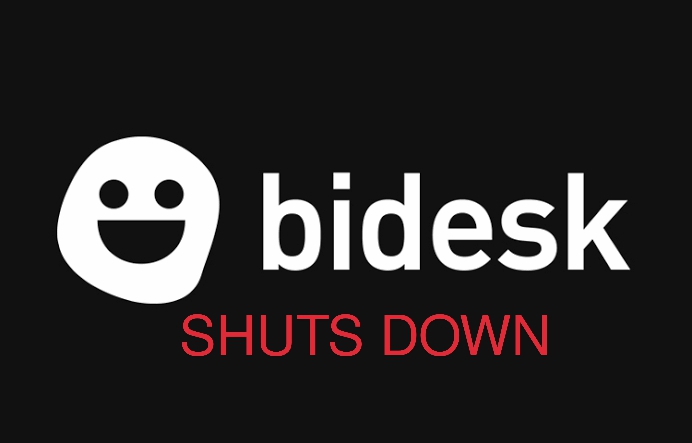 Cryptocurrency exchange Bidesk has announced it will be shutting down operations permanently.
The company announced this via a blog publication saying due to "drastic policy changes and tightened restrictions by the (China) government on Crypto Exchange operations & related technology service that support Crypto exchange business," it will permanently cease its operations.
According to the exchange, with immediate effect as per the publication, both user registration and deposit services has been disabled forever. Only trading and withdrawals services are still allowed to run.
Opening positions in contract trading and buying of ETF is closed. Users will still be able to close down positions in contract trading sell of ETF assets and return leverage assets.
Bidesk Shutdown Timeline
Bidesk revealed that OTC trding, futures, spot, ETF and staking will be shut down in what it calls phase one. This is expected to comment on the 2nd of October, 2021. In phase two, is scheduled 7 days after phase 1, spot trading functions will be closed off while on October 16th, the Bidesk trading platform will be shut down. Access to the mobile app and website will be restricted. Users are advised to login to the platform to withdraw their crypto assets.
Read also:
On 23rd of October, the platform will be fully shutdown and users will not be able to access the withdrawal service as all assets held will be sold at market price as TRC20-USDT and kept by Bidesk. Users will only be able to access these funds by submitting withdrawal request via email. This will be possible with identity verification and should be done before November, 23 where the company will go into liquidation.
Read also:
As China's aggression towards crypto and related enterprises continue to rage on, more businesses will leave China or close down. What is the endgame for China?
It is surprising that Bidesk has decided to tow this path considering other crypto businesses affected by the aggression of China towards crypto are moving to favourable jurisdiction.
What do you think of this story? Share your comments below.