The Binance Smart Chain network becomes the most used and active network in the second quarter of this year. The Network accounted for the most unique active wallets, growth of Decentralized applications peaked during this period. Also, the total transaction volume and locked value on Decentralized Exchange; pancakeswap peaked during the second quarter. 
The network continues to prove it is a force to reckon with in the DeFi industry as its growth within the short period of launch has been exponential. It reached a milestone of becoming the most utilized network in this year's second quarter according to a report by DappRadar.
See also:Fed Chairman, Jerome Powell Says Cryptocurrencies wouldn't be Needed if Digital Dollar Existed
 The report also noted that the network accounted for the highest number of unique active wallets (UAW)  at an approximate of 421,854. This was a whopping 400%+ rise in the number compared to quarter one. A chart illustrating the users on the network to that of Ethereum and Polygon was highlighted on the report.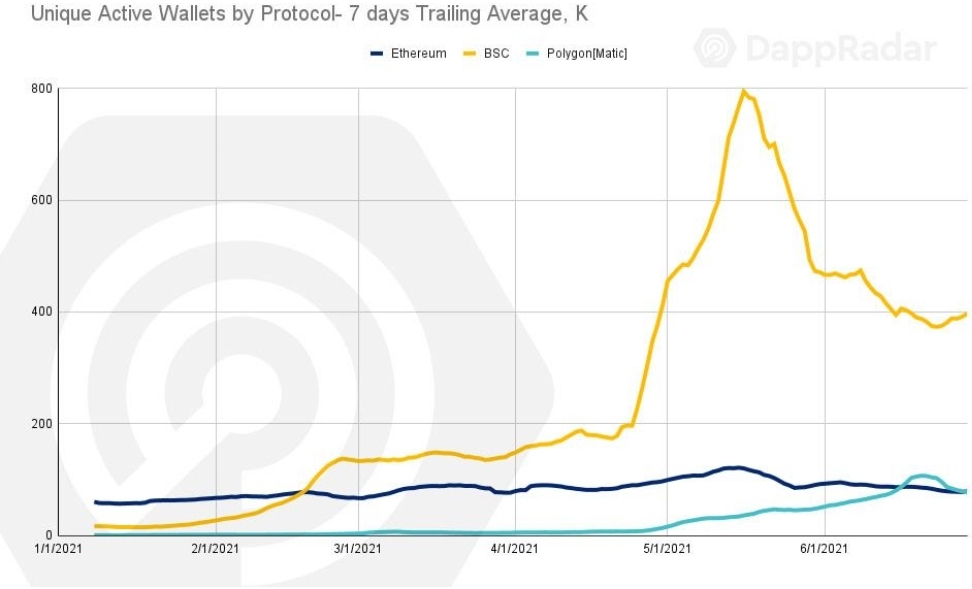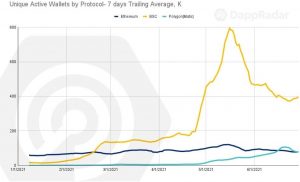 PancakeSwap and Binance Smart Chain
The report further stated how the network has been able to grow to become a competitor to Ethereum within the short period of its existence and despite the crash of May, 2021. 
The value locked as at the end of June was over $25 billion dollars and 25% was on PancakeSwap and till present the TVL on PancakeSwap remains higher than that of other protocols like Uniswap, 1inch among others.
It was the most used protocol in the second quarter accounting for more than 5 million active wallets and an approximate of $1 Trillion dollars in total transactions. 
Read more:US to Fight Ransomware Attacks with Crypto Tracing and up to $10M in Bounty
DApps Peak on the BSC network
The Binance smart chain has witnessed growth of Decentralized applications and protocols built on the network. As at the end of last quarter there was an approximate of 1,464 Decentralized applications on the network. 
NFTs to Become Relevant on the Network 
The report further stated that the gaming and NFT sector are becoming unable to ignore on the network as they generated more than a $100 million dollars in revenue, more than 900% increase compared to other quarters;
"It is true that the DeFi space dominates the scene in BSC; however, NFT and games are slowly gaining relevance within the network. For instance, NFTs and corresponding marketplaces generated $123 million in Q2, a 993% increase from the previous quarter."