The Blockchain Technology Can End Codeine Abuse in Nigeria
The importance of the blockchain to supply chain management in pharmaceutical companies can be addressed in the Nigerian codeine crisis. A BBC documentary revealed the extent to which drug abuse is currently on a rampage in Nigeria. The situation got so critical that the National Agency for Food and Drug Administration and Control, NAFDAC placed a ban on a major pharmaceutical firm fingered in the whole crisis. The investigative documentary titled Sweet Sweet Codeine revealed how some staff from three major pharmaceutical firms sold codeine-based cough syrup to this addicts. In a decentralized system where the production of codeine-based cough syrup can be monitored from factory to patient, a situation like this can be prevented.
The blockchain technology is currently being adopted in different sectors and the health sector is not to be left out. Countries such as Ethiopia have adopted the blockchain technology to its coffee supply chain ensuring that exported coffee is of top quality and that farmers get paid the right value for their products. A company like IBM have created innovations that can make data sharing between healthcare providers better and allow various stakeholders in the healthcare track data. Also, the supply chain will be more secure and effective and transactions will be recorded on the blockchain which is immutable.
The codeine abuse in Nigeria can be solved using the blockchain technology. The blockchain technology can ensure the following in the Nigerian healthcare and pharmaceutical sectors;
Supply Chain Management: The blockchain technology enables secure and transparent transactions. This means that if from production, a particular number of drugs have been recorded on the blockchain the number supplied and their suppliers should also tally. So, when the chain is broken, the menace of the stolen drugs to facilitate drug abuse can also be stopped.
Secure Data: Distribution makes the system more secure, this is because there isn't a single place of attack or failure. Transactions are documented in a permanent decentralized record which does not only reduce the time spent and added costs but also cuts down human errors.
Drug Traceability: Issues such as counterfeit drugs, stolen drugs can be tackled with the blockchain as the transaction between drug manufacturers, wholesalers, pharmacists, and patients can be tracked, verify and secured to know the important details of the drug product.
The blockchain technology can also be used to create smart contracts where patient's data can be accessed and patient's information can be accessed by permission from stakeholders. The blockchain technology can do a lot for the current codeine crisis Nigeria is facing and it will make a lot of sense to integrate this technology into the pharmaceutical sector. What the citizen want is transparent transactions, laying a ban on a company might not necessarily end the drug crisis but transparent transaction, supply chain management, and drug traceability can end the crisis.
What do you think about the application of the blockchain to supply chain management in pharmaceutical companies in Nigeria? Share your opinion with us in the comments section below.
Image source: abcnews.go, deserthope
Disclaimer:
The Information provided on the website is designed to provide helpful information regarding cryptocurrency subjects. The content is not meant to be used, nor should it be used as a basis, foundational knowledge or prerequisite for decision making regards trading. Always do your own research and due diligence before placing a trade. We are not liable for any outcome based on any content found on the site.
Market Retraces its Steps after Opening the Week with Green across the Market.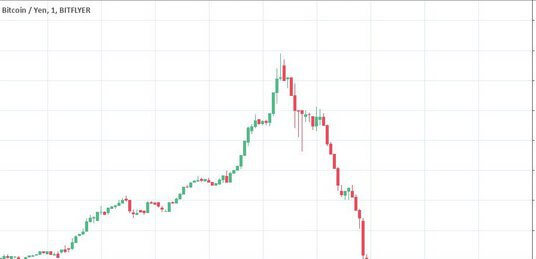 The first day of the week just three days ago opened the week to a wide spread gains across the cryptocurrency market with Tron reporting the highest gains of over 9%. Today opens with significant losses that have wiped out the gains made in opening day of the week. Bitcoin is currently trading at a loss of 11.01% as at press time standing at $11,503. Total market capitalization sits at a $313 billion. Opening day of the week, it was at $327 billion
The second largest cryptocurrency by market capitalization Ethereum is trading at $271 which is over $30 lower than its week opening price. It is currently reporting 11.94% loss. XRP of Ripple is trading at a negative of 15.79% as Litecoin is also a little below standing at loss of 14.59%. The price of XRP stands at $0.33 while Litecoin is just over $100.
Tron which recorded the highest gains in the opening day of the week is reporting an astonishing 16.56% loss with Bitcoin SV, the embattled Bitcoin fork showing 18.56% in red. Top loser on today is EOS which is trading at $4.66 with a market capitilization of $3.9 billion but suffering a loss of 20.13%. Bitcoin cash is at 18.48% red trading at $339.29.
Tether the stablecoin positioned at number 8 by marketcap is stable at $1 but reports a 0.06% red which should be normal as it is of course a stable coin.
The industry continues at grow and thrive with the reported achievements of Blockstack to conduct a SEC compliant token sales, the market normally responds favorably to such news. While its is normal for the market to step back a bit after an upward surge, could this be the result of the 7300s BTC dumped on Binance?
Someone on Binance is in a hurry to sell ~7.5k+ bitcoins ($100 million). It's a limit order, but it's aggressively adjusting it's price to be on top of the orderbook. Pushed down price from $12.6k to $12.1k. 5k btc left pic.twitter.com/f6jwAyDDc0

— Madoff wasn't on the blockchain (@bccponzi) July 9, 2019
We can only look at the charts and open our ears to hear positive news. And by the way, Bitcoin has increased in dominance to 65.4% as against its week opening dominance of 62.1%.