Techpoint Inspired 2019 Pre-Event Updates by CryptoTvPlus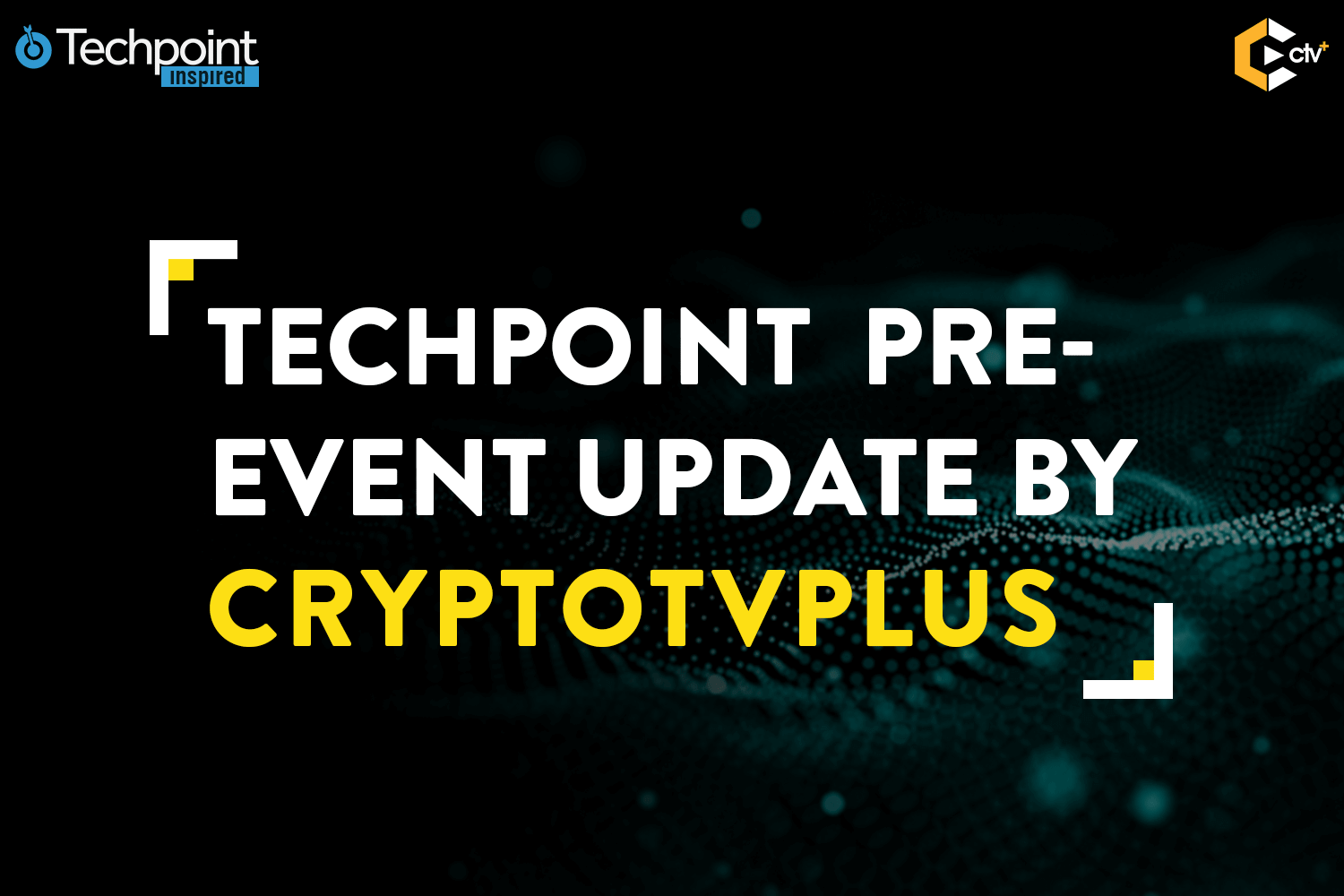 It's barely 5 days to go for Techpoint Inspired 2019 edition, after debuting in 2019. We promised to keep you up to date pre and post event and we intend keeping to our promise.
While participants are preparing to attend from everywhere in Nigeria at Pistis Conference Center, and possible participants from other parts of the West Africa subcontinent, speakers from Nigeria and other parts of the world are also preparing to wow their listeners with breathtaking sessions.
With this third edition already attracting huge interests from participants who have attended earlier editions or those seeking to participate for the first time, organizers have announced a twist to the event.
Techpoint Inspired 2019 will have two sessions. While speakers will be engaging the audience on several topics as brandished by their skills and qualifications in their respective industries as experts, the audience will be equally thrilled in the several workshops that will follow, giving them the opportunity to participate in the conference actively by engaging with the facilitators through Question and Answer Sessions and also chiming in their uncanny inputs as participants of the workshop.
With Adewale Yusuf, Founder & CEO, Techpoint Africa giving the opening remarks, Prof. Maziar Nekovee of Sussex University, UK will be speaking on "Building Infrastructure to Enable Tech Development in Africa", Funke Opeke, the female founder and CEO of MainOne will be keynoting the session titled "Leveraging the Potential and Opportunities fot 5G in Africa". Bosun Tijani of Co-creation hub will also be speaking on "Design Thinking for Africa's Future". Several other keynote speakers to watch out for include Seni Sulayman, Ngozi Aderibigbe, Dr Wiebe Boer and a host of others.
The workshop section is grouped into three; The Future of Work, Artificial Intelligence (AI) & Robotics and Blockchain & Cryptocurrency. These will all take place simultaneously.
For the blockchain enthusiasts, Paul Ezeafulukwe, President, Stakeholders in Blockchain Technology Association of Nigeria (SIBAN) will be facilitating a session on "Blockchain and Good Governance", Senator Ihenyen, the Lead Partner in one of the foremost new generation leading law firms in Nigeria, Infusion Lawyers and Patners will be thrilling the participants on the innovation of "Smart Contracts and the Law". Chris Ani, the author of the best seller, "Crypto 101" and founder of Cryptohub the largest Crypto Community in Africa will also be facilitating a session on "Cryptocurrency Trading".
A host of others that will be facilitating the Blockchain workshops include Owenize Woghiren-Odia, Country Manager of Luno, a digital asset exchange, Tega Abikure, CEO of Kurefund and Lucky Uwakwe Founder, SaBi/COO, Blockchain Solutions Limited.
With these maestros, I'm quite confident myths, grey areas and myriad exposé into the future of society through advanced technological shifts will be dissected by these eggheads in their respective industries.
You should not miss it for any reason. If you think you've had it all good, this promises to be better as you just might be meeting with your next partner in business whether as a co-founder or a fellow executive or even that one time business or technical consultant that just might give your idea or business a facelift that catapults you into the galaxies.
In fact no one recognizes the happiest moment of their lives as they are living it…
                                   Orhan Parmuk, The Turkish Nobel Laureate, 2006.
You just never know… Make it a date to get inspired at Techpoint Inspired 2019
Ahead of the Next SiBAN Elections, Electoral Committee Publishes Guidelines

The Stakeholders in Blockchain Association of Nigeria has published its electoral guidelines for it's upcoming elections that will see the change of leadership in the body.


See below the guidelines.
1. Election Date
SiBAN 2020 Elections process to elect members of its highest decision-making organ, the
Caretaker Committee, to hold on the 11th and 12th December 2020.
2. Vacant Elective Offices
All the 7 elective offices are vacant and they are as follows:
a. Chairman
b. General Secretary
c. Vice Chairman (Policy & Regulations)
d. Vice Chairman (Blockchain Education & Adoption)
e. Vice Chairman (Memberships)
f. Vice Chairman (Projects, Funding & Strategic Partnerships);
g. Vice Chairman (Media & Publicity)
3. Eligibility to Vote
(a) Only registered members of SiBAN are eligible to vote. Such voters must have been registered as SiBAN members (with membership fee paid) at least 48 hours before the
election date.
(b) Unregistered members and members who register any time after the expiration of 48hrs to the election date are disenfranchised or disqualified.
(c) Any vote by any unregistered member or a member who registers later than 48 hours to the election date will be invalid. (d) Voting will be done via google form using SiBAN Membership ID number.
4. Eligibility to be Voted For
(a) Only registered members of SiBAN are eligible to stand as candidates or be voted for. A candidate must have been registered as a SiBAN member (with membership fee paid) at least 10 days before the election date.
(b) Unregistered members and members who register any time after 10 days to the election date are disqualified from contesting in the elections.
(c) Any person who has served in the same office in the SiBAN Caretaker Committee for up to two straight terms or tenures is disqualified from contesting for the same position. Such a person is only eligible to contest in another position.
5. Nomination Form
(a) A Nomination form (google form) has been made available to all members of the SiBAN community (registered and non-registered), by the Electoral Committee to enable any eligible person to nominate himself/herself or any other eligible person to run for any of the vacant elective offices. See attached form here
(b) Until the Electoral Committee receives and confirms all nominated candidates to run for any elective office, the candidate is prohibited from starting any campaign or holding out himself or herself as an electoral candidate.
(c) The nomination starts from November 25th, 2020 to November 28th 2020
6. Electoral Campaign
(a) Every confirmed candidate is entitled to campaign for votes in the community and outside the community. Such campaigns must communicate the candidate's agenda responsibly without disrespect to other candidates in the race.
(b) Electoral candidates may use banners, flyers, text, voice, video, or any such media for the purpose of electoral campaign.
(c) The 2020 Election Campaigns by candidates starts from 1st Dec – 8th Dec 2020.
(d) Manifesto night for only candidates running for the office of the chairman will be on 8th Dec 2020 being the last day of the campaign period
7. Voting Form
(a) Voting will be conducted electronically using a dedicated online Voting page which will be developed and administered by the Electoral Committee.
(b) This Voting platform will be available only on election day and throughout the duration of the voting process.
(c) Voting will be done using SiBAN Membership ID number.
8. Counting of Votes
It is the exclusive and absolute authority of the Electoral Committee, as decided by the Chairman of the Electoral Committee, to count votes collected via the electronic Voting Form.
9. Declaration of Winners
(a) It is the exclusive and absolute authority of the Electoral Committee, as decided by the Chairman of the Electoral Committee, to declare the winners after the conclusion of the elections.
(b) The Electoral Committee shall declare winners within 24 hours of the conclusion of the elections or as soon as practicable as circumstances may warrant.
10. Administration and Handover
(a) The election will not disrupt the present administration's work.
(b) The incumbent Chairman of the Caretaker Committee and other members of the administration are to hand over to the newly elected Chairman and his Executives within 48 Hours after the declaration of winners. Signed by:
Emmanuel Babalola, Chairman
Chike Okonkwo, Secretary
Stanley Golomo, Member
Next Phase of the Crypto Industry Will Be Driven by Real world Use & User Experience – Nathaniel Luz.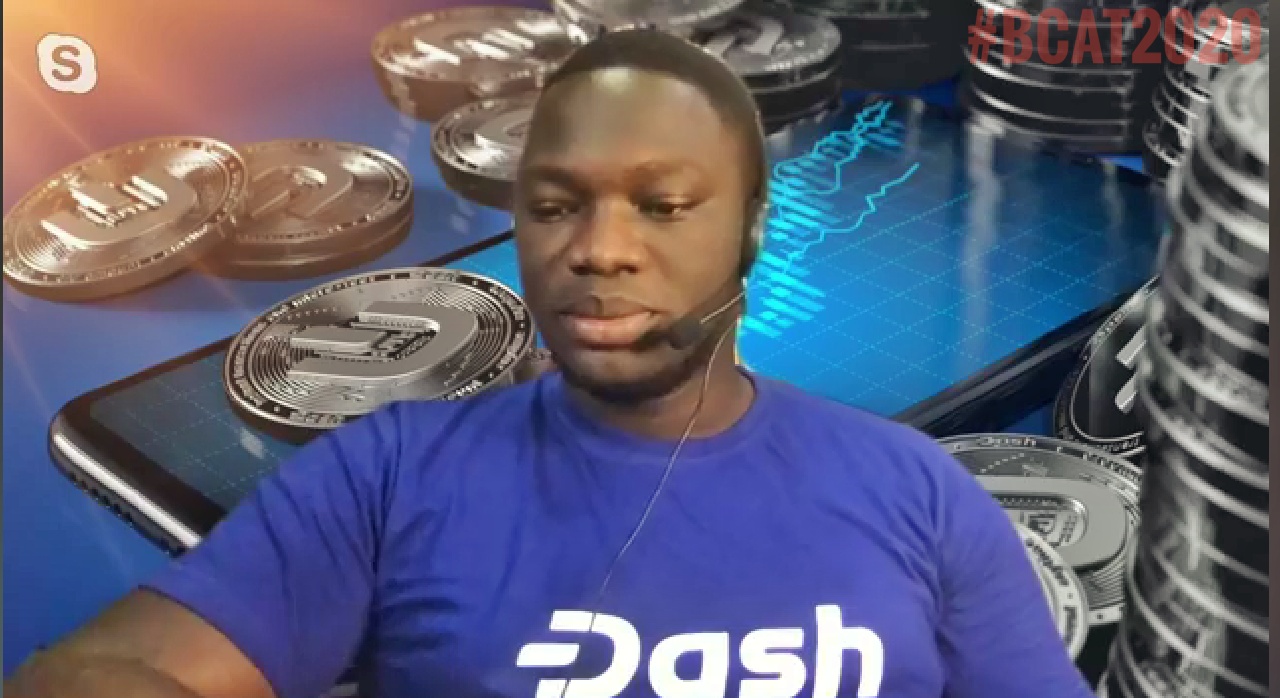 Crypto enthusiasts, Author and Dash Lead, Nigeria, Nathaniel Luz says the next phase of the blockchain and cryptocurrency industry will be driven by real world use and user experience. The phase according to him is between 2021 – 2030.
He said this in the thirteenth session of Blockchain and Cryptocurrency Awareness Tour – BCAT2020 which was held Live on the 13th of October, 2020 at the CryptoTVPlus Studio. The session had a focus topic "Crypto Industry Trends: How to get Positioned for maximum benefits"
According to him, the previous years in the industry is really just a one big phase and we're still in the early adopters stage. However, this one big stage or phase had micro stages like the ideology stage which was pre-ICO era. Then the ICO boom, STO, IEO and now the DeFi era.
When asked by the Host, Marvelous Akpere how he took advantage of the ICO era, Mr. Nathaniel also said he didn't actually take advantage of the ICO boom. 'I only got into one or two ICOs and it wasn't necessarily about the ROI'. He was just focused mainly on Dash.
Mr. Nathaniel said It's not about taking advantage of the ICO era, it's about taking advantage of the entire cryptocurrency industry. He predicted that in the coming years, more and more corporations will be launching their own cryptocurrency.
Explaining why the next phase will be driven by real world use and user experience, he said the crypto industry was founded by cryptographers, computer scientists, nerds etc and these crypto products are quite difficult for non-techies to use. This is consistent with other contributions over the years by crypto faithfuls on the usability of crypto products. The following decade will be populated by crypto products with defining user experience.
On how to exploit the (coming) trends in the crypto industry, Nathaniel Luz responded saying, firstly, one has to understand the phase that the industry is heading to (real world use & user experience 2021-2030), secondly it's indisputable that cryptocurrency is here to stay. With that in mind, the third thing to do for anyone that desires to take advantage of crypto trends is to align what they do in such a way that they can be part of the (crypto) movement.
Please watch the session below.
Franklin Peters: SARS Abducted, Robbed Me & Left me stranded in an Unknown Place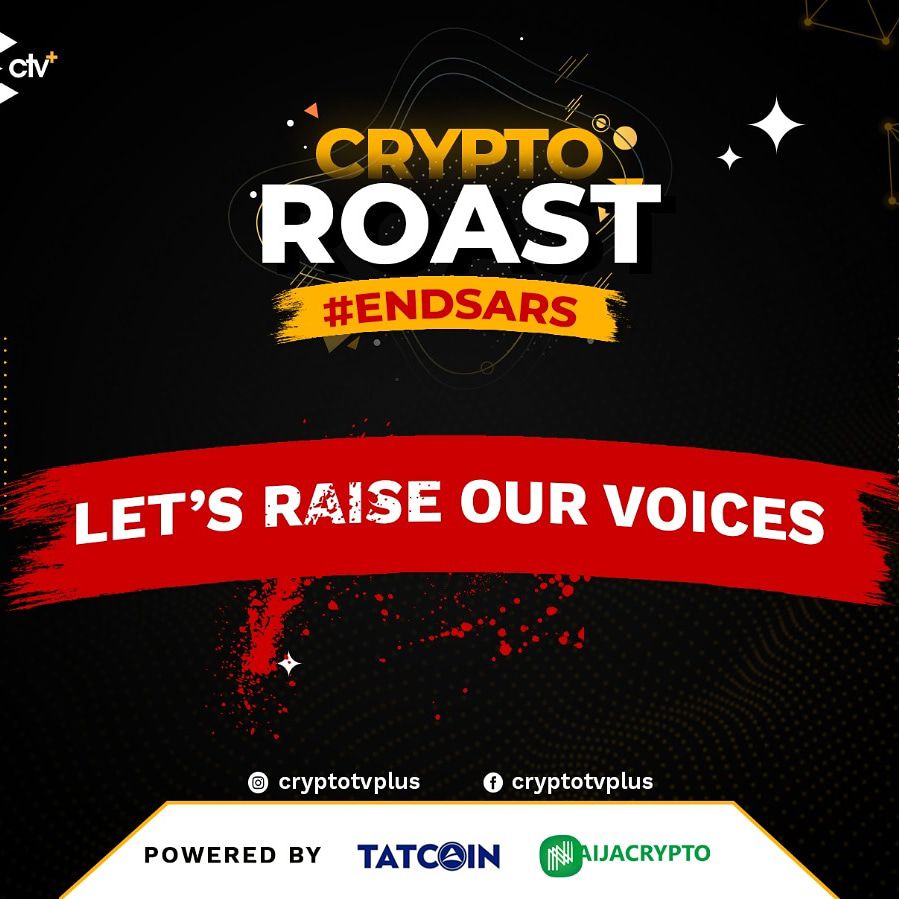 Franklin Peters the CEO of Bitfxt Technologies has come out to share his experience with the dreaded unit of the Nigerian Police Force -Special Anti-Robbery Squad – SARS.
In the weekly crypto comic show from CryptoTvplus – #CryptoRoast – which holds every Friday by 9PM (GMT +1), he came as a guest to express his dissatisfaction and position on the SARS unit. There has been outcry across the country for over 72 hours with millions of Nigerians majority of whom are youth coming out to protest against the brutality of the police force.
Mr. Franklin Peters shared his experience below:
"Sometime in 2019, I travelled from Portharcourt to Lagos for a Business meeting. I lodged in FESTAC but had my meeting at IKEJA CITY MALL so I booked a TAXIFY. Barely two poles away from my hotel, some FRAIL looking men in MUFTY pulled us over, discharged the CAB guy and directed me to a small old DAMFO bus with no plate number…
I kept asking them what I had done but they insisted I should enter their bus first. I refused to enter until they all identified themselves as SARS through their ID card. They said I should settle them or else they'll take me to their station and they will make sure I don't come out for 1 week.
Every effort to get them to be reasonable was abortive. They asked what I do and I told them I run a blockchain tech company… they said, how can "a young boy like you" own a company? They took my phone and started checking my WhatsApp messages, going through my email and checking my bank balance until my phone battery died.
To cut the story short: they drove me to an unknown destination, followed me to an ATM, made me withdraw all the money in my bank and abandoned me there with a dead phone and no cash. I was properly dressed and so it wasn't a case of being addressed the way you are dressed.
I complained to the nearby police and they confirmed they were SARS and that's how they make their money in that zone. I thank God I they didn't hurt me, it was only money they took… it could have been worse!"
Mr. Franklin Peters further advised Nigerians to "Speak out! The #EndSarsProtests is for everyone. If it hasn't happened to you now, it may happen later or happen to someone dare to you. Let's correct this menace now before it's too late! #EndSARS"
The CEO of Bitfxt Technology, Mr Franklin Peters shares his experience with the Special Anti-Robbery Squad known as SARS in 2019. Watch here below