OKEx Comes to the Africa Continent with its CryptoTour Africa 2019 Meetup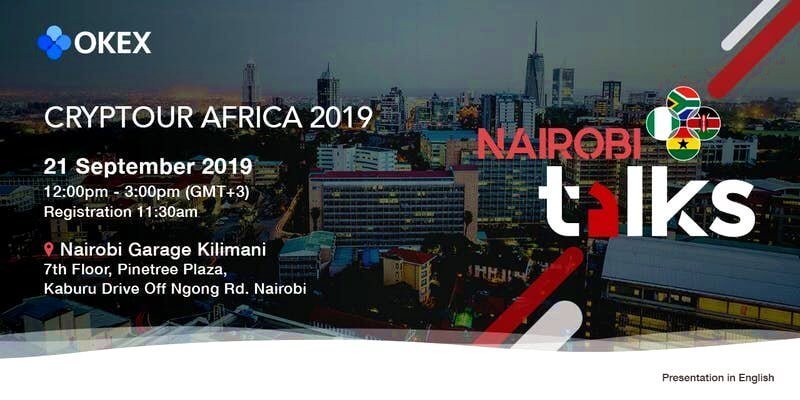 Top cryptocurrency exchange OKEx is coming to Kenya and other African countries as it will be holding a blockchain and cryptocurrency event in the East African Country, Kenya.
The exchange's event is scheduled to hold on the 21st of September, 2019. The event will feature speakers in the blockchain and cryptocurrency industry in Kenya.
The OKEx crypto tour has been earmarked to cover three other countries other than Kenya. They are Nigeria, Ghana and South Africa.
OKEx describes itself as "a world-leading digital asset exchange, providing advanced financial services to traders globally by using blockchain technology."
According to the Exchange, it "provides hundreds of token & futures trading pairs to help traders to optimize their strategy. It's also one of the top digital asset exchanges by trading volume, serving millions of users in over 100 countries. Its' BTC futures trade has nearly $1.5B of volume daily, and is widely recognized as the gold standard for the industry."
With the mission to eventually have a significant impact on the global economy. OKEx seeks to penetrate the growing blockchain community in the African societies with its' product offerings.
The combine awareness level of the four countries which is reflected by the daily trading volume of digital assets presents OKEx great opportunity to expand its offerings.
The CryptoTour Africa 2019 holding in Nairobi, Kenya will feature the Chairperson, Blockchain Association of Kenya, Roselyne Gicira.
EOS Nairobi's Head of Operations, Felix Macharia. Also featuring, Alex Matu, a Trainer from BitcoinKE.
With prizes to be won, attendees are expected to register on OKEx to have an account in order to qualify.