KuBitX Partners With Edmark International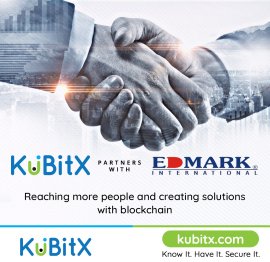 Following up on a previous sneak peak KuBitX recently shared, it is now official that KuBitX has entered into a strategic partnership with one of its early stage investors Edmark International.
We would love to thank, all our customers, partners and team members for supporting us throughout our incubation stages of growth. It is your support that has kept us on our feat. KuBitX is slowly and organically growing to meet your needs.
This way our dreams, vision and mission have been identified by key industry players, all thanks to you.
KBX wallet will be the official wallet for Edmark international customers, this way KuBitX is set to onboard over 500,000 users to purchase Edcoin and utilize it in withdrawals to any fiat currency in Africa as well as other features available on the KBX wallet which will be communicated in due time.

KuBitX is set to:
Develop Edpoint stable coins for Edmark international on the Stellar Blockchain Platform. Having expertise in building local stable cryptocurrencies such as NGNX and GHCX, it is clear KuBitX has what it takes to help other companies build blockchain based solutions.
Having expertise in building local stable cryptocurrencies such as NGNX and GHCX, it is clear KuBitX has what it takes to help other companies build blockchain based solutions.
List Edcoin on KuBitX platform for payments and other utilities. You will also be able to buy and sell Edcoin on KBX wallet at will.
Cryptocurrency and blockchain community education.
From the look of things KuBitX seems to be evolving into not only a blockchain based company but also a blockchain consultancy and development company that helps to develop, educate and integrate cryptocurrency and blockchain based solutions across Africa.
More light will be shared in regards to the recent partnership.

Watch the live partnership activities here
Thank you .
KuBitX
About KuBitX
Launched in 2018, "KuBitX is one of the most advanced and robust cryptocurrency trading platforms designed in a very user-friendly manner to enable people from all regions and backgrounds get a stronghold of the ideas revolving around the Blockchain and the Cryptocurrency space.
Contained within the KuBitX ecosystem are the KuBitX trade engines, the secure KuBitX wallets and an advanced Admin dashboard for regulating the activities within the Trade Exchange." It is currently utilizing the Stellar blockchain owing to its remittance, cross border payment and regulatory compliance needs.
About Edmark
Edmark Group of Companies is a multi-million dollar company with market presence in over 30 countries and is involved in various business interests from manufacturing, exporting, distribution, and real estate development. EDMARK started as Ever Dynamic Marketing in 1984. It is from this name that the word EDMARK was conceived.
KuBitX Calls For Free Online Training on Blockchain & Decentralized Finance Usage to Stop COVID-19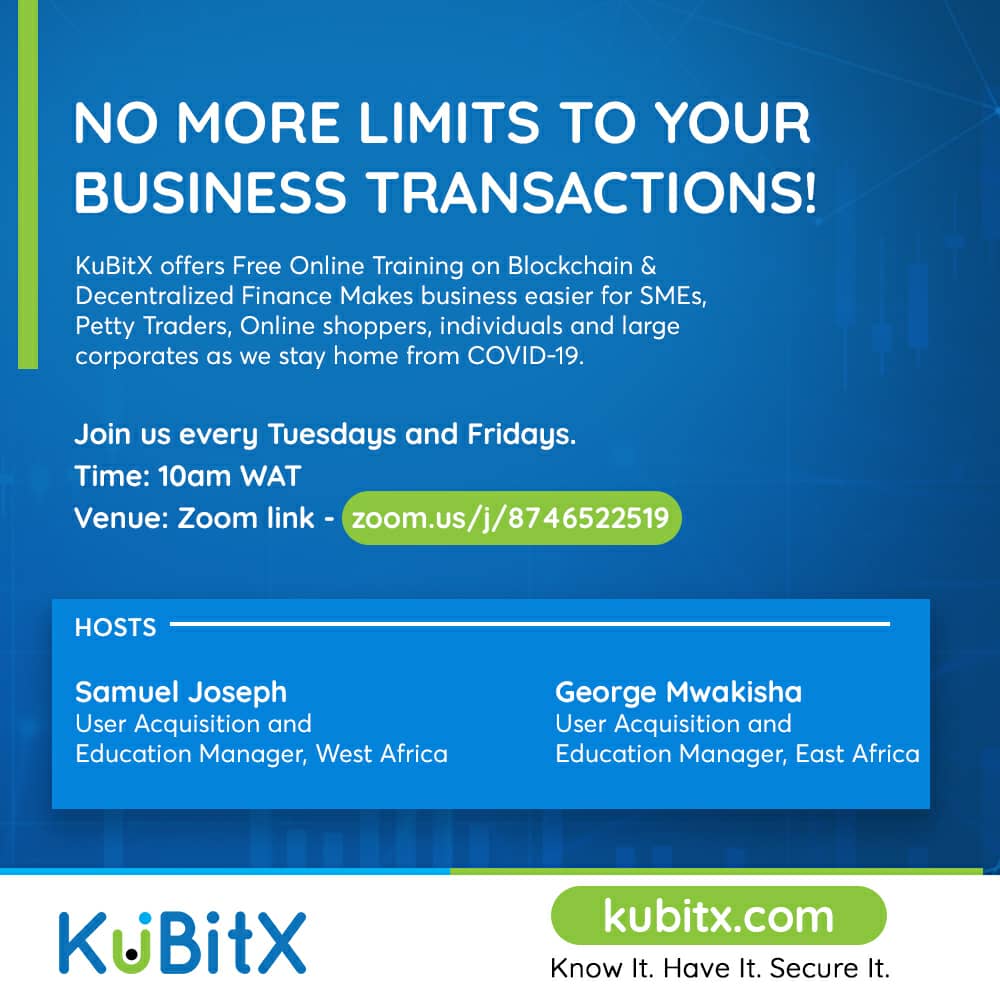 The first quarter of this year has met with a very disturbing global pandemic COVID-19 which was first cited in Wuhan China and has so far taken more than 11000 lives and hundreds of thousands affected globally.
The effect is so enormous, grinding almost everything to a halt with several Central banks cutting interest rates,giving stimulus packages due to the plunging of the financial systems caused by the fear and reaction of the world towards the pandemic.
KuBitX, being at the forefront of decentralized finance and mass adoption of blockchain and its assets for payment, cross border remittances, tokenization of real asset,would want to join the call by the World Health Organization to adopt digital means of payment as this would encourage more of social distancing and the usage of cash could further encourage the spread of this awful virus which has adversely impacted us all.
Social distancing is strongly encouraged as a smart moral suasion mechanism to curtail the spread of this virus. As a business with a clear mandate of building value on the basis of education centered on empathy, compassion and kindness, would want to open up a new free online educational campaign to educate the global world on blockchain, decentralized finance and how we can use it to keep our businesses, individual daily transactions stay afloat.
KuBitX team will open a public zoom meeting to help anyone willing to understand blockchain dubbed 'Learn with KuBitX' with our team of Blockchain experts.
As an organization,we want to join the call for a total digital world and seamless cashless society to offer ourselves to pioneer free end to end 'Learn with KuBitX' into the decentralized world by exposing millions into cryptocurrency usage and many other use cases the blockchain provides.
We have already built a hybrid blockchain wallet which interacts with tokenized fiat currencies and crypto assets by way of onramps and offramps.
We also have swapping of Naira to Ghana cedis and many other Afrcian currencies for easy travels or trade within the continent.
KuBitX becomes the first blockchain startup to come out clearly to support the world to go cashless by offering free online end to end Awareness,Education ,Tutorial and everything you need to know about decentralized finance.
We are opening this for SMEs, petty traders, online shoppers, individuals and large corporates who need the knowledge to transition into the decentralized world.
No More Limits to your Business Transactions!
KuBitX offers Free Online Training on Blockchain & Decentralized Finance
Makes business easier for SMEs, Petty Traders, Online shoppers, individuals and large corporates as we stay home from COVID-19
Join us every Tuesdays and Fridays.
Time: 10 am WAT
Hosts:
Samuel Joseph: User Acquisition and Education Manager, West Africa
George Mwakisha: User Acquisition and Education Manager, East Africa
Venue: Zoom link
https://zoom.us/j/8746522519
kubitx.com