Facebook Coin, Blockchain and Cryptocurrency Adoption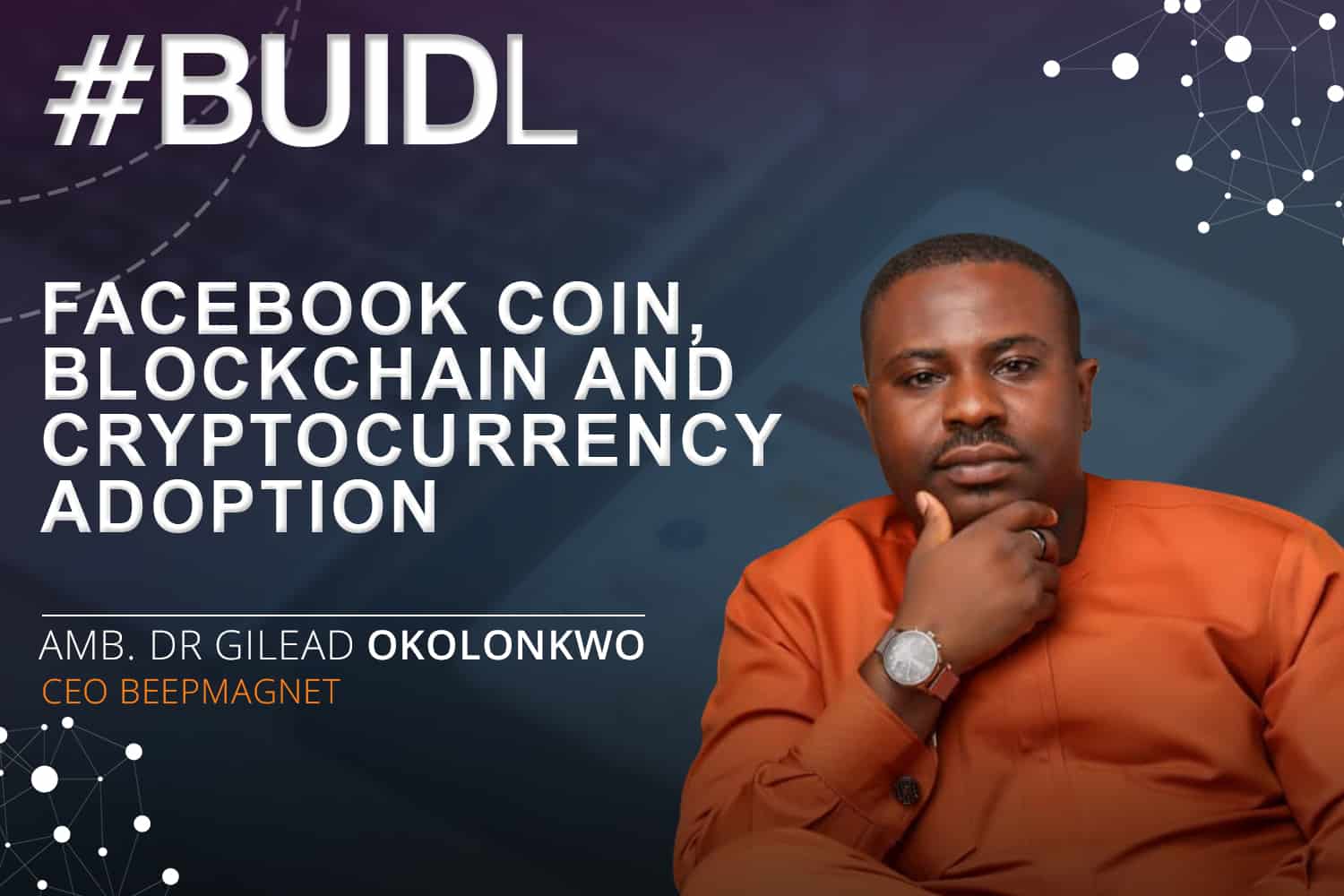 The Big players are no longer sleeping. This means that something big lies ahead. It may be uncertain now, but as Africans, we must not fold our hands to wait for SEC to endorse before we begin to see the need to understand this technology and how to make it part of our daily lives. Dr. Amb. Gilead Okolonkwo take about Facebook cryptocurrency is based on the adoption of blockchain and cryptocurrency.
In his words he buttressed his point saying:
As a decentralized advocate, I have my concern as to the reason or motive behind the coin. Cryptocurrency needs trust and its survival is based on decentralization.
Amb. Gilead Stance On Facebook Cryptocurrency
We are yet to see the stand of Facebook cryptocurrency on this matter as regards the algorithm of the coin if it is based to control power because of its community, centralization of its coin will defeat the purpose of Cryptocurrency. We will see gaps that will make the coin fade away.
However, if it is based on a free market economy aimed at upholding decentralization then it is a coin to be mindful about. More so, with the privacy issues that Facebook has passed through in recent times that leave a big question on the motive of Facebook crypto coin.
As Africans, this is the time to position ourselves, and begin to think about how we can take a bold step. Blockchain technology hold the Qutum revolution leap for Africa, we can implement the concept to solve African challenges such as;
Remittance
Healthcare
Digital Identification system
Blockchain POS/ Human Teller
Electoral Process
Consumer Loyalty
Land Registry
Tokenization of African Natural Resources
Credit Ranking
All these are problems that blockchain can solve. I am happy that we have great Africa companies that have started looking into the above-mentioned problems to implement the Proof of Use (POU) for adoption in Africa.
What do you think about the opinion of the CEO at Beepmagnet International Groups?
Do write us and we would be glad to feature your articles/opinions in our weekly #BuidlClub Publication.
PO8 Tokenizes Underwater Artifacts in Bahamas – Says Africa can be next
With the assistance of the blockchain, P08 aims to utilise new maritime technologies, artificial intelligence and robotics to recovering lost cultural heritages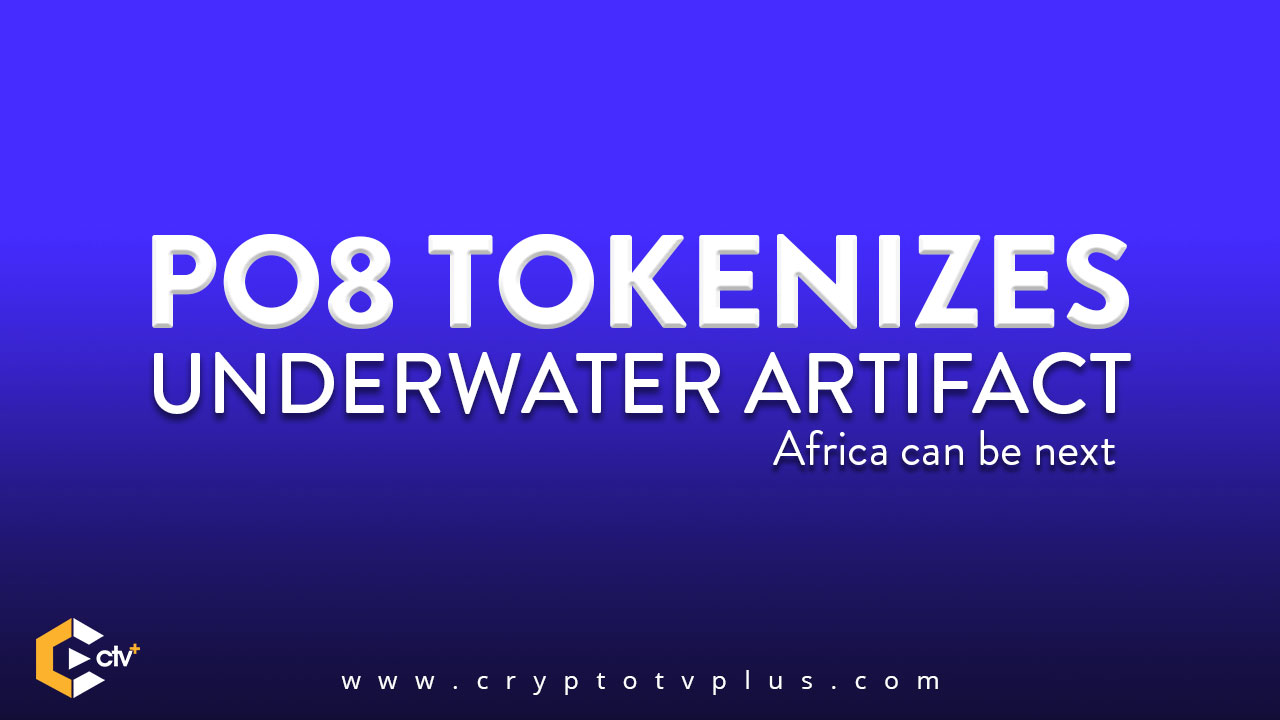 The treasures hidden under the sea will likely remain undiscovered if we all focus on the surface world. However, Bahamas based blockchain company, P08 is changing the underwater narrative as it is creating blockchain solutions to aid in underwater archaeology. The company aims to make marine archaeology accessible through its decentralized applications (DApps).
With the assistance of the blockchain, P08 aims to utilise new maritime technologies, artificial intelligence and robotics to recovering lost cultural heritages that have been shipwrecked in Africa, the Caribbean islands, and other countries. Basically, it's a decentralised, secure and transparent form of underwater treasure hunting.
PO8 CEO Matthew Arnett and co-founder and COO Raul Vasquez plan to help African nations benefit from the tokenization of newly recovered underwater artifacts. It plans to utilise the blockchain technology and Non-Fungible Tokens (NFTs) to monetize the ownership of $100B dollars worth of sunken artifacts in Bahamian waters.
OWNERSHIP RIGHTS HANDED TO TOKEN HOLDERS
P08 will transfer the ownership rights of any recovered artefact with its economic value into a digital title. However, the recovered items will be kept in the custody of the PO8 Museum Foundation to be preserved and exhibited. It took 18 months for PO8 to assemble its team of marine archaeology and tech, a Dream Team of sort. Included in this team are Dr. David Gallo, TITANIC expedition; Mr. Claudio Bonifacio Shipwreck researcher and author; Troy Launay, member of the Apollo F-1 engines recovery team and Evan Kovacs, a professional underwater photographer.
PO8 aims to be a force to be renown with in the Caribbean Islands, Africa and the world at large. The tech company aims to impact the Bahamas first through the provision of local jobs in marine habitat protection, tech and tourism. Vasquez explained how the company aims to build resources in the African continent saying, "This is the retooling of professionals from downtrend industries to servicing new tech industries launching in Africa…We welcome the opportunity to join arms with local governments to promote sustainability and capacity building through underutilized resources. Entire populations stand to benefit."
The company also aims to create its first Archeological Treasure and Maritime Museum By restoring artifacts discovered from its shipwreck sites. PO8 recently received the 2018 Creative Business Cup Award at Demand Solutions in Santiago, Chile from the Inter-American Development Bank (IDB).
P08 is currently running its Security Token Offering. For more information on how to get involved or to inquire about its STO, visit https://po8.io/