CampusBCAT2019 Train Moves to OAU after a Spectacular Uniport Event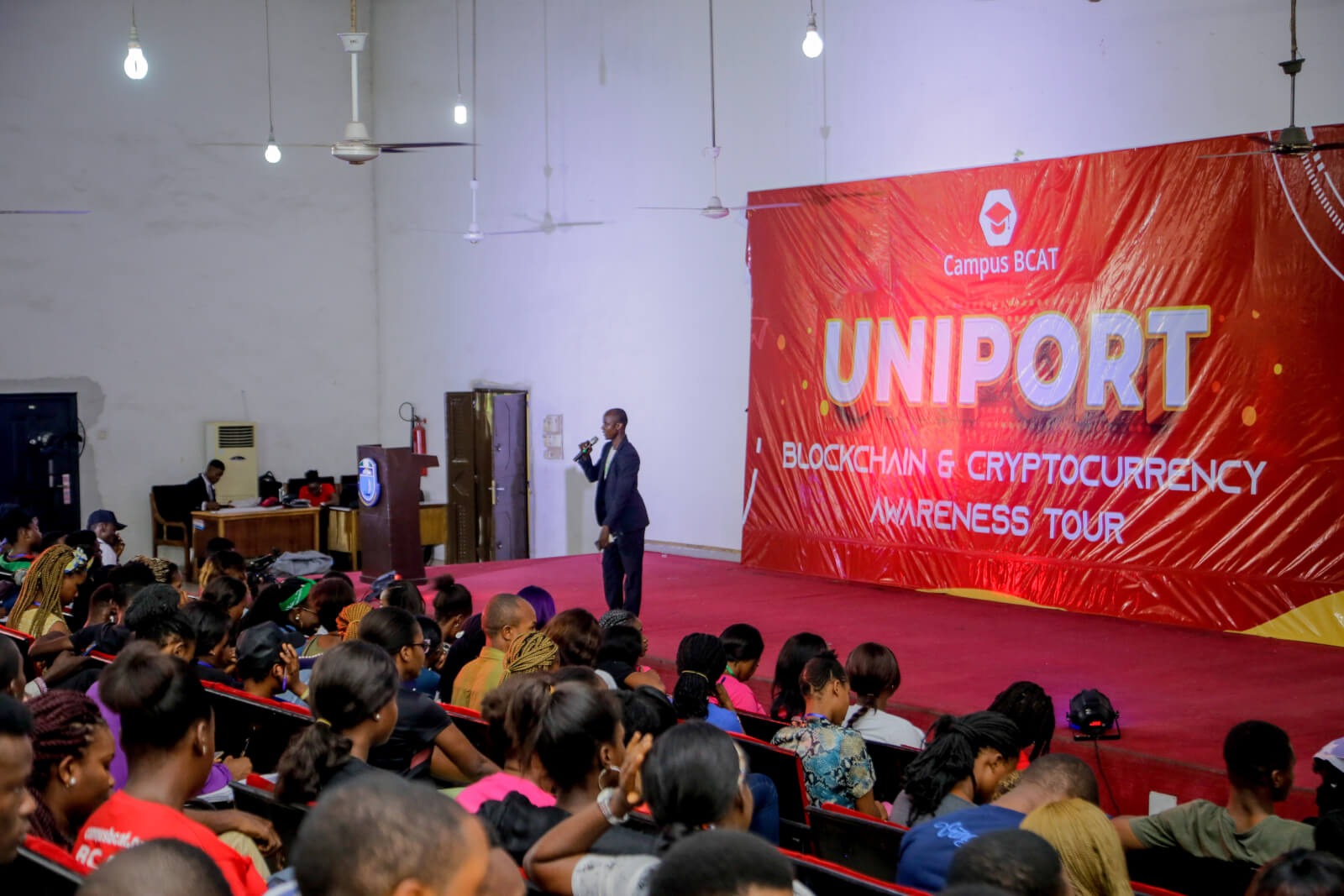 CampusBCAT a blockchain and digital currency educational initiative by CryptoTVPlus, aimed at educating African students starting with Nigeria but with a continental focus moves to OAU after a successful Uniport event.
The City of Port Harcourt alongside its biggest university – Uniport was historically hashed into the digital currency movement as it experienced its own CampusBCAT2019 event on the 24th of September barely two weeks history was made in UI, Ibadan.
The University of Port Harcourt and its students had the opportunity of hosting the tech educational event which has been garnering traction across the country as the biggest cryptocurrency community not just in universities but also in Nigeria. With membership across more than 8 universities already, Uniport's event saw enthusiasts trooping in from neighboring schools in Rivers and Bayelsa States.
Big projects within the Nigerian blockchain ecosystem were equally present to facilitate the educational sessions of the program.
The likes of Beepmagnet Group International, makers of Sisibox was present to lecture on How the Blockchain Technology is Redefining Consumer Loyalty Globally and also showcase their state of the art product to the students who were excited to see giant strides being taken by an indigenous firm such as Beepmagnet International.
The founder of Crypto Masterclass, one of Nigeria's finest crypto educational platforms, Tola Fadugbe was also present to teach the hungry delegates at the event on Cryptocurrency Trading and Investment.
As a major stakeholder in the growing blockchain and crypto business in Nigeria, the founder of Ci Crypto solutions and CEO of Naijacrypto digital assets exchange, Chiagozie Iwu was available to share from his wealth of invaluable knowledge on The importance of Blockchain Education in Nigerian Universities.
Several other projects such as Bitfxt Technologies, Farmchain, D-Online Harvest were around to facilitate while equally showcasing their products/service to the audience at the event.
It wasn't all just lecturing as the students went home with exciting prizes such as smartphone, T-shirts, cash prizes, crypto giveaway, free investment mentorship sessions to select students, Sisibox pads and so much more. This was all made possible by the partners of CampusBCAT2019.
And just like the event at Ibadan, the crowning point was the inauguration of the students officially into BCAT Club Uniport Chapter. The legacy of Campus BCAT is the perpetuating impact of the blockchain technology by making sure the buzz about the pervasive impact of the revolutionary blockchain technology doesn't continue to live in the realms of hype.
Students through the BCAT Clubs in their respective campuses are afforded the opportunities to continue the learning process through active facilitation of classes and workshops while also carrying the torch of innovation through the application of what they have learned in their schools such as conducting Departmental, Faculty or Student Union Government elections on the open and transparent ledger of the blockchain.
And since we are in the era of asset tokenization, through the BCAT Clubs, several regulatory concerns that exist will be exposed to the students through the experts that will come visiting as either lecturers or Club facilitators. This is surely a breath of fresh air to Nigerian students that is set to spread across all of Africa.
With a characteristic spectacular outing at University of Port Harcourt, CryptoTVPlus the national convener of the CampusBCAT movement announces plans to host the event at the prestigious Obafemi Awolowo University (OAU) on the 2nd of November 2019. The month of November is actually super-packed with #CampusBCAT2019, while OAU's event is slated for 2nd, University of Benin and Covenant University is scheduled to take place on the 9th and 15th November respectively.
For sponsorship and advert placement, please contact us via email
BBOD Launches World's First Zero-fee, Non-custodial Crypto Derivatives Trading Platform

HONG KONG, 15th November 2019 – BBOD, world's first zero-fee, non-custodial cryptocurrency derivatives trading platform with an unprecedented level of security and transparency, is now live and open for business.
The lack of transparency, trust, and adequate fund security at centralised exchanges has grown urgent demand for better custodial practices, separating user funds from the funds of the holdings of the exchange.
During a recent press conference, Jacob Ruczynski, CEO at BBOD, explained the security feature:
"At BBOD, custody of cryptocurrencies is completely separate from the exchange. As a result, our platform does not hold private keys to the client's balances. Instead, each client holds their funds in a decentralised smart contract account. No private keys are created. Therefore, the keys can not be stolen by hackers."
"All user balances are updated daily and visible on the Ethereum blockchain. The public may monitor in near real-time the number of users registered, their balances and the total amount of funds at the exchange. This design allows BBOD to pass proof-of-solvency and proof-of-reserves audits using solely publicly available data." he added.
BBOD partners with TrustToken to offer the world's first TUSD-settled perpetual futures contracts with up to 50x leverage, allowing market participants to go long or short on various cryptocurrencies, empowering them to express sentiment and manage risk more effectively using a stablecoin collateral. The instrument has no expiration dates, unlike fixed maturity futures.
Ryan Rodenbaugh, Business Development Lead at TrustToken, said: "We're excited to continue developing TUSD to better meet the demands of modern markets. Starting as a better way to move money to becoming a staple currency across spot markets, TUSD is proud to now serve the futures and derivatives markets. Empowering crypto traders to enter these enormous markets is part of our ongoing commitment to growing the utility, credibility, and accessibility of cryptocurrencies, and we're proud to be doing it with BBOD."
BBOD is to become the most liquid and secure marketplace to trade altcoins with high leverage aiming to list perpetual futures contracts on +50 cryptocurrencies by the end of 2020.
In the first stage the BBOD platform will offer perpetual contracts on the following 17 underlying cryptocurrencies against TUSD with up to 50x leverage: Bitcoin, Ethereum, Ripple, EOS, Tron, NEO, Binance, Litecoin, Stellar, Cardano, IOTA, Monero, NEM, ICON, Elastos, Decred, Digibyte.
BBOD Chief Economist, Piotr Arendarski Ph.D., said:
"The cryptocurrency derivatives space still lacks professional, reliable marketplaces to trade altcoins with high leverage, and this is what we provide on our trading platform. We apply the same standards in terms of risk management and compliance as you would see in the established finance space."
"The firm has a number of additional futures contracts on altcoins and on crypto indices in the pipeline and plans to expand its range of services," he added.
In the next stage, the zero-fee BBD-settled market will be launched with 4 contracts: BTC, ETH, EOS, LTC vs. BBD on December 9th, 2019. There will be no transaction fees (zero) on the BBD-settled futures markets (eg. BTC/BBD perpetual contract). Traders need to use the BBD token as a collateral, so balances and PnL is denominated in BBD.
Additionally, BBOD will be conducting a non-dilutive public offering of 8,000,000 BBD tokens which is starting on the 19th of November, 2019. Interested parties may purchase BBD tokens with up to a 60% discount in relation to the intended price of the token at the BBD/TUSD spot market; to be launched on December 10, 2019.
To learn more about BBOD's cryptocurrency derivatives trading platform, visit their official website at http://www.bbod.io
About BBOD
BBOD is a fully transparent, non-custodial cryptocurrency derivatives trading platform for retail and institutional clients, offering a secure and transparent marketplace to trade Bitcoin and multiple Altcoins futures contracts with a stablecoin collateral. The non-custodial nature of the platform means that BBOD does not hold either the clients' digital assets or their private keys. Instead, a client has their own contract account on the Ethereum blockchain. For more information, please visit https://bbod.io/
Follow BBOD on Twitter
Join BBOD's Chat on Telegram
Media Contact Details:
Hannah E. Lee
marketing@bbod.io
This press release is for informational purposes only. The information does not constitute investment advice or an offer to invest