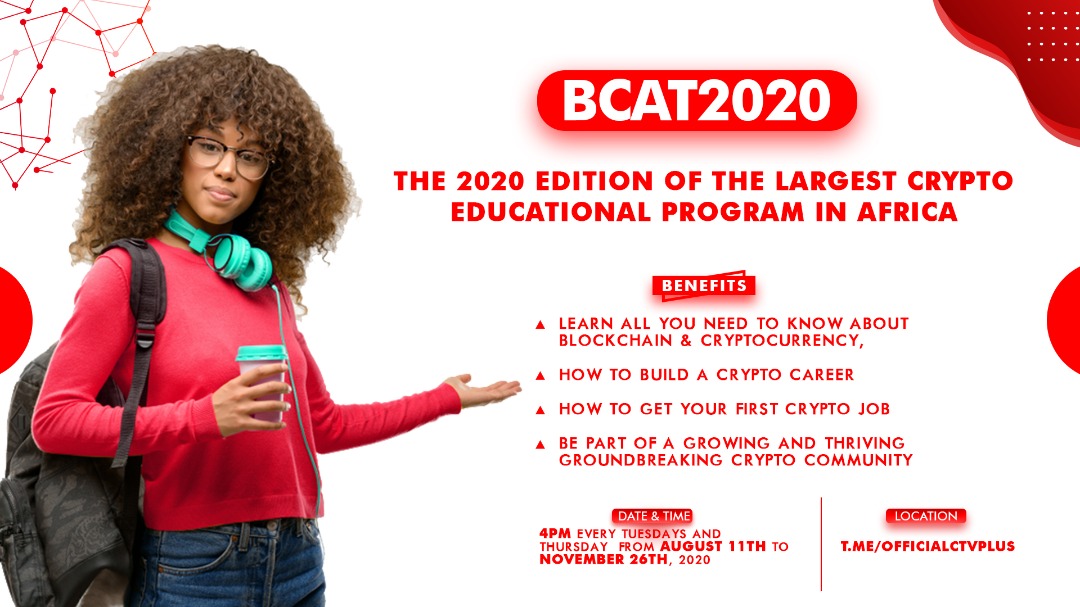 CryptoTVPlus Announces the Commencement of Blockchain & Cryptocurrency Awareness Tour – BCAT 2020
CryptoTVPlus announces the commencement of the 2020 Edition of Blockchain and Cryptocurrency Awareness Tour – BCAT 2020.
BCAT which is also known by those in tertiary institutions across Nigeria as Campus BCAT is a nation wide tertiary institution cryptocurrency and blockchain awareness program designed to teach people about blockchain and cryptocurrency, guide and mentor them and help them to build a career for themselves in the industry.
In 2019, prior to COVID-19, the BCAT event was held in several universities across Nigeria where over eight (8) thousand students were exposed for the first time to blockchain and cryptocurrency by a wide array of experienced professionals in various sub-sectors of the crypto industry.
The 2020 Edition of BCAT will commence on Tuesday, the 11th of August to November, 2020.
Participants will enjoy one on one interactions with seasoned professionals where they will learn amongst other things; introduction to the concept of money and cryptocurrency, how blockchain technology works and how to exploit it for their greater good.
Participants will also be expected to learn how they can position themselves in the cryptocurrency industry, gain the tools and right exposures, skills and competencies necessary to building a career in the crypto industry.
Speaking on the commencement of BCAT 2020, CEO of CryptoTVPlus, Tony Emeka said;
"The global pandemic must not stop us from spreading the word on blockchain and cryptocurrency. We owe it to those in the Nigerian community to continue our evangelical movement of crypto awareness. It's our goal to exploit available tools, to reach out to thousands of people across Nigeria, and help them come to understand how truly revolutionary the technology is and could be."
The Blockchain and Cryptocurrency Awareness Tour is yet again moving, bringing cryptocurrency education to those it matter most.
To register, click here
Join our Telegram Community