Blockchain And AI conference 2019, BMCT Gives Away Token to Participants.
Did you know that Beepmagnet is giving away their BMCT tokens at the Blockchain and AI conference? read through to find out how you can get this giveaway in a few minutes!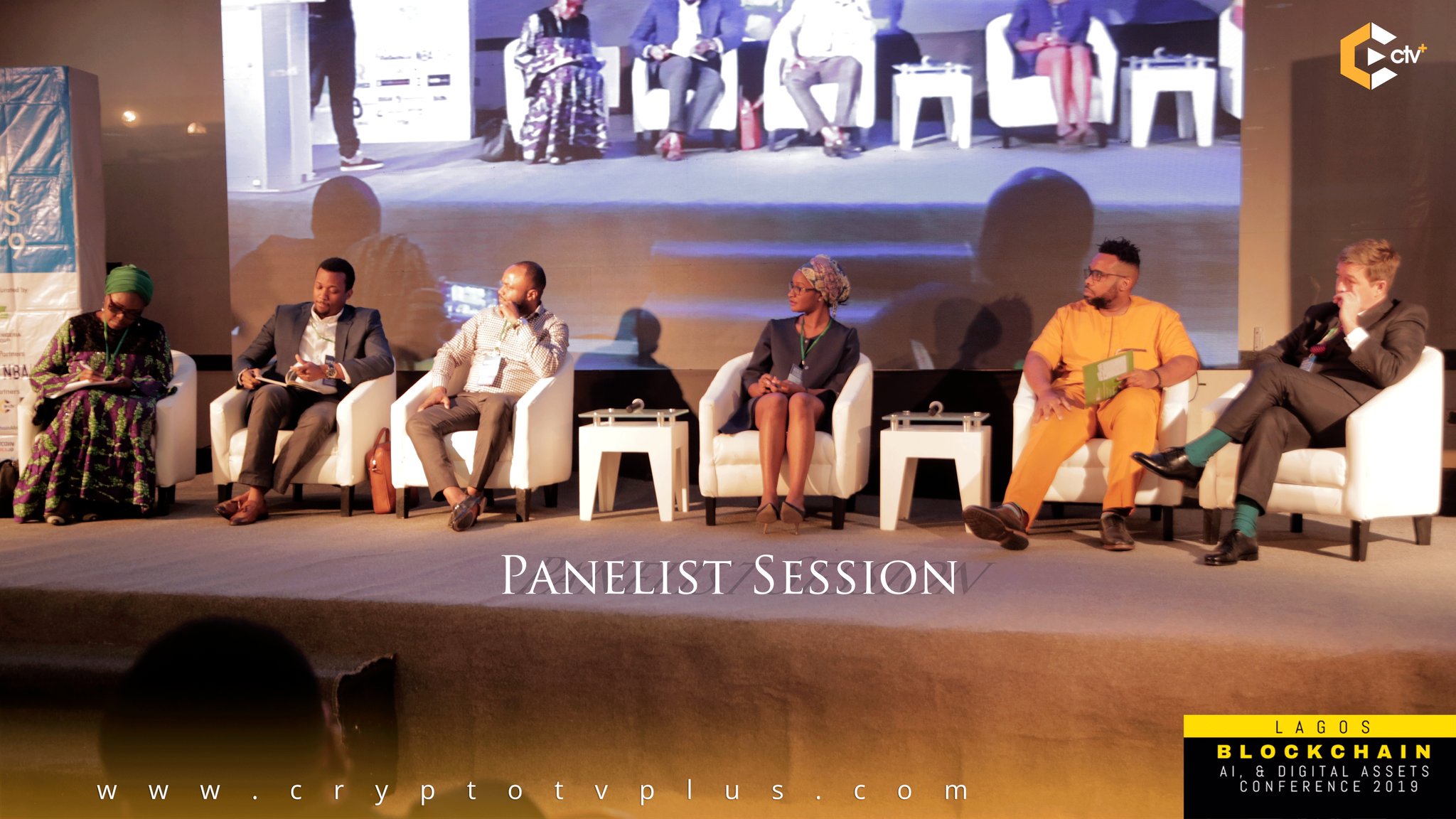 "With the pace at which technology is racing, if as Africans we do not catch up or become interested, then a repeat-colonization will not be far off. The worse that can happen to Africa is Technological Colonization. As Africans, let's not mistake Hope for Achievement or Social Economic Hype for Reality. I believe we may not be able to solve all of the African challenges, Beepmagnet International Group has therefore resolved to contribute its quota to hoist and fly high the African flag in the technology space by focusing on Consumer Loyalty solution with a laser focus by applying the Blockchain Technology."
These were the words of the Founder and CEO Beepmagnet International Group. Read more from him as he discusses their new wallet launch.
SiBAN Feedback from the Largest Blockchain Conference in Nigeria
In other news, Technology will drive innovation and digital transformation in Africa but educating the public on various areas to harness its potentials is paramount! We were live at the #LagosBlockchain2019 Conference put together by Blockchain Nigeria User Group It was educative informative and featured a whole lot of locally inspired Blockchain projects- some of which are Kudi Exchange, BMCT.io, Sisibox, Birrion, python signals, Quras.io, xendbit, decred.io and lots more.
Participants at the #Lagosblockchain2019 conference #blockchain #ArtificialIntelligence #bitcoin #tech #CryptoCurrency #fintech @DashNigeria_Biz @mezie16 @AfriBlockchain @BlockchainAf @BitHubAfrica @BitcoinKE @kudiexchange @qurasofficial @pythonsignals @DecredCN @BeepMagnet pic.twitter.com/pRzQ2NuxJL

— Cryptotvplus (@Cryptotvplus) May 24, 2019

Senator Ihenyen who represented the president of SiBAN spoke with us on a what could be taken out of the conference and was sift to point out a few clear messages from the biggest blockchain meetup in Nigeria.
CLEAR MESSAGES FROM THE CONFERENCE
1. Keep building. Keep testing. Keep improving. Keep getting better until you have the best. In the end, it's the market that will validate you, not your competitors.
2. Do not wait for the government to regulate you. And do not be in a hurry to invite regulation. You may not be prepared for what is coming to hit you because the regulators most likely have no idea beyond the fear that you create in your own industry.
3. Though no regulation, self-regulate so that when the hammer strikes, it is a blacksmith's hammer on your metallic model and structure because you were already fired up for it.
4. Collaborate. Don't be an islander. Islanders belong in a centralized space, not a decentralized economy. Embrace the power of p2p by making your solution democratization of values. Think user, not the owner. Users are where the gold lies. Dig for gold.
In his remarks, the Conference was well organized and well attended. While appreciating the members of the organizing team he wished them All the best as they prepare to wrap it up today with the Masterclass.
Great appreciation to SiBAN Chairman who couldn't make it to the Conference but asked me to represent SiBAN. I am happy to say that SiBAN was well represented, even if I had missed the Conference today. We thank every SiBAN member who came out for the event, especially those SiBANites from outside Lagos!

Senator Ihenyen appreciated members of the SiBAN community who were available for the conference. in his words,
Special thanks to Vaultbridge. Your presence and support keep bridging the gaps in the space.
And of course, congrats to the convener Chimezie Chuta for today's successful outing.

BMCT Gives Away Token to Participants
Beepmagnet Announces the Launch of BMCT Wallet on Play Store and Apple Store https://t.co/zK8gHLpVCd

— Cryptotvplus (@Cryptotvplus) May 24, 2019

Sisibox Give Out 0.125 BMCT to 400 Attendees who will join Day 2 of the Lagos blockchain conference taken place at The Civic Center.
This is in preparation for BMCT listing on 2 Exchanges which has commenced and to be among the First pioneers' transactions recorded on BMCT blockchain.
Requirement.
1. Visit our Booth to receive your 0.125BMCT
2. Register with sisibox
3. Download BMCT wallet on play store ( BMCToken)/apple store (BMCT)
4. join our newsletter group on https://bmct.io
SISibox Team will use 5mins to educate you about the BMCT wallet and its feature: both for users and merchants and its security protection enabled.
In addition, Those who buy a combo pack, gets instant additional 0.125 BMCT, while regular gets 0.0625BMCT instantly in addition to the BMCT loyalty in The sisibox Pack at the Day 2 program.
Note: Do not Copy or screen shoots your passphrase during the BMCT wallet creation, write out the passphrase on hard copy record offline.
Next Phase of the Crypto Industry Will Be Driven by Real world Use & User Experience – Nathaniel Luz.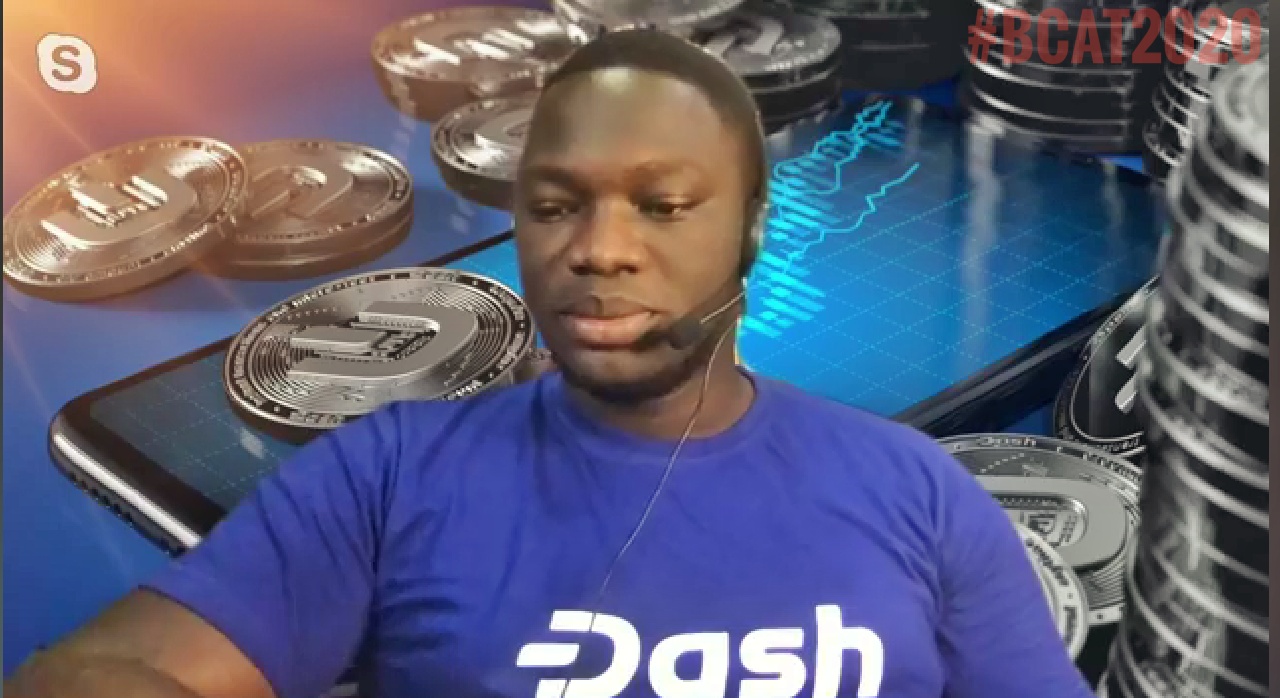 Crypto enthusiasts, Author and Dash Lead, Nigeria, Nathaniel Luz says the next phase of the blockchain and cryptocurrency industry will be driven by real world use and user experience. The phase according to him is between 2021 – 2030.
He said this in the thirteenth session of Blockchain and Cryptocurrency Awareness Tour – BCAT2020 which was held Live on the 13th of October, 2020 at the CryptoTVPlus Studio. The session had a focus topic "Crypto Industry Trends: How to get Positioned for maximum benefits"
According to him, the previous years in the industry is really just a one big phase and we're still in the early adopters stage. However, this one big stage or phase had micro stages like the ideology stage which was pre-ICO era. Then the ICO boom, STO, IEO and now the DeFi era.
When asked by the Host, Marvelous Akpere how he took advantage of the ICO era, Mr. Nathaniel also said he didn't actually take advantage of the ICO boom. 'I only got into one or two ICOs and it wasn't necessarily about the ROI'. He was just focused mainly on Dash.
Mr. Nathaniel said It's not about taking advantage of the ICO era, it's about taking advantage of the entire cryptocurrency industry. He predicted that in the coming years, more and more corporations will be launching their own cryptocurrency.
Explaining why the next phase will be driven by real world use and user experience, he said the crypto industry was founded by cryptographers, computer scientists, nerds etc and these crypto products are quite difficult for non-techies to use. This is consistent with other contributions over the years by crypto faithfuls on the usability of crypto products. The following decade will be populated by crypto products with defining user experience.
On how to exploit the (coming) trends in the crypto industry, Nathaniel Luz responded saying, firstly, one has to understand the phase that the industry is heading to (real world use & user experience 2021-2030), secondly it's indisputable that cryptocurrency is here to stay. With that in mind, the third thing to do for anyone that desires to take advantage of crypto trends is to align what they do in such a way that they can be part of the (crypto) movement.
Please watch the session below.
Franklin Peters: SARS Abducted, Robbed Me & Left me stranded in an Unknown Place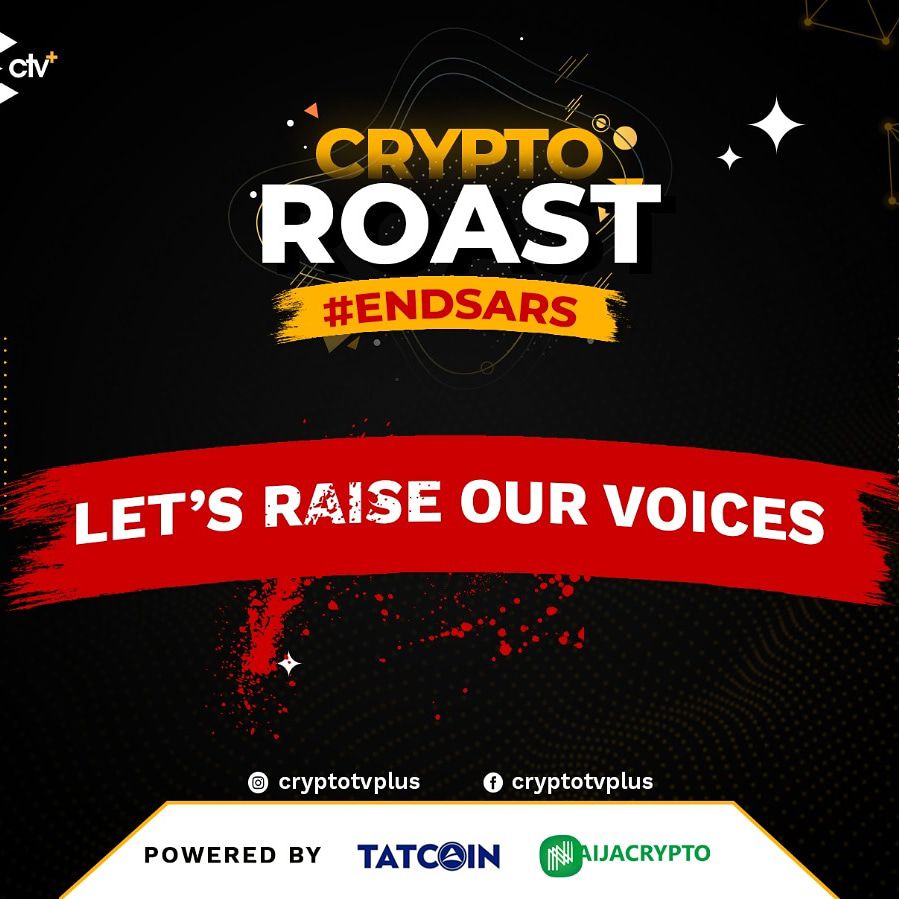 Franklin Peters the CEO of Bitfxt Technologies has come out to share his experience with the dreaded unit of the Nigerian Police Force -Special Anti-Robbery Squad – SARS.
In the weekly crypto comic show from CryptoTvplus – #CryptoRoast – which holds every Friday by 9PM (GMT +1), he came as a guest to express his dissatisfaction and position on the SARS unit. There has been outcry across the country for over 72 hours with millions of Nigerians majority of whom are youth coming out to protest against the brutality of the police force.
Mr. Franklin Peters shared his experience below:
"Sometime in 2019, I travelled from Portharcourt to Lagos for a Business meeting. I lodged in FESTAC but had my meeting at IKEJA CITY MALL so I booked a TAXIFY. Barely two poles away from my hotel, some FRAIL looking men in MUFTY pulled us over, discharged the CAB guy and directed me to a small old DAMFO bus with no plate number…
I kept asking them what I had done but they insisted I should enter their bus first. I refused to enter until they all identified themselves as SARS through their ID card. They said I should settle them or else they'll take me to their station and they will make sure I don't come out for 1 week.
Every effort to get them to be reasonable was abortive. They asked what I do and I told them I run a blockchain tech company… they said, how can "a young boy like you" own a company? They took my phone and started checking my WhatsApp messages, going through my email and checking my bank balance until my phone battery died.
To cut the story short: they drove me to an unknown destination, followed me to an ATM, made me withdraw all the money in my bank and abandoned me there with a dead phone and no cash. I was properly dressed and so it wasn't a case of being addressed the way you are dressed.
I complained to the nearby police and they confirmed they were SARS and that's how they make their money in that zone. I thank God I they didn't hurt me, it was only money they took… it could have been worse!"
Mr. Franklin Peters further advised Nigerians to "Speak out! The #EndSarsProtests is for everyone. If it hasn't happened to you now, it may happen later or happen to someone dare to you. Let's correct this menace now before it's too late! #EndSARS"
The CEO of Bitfxt Technology, Mr Franklin Peters shares his experience with the Special Anti-Robbery Squad known as SARS in 2019. Watch here below
Yellow Card Launches New Features; Adds in-app Bitcoin Wallet, Purchase Crypto With Credit/Debit Card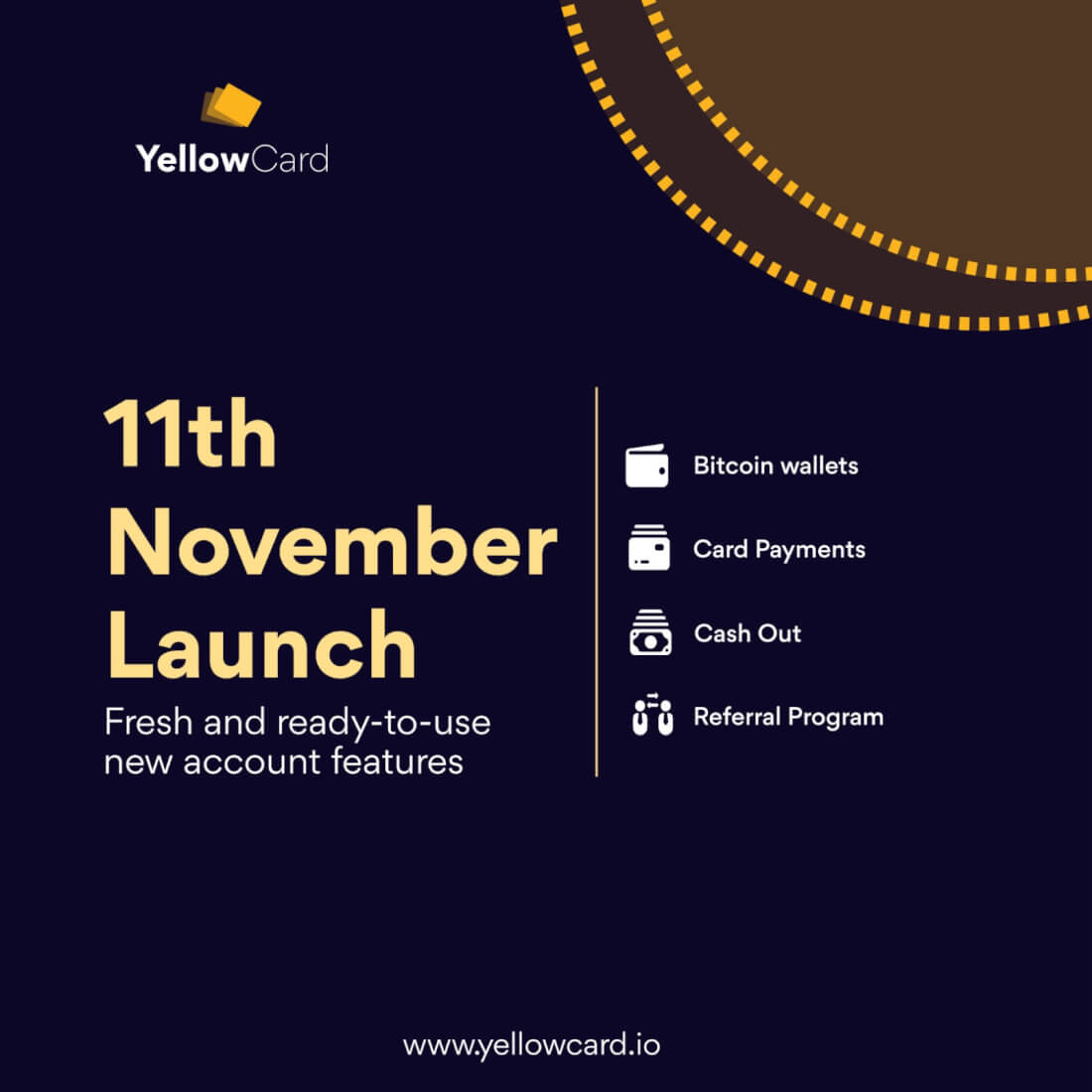 Yellow Card has launched new features to ease the purchase, sale and withdrawal of cryptocurrency in the Nigeria.
The new features which was launched yesterday, the 11th of November, 2019 now features an in-app Bitcoin Wallet; and it allows Nigerians to purchase cryptocurrency with their debit or credit cards.


Users of the Yellow Card product can now also convert crypto to the naira without having to go through anymore inconvenient processes.


Speaking on the launch of the new features, CMO, Yellow Card, John Colson said
"When Yellow Card first came to Nigeria in May 2018, we were blown away by the demand for the product. Previous, I don't think we fully understood the impact this product could have. This release means so much to us because it's another step toward fulfilling our mission "financial inclusion for all".
The debit and credit card feature according to Yellow Card is only available in Nigeria and will be released to other nations soon.


Yellow Card also added the Merchant App that lets users earn by selling Bitcoin thus increasing their revenue stream through commissions and other incentives.
In addition to the Merchant App, Yellow Card launches its Referral Program where users can now receive 20% of trading fees whenever they refer a friend to Yellow Card and that friend buys or sells crypto.


According to John Colson,
"At Yellow Card, we believe that using our platform should be rewarding. Referring your friends to our platform should come with benefits."
Yellow Card says it will expand to other African countries before the year ends bringing more rich features to its users such as multi-currency support, SMS portal for featured phones, Stablecoins, Savings, additional crypto wallet support, Lending, Securities and Staking.
Yellow Card will continue to work to bring features that support our mission of financial inclusion, John Colson concluded.