BitFXT Exchange Has Been Listed on Coinmarketcap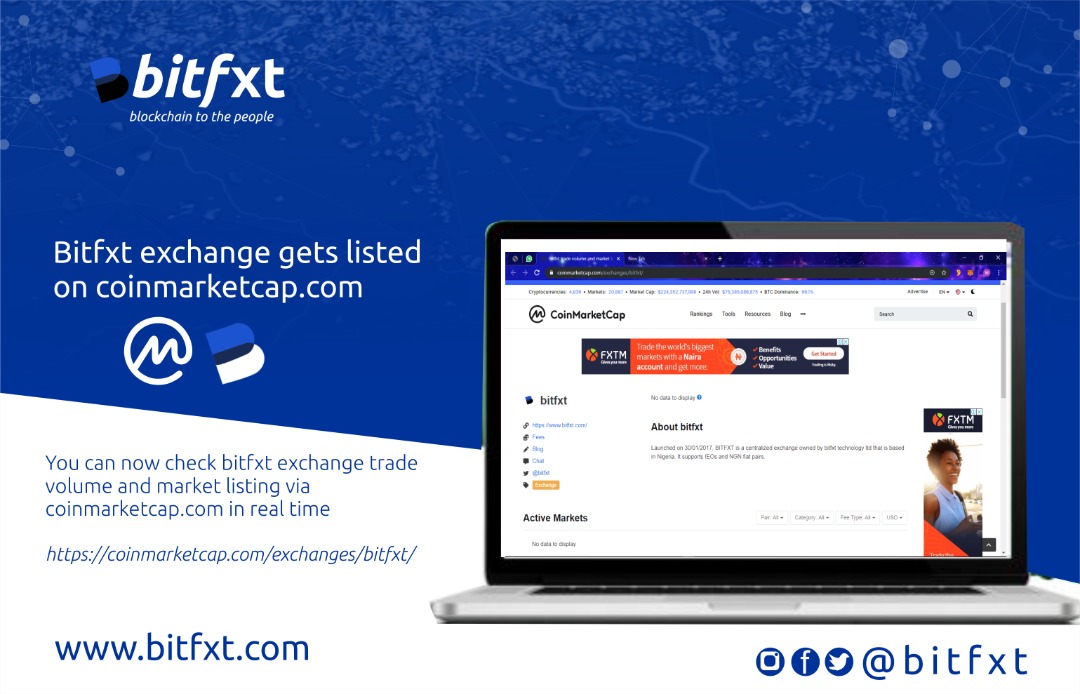 Nigerian own cryptocurrency exchange BitFXT.com has been listed on popular cryptocurrency market data aggregator, Coinmarketcap.
Announced on the exchange's blog, the firm said customers can now view all the statistics from the exchange on the aggregator, including trade volumes and listings.
According to Bitfxt, "With this you can join the league of thousands of individuals worldwide who utilize Bitfxt Exchange on a regular basis."
The exchange platform allows customers to easily trade cryptocurrencies against several trading pairs. Customers can also trade most cryptocurrencies on the Bitfxt Exchange with an Atomic Swap feature allowing quick swaps between crypto-crypto and crypto-fiat in less than no time.
The move according to the firm is towards bringing its customers the best services in an innovative blockchain and cryptocurrency ecosystem with a global perspective.
Giving assurance of the future, Bitfxt said it will continue to bring up global standard innovations as you continue to partner with us to make Bitfxt the World best exchange.
Just a few weeks back, the exchange's token, the BXT was listed on coinmarketcap. The firm released a statement saying it's constanting working to live up to its promise of providing its customers the best trading experience.
According to the statement, BitFXT said "as a vetted and veritable company, we seek to ensure that your interest in our project yield bountiful gains."
In August, BitFXT also unveiled its cryptocurrency ATM card at the Steemit in Nigeria Conference which held in Akwa-Ibom.
Despite its excitement at the achievement, it also warned customers to do due diligence on their own when making investment decisions.
Enhancing Protection, Bittrex Secures $300m Digital Asset Insurance 
Cryptocurrency exchange Bittrex, Inc announced it had secured a $300 million digital asset insurance.
The insurance obtained secures named crypto assets in its cold storage system.
The blockchain technology and cryptocurrency exchange firm said it worked closely with the world's leading insurance broker and risk adviser, Marsh, in placing the coverage with Arch Syndicate 2012, an organization which provides casualty and specialty insurance for corporations and supported by various syndicates at Lloyd's of London.
The approval for insurance coverage according to Bittrex comes after successfully demonstrating its extensive internal security and compliance protocols.
The coverage is up to $300 million in assets in cases of external theft and internal collusion.
The underwriters were not disappointed upon learning of the 'best-in-class' technology Bittrex has. And the fact that 'a growing number of cryptocurrency exchanges around the world are also built on the Bittrex' technology owing to the confidence in the platform, Bittrex claims.
Speaking on the insurance coverage, the CEO of Bittrex, Bill Shihara, was quoted saying "Bittrex focuses on doing the right thing by our customers with security at the top of our mind. This insurance coverage provides another layer of peace of mind,".
He continued further saying "From our institutional customers to hobbyists, we are committed to prioritizing security throughout all of our decisions and forward looking blockchain technologies"
Co-leader of the global leader in insurance and risk management firm, Marsh's Marsh's Digital Asset Risk Transfer (DART) team also commented saying "Insurance plays a critical role in the growth and development of any business, including those that work with blockchain technology and digital assets,"
"We worked closely with Bittrex to create a tailored insurance solution to fit their specific cryptocurrency needs.