BitFXT Exchange Has Been Listed on Coinmarketcap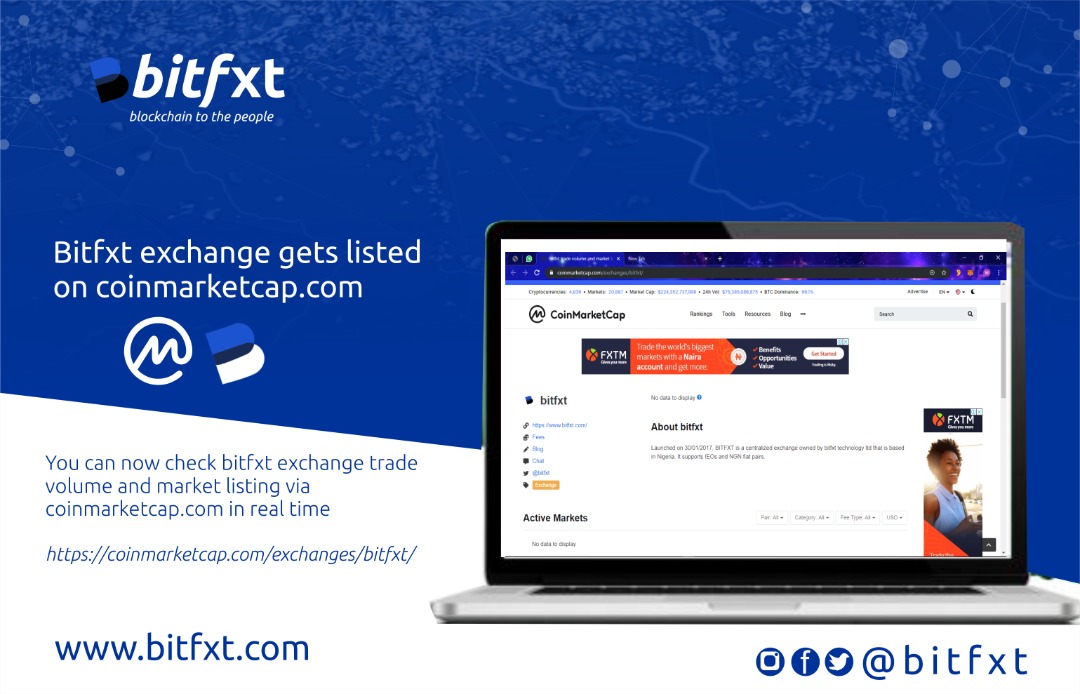 Nigerian own cryptocurrency exchange BitFXT.com has been listed on popular cryptocurrency market data aggregator, Coinmarketcap.
Announced on the exchange's blog, the firm said customers can now view all the statistics from the exchange on the aggregator, including trade volumes and listings.
According to Bitfxt, "With this you can join the league of thousands of individuals worldwide who utilize Bitfxt Exchange on a regular basis."
The exchange platform allows customers to easily trade cryptocurrencies against several trading pairs. Customers can also trade most cryptocurrencies on the Bitfxt Exchange with an Atomic Swap feature allowing quick swaps between crypto-crypto and crypto-fiat in less than no time.
The move according to the firm is towards bringing its customers the best services in an innovative blockchain and cryptocurrency ecosystem with a global perspective.
Giving assurance of the future, Bitfxt said it will continue to bring up global standard innovations as you continue to partner with us to make Bitfxt the World best exchange.
Just a few weeks back, the exchange's token, the BXT was listed on coinmarketcap. The firm released a statement saying it's constanting working to live up to its promise of providing its customers the best trading experience.
According to the statement, BitFXT said "as a vetted and veritable company, we seek to ensure that your interest in our project yield bountiful gains."
In August, BitFXT also unveiled its cryptocurrency ATM card at the Steemit in Nigeria Conference which held in Akwa-Ibom.
Despite its excitement at the achievement, it also warned customers to do due diligence on their own when making investment decisions.