We are happy to announce the commencement of the Binance BCAT2022 Tour scheduled to commence on the 4th of June, 2022 in Eastern Nigeria.
BCAT which is short for Blockchain and Cryptocurrency Awareness Tour is a program, an awareness campaign with the goal of bringing the awareness of the many opportunities abounding in the digital economy to the multitudes of Africans across the continent.
BCAT Africa began in 2019 as the CampusBCAT movement by CryptoTvplus. A campaign with the goal of spreading blockchain education to those to whom it matters most; Nigerian students in tertiary institutions.
Throughout 2019, the team traveled across four (4) Nigerian universities reaching out to students, and exposing them to the numerous opportunities in the digital space. In 2020, the BCAT was held online due to the COVID-19 pandemic. Since its inception, BCAT Africa has reached out to over 60,000 Nigerians since inception.
Africa has over a billion people in more than 50 countries, and it is a continent with one of the relatively largest youth populations. It is filled with a vast amount of natural resources, yet many people are impoverished and sustained on foreign aid.

There is a need to take advantage of the resources around and create prosperous society for Africans. Aside from natural resources, the internet offers a lot of opportunities Africans can leverage to build a more prosperous life and society.
With the vision of empowering millions of Africans through education, BCAT Africa is poised to take to Africans across the Continent knowledge of the digital economy beyond Nigeria campuses. To help people to know the numerous opportunities the internet offers, unlock innate potentials, and empower them to take advantage of the resources, tools, and opportunities the digital economy offers.
Binance is the world's leading blockchain ecosystem and digital exchange. Binance has played a pivotal role in building the global blockchain and cryptocurrency industry and continues to drive growth, and adoption in the industry. 
The Binance BCAT Africa 2022 Tour is starting from South Eastern Nigeria and will be going across Africa. Nations BCAT intends to journey to in its awareness tour include but is not limited to Uganda, Kenya, Ghana, South Africa, Tanzania, Cameroon, etc.
Opportunities in the digital space are numerous but we have a lot of unemployment, and underemployed Africans. A lot of societal problems are linked to unemployment. Our goal is to make them aware of these opportunities. I believe in prosperity for Africans. I and my team want to take this message across the continent. We did it in Nigeria in 2019 and 2020. We're doing it again, but this time, across Africa. – Tony Emeka, CEO, CryptoTvplus & Earnathon
Binance BCAT Africa 2022 South East, Nigeria Edition is slated for the 4th of June, 2022. The time is 8 AM UTC.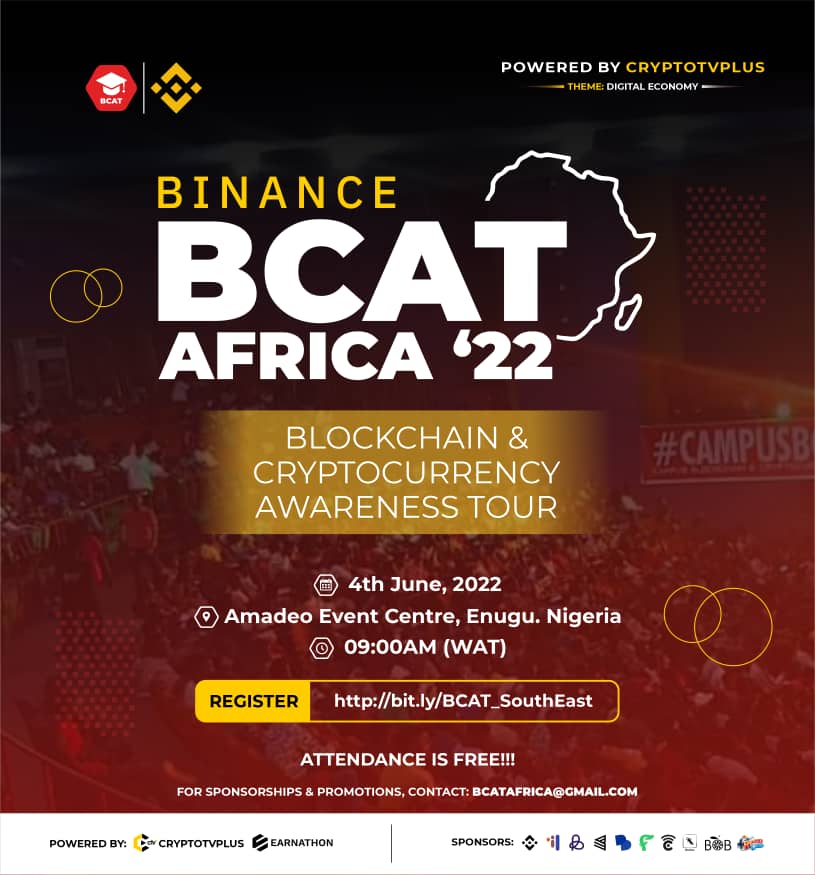 With a wide range of speakers and special guests across the African continent and outside the continent, with deep experience in managing businesses, capacity building, and transforming nations, Binance BCAT Africa 2022 Tour South East Edition is set to create a volcanic eruption of creativity that will spur prosperity amongst Africans. 
They are;
Jimm Idiagbon, Strategic Lead, Sportrex & Smartbloc
Tola Fadugbagbe, Founder, Cryptomasterclass
Victor Akoma-Philip, COO & Co-founder Bantu Blockchain
Jerome Ikechukwu,  CEO of Obiex Finance and Paylot Technologies. 
Linda I.A Obi,  founder of TechonomyAfrica
Ugochukwu Aronu, CEO, Xend Finance
Emmanuel Babalola, CEO, Bundle
Chiagozie Iwu, CEO, Naijacrypto
Franklin Peters, CEO, BoundlessNexus Ltd.
Karla Obakpolor, Founder, QLIP, Cryptosmart
Chimezie Chuta, Founder, BNUG
Chidiogo Akunyili-Parr, Author & Founder, SheRoars
Grey Jabesi, Founder, Crypto University
Fejiro Hanu Agbodje, CEO, Patricia
Cross Da Boss, BBN Season 6 Finalist
Engr. Nwanya Bernard
Chukwudi Chuky Ezenwa, CEO, GSS Group
Ekweoba Arnold Chukwuebuka, CEO, Ekweoba Arnold & Associates
Obiajulu Onyema, Founder, Superday
And other great personalities.
Binance BCAT Africa 2022 is proudly sponsored by Binance, Xend Finance, and Sportex. Other sponsors are Leadwallet, BoundlessPay.
Register for the event here.
The Binance BCAT Africa South East Edition is to be held at the Amadeo Event Centre, Enugu, Nigeria.
Follow us across our various platforms
Website: bcatafrica.org
Social: 
Twitter: twitter.com/campusbcathq
Instagram: instagram.com/campusbcathq
Facebook: facebook.com/campusbcat
Linkedin: linkedin.com/campusbcat
Telegram: t.me/officialctvplus 
Email: [email protected]
Disclaimer: "All companies involved at BCAT '22 are independent of Binance, please do your own research before investing."