We're proud to announce Revoland is a sponsor of Binance BCAT Africa, 2022 South East Edition. Revoland is a blockchain-based e-sport game where players can challenge themselves and collaborate with team members from various playing modes to play, and earn.
BCAT Africa is an awareness, and education drive with the goal of showing Africans the opportunities in the digital space they can leverage to build, and lead a better, and prosperous life.
Data shows African population sits at over 1.4 billion, report shows young people in covers most of the population, and is expected to grow even more by 2030 even with the total population nearing that of Asia by 2100.
The population statistics shows Africa to have a highly productive workforce, which ultimately could transform the society, and improve personal living standard.
BCAT Africa aims to be a driving force facilitating growth in Africans by helping to explore the vast opportunities around them, take advantage of, and position themselves for future opportunities.
BCAT which means Blockchain and Cryptocurrency Awareness Tour has been instrumental in driving crypto growth in Nigeria, and is on a mission to push across Africa.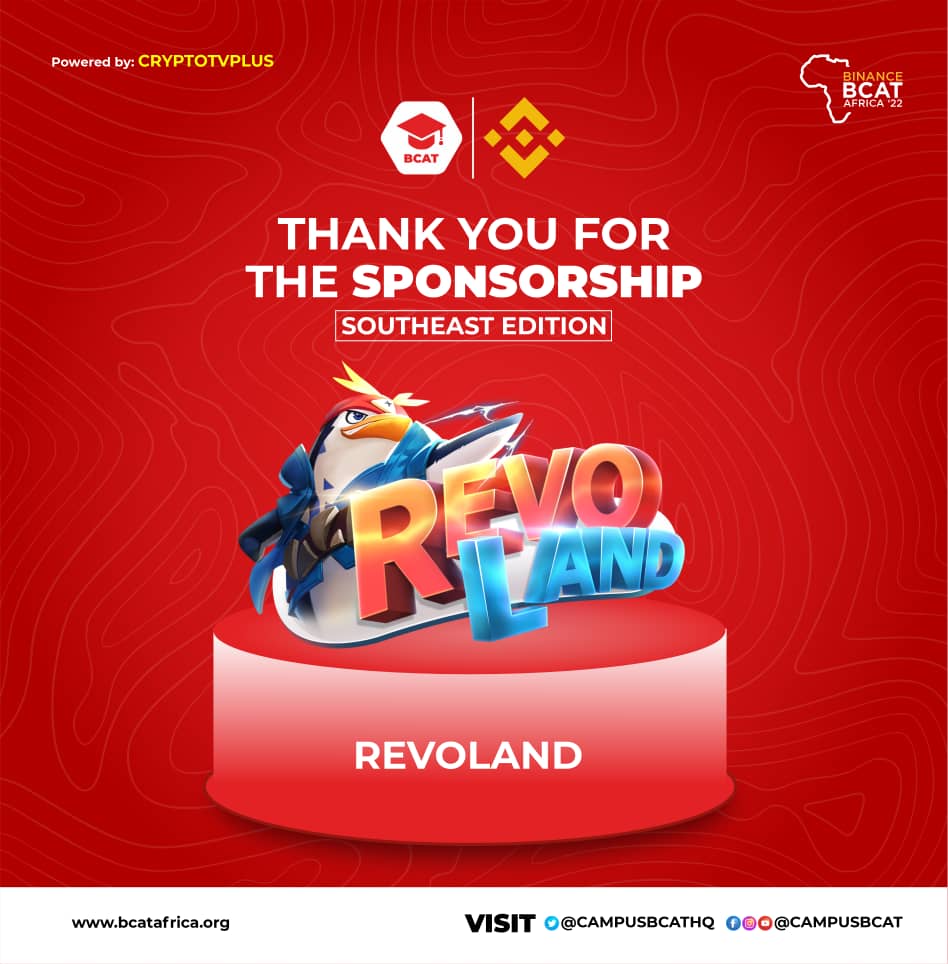 Revoland sponsors Binance BCAT Africa 2022 South East Edition
Blockchain, and cryptocurrency has been instrumental in transforming the living standard of adopters in Africa, and it's imperative to drive this even further to those it matters most. In recent months, blockchain-based games have become popular, enabling gamers to monetize their time, and gaming skills.
About Revoland
Revoland is a blockchain-based multiplayer online battle arena game designed to combine players' individual techniques and teamwork to challenge themselves in multiple game modes. Revoland incorporates the advantages of 'traditional mobile games, with a high-degree of completion and entertainment, creating a real 'social gaming experience' and profit model.'
The Binance BCAT Africa South East Edition is scheduled to hold on the 4th of June, 2022 at the Amadeo Event Center, Enugu State, Nigeria with over a dozen invited guests, and speakers. Time is 9AM.
Follow us across our communities.
Website: https://bcatafrica.org
Twitter: https://twitter.com/campusbcathq
Facebook: https://facebook.com/campusbcat
Instagram: https://instagram.com/campusbcathq
LinkedIn: https://linkedin.com/campusbcat
Telegram: https://t.me/officialctvplus