Ditcoin Gets New PR Officer
https://youtu.be/O4VwVwLL2To
Ditcoin is taking the African market by a storm. Africa's first privacy coin as the cryptocurrency is often referred to is taking things a notch higher by appointing a new PR officer to handle its affairs.  Brooke Miller the new Public Relations officer has worked with many businesses across America, Europe and the middle East. She will be dealing with questions and information from people who are not yet convinced of the safety, investment potential and ease of use that Ditcoin presents.
Earlier in the week Ditcoin had announced its new CEO Emeka Tony who had high hopes for the coin. He had announced his hopes that, "in a couple of months, we expect to see Ditcoin in coinmarketcap, Dit Refill, Ditpay, Airdrops, New exchangers and partnerships."  He was also appreciative of the support they had got so far saying, "I want to use this medium to appreciate everyone who has bought into this vision and is still running with it. I pledge in my capacity as the new CEO to be a team player because together we can achieve great feats and make great impacts in this blockchain ecosystem."
Ditcoin which is a privacy coin built on the Monero Blockchain to suit the African situation, the coin has other services to offer. They include DitPay module which is the world's first "CryptoCurrency Powered e-commerce & Payment Processor". Mr Brooke Miller expressed her excitement about the new prospect saying, "I am very excited about ditcoin and the possibilities and future it holds." She expressed her dismay about the amount of resources and minerals the world had taken out of Africa and how she is glad that the coin would be bringing real indepence to the people.
Brooke Miller explains saying, "Tony has a vision of being able to be independent within the country using diction. Just as of bitcoin was being created for Africa. You know business is very different in Africa than it is in other parts of the world. It is extremely important to be able to have a safe secure way to be able to refill phone which is a day to day basis in Africa. And also to be able to pay, to be able to pay safely, to be able to pay quickly to be able to maybe send money when you don't need people to see where your money is going."
What do you think Ditcoin getting a new PR? Share your opinion with us in the comment section below.
Image credit: Ditcoin
Disclaimer:
The Information provided on the website is designed to provide helpful information regarding cryptocurrency subjects. The content is not meant to be used, nor should it be used as a basis, foundational knowledge or prerequisite for decision making regards trading. Always do your own research and due diligence before placing a trade. We are not liable for any outcome based on any content found on the site.
Geneva will host the second Blockchain & Bitcoin Conference Switzerland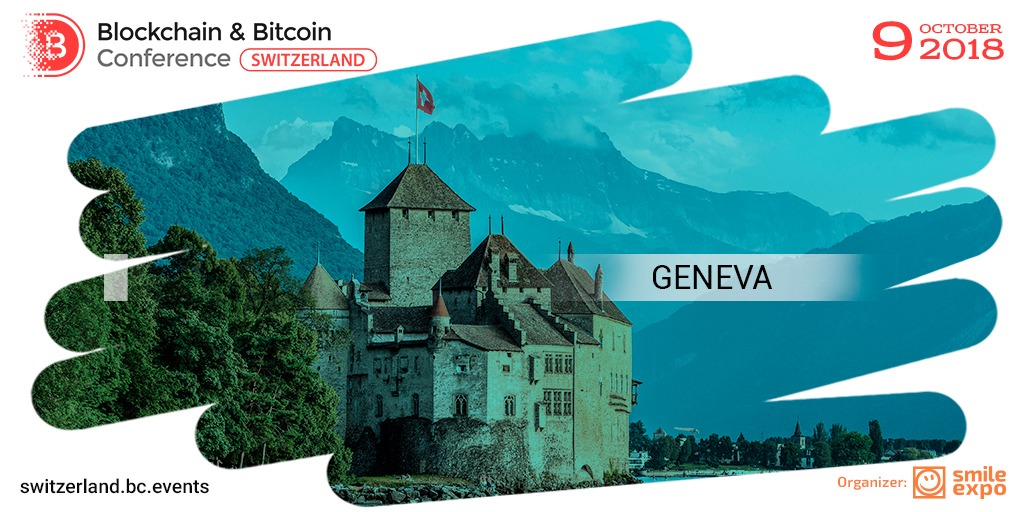 On October 9, 2018, Blockchain & Bitcoin Conference Switzerland will take place for the second time in Geneva, the European fintech hub. The event is dedicated to blockchain and cryptocurrencies uniting blockchain project developers, investors, analysts, financiers, specialists in marketing and legal support of business. The first Blockchain & Bitcoin Conference Switzerland was held in February and gathered more than 300 participants.
Background, topics, experts
Blockchain & Bitcoin Conference is a series of events held in different countries of the world by Smile-Expo. In 2018, more than 20 events are planned including the recent conferences in the Philippines, Australia, India, Thailand, and upcoming events in France, Switzerland, and Malta.
The event in Geneva combines a conference featuring foreign experts and a demo zone where companies will present their products. The program includes a panel discussion and a pitch session for participants of the demo zone.
The team of Smile-Expo, the international event company, includes in the program of Blockchain & Bitcoin Conference Switzerland reports of international experts as well as bright representatives of the Swiss blockchain community. In February, speakers of Blockchain & Bitcoin Conference Switzerland were representatives of CERN and investor listed in Forbes 30 under 30.
Pioneer in financial technologies
Switzerland is a country with the developed banking system and great interest in fintech innovations. Today the country has its own "crypto valley" – the city of Zug, where a functional blockchain ecosystem has been developed and many famous projects are based, such as Ethereum Foundation, Monetas, Lykke.  Zug is known for several business accelerators and HSLU-I university that teaches blockchain specialists. Besides, one can use Bitcoin to pay for goods and services here and exchange it for fiat money in one of three Bitcoin ATMs. At the end of July, the voting via the eID system based on the distributed ledger will take place in Zug.
In 2018, Procivis startup has successfully tested and implemented the eID solution and a number of e-Government services. Now users can file tax declarations, register residence, and use passport services with their smartphones.
Furthermore, there are blockchain platforms for over-the-counter securities trading launched by major financial organizations in Switzerland. As for the business application of blockchain, 75% of Swiss companies plan to integrate the technology in the next three years (according to the report of PwC).
Attend the second Blockchain & Bitcoin Conference Switzerland!
Smile-Expo's blockchain conference in Switzerland gives an opportunity to meet global blockchain and cryptocurrency experts. It is a comfortable networking space, where one can exchange experience with companies that have already developed and implemented real-life blockchain-based solutions.
The event will be interesting for:
specialists working in the field of blockchain and cryptocurrencies that want to receive new and relevant information firsthand;
those striving to build a career in the field of blockchain and cryptocurrencies;
entrepreneurs that plan to integrate decentralized technologies in their business.
Now you can get Early Birds tickets on the website of the event!