Dash partners with AnkerPay, South African cryptocurrency ATM and PoS provider, to grow ecosystem in Sub Saharan Africa
AnkerPay in South Africa has rolled out ATMs in the country as well as payment processing services and machines to offer merchants and users a state of the art user experience.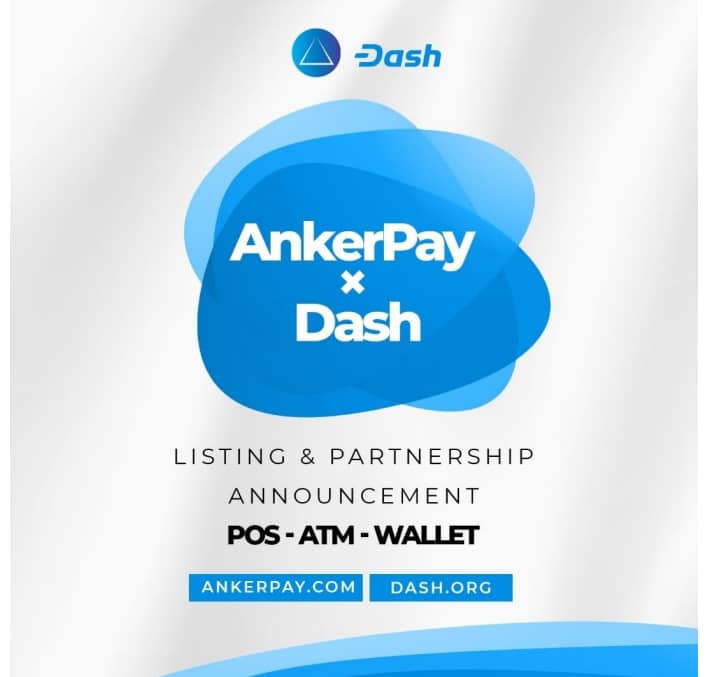 Phoenix — May 4, 2020 — Dash, the top digital currency for payments and e-commerce, announced it has partnered with AnkerPay, a South African based cryptocurrency payments and ATM company.
With a growing network of ATMs, PoS systems, online payments processing, and a user-friendly wallet that connects with their entire ecosystem, AnkerPay provides the Dash network with the full ecosystem ready to implement across Sub-Saharan Africa.
AnkerPay has also made the strategic decision to integrate InstantSend, one of Dash's key features, which completes all transactions on the network within two seconds, including settlement, which means the funds can be re-spent immediately.

This will enhance the user experience when purchasing goods or services. Transactions are converted into local national currency giving the merchant the ability to continue to accept Dash payments without the risk of volatility.
Users in South Africa can now purchase or sell Dash through their ATMs or wallets and spend it at participating merchants in the country. Users can also purchase goods and services online with Dash.

The largest use case the partners will be developing together are remittances to South Africa (and other regional markets) from the U.K. and Europe.
Remittances in the continent currently face high-fees and can take several days depending on the method of transfer. With Dash's InstantSend and a number of different ways to cash-out, a user can receive their Dash and convert it into the local currency in the method they prefer.
As the country has a healthy mix of digital and cash payments, AnkerPay's solution shows significant promise to grow both in the country and across the continent.
Many have pointed to markets in Sub-Saharan Africa, as having many clear use cases and advantages for cryptocurrency to solve inefficiencies and lower costs around remittances and payments.
However, few major cryptocurrency projects have worked on adoption there due to a number of reasons, including the difficulties in navigating the complexities within the continent.
Dash's DAO model enables local teams to support the network, which enables a global-local approach in market entry and growth.
Today, Dash has earned a reputation for the success it has seen in Venezuela as it is the most used cryptocurrency for payments. Similarly, Dash Core Group and AnkerPay will be working with Dash Nigeria, the largest community run organization in Sub Saharan Africa to help grow merchant and user adoption of AnkerPay and Dash across South Africa initially, then Western Africa.
"This is a big step for Dash," said Ryan Taylor, CEO of Dash Core Group. "The partnership with AnkerPay provides Dash a ready-to-go scaleable ecosystem to expand our presence in South Africa and soon after, the rest of Sub-Saharan Africa. Ankerpay is providing its users with the best possible Dash experience, using InstantSend to quickly complete purchases. Their solution makes it easy for merchants to accept Dash while reserving the option to receive fiat. Dash has thrived in complex markets where our technology and strategies help address payments and remittance issues."
"This is an important leap for Dash users in South Africa and an even more substantial step for regular people," Les Vorster said. "Not only will people be able to pay for goods and services but they'll have access to purchasing Dash directly, circumventing the need for traditional banking infrastructure, a game-changer for the millions of marginalized unbanked. Something unimaginable not too long ago," Les added.
About Dash
Dash is digital cash designed to offer financial freedom to everyone. Dash allows millions of individuals across the globe to carry out instantly re-spendable and secure transactions, with near-zero fees.
Built to support real-life use cases, Dash is the leading decentralized payment solution: it is accepted at over 4,900 merchants globally, accessible via 1,600+ ATMs and 100+ exchanges worldwide.

Dash has pioneered groundbreaking features including:two-tier network with incentivized nodes and decentralized project governance (Masternodes), instantly settled payments (InstantSend), instantly immutable blockchain (ChainLocks) and more.
The Dash Network's development is supported by Dash Core Group, the largest organization funded by the Dash Treasury, which supports and nurtures the continued worldwide development and integration of Dash. For more information, visit https://www.dash.org/ or follow the organization on Twitter @DashPay.
About AnkerPay
AnkerPay has a number of adoption based software and hardware solutions that enable crypto-based utilization for merchants, users and corporations.

AnkerPay's unique approach brings functionality and interoperability to the marketplace with its main focus being Sub-Saharan Africa and other developing countries giving the unbanked access to the infrastructure needed to access cryptocurrencies.
The AnkerPay ecosystem provides a range of products and services that are a perfect fit for individuals, small or large businesses looking to accept or integrate cryptocurrencies.
BlueKey Utility Token (BKY) Gets Listed on CoinmarketCap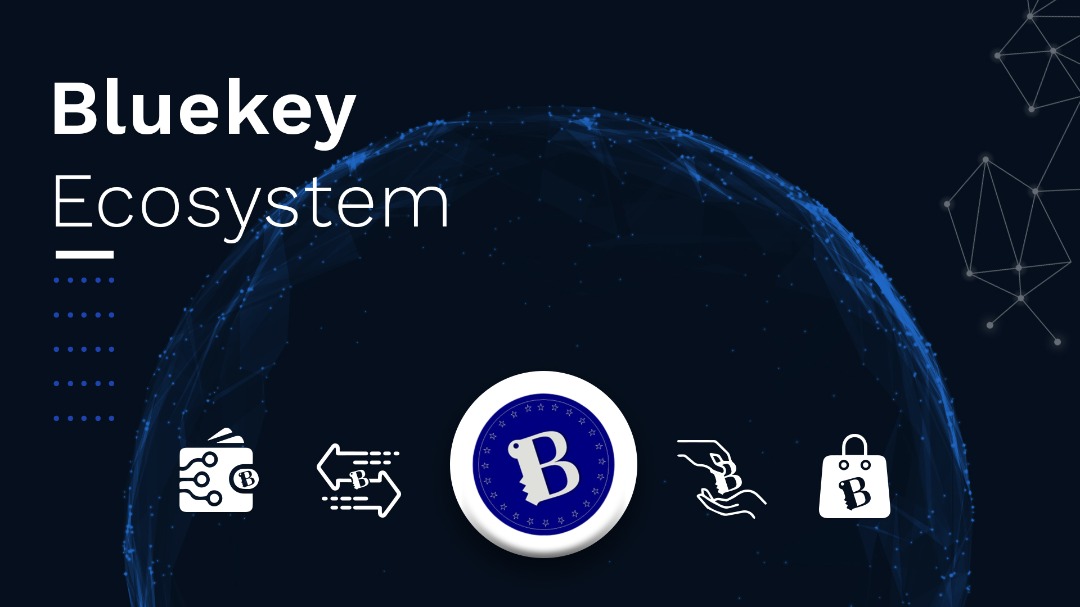 Novel blockchain platform, BlueKey has announced the listing of its native token (BKY) on CoinmarketCap. This represents another important step for the platform which provides visible utility and real-time use-case for the blockchain ecosystem.

Apart from being listed on CoinmarketCap, the BKY token is now also automatically visible on the TRUST WALLET. BKY users no longer need to go through intermediary tokens to extract value from their digital assets.
🆕 See which projects have been listed on CMC.
Pyrk (PYRK)
ZCore Token (ZCRT)
MultiCoinCasino (MCC)
Bluekey (BKY)
Attila (ATT)
Bitscoin (BTCX)
Botton (BOC)
xDai (STAKE)
Simple Software Solutions (SSS)
ZIMBOCASH (ZASH)
👉 Check them out here: https://t.co/GEQoaVouB1

— CoinMarketCap (@CoinMarketCap) May 22, 2020
Using BKY to Disrupt Finance
Over the years blockchain technology has stirred up a lot of expectations as a solution that will improve most of our traditional processes. One area where blockchain disruption has made the most noise so far is in financial solutions. By enabling peer-to-peer (P2P) transactions, blockchain is eliminating a lot of bottlenecks that have limited the fintech industry.

With the evolution of e-commerce and payment solutions, effective P2P systems are becoming more popular. Despite this growth in the industry, real use case implementations are yet insufficient to the prevailing industrial needs. Therefore, the creation by BlueKey represents a major contribution to the financial solution and e-commerce sectors.
With primary focus on the African region, where there is a dire need for financial inclusiveness, BlueKey is solving a continental problem that could spread even beyond Africa. According to the founder of GalaxyChain Technologies, owners of BlueKey, Suanu Neenwi, the company aims at becoming a leader in Africa in the provision of key financial solutions using crypto.

He says;

Our vision is to become Africa's leading crypto-financial hub, with a mission to provide instant credit facilities to the user community backed by our native token(BKY) as collateral asset.
Bringing Life to Small Businesses
Credit accessibility is indeed a difficult terrain for the common man in Africa. This is one of the achilles heels that keeps holding back the continent from active development. The difficulty in accessing credit facilities has led to an almost non-existent small and medium scale industries. In the absence of capital, or inability to access credit facilities, small businesses have found it difficult to survive.

GalaxyChain, with its products have come to change this narrative and open up the industry for small businesses especially to thrive. Entrepreneurs and small business owners can now easily access credit facilities, using their BKY tokens as collateral. This eliminates the usually cumbersome processes of tedious paperwork and unachievable conditions in most cases from traditional banks.

Also within the ecosystem, on the BlueKey e-commerce platform, BKY provides a flexible and unified payment system for customers. This is a marketplace where you can perform all your transactions using the singular token, thereby saving yourself from the previously complicated processes associated with traditional e-commerce platforms. Users of BKY will no longer encounter cross-border payment complications such as exaggerated fees, delayed transactions, regional payment restrictions among other bottlenecks.
The Four Pillars of GalaxyChain
BlueKey's financial ecosystem is being built on the Ethereum network, this will enable it to effectively serve all categories of users both in Africa and beyond. Using the BKY utility token which runs on the Ethereum network, BlueKey is able to offer financial inclusion via four main products:

This is a product that aims to solve critical banking issues. It is a solution that will enable financial inclusion and be beneficial especially to the unbanked and underbanked communities of the world. GalaxyWallet is available for download on GooglePlaystore.

The GalaxyExchange is a solution that bridges the gap between the existing fiat-based economy and the emerging digital assets ecosystem. All crypto-fiat exchanges in the ecosystem are executed in a P2P manner at: GalaxyChainnetwork.com
This is a blockchain-based loan solution, where customers can access instant loans. The solution introduces one of the internal use cases of the BKY token. It serves as a collateral for loan applications on BluekeyPay.com

As mentioned above, the BlueKey e-commerce platform is a hub for entrepreneurs. It provides participants with a simplified opportunity of engaging in online businesses and creating wealth for themselves. Anyone from anywhere in the world can easily rent a virtual store and carry out their e-commerce on bluekeymarket.com

Listing on CoinmarketCap is only one of the numerous fundamental requirements that has already been met by the BlueKey blockchain solution. Moreover, this is a timely solution that has come at a time when the world is evolving into remote operations. Owning and interacting with virtual stores is one aspect of life that is becoming a fundamental part of the human regiment.

BlueKey does not only offer an opportunity to own and operate a virtual store. It also provides all the necessary tools for a seamless transition between the existing traditional systems and the emerging world of digital operations.