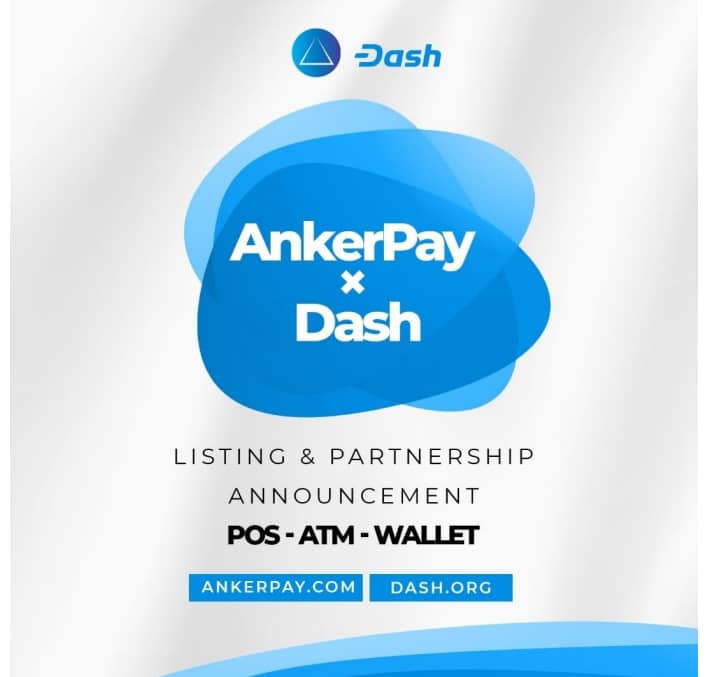 Dash partners with AnkerPay, South African cryptocurrency ATM and PoS provider, to grow ecosystem in Sub Saharan Africa
AnkerPay in South Africa has rolled out ATMs in the country as well as payment processing services and machines to offer merchants and users a state of the art user experience.
Phoenix — May 4, 2020 — Dash, the top digital currency for payments and e-commerce, announced it has partnered with AnkerPay, a South African based cryptocurrency payments and ATM company.
With a growing network of ATMs, PoS systems, online payments processing, and a user-friendly wallet that connects with their entire ecosystem, AnkerPay provides the Dash network with the full ecosystem ready to implement across Sub-Saharan Africa.
AnkerPay has also made the strategic decision to integrate InstantSend, one of Dash's key features, which completes all transactions on the network within two seconds, including settlement, which means the funds can be re-spent immediately.

This will enhance the user experience when purchasing goods or services. Transactions are converted into local national currency giving the merchant the ability to continue to accept Dash payments without the risk of volatility.
Users in South Africa can now purchase or sell Dash through their ATMs or wallets and spend it at participating merchants in the country. Users can also purchase goods and services online with Dash.

The largest use case the partners will be developing together are remittances to South Africa (and other regional markets) from the U.K. and Europe.
Remittances in the continent currently face high-fees and can take several days depending on the method of transfer. With Dash's InstantSend and a number of different ways to cash-out, a user can receive their Dash and convert it into the local currency in the method they prefer.
As the country has a healthy mix of digital and cash payments, AnkerPay's solution shows significant promise to grow both in the country and across the continent.
Many have pointed to markets in Sub-Saharan Africa, as having many clear use cases and advantages for cryptocurrency to solve inefficiencies and lower costs around remittances and payments.
However, few major cryptocurrency projects have worked on adoption there due to a number of reasons, including the difficulties in navigating the complexities within the continent.
Dash's DAO model enables local teams to support the network, which enables a global-local approach in market entry and growth.
Today, Dash has earned a reputation for the success it has seen in Venezuela as it is the most used cryptocurrency for payments. Similarly, Dash Core Group and AnkerPay will be working with Dash Nigeria, the largest community run organization in Sub Saharan Africa to help grow merchant and user adoption of AnkerPay and Dash across South Africa initially, then Western Africa.
"This is a big step for Dash," said Ryan Taylor, CEO of Dash Core Group. "The partnership with AnkerPay provides Dash a ready-to-go scaleable ecosystem to expand our presence in South Africa and soon after, the rest of Sub-Saharan Africa. Ankerpay is providing its users with the best possible Dash experience, using InstantSend to quickly complete purchases. Their solution makes it easy for merchants to accept Dash while reserving the option to receive fiat. Dash has thrived in complex markets where our technology and strategies help address payments and remittance issues."
"This is an important leap for Dash users in South Africa and an even more substantial step for regular people," Les Vorster said. "Not only will people be able to pay for goods and services but they'll have access to purchasing Dash directly, circumventing the need for traditional banking infrastructure, a game-changer for the millions of marginalized unbanked. Something unimaginable not too long ago," Les added.
About Dash
Dash is digital cash designed to offer financial freedom to everyone. Dash allows millions of individuals across the globe to carry out instantly re-spendable and secure transactions, with near-zero fees.
Built to support real-life use cases, Dash is the leading decentralized payment solution: it is accepted at over 4,900 merchants globally, accessible via 1,600+ ATMs and 100+ exchanges worldwide.

Dash has pioneered groundbreaking features including:two-tier network with incentivized nodes and decentralized project governance (Masternodes), instantly settled payments (InstantSend), instantly immutable blockchain (ChainLocks) and more.
The Dash Network's development is supported by Dash Core Group, the largest organization funded by the Dash Treasury, which supports and nurtures the continued worldwide development and integration of Dash. For more information, visit https://www.dash.org/ or follow the organization on Twitter @DashPay.
About AnkerPay
AnkerPay has a number of adoption based software and hardware solutions that enable crypto-based utilization for merchants, users and corporations.

AnkerPay's unique approach brings functionality and interoperability to the marketplace with its main focus being Sub-Saharan Africa and other developing countries giving the unbanked access to the infrastructure needed to access cryptocurrencies.
The AnkerPay ecosystem provides a range of products and services that are a perfect fit for individuals, small or large businesses looking to accept or integrate cryptocurrencies.
Africa Blockchain Developers Call (Series) Partners with CryptoTVPlus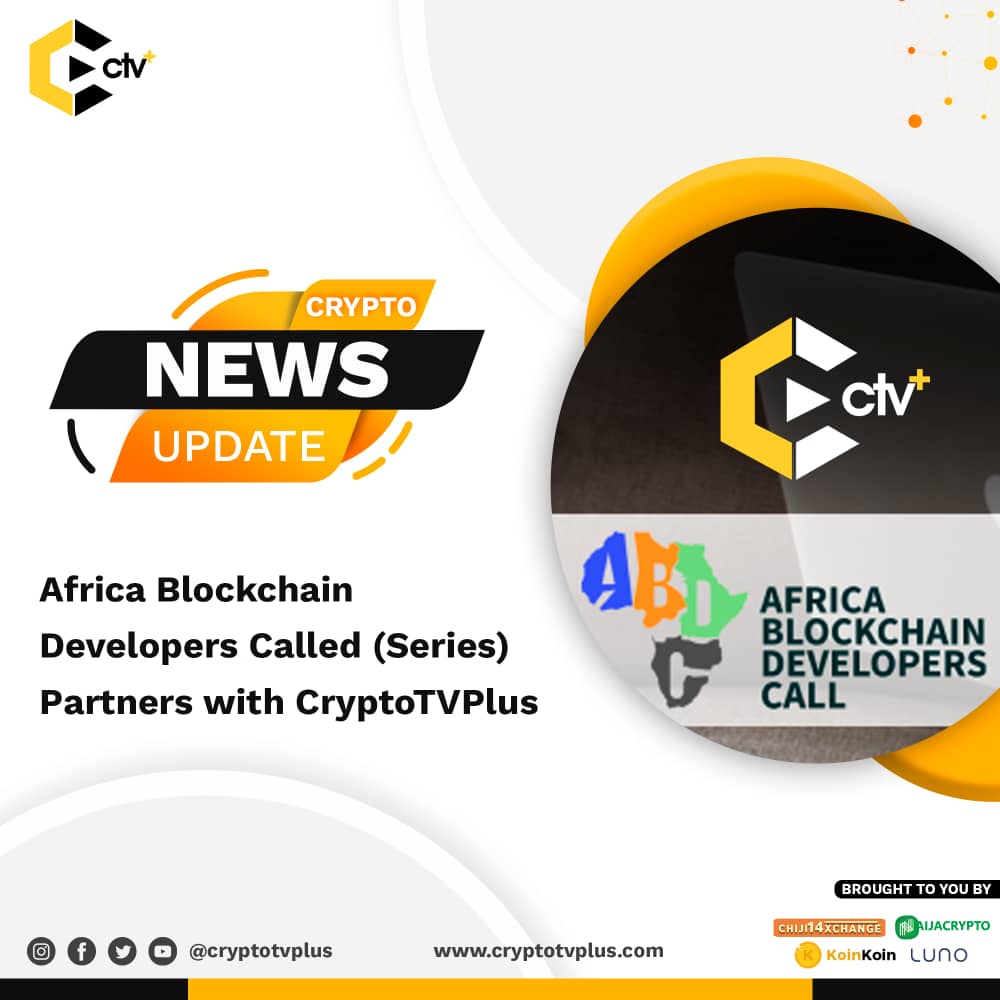 As the new dawn sets on Africa with the coming together of several leading associations and organizations in the decentralized space, digital transformation becomes inevitable.
The Africa Blockchain Developer's Call Series, in conjunction with the Africa Blockchain Institute as well as numerous blockchain associations and tech hubs across Africa, is delighted to announce her partnership with Crypto TV Plus.
Of all the industrial revolutions which the globe has experienced, the imminent fourth industrial revolution might just be the only one which Africa has the ample opportunity to participate in, decide what is to be consumed by its tech markets, and locally design the required solution(s).
However, there is a high probability that should the low existence of local content persist in the African tech space, this opportunity might be left hanging.
The ABDC Series, alongside a host of other African blockchain societies and tech hubs, seeks to train, groom, and nurture local African developers, for 3 months, in order to effectively prepare them for the booming tech labour market in the continent.
The program is set to feature insightful panel sessions, speeches from highly revered tech professionals, roundtable discussions with stakeholders, and pitches from African developers. With this initiative, accelerated digital transformation is hoped to be achieved. 
The partners on this project also include the United Africa Blockchain Association, the Government Blockchain Association-Africa, Cameroon Blockchain Association, Pesabase in Kenya, Jelurida Swiss SA, Cabotec Solutions, and numerous world-class resource persons.
Following the launch of the first series of the ABDC, applications shall be declared open on the 15th of August, for junior, frontend, UI/UX, and backend developers to submit entries for a chance to be selected for the remote 3-month Pan-African bootcamp.
The program presents an invaluable opportunity for African developers to build solid connections, engage with relevant stakeholders in the African tech space, and acquire the requisite skills for dominating the tech market. It is a program that promises to be insightful. For more information on partnership and sponsorship opportunities, contact us at info@abdcseries.com and visit www.abdcseries for more general updates.
About ABDC 
"The vision is simply to create an enabling environment to onboard blockchain developers, equip them with the necessary support and encouragement and provide them with various opportunities of either self-sustenance or employment in the space after the 3 month program."
About CryptoTVPlus 
CryptoTVPlus is the most trusted source on Crypto and Blockchain Technology Media. The No. 1 Crypto Media firm in Africa providing up-to date news, interviews, research reports, Marley analysis, innovative programs etc amongst which is it's Campus BCAT program designed to bring crypto awareness to millions of African students.