CampusBCAT2019 in OAU Surpasses any known Record of Blockchain and Cryptocurrency Gathering in Africa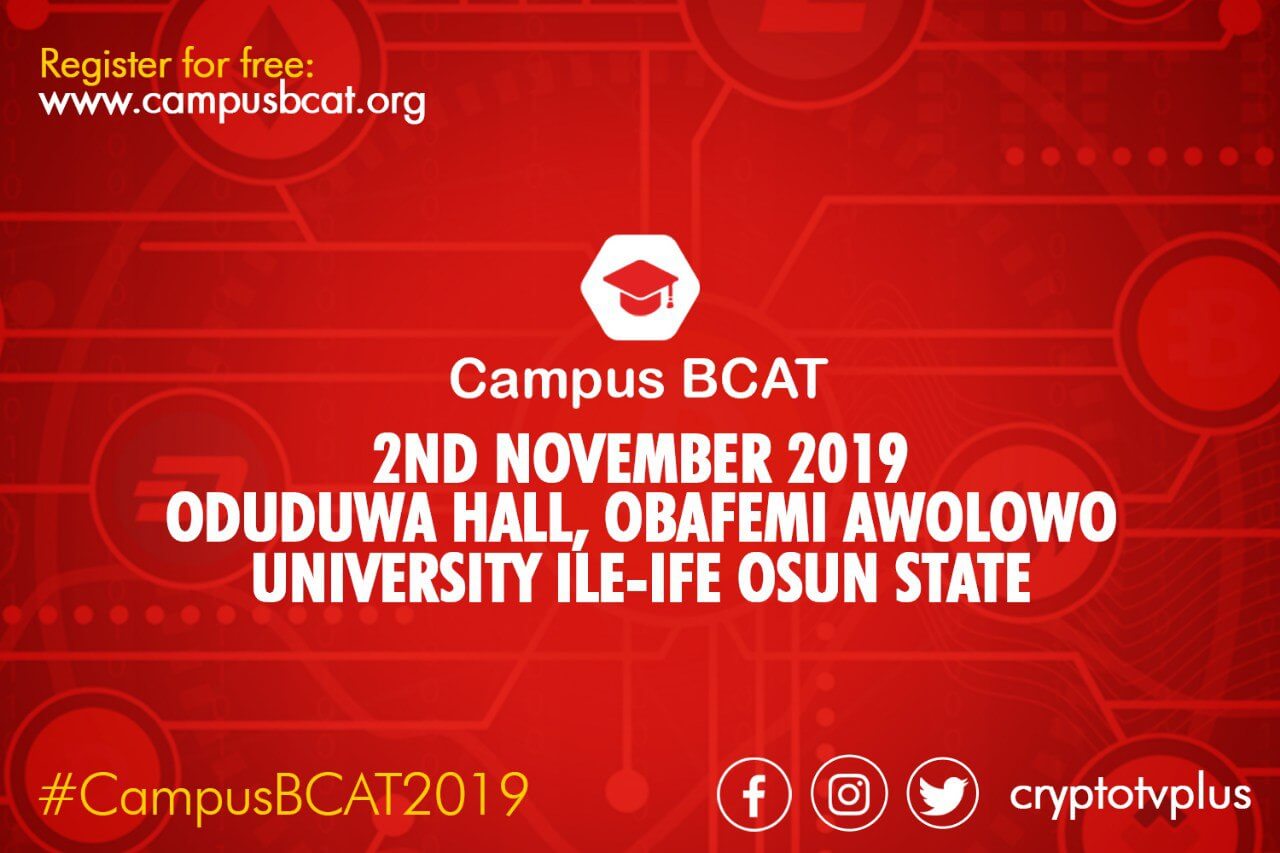 The recent CampusBCAT2019 event held in the prestigious Obafemi Awolowo University – OAU on the 2nd of November 2019, becomes the largest attendance in Blockchain and Crypto gathering in the whole of the African continent surpassing any known record of the Blockchain & Cryptocurrency gathering in terms of attendance in the whole of Africa.
Campus Blockchain & Cryptocurrency Awareness Tour, more popular with the acronym Campus BCAT is an initiative of CryptoTVPlus the premiere Blockchain and Cryptocurrency focused media house from Africa announced barely two months back.
The movement has seen enthusiasts in the form of students, newbies, established crypto gurus, blockchain solutions architects, etc gladly identifying with the initiative and propagating sound education as regards the blockchain technology making it undoubtedly the fastest growing Blockchain & Crypto community in the whole of the African continent.
As past events were held at the University of Ibadan and even at the University of Port Harcourt, CampusBCAT2019 in Obafemi Awolowo University witnessed a quantum improvement from the previous events.
The event at OAU held at the most sought after Oduduwa Hall known for its characteristic ambiance and also the capacity in terms of its size. The morning of 2nd November saw excited students pouring in to register and take their already reserved seats as they registered online prior to the event date. Sponsors such as ABiT Crowd, CoinCola, Vorem Network, Huobi Nigeria, Crypto Masterclass, etc, had the spotlight on them as eager participants thronged their exhibition stands to know more about their improved product and service offerings.
Charles Okaformbah of Vessel Trust, Samuel Joseph of CoinCola, Senator Ihenyen of Infusion Lawyers, Louis Dike, Dominic Rume, Kaka Toritseju, Onome Iduh, Chukwuemeka Ezike, Chinedu Obidiegwu, Gaius Chibueze who is better known as "bitcoin chief" who connected all the way from Manchester in the UK were all among the speakers who educated the curious students present to learn about the revolutionary impact of the blockchain technology and cryptocurrency.
With more than 3,900 participants attending the event not counting those who failed to register even both online and the event venue, sponsors and their team members, CampusBCAT2019 in OAU quickly surpasses attendance of the edition held at the University of Ibadan which recorded 1,356 persons in attendance or even Uniport which had a total of 4,228 persons in attendace entirely capturing everyone, participants, sponsors and their team members included.
Some of the students of the Obafemi Awolowo University had the rare opportunity of presenting their acts such as music or even talent hunt competition where winners were gifted prizes. ABiT Crowd, a Crowdfunding Real Estate company built on top of the blockchain was presented to the participants demonstrating the practical aspect of tokenization where large and immovable assets can be fractionally owned. ABiT Network also gave out a cash sum of One hundred thousand naira to 10 persons with each getting ten thousand naira each.
While the participants enjoyed every moment of the event, the usual crowning point of CampusBCAT saw the inauguration of BCAT Club, the legacy which CryptoTVPlus bequeath to any school where the Campus Blockchain & Cryptocurrency Awareness Tour is held.
A total of 30 students were inaugurated into BCAT Club and certificate of commendation issued to the members. Owolabi Jeremy Oluwasegun, a second-year law student of the Obafemi Awolowo University (OAU) was inaugurated as the first BCAT Club President OAU Chapter.
Tony Emeka, Co-founder & CEO of CryptoTVPlus, Organizer Convener of Campus BCAT said
We are indeed excited to be here for this event. Obafemi Awolowo University holds a special place in our hearts. I am sure we all know that CampusBCAT2019 has gained global recognition already.

This is the third school we are visiting and holding this event in Nigeria. At every successive outing of CampusBCAT2019, it has been successfully improved upon in terms of traction across several metrics. From publicity to the attendance and support from both the student bodies and our esteemed partners, there has been a noticeable improvement.

The members of BCAT Club OAU chapter will be the very first school to be issued a certificate of commendation for exemplary planning and execution skills. So much more is in the offing and my advice to the students in Nigeria is to take this golden opportunity very seriously,
he concluded.
Also speaking at CampusBCAT2019 in OAU, the COO of CryptoTVPlus, Head, Publicity and Planning Campus BCAT, Victor Ugochukwu in his keynote address was quoted saying
This movement was born out of the desire to drive proper, targeted and result-oriented enlightenment to the younger generations who in a few years will define where we go as a nation and as a society.
We have been to the University of Ibadan and University of Port Harcourt where we saw warmth and were welcomed with a large number of attending students.
He went further saying;
While we are confident that the CampusBCAT movement has gained a lot of traction and popularity among not just tertiary education students but also the broader blockchain and crypto community we are not resting on our oars as we must keep pushing to ensure the adoption hurdle when it comes to blockchain technology and cryptocurrency is brought low engendering easy access and participation either as a player or user.
CryptoTVPlus in partnership with EmpowerMeEOS a not-for-profit foundation founded by Toritseju Kaka handed out a free laptop as the star prize of the day to the winner of the Social Media Challenge which had the signature hashtag #CampusBCAT2019 trending across several social media platforms like Facebook, Twitter, and Instagram.
With a scintillating outing, CampusBCAT2019 in OAU has received several commendations not only from industries in Africa but also in Europe, Asia, and North America.
CampusBCAT has set a standard, a trend, a template that the industry can use to drive cryptocurrency and blockchain education. We have never been so excited at the promises of the future.
BBOD Launches World's First Zero-fee, Non-custodial Crypto Derivatives Trading Platform

HONG KONG, 15th November 2019 – BBOD, world's first zero-fee, non-custodial cryptocurrency derivatives trading platform with an unprecedented level of security and transparency, is now live and open for business.
The lack of transparency, trust, and adequate fund security at centralised exchanges has grown urgent demand for better custodial practices, separating user funds from the funds of the holdings of the exchange.
During a recent press conference, Jacob Ruczynski, CEO at BBOD, explained the security feature:
"At BBOD, custody of cryptocurrencies is completely separate from the exchange. As a result, our platform does not hold private keys to the client's balances. Instead, each client holds their funds in a decentralised smart contract account. No private keys are created. Therefore, the keys can not be stolen by hackers."
"All user balances are updated daily and visible on the Ethereum blockchain. The public may monitor in near real-time the number of users registered, their balances and the total amount of funds at the exchange. This design allows BBOD to pass proof-of-solvency and proof-of-reserves audits using solely publicly available data." he added.
BBOD partners with TrustToken to offer the world's first TUSD-settled perpetual futures contracts with up to 50x leverage, allowing market participants to go long or short on various cryptocurrencies, empowering them to express sentiment and manage risk more effectively using a stablecoin collateral. The instrument has no expiration dates, unlike fixed maturity futures.
Ryan Rodenbaugh, Business Development Lead at TrustToken, said: "We're excited to continue developing TUSD to better meet the demands of modern markets. Starting as a better way to move money to becoming a staple currency across spot markets, TUSD is proud to now serve the futures and derivatives markets. Empowering crypto traders to enter these enormous markets is part of our ongoing commitment to growing the utility, credibility, and accessibility of cryptocurrencies, and we're proud to be doing it with BBOD."
BBOD is to become the most liquid and secure marketplace to trade altcoins with high leverage aiming to list perpetual futures contracts on +50 cryptocurrencies by the end of 2020.
In the first stage the BBOD platform will offer perpetual contracts on the following 17 underlying cryptocurrencies against TUSD with up to 50x leverage: Bitcoin, Ethereum, Ripple, EOS, Tron, NEO, Binance, Litecoin, Stellar, Cardano, IOTA, Monero, NEM, ICON, Elastos, Decred, Digibyte.
BBOD Chief Economist, Piotr Arendarski Ph.D., said:
"The cryptocurrency derivatives space still lacks professional, reliable marketplaces to trade altcoins with high leverage, and this is what we provide on our trading platform. We apply the same standards in terms of risk management and compliance as you would see in the established finance space."
"The firm has a number of additional futures contracts on altcoins and on crypto indices in the pipeline and plans to expand its range of services," he added.
In the next stage, the zero-fee BBD-settled market will be launched with 4 contracts: BTC, ETH, EOS, LTC vs. BBD on December 9th, 2019. There will be no transaction fees (zero) on the BBD-settled futures markets (eg. BTC/BBD perpetual contract). Traders need to use the BBD token as a collateral, so balances and PnL is denominated in BBD.
Additionally, BBOD will be conducting a non-dilutive public offering of 8,000,000 BBD tokens which is starting on the 19th of November, 2019. Interested parties may purchase BBD tokens with up to a 60% discount in relation to the intended price of the token at the BBD/TUSD spot market; to be launched on December 10, 2019.
To learn more about BBOD's cryptocurrency derivatives trading platform, visit their official website at http://www.bbod.io
About BBOD
BBOD is a fully transparent, non-custodial cryptocurrency derivatives trading platform for retail and institutional clients, offering a secure and transparent marketplace to trade Bitcoin and multiple Altcoins futures contracts with a stablecoin collateral. The non-custodial nature of the platform means that BBOD does not hold either the clients' digital assets or their private keys. Instead, a client has their own contract account on the Ethereum blockchain. For more information, please visit https://bbod.io/
Follow BBOD on Twitter
Join BBOD's Chat on Telegram
Media Contact Details:
Hannah E. Lee
marketing@bbod.io
This press release is for informational purposes only. The information does not constitute investment advice or an offer to invest