Bloqbox: How Blockchain Technology will Revolutionize Intellectual Property
Interestingly, data ownership is not much of a big topic in Nigeria and most African economies. Yet still, because of future concerns, it is best we talked about data privacy and ownership in western Africa.
Bloqbox's Robin8 Profile Utility Token (PUT) is a cryptocurrency in a digital ecosystem supporting a new wave of social media and eCommerce where we empower everyone with their own data and digital assets on the blockchain.
It's a project which provides and gives back control of the user's profile data and digital assets so you seemingly have exclusive access to to your own data.
Interestingly, data ownership is not much of a big topic in Nigeria and most African economies. Yet still, because of future concerns, it is best we talked about data privacy and ownership in western Africa.
In this digital age, digital data itself has fully taken hold of everything we do as consumers and judging from the angle of social media, the users, unfortunately, wield little or no power over their data.


The Data market is a very valuable market and its protection could not be overemphasized.
Third-parties (Facebook, Google, Linkedin, Amazon & more) make hundreds of billions of dollars every year, yet we rarely see any of this money reach out pockets. It's about time that value was redistributed to the rightful owners you and I.
So with Bloqbox, no unlicensed sale of the data is permitted and this is achieved using the append-only public record and only releases with confirmed access via the Password key
Want to know more about the Bloqbox Blockchain? Click here.

The Robin8 Meetup Lagos
Robin8/Bloqbox meetup is a platform that educates the Nigerian blockchain community on new innovations and encourages adoption of blockchain products which directly add value to the community and users.
This event is facilitated by creatives and leaders in the community. In this event, we will learn and interact.
Do you seek to learn and add value? You should attend this event.
Topics of Discuss:
Introduction to Intellectual Property
Building your IP strategy
The Role of Intellectual Property
How Blockchain Technology will Revolutionize Intellectual Property
AFRICA'S PREMIER CRYPTOCURRENCY EXCHANGE UNVEILS ASTOUNDING FEATURES.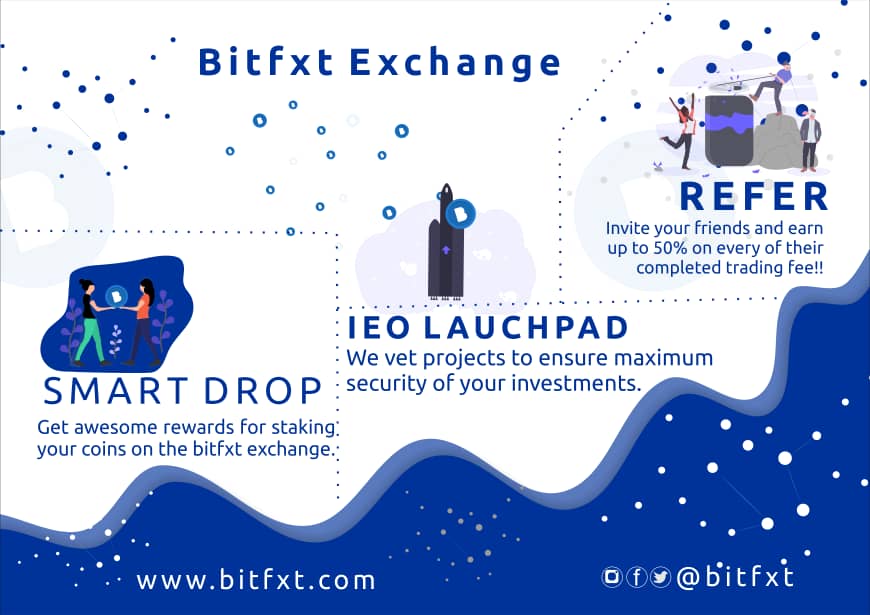 Bitfxt, Africa's leading cryptocurrency exchange has released new features.
The exchange which is now live, incorporates features which enable users make transactions at top speed, spend their cryptocurrency effortlessly, enjoy maximum security on their investments and get mouth watering rewards. Some of these features include:
The boundlesspay prepaid card which is directly linked to users' accounts,

A smart drop feature which allows users earn monthly rewards in the form of various cryptocurrencies, for staking their coins.

A voting function which helps users vote for their favorite coins to be listed on the exchange.

An IEO feature through which new projects are vetted to en able users have access to new cryptocurrencies

which will be listed and at lower prices.

A chat feature which fosters communication amongst users.

A referral program which helps users earn amazing rewards when they bring new people on board.
And lots more.
"Bitfxt is a masterpiece that was created out of the desire to make the blockchain system easily accessible by the African populace. We have put in a lot of work to ensure that we deploy state of the art features that will make it easy for people to have an enjoyable trading experience" said Franklin Peters, Ceo Bitfxt.
In order to give back to the community, Bitfxt has launched an Initial Exchange Offering for the Boundlesspay Coin (BXTC), on two platforms: shortex.net and bitfxt.com. The Initial Exchange Offering (IEO) will be run for 30 days and about three million coins will be available to the general public at a premium for that duration of time. At the end of the IEO, trading will begin for Bxtc on Shortex exchange, Bitfxt exchange and other exchanges to be announced soon.
"The significance of this coin is that it is a utility token that can be used globally. It can be used to pay for services such as utility bills, mobile top -up, data subscription, as well as flight and hotel bookings.These payments can be made at a discount at our platform, www.boundlesspay.co -which is one of the innovations created by Bitfxt. " Franklin Peters added.
As evidenced by an impressive track record of providing solutions which truly work and are used by thousands of people round the globe, Bitfxt is constantly striving for excellence. The boundlesspay pay prepaid card enables users to spend their cryptocurrency in a seamless manner and the entire ecosystem is centered around facilitating cryptocurrency adoption all over the world. Also, a dedicated team of experts is working relentlessly to ensure that users have a pleasant experience while using the platform and do not experience any hitches.
Bitfxt is currently running bounties on twitter and Instagram respectively. Interested participants can join in by getting their friends to follow @bitfxt, like posts and mention their names in the comments sections. The person with the highest number of invited followers wins.
About Bitfxt:
Bitxt is one of the best digital currency companies in the world. with a team of over 60 technology and finance experts, operating across several countries and continents. Our products and services make it safe and easy for people and businesses to store, buy, use and learn about digital currencies like Bitcoin and Ethereum. Our vision is to empower billions of people by bringing digital currencies like Bitcoin and Ethereum to everyone, everywhere.
Register today at www.bitfxt.com
First of its Kind in Africa: SisiPower to Empower the 'African Sisi' with $1m Entrepreneurial Grants and 150m Anion Sanitary Pads to women and the less privileged girl-child in Africa
Sisipower is committed to positioning the African sisi and equipping HER with one of the most trending innovative skills and technology, which is blockchain.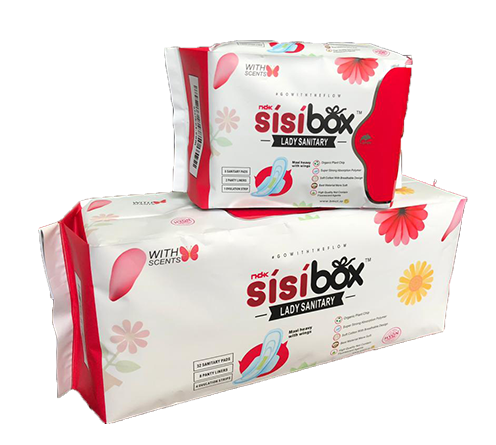 Sanitary pads which is supposed to be readily available and affordable to every girl or young woman in Africa is not. Though we have some sanitary pad brands in the market, it's just that many of these girls and women can't afford to buy and use them for their monthly menstrual circle. In order to get these pads, these young women find themselves in despicable situations where they are forced to have sex with the chemist or shop keepers who sells these items. They are also exposed to having sex with any available male in exchange for sanitary pad. So sad that girls have to sell their dignity just to get a paltry sum of money to care for their monthly period.
It is also not new as research shows that many girls especially in public secondary schools miss class during their menstrual period. They do this as a result of the fear of being shamed by boys and girls alike for the blood stains that reflects at the back of their skirts. Not only that, some of these girls, if at all they try to come, end up using unhygienic materials like dirty clothes or tissue papers. And while they are away from school they miss out on academic lessons which affect their overall academic performance and deny them of better future prospects.
A look at our female prisons wards, tales of woes, agony and pains as another worrisome situation is brewing there. In the prisons, we have a situation where about five female inmates have to share one sanitary pad. Thus exposing them to all manners of highly contagious disease and infection.
Some of these girls and women when interviewed say, "we can't afford to eat three square meals how much more buy a sanitary pad."
In putting an end to this problem which have skipped the eyes of many, BEEP Foundation, a concerned non-governmental organization launches SISI POWER, a campaign to empower indigent women and girls with 1 million Dollars and 150 million sanitary pads across Africa, though starting from Nigeria.
This cash will be given as business grants to indigent women, after proper training. Also, they shall be mentored by successful business women and the foundation to ensure they make better use of the grants given to them.
For girls, they shall have access to free monthly sanitary pad and access to Blockchain Technology, ICT and life skills training which makes it possible for them not to sell themselves short just for sanitary pads. They will be trained in the following areas; Coding, Mobile App Development, Animation, Digital Marketing, Graphic Designs and other relevant courses that ensure for their self-sustenance, productivity.
With this innovative gesture, BEEP Foundation through the launch of Sisi Power has placed itself at the forefront of poverty eradication, entrepreneurial empowerment of Girls and Women in Africa.
The narrative has to change , Sisipower is committed to positioning the African sisi and equipping HER with one of the most trending innovative skills and technology, which is blockchain. SisiPower leads the way in its application of blockchain technology by enabling acceptance of donations in BMCTokens and made provision for acceptance of a smart contract shared Master-Node Equity reward on the blockchain to support and sustain the vision and mission of sisipower.
Sisi Power is an initiative of Beep Foundation, a foundation geared at providing empowerment and innovative development in Africa.
Operations Head Office : 15 Yinusa Adeniji street off Muslim Avenue ikeja lagos Nigeria. www.sisipower.org. Info@sisipower.org.
A few members of the executive team were unveiled at the event.
This launch happened on Saturday, 28th September, 2019, at 10:00am at the ZAAZ Hotels, Ikeja, Lagos.
Find Photos of the event here
Some speakers at the launch of Sisipower.

Founder with Speakers and Ambassadors of SisiPower


Brain Behind the Idea stops for a Pose

Founder with BitFXT Delegation

A pictorial submission of the Sisi power Inauguration powered by Beep foundation

Inauguration Ceremony of the Sisi Power Project. An initiative which seeks to Empower the African Girl Child with innovative Skills that promotes Entrepreneurship.
What is Microfinance Doing in Blockchain To Promote Adoption?
Currently, AssestStream is a microfinance project built on the blockchain and it caters for the creation of trust between the lenders and the borrowers alike.

With a record of 139 million clients and a credit weight of over $110 billion only as at 2017, It remains clear that microfinance has solidified its place among the leading teams driving financial inclusion of the marginalized populations. It is interesting to note that blockchain integration for the financial institution does not exclude the microfinance sector.
On a global scale, the microfinance market has witnessed steady growth and this growth is such to last for about two decades from 2017-2025. more of the reason for this promised growth is due to the rise in the number of SMEs. It is certain that developing markets will drive massive expansion, and this trend will continue for as long as possible until the annual growth for this group is 5% and above.
Interestingly, blockchain is painstakingly making its way to different communities and is seeking to engage approximately 1.7 billion people who are currently unbanked and are in the production sector of the economy. Microfinance is currently doing this by making funds available to the SMEs.
Currently, AssestStream is a microfinance project built on the blockchain and it caters for the creation of trust between the lenders and the borrowers alike.
AssetStream Token is bound to be Mainstream
Microfinance, as a major player in the financial industry, takes pride in playing an active role in the global movement against poverty. AssetStream taps into an attractive and really underserved market opportunity and intersects with their specialized expertise by simply maximizing social and financial performance and helping to keep alive the focus on low-income clients which it was created to serve.
Plans are in place to extent AssetStream's hand of fellowship to others outside lenders and borrowers- to include agencies which are open to partnering up with it.
Its proposed source of generating funds will be from its AST Token.
Moreso, AssestStream hopes to stabilize its AST tokens within the AssetStream ecosystem as a U.S stable coin valued at 0.01 USD. This is aimed at promoting stability. Likewise, on external platforms, AST prices will be subject to fair market value reflected on third-party exchanges.
Loan Contracts
The platform hopes to create its own rating criteria and this will be categorized into personal and business loans.
It provides for learners to skim through the platform and manually select loan contracts they would be comfortable with, or opt for automatic through AssetStream autonomous matching system.
AssetStream Competition
The competition here is such that investors can expect small businesses to operate in a way and structure that maximizes the achievement of both financial and social returns. These help in the alleviation of poverty and increase the economic opportunities for the poor.
Quite obviously microfinance places a supportive role in the fight against poverty and on the journey to an improved Standard of living, there is a healthy competition that needs to be welcomed in areas like health, education, infrastructure, market access, and a functioning and responsive government.
Blockchain in microfinance can facilitate this- leading to the betterment of lives from all around the world.
What's On the Horizon
Small scale producers who are poorly equipped with the best tools for their businesses will record a minimum of 10% increase in their output but interestingly, this is guaranteed with access to our provisions and helping them secure these tools, would suffice as our little contribution.
Highlights
Max Property Group (MPG) an international property investment company, very recently signed an MOU with AssetStream. Max Crowdfund is a subsidiary of the mother company and a crowdfunding platform that synergizes with AssetStream to provide numerous communities with them to support the integration of their blockchain platforms.
Having onboard English Forward- an English platform with 250+ million members via an MOU with AssetStream now makes available microfinance resources for its teachers and learners community.
In conclusion, AssetStream updated her community that her beta platform is live and ready. the platform is built on the blockchain and all transactions are carried out on the blockchain.
Check the website for more information.
Would you like to feature your project on our platform? Then click here to know more
Disclaimer: The statements, views, and opinions expressed in this column are solely those of the author and do not necessarily represent those of CryptoTv Plus.