Bitcoin price has plunged more than 12% on Thursday 24, 2022, as Russia launched a "special military operation" on Ukraine – with explosions heard in multiple cities, and thousands attempting to flee the Ukrainian capital city, Kyiv.
According to CoinMarketCap, Bitcoin fell to $34,459.22 — significantly below the high point of $39,122.39 that was recorded on Wednesday, and has continued to slide as the Russia-Ukraine crisis intensifies.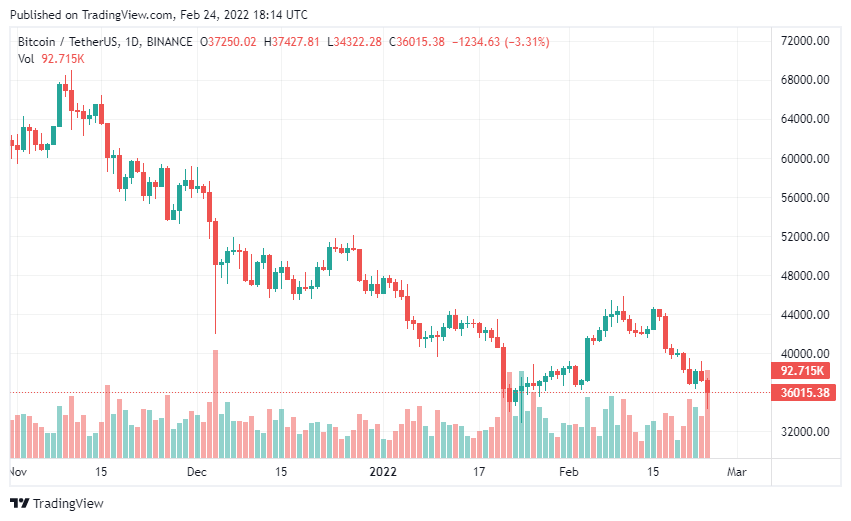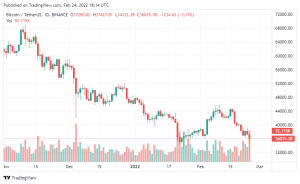 The Global Crypto Market Capitalization fell to as low as $1.5 trillion USD, losing almost 9% in 24 hours. The prospect of this fall was also felt on other financial markets; micro Nasdaq 100 futures down 2.3% and Russia's MOEX equity index dropping a record 28%.
The Russian President, Vladimir Putin, in a Televised broadcast, disclosed that the "circumstances" required firm and immediate actions as *Donbas' People's Republic asked Russia for help. The attacks were said to have targeted key military infrastructures in Ukraine.
Putin also added;
"In this regard, according to the Article 51, part of the United Nations Charter, with the consent of the Russian Federation Council, and in accordance of the ratified agreement on February 22, of this year on friendship and mutual aid with Donetsk People's Republic and Luhansk People's Republic, I decided to conduct a special military operation,"…"Its goal is the protection of people, who during eight, suffered from abuse and genocide from the Kyiv Regime."
Putin has called on Ukrainian forces to surrender, and warned the United States of America, and North Atlantic Treaty Organization (NATO) to desist from getting involved, saying;
"Anyone who tries to interfere with us, or even more so, to create threats for our country and our people, must know that Russia's response will be immediate and will lead you to such consequences as you have never before experienced in your history,"…"We are ready for any turn of events."
US President Joe Biden has condemned the attacks, describing them as unprovoked. He further said;
"Putin has chosen a premeditated war that will bring a catastrophic loss of life and human suffering".
The US and its allies have threatened to hit Russia with a broad sanction in the coming hours. These sanctions are expected to target Russian banks, Putin's cabinet, and circle of business associates but are not expected to cut Russia off from the global financial system.
Read more:
Russian Cryptocurrency Association to Attract Crypto Miners with new Project
Bitcoin Donations Pouring In for Russia's Main Opposition Alexei Navalny
Conclusively, Bitcoin has lost almost half its value since its November 2021 ATH of $68,990 USD due to various factors such as geopolitical tensions, the prospect of interest rate hikes by the US Federal Reserve and crypto ban. In addition, Ethereum dropped more than 12%, according to CoinMarketCap, while dogecoin slipped more than 14%.
Some experts have claimed that the slide in the crypto market cap shows the sector remains a risky asset class compared with traditional markets, and how bitcoin can not be a replacement for gold.
Well, What do you think?
Read more:
Russia to Change the Face of the Crypto Market and Protect Crypto Traders
What do you think of this post? Share your comments below…