The Africa Crypto sphere was thrown into frenzy and excitement yesterday, 9th of January, 2022 when BinanceAfrica via their official Twitter handle, announced a sponsorship deal with the just-started African Nations Cup in Cameroon, West Africa Region.
Binance is a cryptocurrency exchange that is the largest exchange in the world in terms of the daily trading volume of cryptocurrencies. It was founded in 2017 and is registered in the Cayman Islands. Binance was founded by Changpeng Zhao, a developer who had previously created high-frequency trading software.
The cryptocurrency exchange will have its presence on the side of the pitch on the billboards and have several promotional activities running during the tournament.
We are excited to partner with @CAF_Online for the African Cup of Nations 2021 #AFCON2021. Binance is an official sponsor of the AFCON 2021 ⚽Football X Africa X Crypto 🚀. Lots of giveaways on key matches 🇳🇬 🇨🇲 🇬🇭 🇨🇮 🇸🇳 🇪🇬 #BinanceAFCON2021 #Africa #afcon2021 — Binance Africa (@BinanceAfrica) January 9, 2022.
This development does not come with a surprise, at least to those that are not newbies in the crypto space. As we've seen collaboration moves between Football and Crypto firms a significant number of times in the past.
Binance, the largest and the most popular crypto exchange in the world is currently the shirt sponsor of Serie A League Club Lazio and is reportedly still in the race to sign a blistering deal with Spanish La Liga legendary Club FC Barcelona. Watford FC, an English Premier League also announced a partnership deal with the groundbreaking meme coin-Dogecoin. 
Read Also:
However, the scene is outrightly different in Africa. According to GoBitcoin.io: Bitcoin Converter, Information and Tools, a website dedicated to Bitcoin news in Africa, the main countries where cryptocurrency is adopted are Botswana, Ghana, Kenya, Nigeria, South Africa and Zimbabwe.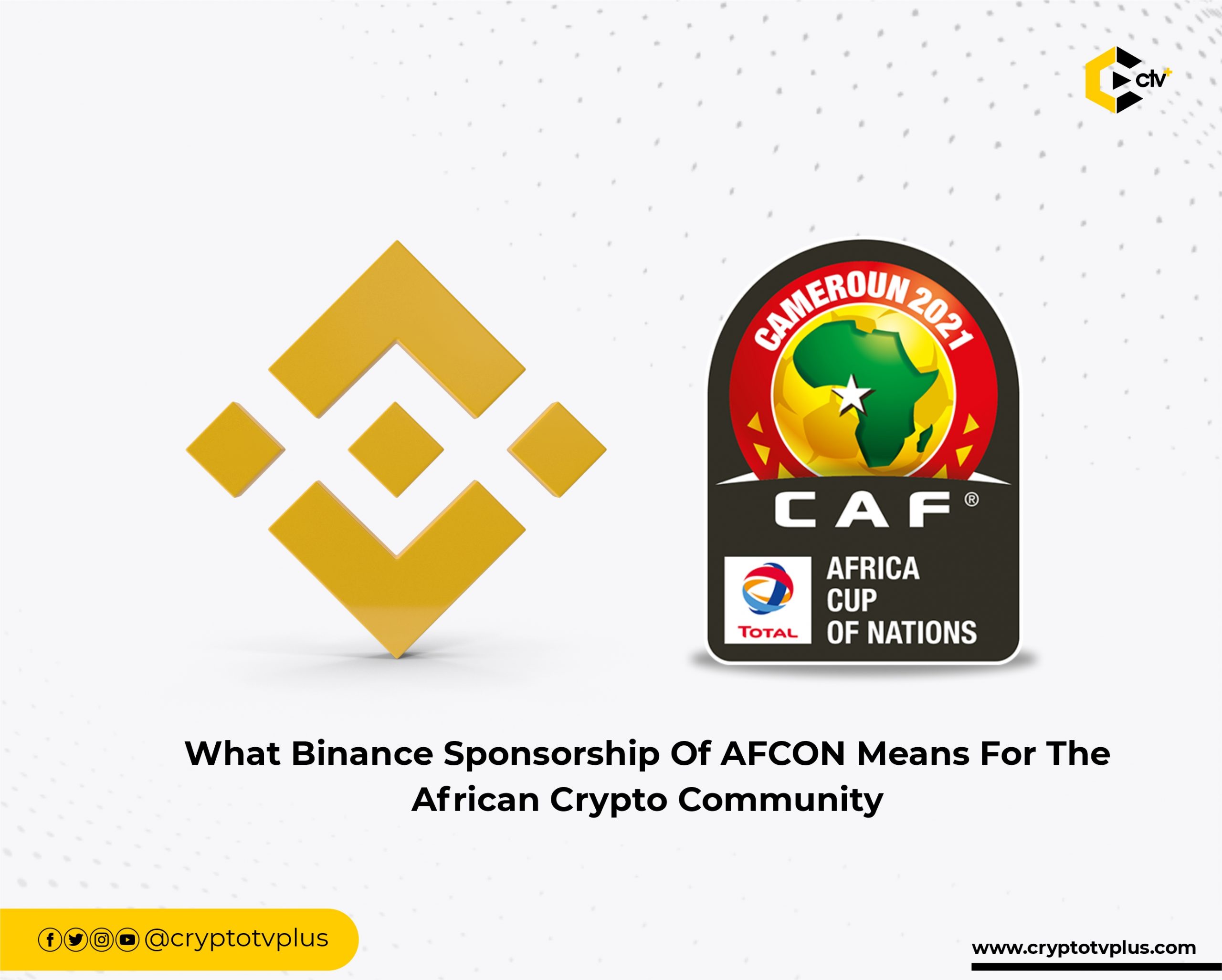 Dynamics have also seen political leaders and even observers shun and condemn Cryptocurrency in its entirety, many of them doing that on an unsustainability and alleged fraud basis.
An example of this is Nigeria, the purported Giant of Africa and the biggest crypto market in Africa declaring cryptocurrency activities illegal in 2021, and even doing the extreme by banning banks from transacting with crypto trading companies.
They also closed bank accounts suspected to be used for any form of Blockchain activities. Crypto trading is outrightly prohibited in countries such as Tanzania, Algeria, and Morocco, crypto operations have been greatly stifled by these draconian regulations.
However, this BinanceAfrica sponsorship deal with the postponed 2021 Africa Nations Cup ongoing in Cameroon is iconic and absolutely monumental.
Though it might be viewed as a mere romance between Football + Crypto, not the most coveted Finance, Banking, Administration + Cryptocurrency. It sends a resounding signal to all African leaders.
Cryptocurrency is an innovation, a generational change in direction they can never fight and win against. Crypto is the future, the earlier they realize and embrace that uncomfortable fact, the better for them. 
Still basking in the euphoria of the development, CryptoAfrica to the world, better still, the world to CryptoAfrica! 
What do you think of this article? Let's hear from you in the comment section!