The Central Bank of Nigeria has via a circular ordered Deposit Money Banks and other financial institutions to close down bank accounts related to cryptocurrency.
The circular which was dated 5th February, 2021 (BSD/DIR/GEN/LAB/14/001) made reference to a previous circular published on the 12th of January, 2017 (FPR/DIR/GEN/CIR/06/010) cautioning Financial Institutions on the risk associated with transactions in cryptocurrency.
It reminded the financial institutions and general public that dealings in cryptocurrencies or facilitating payments for cryptocurrency exchanges is prohibited.
According to the circular, the Apex Bank directed all Deposit Money Banks (DMBs), Non Bank Financial Institutions and Other Financial Institutions to identify persons or entities transacting in or operating cryptocurrency exchanges within their systems and close down such accounts immediately.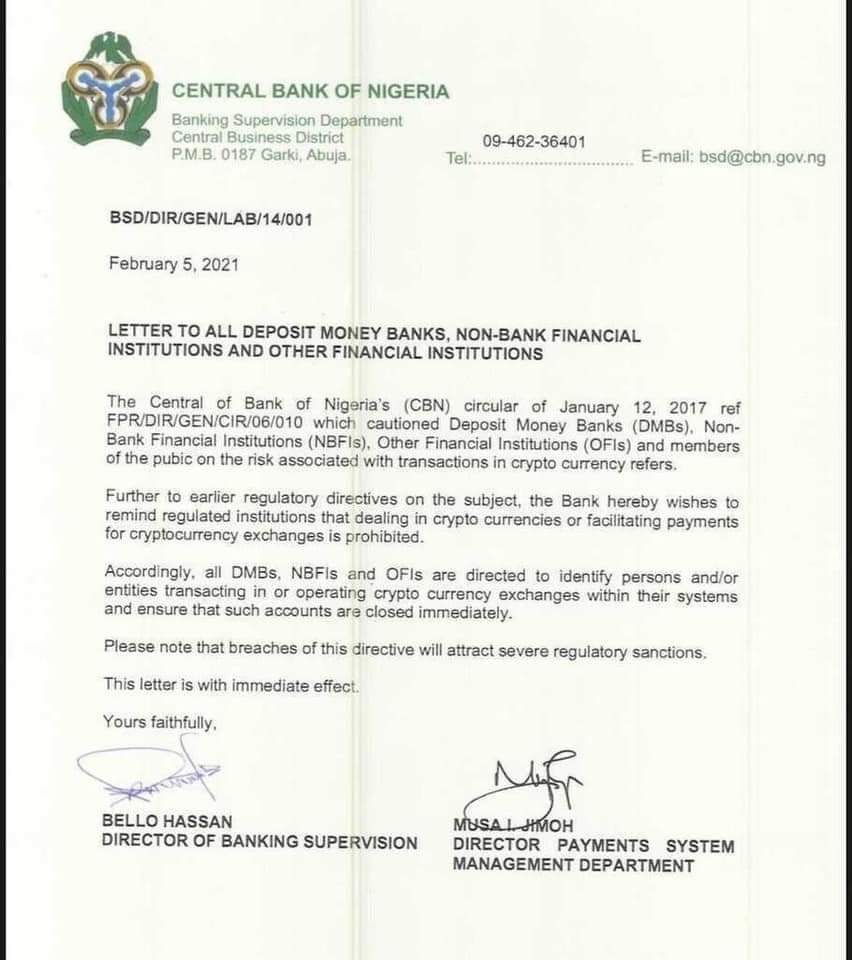 The Central Bank warned a breach of the directives would attract severe regulatory sanctions.
The circular was signed by Bello Hassan, Director of Banking Supervision and Musa I. Jimoh, Director, Payments System Management Department.
In September 2020, the Security and Exchange Commission (SEC) released a statement of its position on cryptocurrency. The SEC described all crypto assets as Securities unless proven otherwise and that Issuers or sponsors are expected to satisfy the burden of proving that the virtual assets do not constitute securities by making an initial assessment filing.
"SEC to regulate crypto-coin or crypto-token investments when the character of the investment qualifies as securities transaction" – SEC
A SEC Official also spoke on the growth of the technology in Nigeria saying via the SEC's research, they discovered that lots of young Nigerians are trading cryptocurrency and they won't leave any stone unturned
The current statement by the CBN is quite in the opposite of the SEC's language as well as the NITDA that says the Federal Government plans to raise $10 billion from blockchain technology.
What do you think of this story? Please share your opinion via the comments