Zimbabwe  Court Lifts Ban on Golix
The Reserve Bank of Zimbabwe and a Cryptocurrency exchange giant, Bitfinance (Private) Limited had been in the court recently over a ban placed by the RBZ.  Bitfinance which operates as Golix can now resume its business with after having the ban lifted by the High Court, Justice Alfas Chitakunye.
The central bank gave an order on May 12, 2018 that all financial institutions in the country should immediately stop trading or transacting in cryptocurrencies. Golix was banned 3 days later and ordered to close its accounts with various bank5 as well as shut down its virtual currency exchange business. The company had to challenge the decision of the RBK through through an urgent chamber application at the High Court represented by its lawyers, Mutandiro Chitsanga & Chitima Legal Practitioners.

The company based it's argument on the fact that the actions of the RBZ were contrary to the requirements of administrative law and the Constitution of Zimbabwe. Justice Chitakunye Set the banner aside provisionally. He gave his ruling, "The ban issued by respondents through letter dated May 15, 2018 against applicant, directing it to cease its operations, shut down its virtual currency exchange business and ordering the closure of its bank accounts with its bankers, be and is hereby suspended pending the return day,"
The Governor of the Central bank, Dr John Mangudya has warned the public against trading in cryptocurrencies. He says,  "Any person who buys, sells, or otherwise transacts in cryptocurrencies, whether online, or otherwise, does so at their own risk and will have no recourse to the Reserve Bank or to any regulatory authority in the country," he said. He also said that the RBZ Bank would continue to closely monitor the developments of cryptocurrency regionally and globally. Cryptocurrency has been embraced by Zimbabweans who seek a way out of the country's  economic crisis. The ban on Holiday didn't seem to be a smart move on the part of the RSZ. However, the good news is that the ban on Golix has been lifted and transactions can proceed as usual.
What do you think about the ban on Golix? Share your opinion with us in the comment section below.
Image credit: coinnuts
Disclaimer:
The Information provided on the website is designed to provide helpful information regarding cryptocurrency subjects. The content is not meant to be used, nor should it be used as a basis, foundational knowledge or prerequisite for decision making regards trading. Always do your own research and due diligence before placing a trade. We are not liable for any outcome based on any content found on the site.
US Presidential Candidate Andrew Yang Wants Blockchain Voting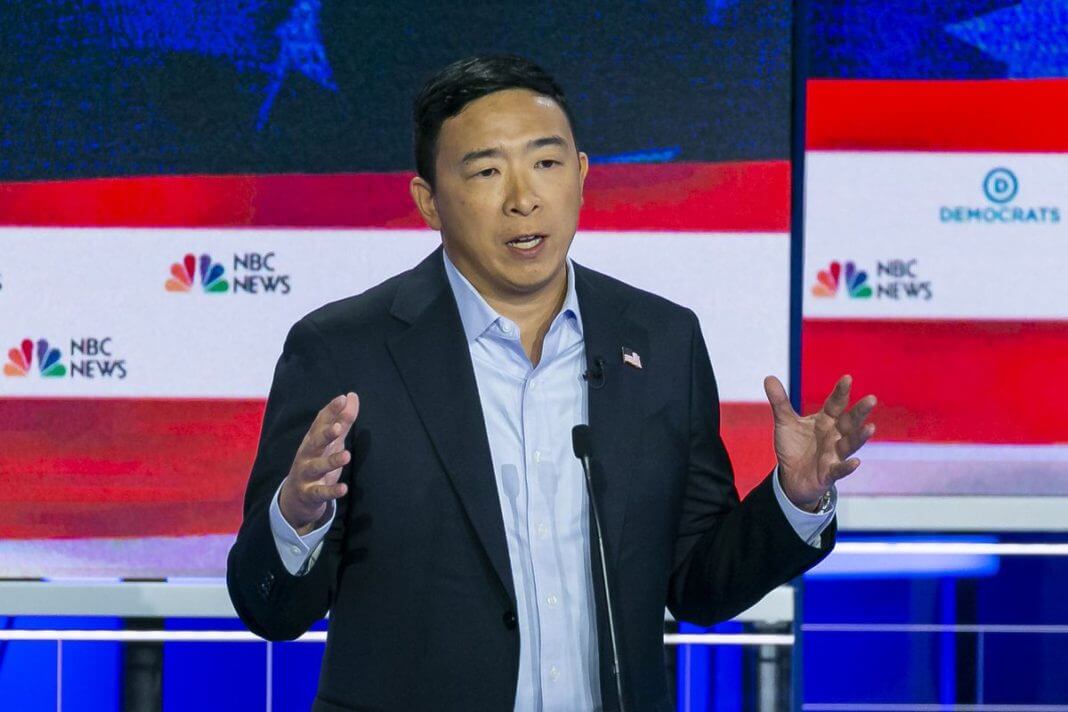 United States Presidential Candidate Andrew Yang believes blockchain voting is needed in the current age of digital advancements. He believes that voters should still not be waiting at the polling stations to cast their votes.
Instead of waiting at voting units, he wants Americans to vote using their mobile phones with verification done via blockchain. This be sees will dramatically increase participation in all elections, whether local, state or federal.
The Aspirant speaking on the current voting arrangement said,
" It's ridiculous that in 2020 we are still standing in line for hours to vote in antiquated voting booths. It is 100% technically possible to have fraud-proof voting on our mobile phones today using the blockchain. This would revolutionize true democracy and increase participation to include all Americans – those without smartphones could use the legacy system and lines would be very short."
According to his website, Yang pointed out that Voting is hard and time consuming, which is why there is barely 50% turnout even in presidential elections, this he says rewards extreme points of views instead of popular will.
He outlined this goals of making voting easier and more secure, reducing inconsistent processes between states and restoring confidence and engagement in the democratic process.
Once elected, he will work to modernize the voting infrastructure in the country to utilize technology to make it easier and more secure to vote, thereby increasing numbers of Americans participating in country's democracy.
Andrew Yang is one of pro-cryptocurrency presidential aspirants. He recently called for a clear guideline on cryptocurrencies/digital assets markets regulation so that investment can proceed into the industry.
According to him,
" Investment in cryptocurrencies and digital assets has far outpaced our regulatory frameworks in the US. We should let investors, companies, and individuals know what the landscape and treatment will be moving forward to support innovation and development. The blockchain has vast potential."
When elected, he will promote clarity in the industry by giving clear definition to what a token is and when it is a security, give clarification of tax implications of owning, selling and trading digital assets, define which federal agencies have regulatory power over the crypto/digital assets space etc.