The payment giant company in the United States, PayPal is said to have reached a benchmark of 85 percent of the total trading volume of Binance.US; a cryptocurrency trading platform within its first month of operation. The payment company which was once skeptical about anything Bitcoin and cryptocurrencies launched and started offering cryptocurrency services to its users last month, October, 2020. This was made possible by a partnership between Paxos and PayPal to make cryptocurrencies available to users in the United states.
However, the daily trading volume has risen to 25 million dollars, a figure close to the total trading volume of Binance.US since PayPal launched. The figures on the trading platform of Paxos; itBit exchange rose from a daily figure of 5 million dollars to a whopping $25 million in November after a month of partnership with PayPal. Whether the partnership with PayPal is the reason for the spike in the daily trading volumes or other reasons are responsible for it, this remains unclarified.
PayPal has an estimated user base of over 346 million users over the world. Whether or not the partnership is responsible for the spike in the 24-hour trading volume on Paxos's platform, offering crypto services on the platform is about to see a new level of adoption of cryptocurrencies worldwide.
Tola says he wants more big companies to go after PayPal's footstep
Tola Joseph, the CEO and founder of twitterCryptomasterclass has expressed his views via his twitter handle (@connectwithtola) as regards the report about PayPal reaching 85 percent of the daily trading volume of Binance.US. He says he wants to see giant companies get involved in crypto and offer cryptocurrency services in a tweet.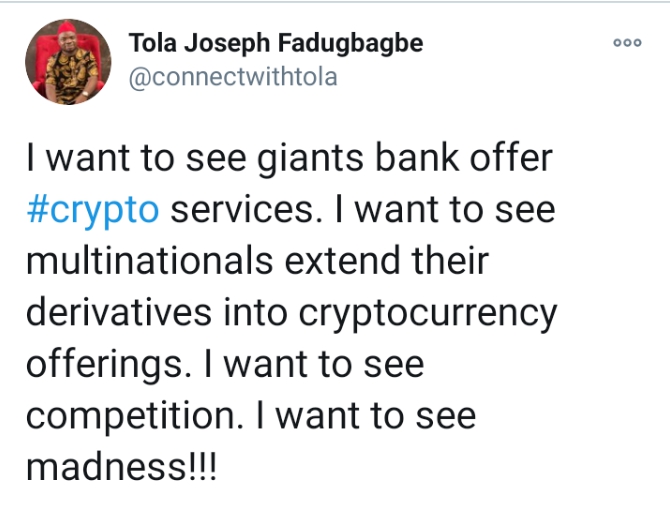 He also included in another tweet what will happen in one year if PayPal's one-month volume could be a competition to cryptocurrency exchanges. He included that he wanted the payment giant to offer cryptocurrency exchange services.