Utah County Set To Become The Third US Country to Utilise Blockchain Voting App in Its Elections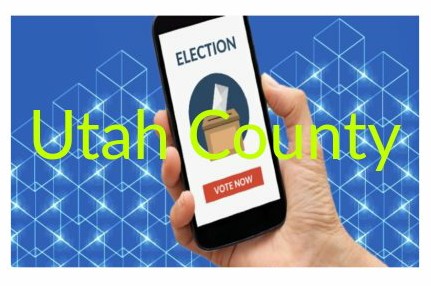 According to a news outlet, Utah County is going to utilise a blockchain voting app in its coming municipal elections both for the primary and general elections.
The utilization of the voting app is a pilot program or project that involves a sense of active collaboration between the Utah County Elections Division, Voatz, Tusk Philanthropies and the National Cybersecurity Center. This announcement was made today by Lt. Gov. Spencer Cox and Utah County officials.
As contained in the report, Voatz's mobile app is going to be used for the elections. The app is supported by "military-grade" security tech, as well as biometrics and blockchain infrastructure. And it has been recorded to have conducted more than 40 pilots such as state party conventions and student government elections.
Concerning the development, Bradley Tusk, founder and CEO of Tusk Philanthropies expressed that the pilot program is a good sign of general welcoming of mobile voting.
"Utah's pilot is another sign that the momentum for mobile voting in our country is very real and supports our theory that when you show people a much better way to do something, there becomes a demand for it. As we enter into a Presidential election year, we have to continue to remove as many barriers and hurdles as possible so a lot more people are able to participate in our democracy, " he said.
Lt. Gov. Spencer Cox also complimented the development, saying that the program is primarily born out of Utah's commitment to conduct efficient elections for all.
"This pilot project is emblematic of Utah's commitment to safe, efficient elections for all, especially our brave military and their families all over the world. The opportunity for these 'Utahns' to vote via smartphone means they will more securely participate in the democratic processes they are serving to protect."
The report stated that the Utah county will launch the blockchain-based voting app to active-duty military, their eligible dependents and overseas voters. It virtually targets troops who serve abroad and who often to depend on absentee paper ballots.
This method of voting adopted by the troops has over time  proved to be an obstacle to smooth voting. In this regards, the report quoted the US Elections Assistance Commission which stated that about 300,000 overseas voters had requested ballots in the 2016 elections.
However, they were not able to return ballots to the county clerks in time.
In the words of Forrest Senti, director of business and government initiatives at the National Security Cyber Center, "the upcoming Utah County pilot will be an exciting opportunity to build off the learnings we gained in Denver."
He went further to add: "this next pilot is a great showcase of how public/private partnerships can innovate to push the envelope of what it means to have ease of access and security for all voters everywhere."