Mercedes-Benz Cars Adopt The Blockchain Tech For Sustainable Supply Chain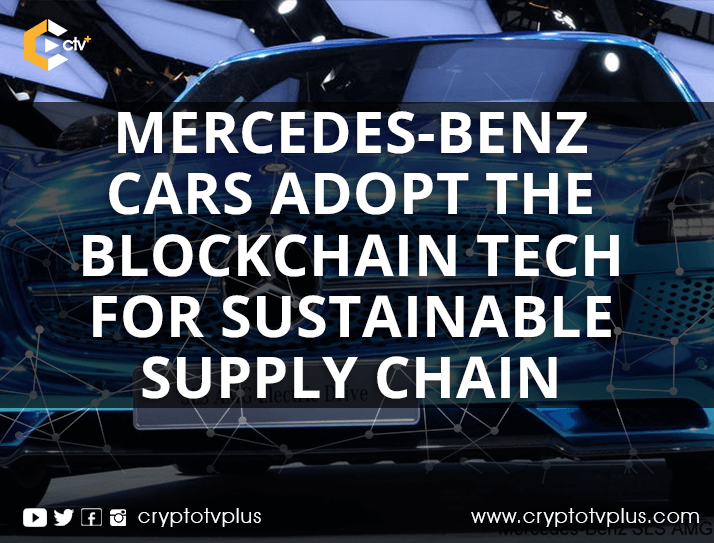 Mercedes-Benz, a division of Daimler AG, one of the world's leading automobile brand has entered into a strategic partnership on Blockchain technology to increase transparency and sustainability in complex supply chains.
The German automobile brand announced its partnership with Icertis- the United States based software company, to implement a Blockchain technology solution for persistent documentation of contracts in the supply chain.
The project allows for the creation of a transparent and sustainable mapping of sorted documents through a Blockchain prototype. Both suppliers and sub-suppliers' contractual obligations are stated across the entire supply chain and if any of them do not oblige to the contractual obligations, the Blockchain solution highlight this. Also, Mercedes-Benz together with Icertis have now entered the testing phase of the pilot project.
Going further to underlining the complexity of the modern supply chain, Wilko Stark, member of the divisional board of management Mercedes- Benz state that Blockchain technology could affect "nearly the entire value chain,"
"Blockchain technology has the potential to fundamentally revolutionise our procurement processes, and could affect nearly the entire value chain. Global supply chains are becoming increasingly complex. With our Blockchain prototype, we are in the first step testing one of diverse possible applications with the aim of increasing transparency beyond our direct suppliers."
The Blockchain – technology with Massive potentials
The implementation of the contract clauses in the Blockchain creates a sustainable book of transaction. Both the disclosure and confirmation of the Daimler sustainability requirement can be traced again by all the participants in the supply chain thereby ensuring that global procurement and contractual practices meet the "stringent" requirement of Daimler AG. Information that is confidential is not visible. The prototype creates trust in the integrity of the supply chain by disclosing sustainable-related information, without revealing competition relevant information.
Sabine Angermann, Head of Purchasing and Supplier Quality for Raw Materials and Strategy at Mercedes-Benz Cars state:
"The transmission of contracts to each member of the supply chain is the prerequisite of cooperation with our suppliers, especially in terms of sustainability and ethical conduct. The Blockchain prototype opens up completely new ways to make purchasing processes simpler and safer."
The user-friendly operation of the Blockchain service platform is pertinent to the success of the project. Only then can the company be of help to its suppliers to easily get started with the new technology, and attract necessary users. Steadily establishing Blockchain technology with all suppliers in the respective supply chain is a fundamental requirement for the achievement of the goal.
Although Daimler has been using Blockchain in other domains. Daimler is convinced that this technology offers even more potential along the value chain.

Disclaimer:
The Information provided on the website is designed to provide helpful information regarding cryptocurrency subjects. The content is not meant to be used, nor should it be used as a basis, foundational knowledge or prerequisite for decision making regards trading. Always do your own research and due diligence before placing a trade. We are not liable for any outcome based on any content found on the site.