Before I delve into explaining how you can purchase your first Bitcoin, I will like you to note that it behoves on you to do your due diligence investigation on the kind of cryptocurrency you are interested in and the kind of company you will like to deal with before taking any action whatsoever.
It is key that you understand the kind of asset you want to invest in to prevent stories that touch. So yeah, do your homework. This is not just about buying Bitcoins, Crypto or what not. It is just not advisable to dabble into any form of business without the requisite understanding.
In times past, buying Bitcoins was not the easiest of tasks. But with new technologies, and an ever growing crypto space, we now have several exchanges and mediums of purchasing Bitcoin. 
You may buy your cryptocurrency using your credit and debit cards, you may also purchase it directly with your cash, Paypal or even using basic trade by barter methods.
With that in mind, the next step for you may be to obtain your NonCustodial Wallet ASAP.
What is a Non-Custodial Wallet?
At this stage, I assume you already understand the type of cryptocurrency you want to invest in. So the next step may be to obtain a digital non-custodial wallet so that your asset will have shelter. Very importantly, make sure you get the right wallet kind for your cryptocurrency type.
A Bitcoin wallet will not work with an ethereum cryptocurrency and vice versa. In fact, your Bitcoin may go to flames if you send it to a wrong wallet type.
It is advisable to already have your noncustodial wallet before you purchase crypto assets. A noncustodial wallet gives you control over your cryptocurrency assets. Storing the crypto at a central exchange may not be the wisest option as it leaves it at the risk of theft.
So yeah, you may want to get your noncustodial digital wallet first. Here is a list of some wallets you may evaluate: Abra, Argent, Zengo, Bitwala, Authereum, Edge, Bread, Monoliths, Bitcoin.com Wallet etc.
Having done that. Let us explore how you can purchase your first crypto already!
You may buy your first crypto via a peer-to-peer service, an exchange or a cryptocurrency ATM.
Peer-to-Peer Services
This method is fairly common these days. It works this way, if you have a friend that sells Crypto, you may just pay him upfront and have him send digital currencies to your noncustodial wallet. Some crypto providers like Paxful, Openbazaar.org, Localbitcoin, etc allows you to buy directly from a person who is willing to sell. They work as middlemen by providing an escrow system to make sure the trade is fair. You may pay for your digital currency with cash, Paypal, Moneygram, Vanilla, gift cards, or a cheque.
Exchanges
An exchange is a market overt. It is basically a trading platform that gives you the opportunity to trade cryptocurrencies for fiat currency or other virtual assets. Take note that, since this trade platform is online and you cannot spend your fiat currency directly, you will need a payment medium.
To buy bitcoin with your cash, you may pay by wiring cash from your bank account, via Paypal, using a credit card, whichever means is allowed by the exchange. Here are a few exchanges you may conduct proper due diligence on: Binance, Paxful, Coinswitch, Coinbase, Coinmama, and etoro etc.
Take note that you will be required to show means of identification before you are allowed to buy and sell via exchanges. So have your proof of residence and passport etc at hand. Most importantly, have your credible identity and valid payment system accessible and you are almost ready to buy your first Bitcoin! Once you get your crypto, you may then transfer same to your noncustodial wallet. Remember?
The Automated Teller Machine (ATM)
Like you already know, Blockchain technology is breaking new grounds, so of course, there are already over 4100 Crypto ATMs the world over! Mind you, they do not work like the conventional ATMs. They operate like this. You present the ATM some paper bills and your valid wallet public address, the ATM then sends crypto currencies into your wallet. So No, you do not get cash. You may peep Coinatmradar.com if you want to know whether there is a Crypto ATM in your district. A number of ATMs also sell Cryptos at fair rates. Note that some ATM providers may oblige you to supply means of ID before you trade.
Bonus tip: If you are a first-timer, don't be hard pressed that you may have to pay through the nose for one bitcoin. I mean, one bitcoin is over 3 million naira. Good news is that you may buy fractions of your most favourite coins too! So yeah, good luck with that!
Dapper Labs raises $12M from Blockchain firms and NBA players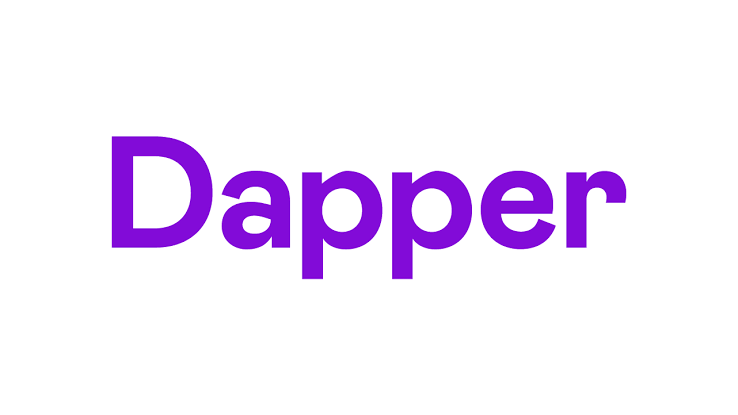 Dapper Labs Says it has raised $12 million from its latest investors for its flow blockchain. Dapper Labs are the masterminds behind the CryptoKitties and the NBA Top Shot project. Pro NBA players as well as notable blockchain companies were part of the investors that raised the $12 million fund.

The NBA players Andre Iguodala of Miami Heat, Spencer Dinwiddlie and Garrett Temple of the Brooklyn nets, JaVale McGee of Los Angeles Lakers, and Aaron Gordon of the Orlando magic were one of the new investors. Coinbase ventures and BlackTower capital were as well part of the investors.

Dapper Labs has now raised an approximate of $38 million dollars all together. Roham Gharegozlou, Dapper's founder and Chief Executive officer has said that the funds secured will be monitored to make "sure Flow can scale to the size of projects appealing to fan bases as big as NBA."
$1.2M in token sales
Dapper also stated that it has sold crypto-collectibles worth $1.2 million dollars to a number of early users on the two-month old experimental version of its NBA Top Shot platform. Top Shot players can buy non-fungible tokens (NFTs) used to depict certain moments in basketball history. Over 22,000 packs of these NFTs worth $1.2 million dollars have been sold on the beta platform.

Each NFT token represent a significant moment and they offer players an experience to see data and videos that each token depicts in multimedia form.

The CEO, Roham noted Flow blockchain can host tokens that feature 3DI animation. He stated it was built to ensure any of the token (NFT) has access to topnotch environments wile talking to Cointelegraph – "to make sure that any NFT has a chance to be able to access a high-throughput environment, have people build applications for them, [and] scale to billions of users".
Notable raise in Blockchain gaming firms
Blockchaingamer.biz data together with the recent fund raise of Dapper, a total whooping sum of $550 million dollars have been raised by Crypto gaming firms. This total comes from $336 million in sale of tokens, Initial Coin offerings (ICOs), $189 million from stocks and capital offerings in form of traditional investments and other fundraising techniques.

Last month, about $18 million was raised in total. Sorare, a fantansy soccer game raised $4 million in seed fund raise and Animoca Brands got $4.1 million from specific investors. DMarket was able to raise $6.5 million in June. Other companies like Horizen Blockchain Games and SuperTree raised $5 million and $2.5 million respectively in the first quarter of the year.

However, CEO of Animoca, Yat Siu has said the $550 million mark is just the inception as it is quite small compared to the current worth of gaming which is a $150 billion industry. He said while speaking to cointelegraph – "Gaming today is a $150 million industry and $500 million invested today is still a small amount, given both the potential in games as well as, we belive, the most viable path to mass adoption of blockchain, we think this will only grow more significantly".